This website uses cookies to ensure you get the best experience while browsing it. By clicking 'Got It' you're accepting these terms.
Johnson & Johnson to Pay $72 Million in Lawsuit Linking Talcum Powder to Ovarian Cancer
Feb. 25, 2016 08:52AM EST
Health + Wellness
By Sydney Robinson

When one thinks of the well-known brand Johnson & Johnson, the image of a happy mother and child fresh from a no-tears bath and powdering may come to mind, but that image is no more as it has been discovered that products by Johnson & Johnson containing talc are causing cancer in women across the nation.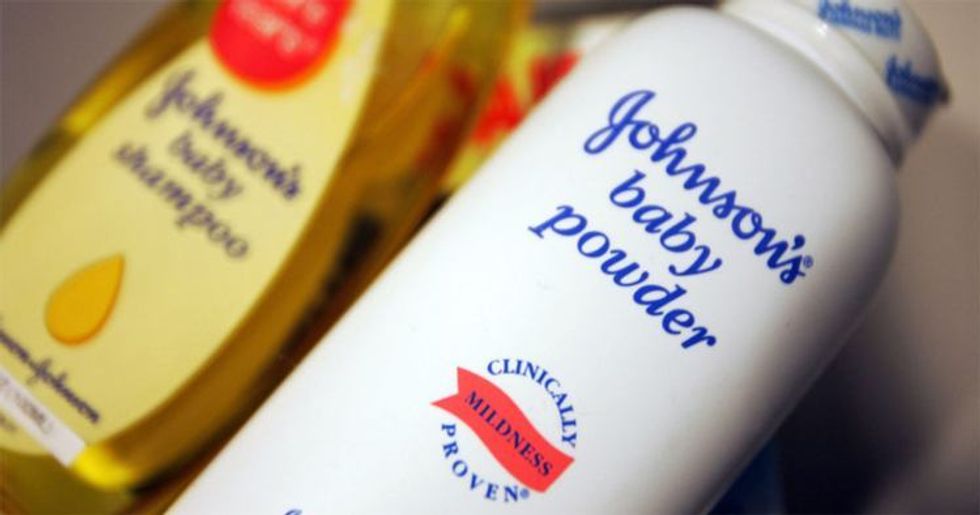 On Monday, Johnson & Johnson lost a case brought against them by a woman who claimed that her daily use of Johnson & Johnson products caused ovarian cancer. Jacqueline Fox, who lived in Birmingham, Alabama, said that she used the company's talc-based Baby Powder and Shower to Shower products for more than 35 years. Unfortunately, the Johnson & Johnson-caused cancer took Fox's life before the ruling on her case could be given.
Johnson & Johnson has been ordered by a Missouri state jury to pay a hefty $72 million fine for damages to the family of the woman, but is that enough for the company that knowingly exposed generations of Americans to a dangerous product?
Several studies have been conducted which link talc powder to ovarian cancer and talc is a common ingredient in many Johnson & Johnson products. In 23 case-controlled studies conducted by the International Journal of Gynecological Cancer in May of 2015 found that talc use increased the risk of ovarian cancer by 30-60 percent in "almost all well-designed studies." While studies had been previously unable to determine whether talc played a role in ovarian cancer, International Journal of Gynecological Cancer concluded that their results "suggest that talc use causes ovarian cancer." Several other recent studies, including one conducted by the Journal of the National Cancer Institute, confirmed those same results.
Ovarian cancer is the most lethal gynecological cancer there is and it is most often detected in the later stages of the illness when it is too late to do much to fight the cancer. Becuase of this, the best way to fight Ovarian cancer is preventing it, which is not what Johnson & Johnson were doing. The connection between talc powder and ovarian cancer was made stronger when scientists discovered talc minerals inside the cancerous tumors they were removing from women's bodies.
There is evidence that Johnson & Johnson was aware of the ill-effects of talc in the 1980s according to Jere Beasley, one of the lawyers representing the Fox family. "They knew as far back as the 1980s of the risk." And yet, they did not remove it from their products.
Attorney Mike Papantonio, of the Law Firm of Levin, Papantonio, Thomas, Mitchell, Rafferty and Proctor, is a specialist in handling complicated litigation cases like these. Papantonio praised Beasley's initiative in seeking out the case against Johnson & Johnson and battling the corporate giant:
"Jere Beasley, one of the finest trial lawyers in America, undertook this project that looked like it was facing impossible odds. With these results, they will save the lives of thousands of women throughout this country."
Papantonio has railed against Johnson & Johnson, asking why the corporation continued to put profit before the health of its customers. Rather than simply take the cancer-causing product off the market or changing the formulation to exclude the carcinogenic compound, Johnson & Johnson allowed women like Fox to be dedicated customers until their death. How many others will suffer the same fate and how long will it take until Johnson & Johnson faces the truth that they have covered up for so long?
YOU MIGHT ALSO LIKE
Wal-Mart, Kraft Sued Over Selling Parmesan Cheese With Wood Pulp Filler
11 Ways You Could Be Exposed to Lead in Your Everyday Life
Battle Lines Are Drawn as Congress Reforms the 40-Year-Old Toxic Substances Control Act
10 Misconceptions on the Link Between Environmental Factors and Cancer
EcoWatch Daily Newsletter
A Starbucks barista prepares a drink at a Starbucks Coffee Shop location in New York. Ramin Talaie / Corbis via Getty Images
By Cathy Cassata
Are you getting your fill of Starbucks' new Almondmilk Honey Flat White, Oatmilk Honey Latte, and Coconutmilk Latte, but wondering just how healthy they are?
By Sharon Kelly
Back in April last year, the Trump administration's Environmental Protection Agency decided it was "not necessary" to update the rules for toxic waste from oil and gas wells. Torrents of wastewater flow daily from the nation's 1.5 million active oil and gas wells and the agency's own research has warned it may pose risks to the country's drinking water supplies.
Swedish climate activist Greta Thunberg takes part in a "Friday for Future" youth demonstration in a street of Davos on Jan. 24, 2020 on the sideline of the World Economic Forum annual meeting. FABRICE COFFRINI / AFP via Getty Images
Treasury Secretary Steven Mnuchin pretended not to know who Greta Thunberg is, and then he told her to get a degree in economics before giving world leaders advice, as The Guardian reported.
The Visible Infrared Imaging Radiometer Suite on the Suomi NPP satellite acquired this image of forest fire smoke hovering over North America on Aug. 15, 2018. NASA Earth Observatory
New York City isn't known for having the cleanest air, but researchers traced recent air pollution spikes there to two surprising sources — fires hundreds of miles away in Canada and the southeastern U.S.
If temperatures continue to rise, the world is at risk from global
sea-level rise
, which will flood many coastal cities as seen above in Bangladesh. NurPhoto / Contributor / Getty Images
The mounting climate emergency may spur the next global financial crisis and the world's central banks are woefully ill equipped to handle the consequences, according to a new book-length report by the Bank for International Settlements (BIS), as S&P Global reported. Located in Basel, Switzerland, the BIS is an umbrella organization for the world's central banks.