John Oliver Takes a Bite Out of Food Waste
Jul. 20, 2015 09:38AM EST
Food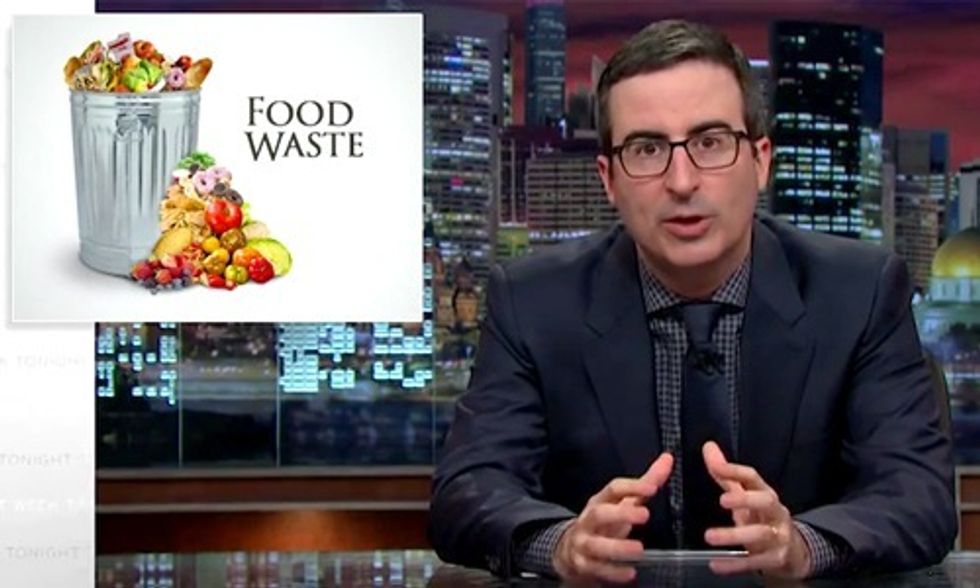 Food waste is a serious issue in America with nearly half of all food being wasted, and yet, it doesn't get the attention it should. Fortunately, John Oliver, host of Last Week Tonight, focused his segment last night on this very topic.
"Watching all that food go from farm to not a table is awful for a bunch of reasons: first, and most awfully, there are many people in this country who need that food." Oliver cites the statistic that in 2013, nearly 50 million people lived in food-insecure households, and then he screens a clip of a mother with three kids who says she sometimes goes without food so her kids have enough to eat. "It is crazy that that is happening in a country with 730 football stadiums of uneaten food," Oliver says. "It's insane."
"But there are also other less obvious consequences to discarding food," says Oliver. "For a start, we're also wasting all the labor and resources that went into making it. And at a time when California is shriveling up like a pumpkin in front of a house with a lazy dad, it seems especially unwise that farmers are pumping water into food that ends up being used as a garnish for landfills."
And those landfills cause problems of their own, which Oliver explains. He even delves into the topics of arbitrary "sell-by dates" and "produce body shaming," in which tons of perfectly good food doesn't even leave the farm because it doesn't meet the ridiculous standards we've set for perfectly shaped fruit. Oliver then goes on to debunk one of the biggest myths out there about food waste and ends his segment with the most awesome parody of a Carl's Jr./Hardee's commercial.
Watch here:
YOU MIGHT ALSO LIKE
World Scientists: Climate Change as Serious a Risk as Nuclear War
7 Climate Records Broken in 2014 Indicates Earth Is 'Gravely Ill'
EcoWatch Daily Newsletter