This website uses cookies to ensure you get the best experience while browsing it. By clicking 'Got It' you're accepting these terms.
John Oliver Blasts GOPs for Failure to Address America's Lead Crisis
Apr. 18, 2016 09:50AM EST
Health + Wellness
Flint's dangerous levels of lead in their water supply has brought the lead crisis front and center again and the ongoing problem was the topic for John Oliver's rant on Last Week Tonight Sunday.
"Flint has become a city whose very name evokes disaster, like Benghazi, or Waco, or Smurf Village," Oliver joked. "Never forget what happened there."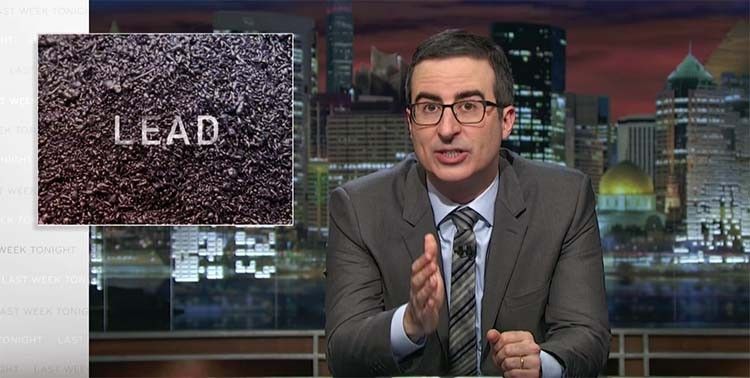 As is fairly well reported now, Flint's crisis began when the city switched water sources. The new water source corroded the city's pipes and leaked lead into the drinking water and thousands of children have been poisoned as a wesult
"And with all the bureaucratic clusterf*ckery involved, politicians in Washington were lining up to be vocally outraged," Oliver exclaimed.
"We're not some third world country where you get a hundred thousand people who get poisoned for long periods of time," assessed Rep. Jason Chaffetz (R-Utah), Oversight and Government Reform Committee chair.
Actually, Oliver pointed out. We are kind of like that.
"We all care about lead in Flint now—which is great—unfortunately the problem is not just in Flint," Oliver said, citing a USA Today study that found excessive lead levels in almost 2,000 water systems across the U.S. And it's not like we can just rip out every lead pipe in the country.
Worse still is that water systems are not the only way kids ingest lead, which in even the tiniest amounts can have catastrophic consequences, harming IQ, impulse control and increasing criminality.
"Kids are not going to get poisoned by a water fountain at their school," Elizabeth McDade of the Coalition to Prevent Lead Poisoning explained. "They're going to get poisoned from paint in their homes."
Time for some good news. The lead paint problem can actually be solved, though it would cost some money and require some political will and leadership, which is in short supply these days.
Watch as Oliver examines the problem:
YOU MIGHT ALSO LIKE
Bill Nye vs. Sarah Palin on Climate Change: Who Do you Believe?
3 Most Environmentally Damaging Habits You Might Be Able to Change
Always Wanted to Grow Your Own Garlic? Here's How
March 2016 Was Hottest on Record by Greatest Margin Yet Seen for Any Month
EcoWatch Daily Newsletter
Colombia rainforest. Marcel Oosterwijk / CC BY-SA 2.0
Many of us think of the Amazon as an untouched wilderness, but people have been thriving in these diverse environments for millennia. Due to this long history, the knowledge that Indigenous and forest communities pass between generations about plants, animals and forest ecology is incredibly rich and detailed and easily dwarfs that of any expert.
picture-alliance / Newscom / R. Ben Ari
By Wesley Rahn
Plastic byproducts were found in 97 percent of blood and urine samples from 2,500 children tested between 2014 and 2017, according to a study by the German Environment Ministry and the Robert Koch Institute.

Pexels
Medically reviewed by Daniel Bubnis, MS, NASM-CPT, NASE Level II-CSS
Hot yoga has become a popular exercise in recent years. It offers many of the same benefits as traditional yoga, such as stress reduction, improved strength, and flexibility.
Lara Hata / iStock / Getty Images
By SaVanna Shoemaker, MS, RDN, LD
Rice is a staple in many people's diets. It's filling, inexpensive, and a great mild-tasting addition to flavorful dishes.
An image of the trans-alaskan oil pipeline that carries oil from the northern part of Alaska all the way to valdez. This shot is right near the arctic national wildlife refuge. kyletperry / iStock / Getty Images Plus
The Trump administration has initialized the final steps to open up nearly 1.6 million acres of the protected Alaskan National Wildlife Refuge to allow oil and gas drilling.
Kaboompics / Pexels
Tensions between lawmakers and several large manufacturing companies came to a head on Capitol Hill this week during a hearing on toxic fluorochemicals in U.S. drinking water.