John Kerry: 'Climate Change Is Not Just About Bambi,' It Threatens All of Humanity
Nov. 10, 2015 04:59PM EST
Climate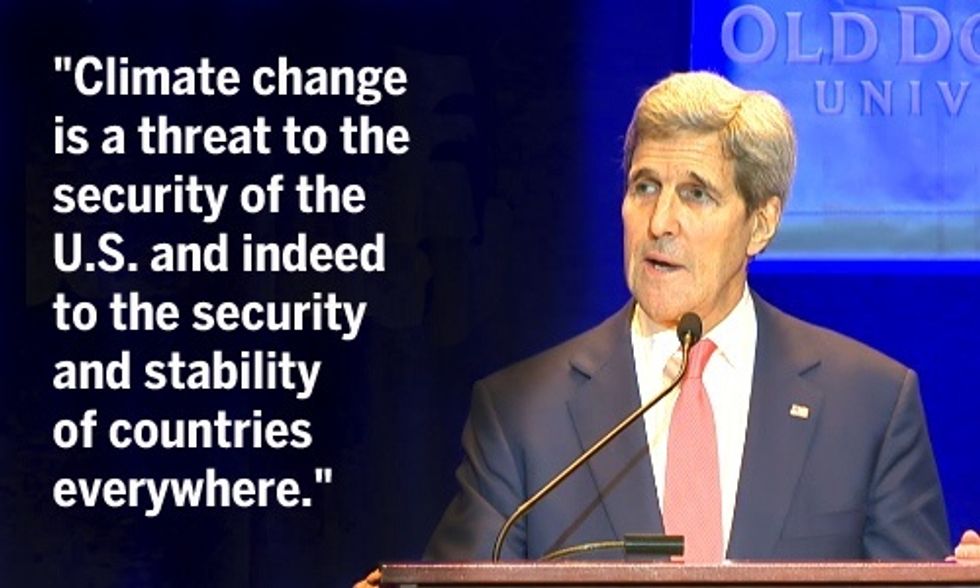 U.S. Sec. of State John Kerry delivered a speech on Climate Change and National Security this morning at Old Dominion University in Norfolk, Virginia. Old Dominion and the city of Norfolk are in a strategic location for mitigating and adapting to climate change. Norfolk is a coastal community that is already dealing with the consequences of sea level rise, and it's home to the largest Navy base in the world—Naval Station Norfolk.
[email protected]

: #climatechange is a threat to the security of the U.S and to security and stability everywhere. https://t.co/8LCMLwh0CM

— Department of State (@Department of State)1447175450.0
Kerry, a former member of the Navy, said the future of coastal communities—and indeed all communities—will depend on whether or not we as a global community can come together to address climate change. In his time as Secretary of State, Kerry has repeatedly emphasized the threat of climate change.
He said in his speech that he has made climate change such a major priority in his time as Secretary of State not "simply because climate change is a threat to the environment. It's because by fueling extreme weather events, undermining our military readiness, exacerbating conflicts around the world, climate change is a threat to the security of the United States and indeed to the security and stability of countries everywhere."
Citing impacts of extreme weather events, including flooding, drought and rapid sea level rise, Sec. Kerry said climate change will affect people in dramatic ways. He was deeply critical of those who deny climate science and challenge climate change policies by invoking the "I'm not a scientist" argument. "Those who continue to make climate change a political fight put us all at risk," he warned.
Kerry asked those in the audience who are 29 or younger to raise their hands. He told them, "you haven't lived through a single month that was cooler than its 20th century average. Think about that. It means what used to be normal no longer is. The past decade was the hottest on record, the one before that was the second hottest on record and the one before that was the third hottest on record."
"Three decades in a row—19 of the 20 warmest years in recorded history—have occurred in the past two decades," said Kerry. "This year is on track to be the warmest of all."
But the Secretary of State was not all doom and gloom. "The worst impacts" of climate change "are not inevitable," says Kerry. "We still have time to transition to a global clean energy economy and put the world on a much safer, much more sustainable path. And believe me, if we let the opportunity to do so pass us by, it may be the primary thing that our generation is remembered for."
You can watch Kerry's entire speech here:
YOU MIGHT ALSO LIKE
Indoor Veggie Garden Lets You Grow Your Own Food Right in Your Kitchen
Colbert's Guide to Watching Tonight's GOP Debate
Renewables to Overtake Coal as World's Largest Power Source, Says IEA
EcoWatch Daily Newsletter