This website uses cookies to ensure you get the best experience while browsing it. By clicking 'Got It' you're accepting these terms.
John Davis Approaches End of Historic Conservation Mission
Nov. 03, 2011 10:15AM EST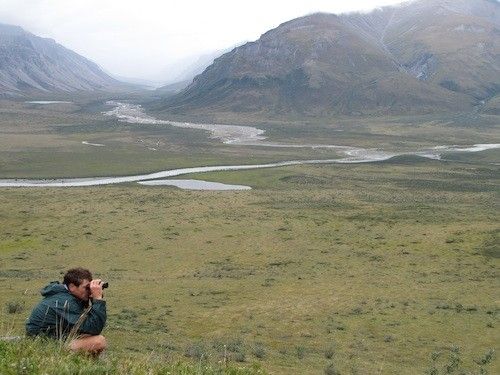 As John Davis slogs through snowdrifts along the windswept coastline of Quebec's Gaspé Peninsula, on the final leg of his 40-week TrekEast journey to promote the creation of an Eastern Wildway stretching form Florida to Canada, he can't help but recall the highlights of a truly amazing outdoor adventure.
Davis' personal list of milestones achieved over the course of his 10-month, 7,500-mile trek resembles what a normal outdoor enthusiast could only hope to accomplish in a lifetime.
For starters, the conservationist's GPS logs show he has hiked more than 2,000 miles, ridden his bike for another 4,000 miles and paddled, sailed or rowed over 1,500 miles on his way from Key Largo, Florida to Forillon National Park at the tip of the Gaspé Peninsula.
Add to that the ascension of 160 named mountain peaks—50 of which were more than 4,000 feet—all while carrying a pack that averaged 60+ pounds in weight, and the magnitude of his feat starts to become clear. "I knew this was going to be an immense physical challenge at the outset," said Davis, "but my goal of highlighting the need to protect and restore a continental-sized mosaic of connected wildlife habitats outweighed that challenge."
There might have been points at which Davis could have easily rethought that conclusion. Like when he had to high-speed hike to stay ahead of tornados in the southeast and hunker down for 2 days in his tent during Hurricane Irene in the northeast. Not to mention three domestic dog attacks and two long-haul truck attacks while riding his bike.
But in the end, Davis says he's happy he has been able to stick it out. "I know I am making a difference," he noted, no doubt referring to the hundreds of supporters he's met along the way, the dozens of media interviews he's given, and his almost constant messaging to thousands of dedicated Internet followers via a cache of equipment that allowed him to send regular social media posts, including audio and video blogs (click here).
After a final event at Forillon National Park on November 14, hosted by Parks Canada and TrekEast sponsor Wildlands Network, Davis will travel to Washington, D.C. to meet with key conservation leaders and media on November 17, when he will review highlights of his trek and make recommendations for actions that he hopes people will take to ensure the East's last remaining wilds will be connected and protected.
For more information, click here.
EcoWatch Daily Newsletter
Artist's conception of solar islands in the open ocean. PNAS
Millions of solar panels clustered together to form an island could convert carbon dioxide in seawater into methanol, which can fuel airplanes and trucks, according to new research from Norway and Switzerland and published in the Proceedings of the National Academy of Sciences journal, PNAS, as NBC News reported. The floating islands could drastically reduce greenhouse gas emissions and dependence on fossil fuels.
Marcos Alves / Moment Open / Getty Images
More than 40 percent of insects could go extinct globally in the next few decades. So why did the U.S. Environmental Protection Agency (EPA) last week OK the 'emergency' use of the bee-killing pesticide sulfoxaflor on 13.9 million acres?
EcoWatch teamed up with Center for Biological Diversity via EcoWatch Live on Facebook to find out why. Environmental Health Director and Senior Attorney Lori Ann Burd explained how there is a loophole in the The Federal Insecticide, Fungicide, and Rodenticide Act under section 18, "that allows for entities and states to request emergency exemptions to spraying pesticides where they otherwise wouldn't be allowed to spray."
Simple swaps that cut down on kitchen trash.
Sponsored
By Kayla Robbins
Along with the bathroom, the kitchen is one of the most daunting areas to try and make zero waste.
View of downtown Miami, Florida from Hobie Island on Feb. 2, 2019.
Michael Muraz / Flickr
The Democratic candidates for president descended upon Miami for a two-night debate on Wednesday and Thursday. Any candidate hoping to carry the state will have to make the climate crisis central to their campaign, as The New York Times reported.
By Sharon Kelly
On Monday, the Wall Street Journal featured a profile of Scott Sheffield, CEO of Pioneer Natural Resources, whose company is known among investors for its emphasis on drawing oil and gas from the Permian basin in Texas using horizontal drilling and hydraulic fracturing, or fracking.
Pexels
By Craig K. Chandler
The federal government has available to it, should it choose to use them, a wide range of potential climate change management tools, going well beyond the traditional pollution control regulatory options. And, in some cases (not all), without new legislative authorization.
Denis Poroy / Getty Images
By Dan Gray
Processed foods, in their many delicious forms, are an American favorite.
But new research shows that despite increasing evidence on just how unhealthy processed foods are, Americans have continued to eat the products at the same rate.
By Sarah Steffen
With a profound understanding of their environmental surroundings, indigenous communities around the world are often cited as being pivotal to tackling climate change.