Joe Biden Will Not Run for President in 2016
Oct. 21, 2015 01:37PM EST
Politics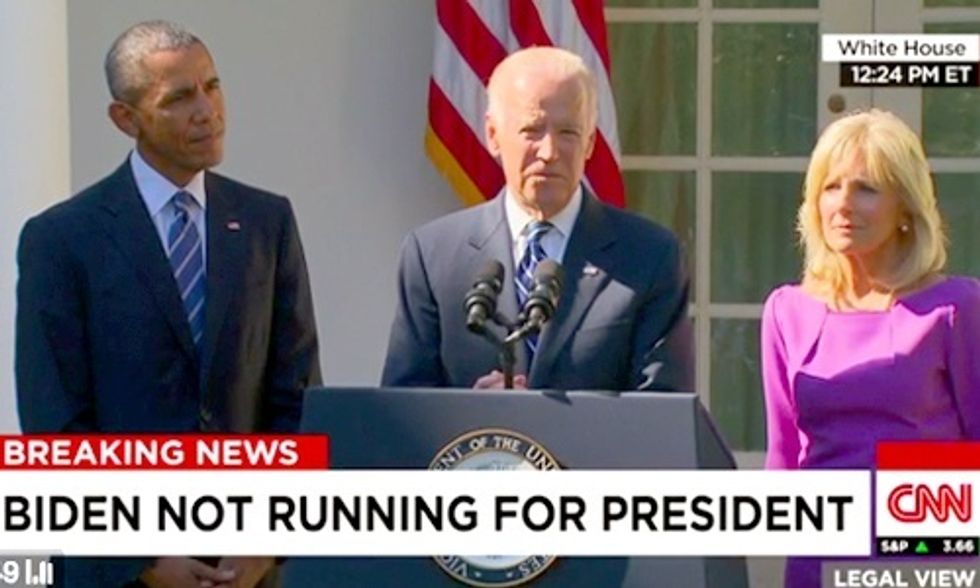 Vice-president Joe Biden announced Wednesday that he will not seek the presidency in 2016.
Biden's announcement, made at the White House with President Obama and Biden's wife, Jill, beside him, follows weeks of mounting speculation that he would join the Democratic ticket.
"I have concluded that it has closed," he said of the timing to join the ticket. "Beau is our inspiration," he said, referring to his son who died this year. "Unfortunately, I believe we are out of time; the time necessary to mount a campaign for the nomination."
[email protected]

"If I could be anything, I would have wanted to be the president who ended cancer, because it's possible." https://t.co/ak5sLt4nME

— CNN (@CNN)1445445416.0
Numerous polls in early primary states and nationwide found that many Democrats liked Biden and wanted him in the race. However, the unexpected surge of Bernie Sanders and the steady support and formidable campaign operation of Hillary Clinton raised significant obstacles.
Biden has run for president twice before; in 1987 when he withdrew from the race in a plagiarism scandal, and in 2008, when Obama picked him as his running mate. He was elected six times to the U.S. Senate from Delaware before that.
Biden's decision is likely to help Clinton more than Sanders, according to analyses following several recent polls in early primary states. That's mostly because he is closer to Clinton on many issues, or to her right, meaning that his cadre of supporters would be more inclined to support her than Sanders.
Public Policy Polling's recent survey of New Hampshire voters described that shift in some detail:
"Joe Biden is actually the most popular of the candidates in New Hampshire, with a 78/10 favorability rating," it said in an analysis released Tuesday. "But it doesn't equate to much support for the nomination (11 percent) and Biden lags behind Clinton, 24/21, even when it comes to who voters' second choice would be. If Biden doesn't end up running for the nomination Clinton will benefit, since 40 percent of Biden voters say she would be their second choice to only 15 percent for Sanders. Reallocate Biden backers to their next pick, and Clinton's lead over Sanders goes up to 45/35."
YOU MIGHT ALSO LIKE
Larry David as Bernie Sanders on Saturday Night Live: 'We Need a Revolution'
Colbert's 5 Funniest Moments from the #DemDebate
Bill Nye: 5 Simple Things You Need to Know About Climate Change
4 Justin Trudeau Campaign Promises That Could Make Canada a Green Powerhouse
EcoWatch Daily Newsletter