This website uses cookies to ensure you get the best experience while browsing it. By clicking 'Got It' you're accepting these terms.
Jimmy Carter Slams Koch Brothers and 'Unpleasantly Successful' Climate Denial Campaign
Apr. 23, 2014 03:37PM EST
A former U.S. president provided some strong words regarding climate change this week while speaking at the Paris Institute of Political Studies (Sciences Po).
Jimmy Carter referenced not only the fight against time we're all in when it comes to climate-related impacts, but also the fight against those who are funding climate denial. The 39th president called out the Koch brothers, oil magnates who between 1997 and 2011 donated more than $67 million to organizations with anti-climate agendas.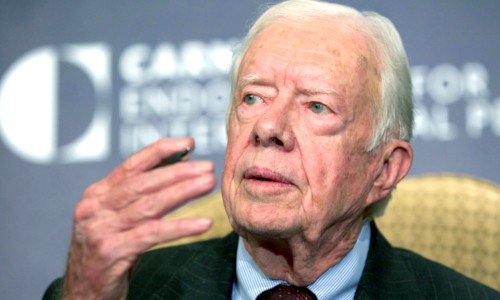 "The Koch brothers are pouring hundreds of millions of dollars into every political campaign to support candidates that will support their position," Carter said, according to Responding to Climate Change. "The struggle for the hearts and minds of the general public, especially young people, is intense and is going on today, sometimes without their knowledge."
Carter deemed the Supreme Court's decision to strike down limits on campaign contributions and essentially aid heavy contributors like the Kochs to be "unfortunate." Carter appeared at Sciences Po as part of a discussion with students and activists organized by The Elders, an international group of well-known, global leaders founded by the late Nelson Mandela in 2007.
Carter also wrote an opinion piece on Huffington Post with Mary Robinson, the first female president of Ireland who also spoke on the panel at Sciences Po. In that op-ed, the duo wrote with the urgency produced by the recent reports from the Intergovernmental Panel on Climate Change (IPCC).
"As former heads of state ourselves, we've experienced global crises from within the corridors of power," they wrote. "Some may take the world by surprise, but sometimes the warning signals are such that there is no excuse not to act. The IPCC report is such a signal. The report of Working Group II of the IPCC is the most sobering assessment, to date, of the risks posed to humanity by climate change ... For this reason, it is a compelling call to action for governments. We hope it can trigger decisive action—notably on greenhouse gas emission reduction and financing for climate adaptation."
Carter and Robinson said they hoped the Elders appearance would build momentum for the pressure to reach a global climate agreement by December 2015.
"Climate change ignores national borders. Multilateral negotiations remain the best approach for the world to reach a comprehensive solution," the opinion piece reads. "We are calling for a robust, fair, universal, and legally-binding agreement in Paris in 2015."
Tying those thoughts to his commentary on the Kochs in Paris, Carter said that developments like the Supreme Court ruling or climate denial shouldn't deter those who are determined to make a change.
"Don't let the false debate being put forward by fossil fuel companies deter you from enthusiastic endorsement of this crusade," he said. "Realize it's not an economic sacrifice but an economic boon to every country on Earth."
——–
YOU ALSO MIGHT LIKE
New Report Reveals Koch Brothers Could Make $100B Profit if Keystone XL Pipeline is Built
4 Surprisingly Green Presidents
New IPCC Report: Fossil Fuel Divestment Must Start Now
——–
KarinaKnyspel / iStock / Getty Images
2018 saw a number of studies pointing to the outsized climate impact of meat consumption. Beef has long been singled out as particularly unsustainable: Cows both release the greenhouse gas methane into the atmosphere because of their digestive processes and require a lot of land area to raise. But for those unwilling to give up the taste and texture of a steak or burger, could lab-grown meat be a climate-friendly alternative? In a first-of-its-kind study, researchers from the Oxford Martin School set out to answer that question.
Three scissor-tailed flycatcher fledglings in a mesquite tree in Texas. Texas Eagle / CC BY-NC 2.0
By Gary Paul Nabhan
President Trump has declared a national emergency to fund a wall along our nation's southern border. The border wall issue has bitterly divided people across the U.S., becoming a vivid symbol of political deadlock.
PeopleImages / E+ / Getty Images
By Daniel Ross
Hurricane Florence, which battered the U.S. East Coast last September, left a trail of ruin and destruction estimated to cost between $17 billion and $22 billion. Some of the damage was all too visible—smashed homes and livelihoods. But other damage was less so, like the long-term environmental impacts in North Carolina from hog waste that spilled out over large open-air lagoons saturated in the rains.
Hog waste can contain potentially dangerous pathogens, pharmaceuticals and chemicals. According to the state's Department of Environmental Quality, as of early October nearly 100 such lagoons were damaged, breached or were very close to being so, the effluent from which can seep into waterways and drinking water supplies.
This picture taken on May 21, 2018 shows discarded climbing equipment and rubbish scattered around Camp 4 of Mount Everest. Decades of commercial mountaineering have turned Mount Everest into the world's highest rubbish dump as an increasing number of big-spending climbers pay little attention to the ugly footprint they leave behind. DOMA SHERPA / AFP / Getty Images
China has closed its Everest base camp to tourists because of a buildup of trash on the world's tallest mountain.