This website uses cookies to ensure you get the best experience while browsing it. By clicking 'Got It' you're accepting these terms.
Jimmy Carter Slams Koch Brothers and 'Unpleasantly Successful' Climate Denial Campaign
Apr. 23, 2014 03:37PM EST
Climate
A former U.S. president provided some strong words regarding climate change this week while speaking at the Paris Institute of Political Studies (Sciences Po).
Jimmy Carter referenced not only the fight against time we're all in when it comes to climate-related impacts, but also the fight against those who are funding climate denial. The 39th president called out the Koch brothers, oil magnates who between 1997 and 2011 donated more than $67 million to organizations with anti-climate agendas.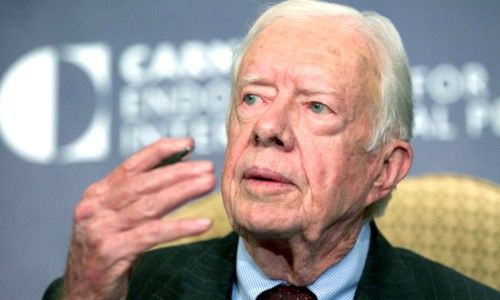 "The Koch brothers are pouring hundreds of millions of dollars into every political campaign to support candidates that will support their position," Carter said, according to Responding to Climate Change. "The struggle for the hearts and minds of the general public, especially young people, is intense and is going on today, sometimes without their knowledge."
Carter deemed the Supreme Court's decision to strike down limits on campaign contributions and essentially aid heavy contributors like the Kochs to be "unfortunate." Carter appeared at Sciences Po as part of a discussion with students and activists organized by The Elders, an international group of well-known, global leaders founded by the late Nelson Mandela in 2007.
Carter also wrote an opinion piece on Huffington Post with Mary Robinson, the first female president of Ireland who also spoke on the panel at Sciences Po. In that op-ed, the duo wrote with the urgency produced by the recent reports from the Intergovernmental Panel on Climate Change (IPCC).
"As former heads of state ourselves, we've experienced global crises from within the corridors of power," they wrote. "Some may take the world by surprise, but sometimes the warning signals are such that there is no excuse not to act. The IPCC report is such a signal. The report of Working Group II of the IPCC is the most sobering assessment, to date, of the risks posed to humanity by climate change ... For this reason, it is a compelling call to action for governments. We hope it can trigger decisive action—notably on greenhouse gas emission reduction and financing for climate adaptation."
Carter and Robinson said they hoped the Elders appearance would build momentum for the pressure to reach a global climate agreement by December 2015.
"Climate change ignores national borders. Multilateral negotiations remain the best approach for the world to reach a comprehensive solution," the opinion piece reads. "We are calling for a robust, fair, universal, and legally-binding agreement in Paris in 2015."
Tying those thoughts to his commentary on the Kochs in Paris, Carter said that developments like the Supreme Court ruling or climate denial shouldn't deter those who are determined to make a change.
"Don't let the false debate being put forward by fossil fuel companies deter you from enthusiastic endorsement of this crusade," he said. "Realize it's not an economic sacrifice but an economic boon to every country on Earth."
——–
YOU ALSO MIGHT LIKE
New Report Reveals Koch Brothers Could Make $100B Profit if Keystone XL Pipeline is Built
4 Surprisingly Green Presidents
New IPCC Report: Fossil Fuel Divestment Must Start Now
——–
EcoWatch Daily Newsletter
BruceBlock / iStock / Getty Images
Thanks to their high concentration of powerful plant compounds, foods with a natural purple hue offer a wide array of health benefits.
Environmental Investigation Agency
Last week, the Peruvian Palm Oil Producers' Association (JUNPALMA) promised to enter into an agreement for sustainable and deforestation-free palm oil production. The promise was secured by the U.S. based National Wildlife Federation (NWF) in collaboration with the local government, growers and the independent conservation organization Sociedad Peruana de Ecodesarrollo.
Pixabay
Leaked documents show that Jair Bolsonaro's government intends to use the Brazilian president's hate speech to isolate minorities living in the Amazon region. The PowerPoint slides, which democraciaAbierta has seen, also reveal plans to implement predatory projects that could have a devastating environmental impact.
XL CATLIN SEAVIEW SURVEY / THE OCEAN AGENCY
Hope may be on the horizon for the world's depleted coral reefs thanks to scientists who successfully reproduced endangered corals in a laboratory setting for the first time, according to Reuters.
Last week we received positive news on the border wall's imminent construction in an Arizona wildlife refuge. The Trump administration delayed construction of the wall through about 60 miles of federal wildlife preserves.
PhotoAlto / Frederic Cirou / Getty Images
Drinking water treated with fluoride during pregnancy may lead to lower IQs in children, a controversial new study has found.
National Institude of Allergy and Infectious Disease