This website uses cookies to ensure you get the best experience while browsing it. By clicking 'Got It' you're accepting these terms.
Jimmy Carter Blasts 'Nutcases' Who Block Climate Action
Aug. 13, 2014 12:04PM EST
Climate
Former President Jimmy Carter, in Aspen to receive a lifetime achievement award at the American Renewable Energy Day summit, pointed to "nutcases" who deny climate change, money in political campaigns and a Republican Party bent on blocking anything proposed by President Obama as obstacles to bringing the U.S. up to the renewable energy level of other developed countries.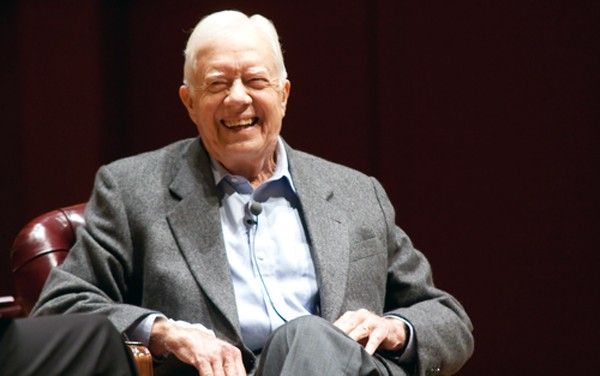 Photo credit: Shutterstock
The now 89-year-old president created the Department of Energy and was known as an advocate for energy conservation and environmental protection years before the term "climate change" had entered the general public consciousness.
But, he said at the summit, "The country was not divided into red and blue states then. Money didn't completely control the campaigns for Congress and president. I believe almost anything President Obama advocates, Congress is going to oppose."
He praised initiatives Obama is taking, such as considering new rules to force states to reduce carbon emissions by 30 percent by the year 2030, adding, "I was a bit disappointed he took a wait and see approach during his first five or six years in office, but he's moving now."
He mentioned that Canada now gets 60 percent of its energy from renewable sources.
"The United States is right at the bottom, with only 10 percent of our energy coming from renewable sources," he said. "So we still have a tremendous opportunity to do what we haven't done. I would say the biggest handicap we have right now is some nutcases in our country who don't believe in global warming. I think that they are going to change their position because the evidence of the ravages of global warming is coming or is already there."
While Carter lamented the big donations from sources such as fossil fuel moguls the Koch brothers pouring into the coffers of candidates and officeholders who oppose action on climate change or even deny it's real, as long as that money is flowing, environmentalist billionaire Tom Steyer of NextGen is devoted to raising money to combat it. He was at the Aspen summit to encourage like-minded activists to put some skin in the game as well, supporting environmentally friendly candidates such as Colorado Senator Mark Udall.
"The ultimate question will be will we have enough money to run the programs that we think are necessary in these races," Steyer said at the summit. "The answer is definitely yes."
YOU ALSO MIGHT LIKE
Jimmy Carter Slams Koch Brothers and 'Unpleasantly Successful' Climate Denial Campaign
Activist Tom Steyer Announces Big-Spending Election Plan to Take Down Climate-Denying Candidates
EcoWatch Daily Newsletter
Environmental Investigation Agency
Last week, the Peruvian Palm Oil Producers' Association (JUNPALMA) promised to enter into an agreement for sustainable and deforestation-free palm oil production. The promise was secured by the U.S. based National Wildlife Federation (NWF) in collaboration with the local government, growers and the independent conservation organization Sociedad Peruana de Ecodesarrollo.
Pixabay
Leaked documents show that Jair Bolsonaro's government intends to use the Brazilian president's hate speech to isolate minorities living in the Amazon region. The PowerPoint slides, which democraciaAbierta has seen, also reveal plans to implement predatory projects that could have a devastating environmental impact.
XL CATLIN SEAVIEW SURVEY / THE OCEAN AGENCY
Hope may be on the horizon for the world's depleted coral reefs thanks to scientists who successfully reproduced endangered corals in a laboratory setting for the first time, according to Reuters.
Last week we received positive news on the border wall's imminent construction in an Arizona wildlife refuge. The Trump administration delayed construction of the wall through about 60 miles of federal wildlife preserves.
PhotoAlto / Frederic Cirou / Getty Images
Drinking water treated with fluoride during pregnancy may lead to lower IQs in children, a controversial new study has found.
National Institude of Allergy and Infectious Disease
A Greenpeace rally calls for a presidential campaign climate debate on June 12 in Washington, DC. Sarah Silbiger / Getty Images