This website uses cookies to ensure you get the best experience while browsing it. By clicking 'Got It' you're accepting these terms.
Jerome 'The Bus' Bettis Advocates for Clean Air Standards
Dec. 16, 2011 12:49PM EST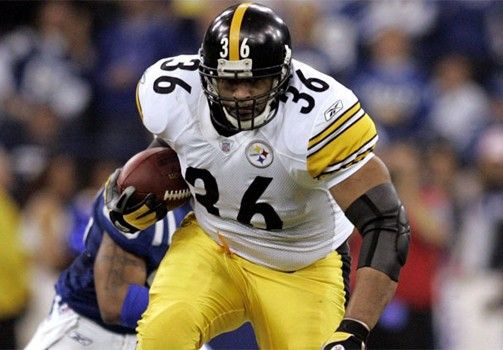 Retired National Football League (NFL) legend Jerome Bettis met with U.S. Environmental Protection Agency (EPA) Administrator Lisa P. Jackson Dec. 15, before meeting with members of Congress on behalf of the Clean Air Council (CAC) to advocate for the EPA's clean air rules. Bettis, an asthmatic, was joined by Katie Feeney, policy analyst at CAC, to discuss the health benefits of clean air in advance of the release of EPA's Utility MACT, or Mercury and Air Toxics Standards, expected to be issued in the next few days. The rule, which would require the first nationwide reductions of hazardous emissions of mercury, lead, arsenic and acid gases from coal-fired power plants, would save up to 17,000 lives and prevent 120,000 cases of aggravated asthma a year, according to the EPA.
Mr. Bettis, nicknamed "The Bus," urged that no delay or legislation be passed to prevent the lifesaving rule from going into effect. He will be meeting with:
EPA Administrator Lisa P. Jackson
Sen. Robert Casey (D-PA)
Congressman John Dingell (D-MI)
Congressman Mike Doyle (D-PA)
"I am excited to join the Clean Air Council, whose mission is to protect everyone's right to breathe clean air, in meeting with elected officials to talk about an issue that I am so personally connected to," said Jerome Bettis. "I've been involved with asthma education for a number of years. When I learned how vital the clean air rules are to people's health, and realized how polluted air exacerbates my asthma, I knew I had to speak out. The Toxics Rule will save thousands of lives, including the lives of children, across the country. I can't imagine a more worthy cause."
According to the EPA, the rule will also avoid 12,000 hospital visits, 4,500 cases of chronic bronchitis, 11,000 nonfatal heart attacks, 12,200 hospital and emergency room visits, 220,000 cases of respiratory symptoms and 850,000 days when people miss work annually. In Bettis' native Michigan, 1,056 pollution-related deaths, 487 hospital admissions and 1,097 heart attacks will be avoided through the implementation of EPA's clean air rules. In his adopted home state of Pennsylvania, the numbers are even more staggering, with 2,510 pollution-related deaths, 1,016 hospital admissions and 2,298 heart attacks being avoided.
Bettis was diagnosed with asthma at 15, and has struggled with it ever since, including suffering from a traumatic life-threatening attack during a nationally televised game in 1997. He was an active advocate for asthma awareness during his playing career and continues to speak out about the issue. In particular, he has focused on helping children who have asthma learn to cope with it.
Dirty air leads to severe medical issues, including hundreds of premature deaths annually caused by heart, respiratory and lung problems. For those with asthma and other respiratory problems—who already experience breathing difficulty—high ozone days can lead to further respiratory distress, and even hospitalization. On ozone action days the air can irritate the respiratory systems, causing symptoms such as coughing, throat irritation, and chest tightness. Lung function is reduced, air intake can feel strained, and breathing, especially outside, can become shallow, rapid and uncomfortable.
Despite the significant progress that has been made in reducing air emissions in the last 20 years, the American Lung Association says more than 175 million people—or nearly six out of 10 Americans—live in areas with unhealthy levels of air pollution.
"We're thrilled and honored that Jerome Bettis has agreed to join with the Clean Air Council to advocate for the timely implementation of the Utility MACT," said Joseph Otis Minott, Esq. of the Clean Air Council. "As an outspoken advocate for asthma awareness, he recognizes that this issue is important beyond the beltway—it is a living room issue that will benefit everyone, especially asthmatics."
"My goal is for the members of Congress we meet with to understand just how important these rules are to people's health, and that they need to be implemented as soon as possible," concluded Bettis.
Bettis was joined by Feeney and Dr. Sue Tierney, managing principal at the Analysis Group and former assistant secretary for policy at the U.S. Department of Energy, at a press conference.
For more information, click here.
—————
Clean Air Council is a member-supported, nonprofit environmental organization dedicated to protecting everyone's right to breathe clean air. The Council works through public education, community advocacy, and government oversight to ensure enforcement of environmental laws.
The Jerome Bettis "Bus Stops Here" Foundation is a non-profit 501 (c) (3) organization whose mission, is to improve the overall quality of life for troubled and underprivileged children by offering the opportunities to help them succeed in life. The Foundation believes that the first step towards self-sufficiency must consist of a strong moral foundation. On this foundation, self-esteem, responsibility, education and ultimately, employability are built. The Foundation's contribution to youth consists primarily of providing a climate where they feel wanted and accepted by peers and adults and where they are assisted in acquiring and applying the skills related to meeting their goals. Through the hard work of the Foundation, we are presenting possibilities and creating opportunities. We are trying to change old perceptions to create a "right here, right now attitude".
EcoWatch Daily Newsletter
A vegan diet can improve your health, but experts say it's important to keep track of nutrients and protein. Getty Images
By Dan Gray
Research shows that 16 weeks of a vegan diet can boost the gut microbiome, helping with weight loss and overall health.
A healthy microbiome is a diverse microbiome. A plant-based diet is the best way to achieve this.
It isn't necessary to opt for a strictly vegan diet, but it's beneficial to limit meat intake.
New research shows that following a vegan diet for about 4 months can boost your gut microbiome. In turn, that can lead to improvements in body weight and blood sugar management.
Students gathered at the National Mall in Washington DC, Sept. 20. NRDC
By Jeff Turrentine
Nearly 20 years have passed since the journalist Malcolm Gladwell popularized the term tipping point, in his best-selling book of the same name. The phrase denotes the moment that a certain idea, behavior, or practice catches on exponentially and gains widespread currency throughout a culture. Having transcended its roots in sociological theory, the tipping point is now part of our everyday vernacular. We use it in scientific contexts to describe, for instance, the climatological point of no return that we'll hit if we allow average global temperatures to rise more than 2 degrees Celsius above preindustrial levels. But we also use it to describe everything from resistance movements to the disenchantment of hockey fans when their team is on a losing streak.
samael334 / iStock / Getty Images
Berries are small, soft, round fruit of various colors — mainly blue, red, or purple.
A glacier is seen in the Kenai Mountains on Sept. 6, near Primrose, Alaska. Scientists from the U.S. Geological Survey have been studying the glaciers in the area since 1966 and their studies show that the warming climate has resulted in sustained glacial mass loss as melting outpaced the accumulation of new snow and ice. Joe Raedle / Getty Images
By Mark Mancini
On Aug. 18, Iceland held a funeral for the first glacier lost to climate change. The deceased party was Okjökull, a historic body of ice that covered 14.6 square miles (38 square kilometers) in the Icelandic Highlands at the turn of the 20th century. But its glory days are long gone. In 2014, having dwindled to less than 1/15 its former size, Okjökull lost its status as an official glacier.
Members of Chicago Democratic Socialists of America table at the Logan Square Farmers Market on Aug. 18. Alex Schwartz
By Alex Schwartz
Among the many vendors at the Logan Square Farmers Market on Aug. 18 sat three young people peddling neither organic vegetables, gourmet cheese nor handmade crafts. Instead, they offered liberation from capitalism.
Hackney primary school students went to the Town Hall on May 24 in London after school to protest about the climate emergency. Jenny Matthews / In Pictures / Getty Images
Bird watching in the U.S. may be a lot harder than it once was, since bird populations are dropping off in droves, according to a new study.