Jeb or George: Who Is the 'Smart Bush' on Climate Change?
May. 22, 2015 10:33AM EST
Climate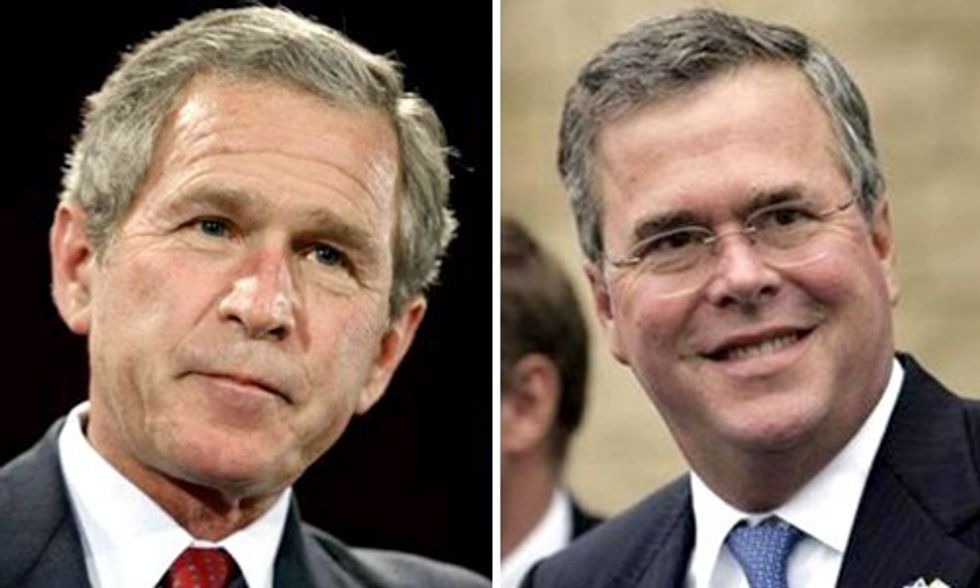 Jeb Bush has been widely touted as "the smart one" of the Bush brothers—level-headed, competent and clear-minded, compared to his brother, former President George Bush, who was known for his confusing statements and often fuzzy logic. He's also been presented as a paragon of sanity compared to many of his fellow Republicans.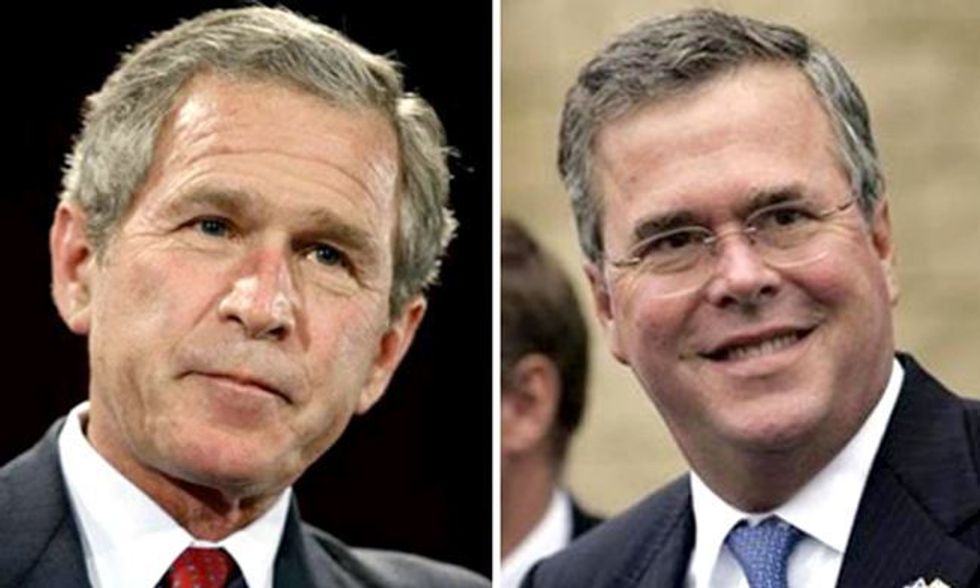 But Jeb's forays on the "campaign" trail—he hasn't formally announced apparently to skirt campaign fundraising rules but he slipped last week and said "I'm running for President in 2016"—have been a bumbling, stumbling mess. His multiple-choice answers on whether the U.S. should have gotten involved in Iraq have been widely publicized. But his statements on climate change are just as evasive, bizarre and misleading.
At a campaign event in New Hampshire this week, Bush said, "Look, first of all, the climate is changing. I don't think the science is clear what percentage is man-made and what percentage is natural. It's convoluted. And for the people to say the science is decided on, this is just really arrogant, to be honest with you. It's this intellectual arrogance that now you can't even have a conversation about it. The climate is changing, and we need to adapt to that reality."
The assertion that "the climate is always changing" is one commonly used by climate deniers to distract from the issue of how human activity contributes to that. But it's really not "convoluted." It's established that 97 percent of climate scientists agree after many, many years of "conversation" that human activity is driving climate change. The real "intellectual arrogance" is to pretend this is still a topic of debate.
While he's occasionally tried to depict himself as the reasonable candidate, saying we need to work with other countries to reduce carbon emissions, his latest statement is in line with what he's said in the past. In a 2011 interview with Fox Business, he said, "I think global warming may be real. It is not unanimous among scientists that it is disproportionately manmade. What I get a little tired of on the left is this idea that somehow science has decided all this so you can't have a view."
The administration of Jeb's brother was not always forward-looking on climate and energy policies; the Bushes, after all, made a fortune in oil. President Bush pulled out of the Kyoko Protocol, saying it was "unrealistic" and "flawed," and would impede economic growth, and setting back the worldwide attempt to address climate change. But in general, he acknowledged that there was a real problem, with statements such as "It's now recognized that the surface of the earth is warmer, and that an increase in greenhouse gases caused by humans is contributing to the problem."
He was asked about climate change in a 2000 debate with his Democratic opponent Al Gore. He said, "I think it's an issue that we need to take very seriously," and called for limits on carbon emissions on power plants—something the Obama administration has done with its Clean Power Plan, widely opposed by Republicans.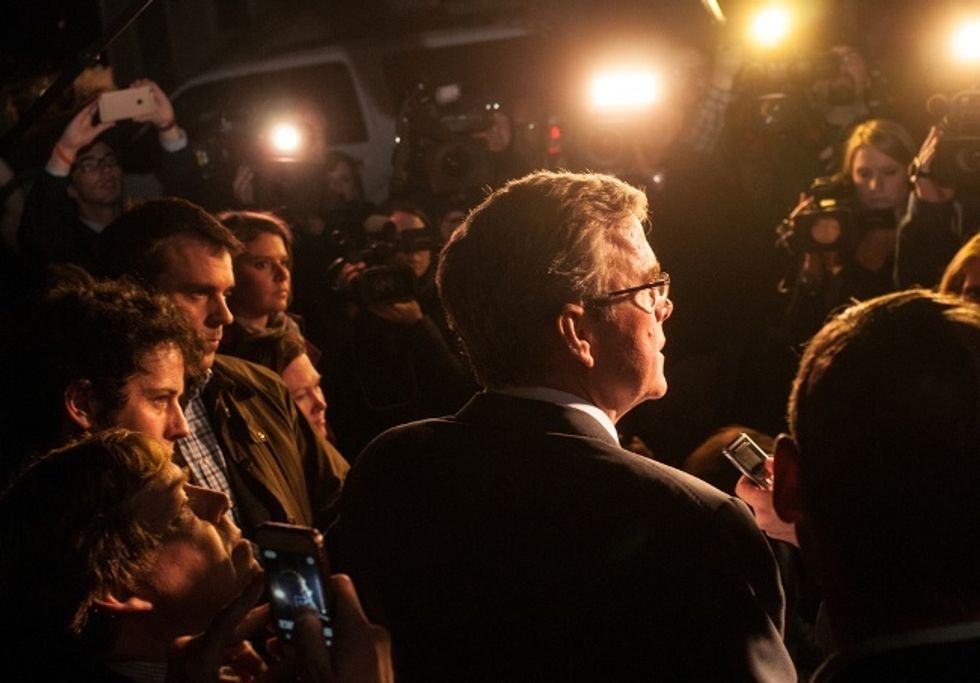 Photo credit: Shutterstock
In a speech dedicated to climate change in April 2008, his final year in office, Bush sounded like a climate hawk, saying, "I have put our nation on a path to slow, stop and eventually reverse the growth of our greenhouse gas emissions. In 2002, I announced our first step: to reduce America's greenhouse gas intensity by 18 percent through 2012. I'm pleased to say that we remain on track to meet this goal even as our economy has grown 17 percent."
Despite his earlier dismissal of the Kyoko Protocol, he claimed, "The U.S. has launched—and the G8 has embraced—a new process that brings together the countries responsible for most of the world's emissions. We're working toward a climate agreement that includes the meaningful participation of every major economy—and gives none a free ride."
Then he said, "Today, I'm announcing a new national goal: to stop the growth of U.S. greenhouse gas emissions by 2025."
He announced new fuel economy legislation, new efficiency objectives for lighting and appliances, working with states to achieve their renewable power goals and working with other countries to cut their emissions—a laundry list of things environmentalists could cheer.
He boasted, "Our incentives for power production from wind and solar energy have helped to more than quadruple its use. We have worked with Congress to make available more than $40 billion in loan guarantees to support investments that will avoid, reduce, or sequester greenhouse gas emissions or air pollutants. And our farmers can now compete for substantial new conservation incentives to restore land and forests in ways that help cut greenhouse gases."
"Taken together, these landmark actions will prevent billions of metric tons of greenhouse gas emissions from entering the atmosphere," he said. "To reach our 2025 goal, we'll need to more rapidly slow the growth of power sector greenhouse gas emissions so they peak within 10 to 15 years, and decline thereafter. By doing so, we'll reduce emission levels in the power sector well below where they were projected to be when we first announced our climate strategy in 2002."
While he also touted "clean coal" and warned against measures that increased taxes or put new regulations and costs on businesses, his acceptance of the need to cut greenhouse gas emissions to address climate change is striking. At no point in the lengthy speech did he imply that the science of climate change was debatable—only that policies need to address it.
So who is really the "smart Bush" when it comes to climate?
YOU MIGHT ALSO LIKE
Al Gore at SXSW: We Need to 'Punish Climate-Change Deniers' and 'Put a Price on Carbon'
9 Climate-Denying Republicans Who Might Run for President
EcoWatch Daily Newsletter
Related Articles from EcoWatch
Recent Stories from EcoWatch