This website uses cookies to ensure you get the best experience while browsing it. By clicking 'Got It' you're accepting these terms.
Jeb Bush Trashes Father's Clean Air Legacy to Woo Far Right-Wing
Mar. 03, 2015 10:10AM EST
Climate
Jeb Bush trashed the Clean Air Act last week. He was speaking to the far right-wing Club for Growth, notorious for mounting mostly unsuccessful challenges from the right against Republican candidates during congressional primaries.
A Washington Post reporter attended the speech and posted some of Bush's remarks on Twitter:
Jeb Bush hits Clean Air Act, airline regulations & Internet regs at Club for Growth -- "stifled the ability for people to rise up."

— Philip Rucker (@PhilipRucker) February 27, 2015
So Jeb Bush thinks the Clean Air Act "stifled the ability for people to rise up." Does he mean polluting corporations that a 5-4 Supreme Court says are people?
Or does he mean that loud clamor for "rising up" by ordinary Americans, who consistently voice very strong support for the Clean Air Act and clean air safeguards, with large majorities across the political spectrum Bob Marley, Mr. Bush ain't.
Jeb Bush's father, President George H.W. Bush, signed the Clean Air Act Amendments of 1990 after 89 Senators and 401 House members (including 154 Republicans, all but 16) voted for the law.
President Bush's signing statement said he took "great pleasure in signing [the Clean Air Act] as a demonstration to the American people of my determination that each and every American shall breathe clean air."
Newspapers at the time called the president's signing of the Clean Air Act Amendments of 1990 "the single most distinguished policy achievement of the Bush administration."
The Clean Air Act is estimated to achieve almost $2 trillion in yearly benefits to the American people by 2020. These vast benefits are delivered in the form of "significant reductions in air pollution" related premature death and illness, improved economic welfare of Americans, and better environmental conditions." The estimated annual costs to achieve these benefits will be about $65 billion by 2020.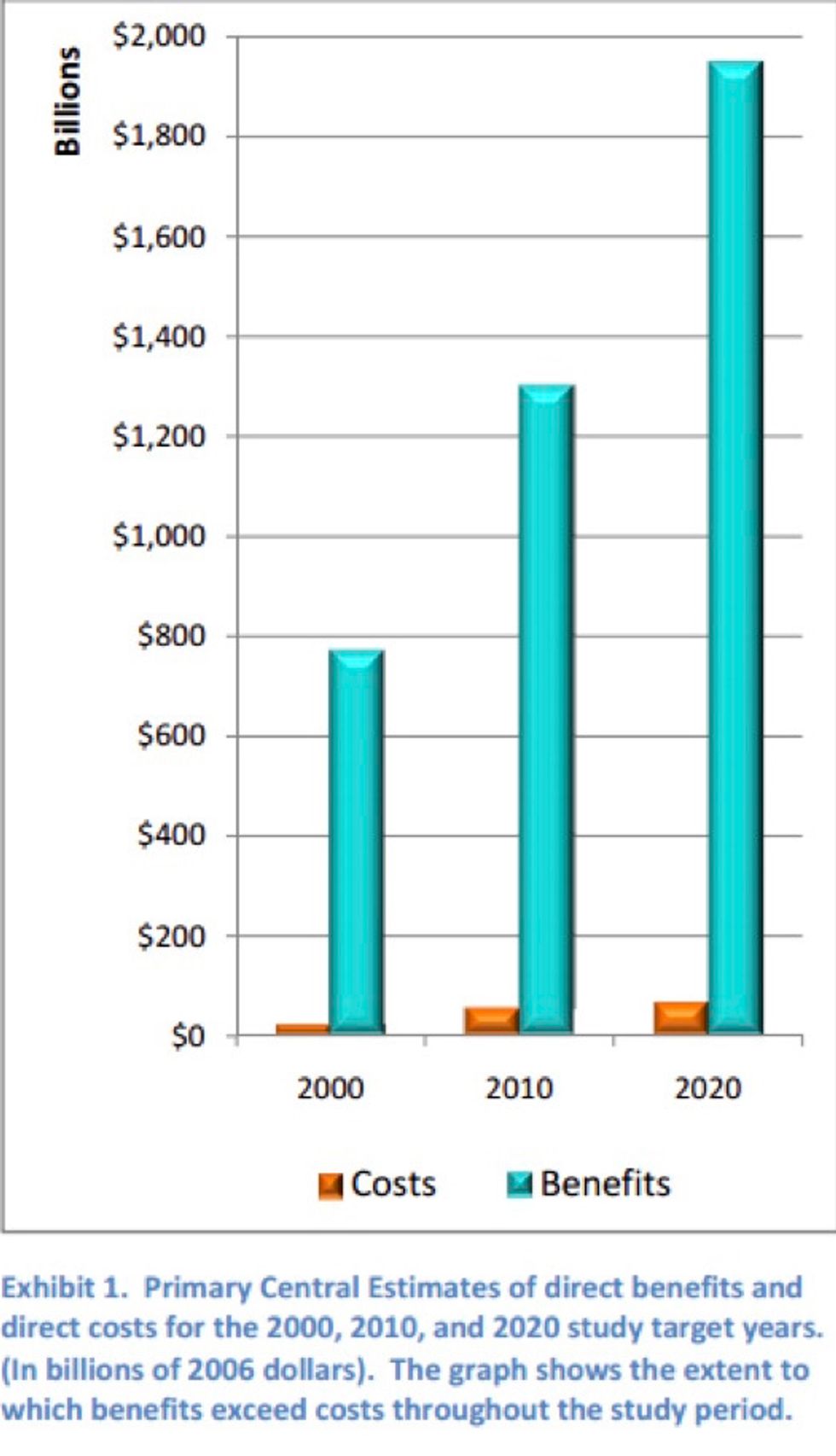 So this staggering Bush senior achievement is one that Bush junior singles out for condemnation. It's bewildering. One might even say it takes one's breath away.
Does Jeb Bush know of any federal law that accomplishes greater benefits for Americans relative to the cost? Would a law personally acceptable to him need to achieve $3 trillion in benefits compared to an even tinier fraction of costs? Mr. Bush's applause line for the extreme right does not yield those answers.
Clean Air Act benefits vastly outweighs costs over the entire study period in this exhibit. But what about any impacts to economic growth due to Clean Air Act implementation?
This chart shows that over the period from 1990 through 2008, primarily due to the Clean Air Act Amendments of 1990 signed by President Bush, U.S. Gross Domestic Product increased by more than 64 percent while the six most common air pollutants regulated by the Act decreased 41 percent.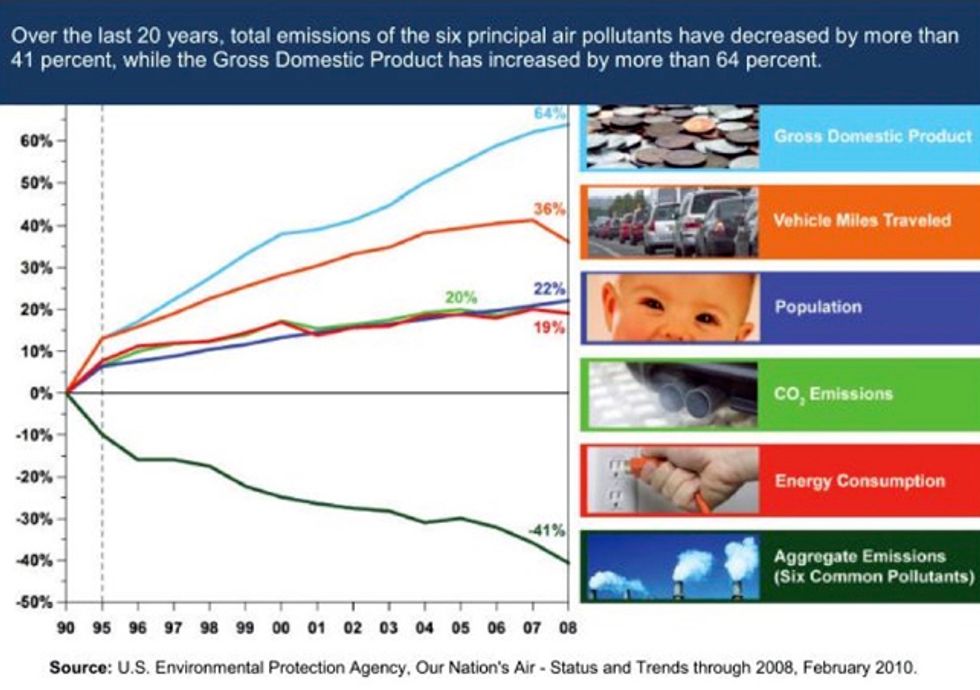 Stifling, I say.
I cannot help but wonder whether a related clean air benefit prompted Jeb Bush's condemnation of airline regulations. Does he mean another law signed by his father, one that "banned smoking on all domestic flights of less than six hours?"
I cannot tell you how many flights I have been on since then where stifled passengers were loudly demanding the right to rise up and fill airplane cabins with choking tobacco smoke.
The Post reporter also tweeted this Jeb Bush comment to the Club for Growth:
Jeb Bush tells Club for Growth that "the first priority for the conservative cause" should be "growth at all cost."

— Philip Rucker (@PhilipRucker) February 27, 2015
It makes you wonder what Bush would have said if he were speaking to the Hair Club for Men.
That "growth at all cost" mentality reminded me of an article I had read: "To Tackle Pollution, China to Drop Pursuit of Growth at All Costs." The "growth at all cost" vision thing espoused by Bush has resulted in China having some of the most despoiled and deadly air pollution in the world.
The Chinese people are rising up alright—against dangerous air pollution.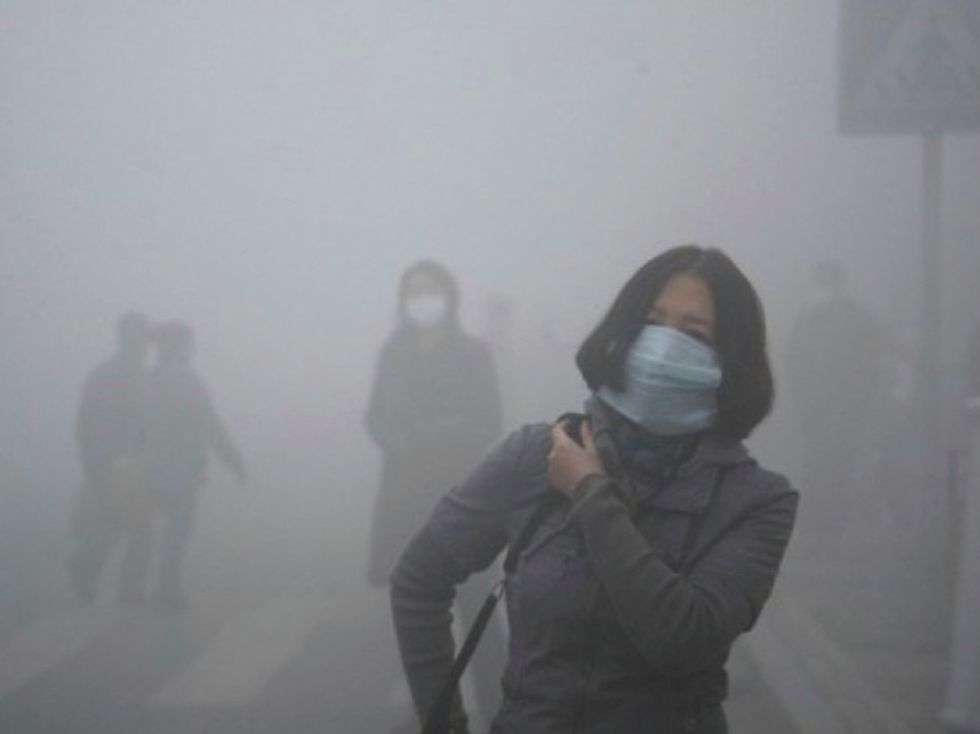 One might even say it's stifling.
"But, but," Bush would protest, "that's an unfair comparison. America's air quality is nowhere near as bad as China's."
Exactly. Thanks to the Clean Air Act that Jeb Bush's father called "the most significant air pollution legislation in our nation's history," a law that "restores America's place as the global leader in environmental protection."
YOU MIGHT ALSO LIKE
3 Connections Between Climate Change and Extreme Weather
Watch Sen. Inhofe Throw a Snowball on Senate Floor to Prove Climate Change Is a 'Hoax'
Al Roker Tells Larry King: Snowstorms Are Due to Climate Change
EcoWatch Daily Newsletter
This study found evidence of illegal hammerhead fins in 46 out of 46 sampling events in Hong Kong. NOAA / Teachers at Sea Program
By Jason Bittel
Authorities in Hong Kong intercepted some questionable cargo three years ago — a rather large shipment of shark fins that had originated in Panama. Shark fins are a hot commodity among some Asian communities for their use in soup, and most species are legally consumed in Hong Kong, but certain species are banned from international trade due to their extinction risk. And wouldn't you know it: this confiscated shipment contained nearly a ton of illegal hammerhead fins.
A video shows a woman rescuing a koala from Australia's wildfires.
VOA News / YouTube screenshot
More than 350 koalas may have died in the wildfires raging near the Australian town of Port Macquarie in New South Wales, but one got a chance at survival after a woman risked her life to carry him to safety.
Heat waves emanate from the exhaust pipe of a city transit bus as it passes an American flag hung on the Los Angeles County Hall of Justice on April 25, 2013. David McNew / Getty Images
Air pollution rules aren't doing enough to protect Americans, finds a major new study that examined the cause of death for 4.5 million veterans, as The Guardian reported.
Coldplay is releasing a new album on Friday, but the release will not be followed by a world tour.
Ash dieback is seen infecting a European ash (Fraxinus excelsior) in Bottomcraig, Scotland, UK on Aug. 10, 2016.
nz_willowherb / Flickr
Scientists have discovered a genetic basis to resistance against ash tree dieback, a devastating fungal infection that is predicted to kill over half of the ash trees in the region, and it could open up new possibilities to save the species.