This website uses cookies to ensure you get the best experience while browsing it. By clicking 'Got It' you're accepting these terms.
Jared Leto Named WWF Global Ambassador to Highlight Wildlife Poaching Crisis
Feb. 12, 2015 02:33PM EST
Animals
The World Wide Fund (WWF) has announced that actor/director/musician Jared Leto, a dedicated human and animal rights activist, will serve as global ambassador for the group, helping to bring attention to crucial issues facing the Earth.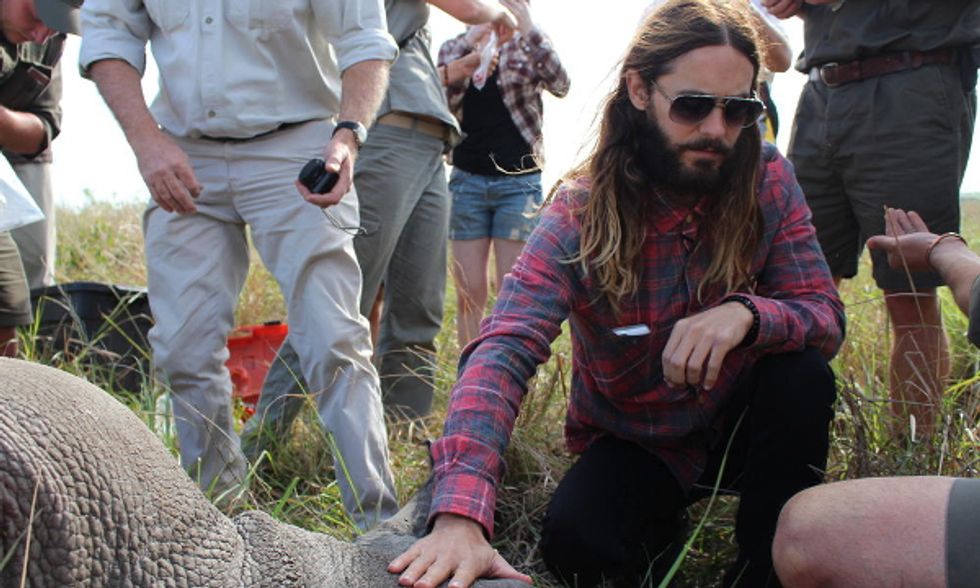 His first project will focus on wildlife crime, the poaching of rare, endangered animals for trade and profit. He recently made a trip to South Africa to learn about rhino poaching and what the WWF is doing to address it.
"My latest adventure in South Africa was as mind-blowing as always," said Leto. "Being that close to majestic creatures like rhinos and elephants reminds me of the deep connection and important responsibility we have to protect and shepherd these fragile species and their habitats. I'm committed and passionate about doing all I can to help ensure that these endangered animals survive and will continue to encourage others to get into action as well."
South Africa is the epicenter of the rhino poaching crisis, with 80 percent of the world's population, an estimated 20,000 animals. Figures released last month by the South African Department of Environmental Affairs (DEA) show that 1, 215 rhinos were illegally killed last year, an increase of 21 percent over the 1,003 killed in 2013 and an overall increase of 9,300 percent since 2007. Most of the illegal activity takes place in Kruger National Park, where 827 rhinos were killed in 2014.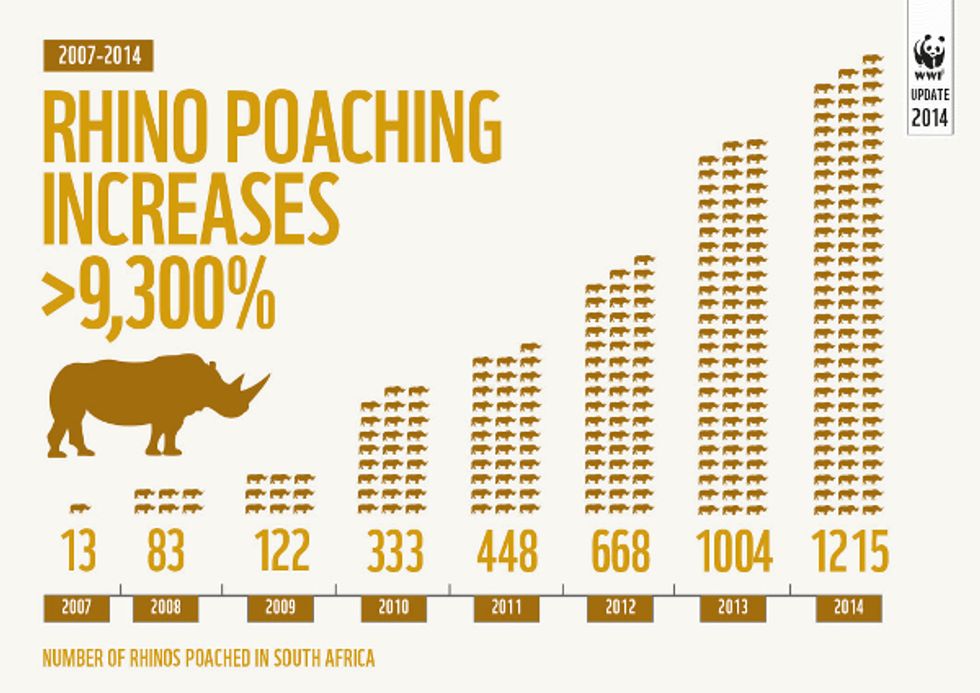 The country has been stepping up its enforcement, leading to 386 arrests last year. Meanwhile, WWF programs aim to protect existing rhino populations and their habitats through monitoring and breeding programs, to work with local communities and governments to enact policies that discourage poaching, and to reduce demand for rhino horn.
"There is no single solution to this complex global crisis," said Dr Jo Shaw, rhino program manager for WWF-SA. "In 2015, we need to keep working together on the strategic interventions which will have the greatest impact and result in greatest benefits for our rhinos."
As a result of programs such as the WWF's, both black and white rhino numbers in South Africa have rebounded. Leto's ambassadorship will hopefully encourage the growth of such programs by raising international awareness of how rhino populations are threatened and how they can be restored.
In South Africa, Leto travelled with WWF Black Rhino Range Expansion Project veterinarian Dr. Jacques Flamand and a team of scientists to a private game reserve to tag and collar three southern white rhinos, a few of the approximately 100 who will be translocated later this year from high poaching areas to "undisclosed locations" as part of a breeding program. Leto brought along cards and notes from U.S. children thanking the South African rhino protection team for what they are doing to protect endangered wildlife.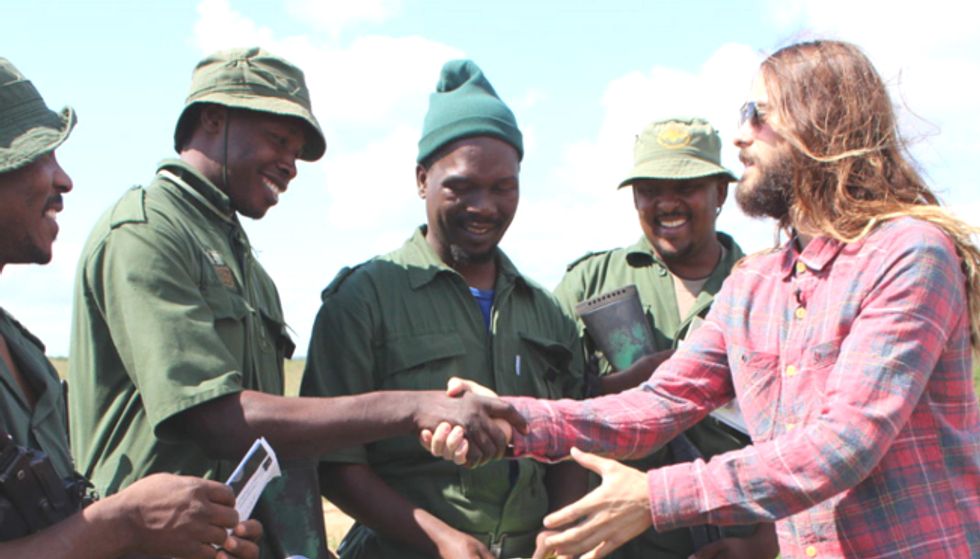 The project Leto travelled with focuses on a particular rhino which numbered 65,000 in the '60s. There are approximately 4,000 now, an increase from a low point of 2,000 in the early '90s. So far, 40 calves have been born at the translocation sites and only three have been poached.
WWF notes that the illegal wildlife trade, driven by demand for products such as rhino horns, elephant ivory and tiger skin, is a big business.
"Controlled by dangerous crime syndicates, wildlife is trafficked much like drugs or weapons," said WWF. "Wildlife criminals often operate with impunity, making the trade a low-risk/high-profit business. Today, it is the fifth most profitable illicit trade in the world, estimated at up to $10 billion annually."
"The world needs to wake up to the fact that we're losing rhinos, elephants and other critically important species," said WWF-US president and CEO Carter Roberts. "Their recovery lies in our hands. We need strong voices that can mobilize the efforts of many and I'm grateful to Jared Leto for lending his reputation and passion to the cause."
YOU MIGHT ALSO LIKE
Can Drones Stop Poaching and Save Rhinos and Elephants?
First-Ever World Wildlife Day Focuses Attention on Illegal Poaching and Trafficking
10 Animal Species That Could Vanish in 2015 if We Don't Act Now
EcoWatch Daily Newsletter
A harbour seal on an ice floe in Glacier Bay, Alaska. A new study shows that the climate crisis has warmed waters, changing ecosystems and crippling sea ice growth. Janette Hill / robertharding / Getty Images Plus
Doctors report that only 1 in 4 children are getting the recommended 60 minutes of physical activity per day. Ronnie Kaufman / DigitalVision / Getty Images
By Dan Gray
Pediatricians are being urged to start writing "exercise prescriptions" for the children they see in their office.
A First Nations protester walks in front of a train blockade in Tyendinaga, near Belleville, Ontario, Canada on Feb. 21, 2020. LARS HAGBERG / AFP via Getty Images
An indigenous rail blockade that snarled train travel in Canada for more than two weeks came to an end Monday when police moved in to clear protesters acting in solidarity with another indigenous community in British Columbia (B.C.), which is fighting to keep a natural gas pipeline off its land.
A rainbow snake, a rare reptile spotted in a Florida county for the first time in more than 50 years, seen here on July 5, 2013.
Kevin Enge / FWC Fish and Wildlife Research Institute / Flickr
A Florida hiker recently stumbled across a slithering surprise — a rare snake that hadn't been spotted in the area for more than 50 years.
We need our government to do everything it can to stop PFAS contamination and exposure from wreaking havoc in communities across the country. LuAnn Hun /
Unsplash
By Genna Reed
The EPA announced last week that it is issuing a preliminary regulatory determination for public comment to set an enforceable drinking water standard to two of the most common and well-studied PFAS, PFOA and PFOS.
This decision is based on three criteria:
PFOA and PFOS have an adverse effect on public health
PFOA and PFOS occur in drinking water often enough and at levels of public health concern;
regulation of PFOA and PFOS is a meaningful opportunity for reducing the health risk to those served by public water systems.