Japan's New 'Fukushima Fascism'

Fukushima continues to spew out radiation. The quantities seem to be rising, as do the impacts.
The site has been infiltrated by organized crime. There are horrifying signs of ecological disaster in the Pacific and human health impacts in the U.S.
But within Japan, a new State Secrets Act makes such talk punishable by up to ten years in prison.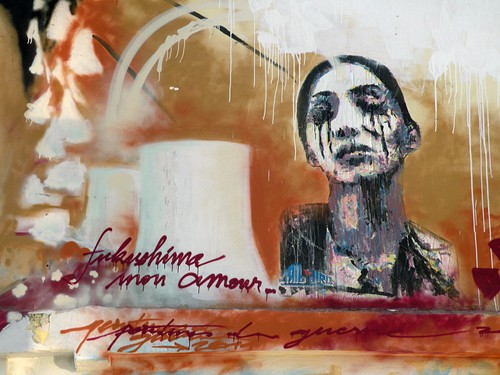 Taro Yamamoto, a Japanese legislator, says the law "represents a coup d'etat" leading to "the recreation of a fascist state." The powerful Asahi Shimbun newspaper compares it to "conspiracy" laws passed by totalitarian Japan in the lead-up to Pearl Harbor, and warns it could end independent reporting on Fukushima.
Prime Minister Shinzo Abe has been leading Japan in an increasingly militaristic direction. Tensions have increased with China. Massive demonstrations have been renounced with talk of "treason." 
But it's Fukushima that hangs most heavily over the nation and the world.
Tokyo Electric Power has begun the bring-down of hot fuel rods suspended high in the air over the heavily damaged Unit Four. The first assemblies it removed may have contained unused rods. The second may have been extremely radioactive.
But Tepco has clamped down on media coverage and complains about news helicopters filming the fuel rod removal.
Under the new State Secrets Act, the government could ban—and arrest—all independent media under any conditions at Fukushima, throwing a shroud of darkness over a disaster that threatens us all.
By all accounts, whatever clean-up is possible will span decades. The town of Fairfax, CA, has now called for a global takeover at Fukushima. More than 150,000 signees have asked the UN for such intervention.
As a private corporation, Tepco is geared to cut corners, slash wages and turn the clean-up into a private profit center.
It will have ample opportunity. The fuel pool at Unit Four poses huge dangers that could take years to sort out. But so do the ones at Units One, Two and Three. The site overall is littered with thousands of intensely radioactive rods and other materials whose potential fallout is thousands of times greater than what hit Hiroshima in 1945.
Soon after the accident, Tepco slashed the Fukushima workforce. It has since restored some of it, but has cut wages. Shady contractors shuttle in hundreds of untrained laborers to work in horrific conditions. Reuters says the site is heaving infiltrated by organized crime, raising the specter of stolen radioactive materials for dirty bombs and more.
Thousands of tons of radioactive water now sit in leaky tanks built by temporary workers who warn of their shoddy construction. They are sure to collapse with a strong earthquake.
Tepco says it may just dump the excess water into the Pacific anyway. Nuclear expert Arjun Makhijani has advocated the water be stored in supertankers until it can be treated, but the suggestion has been ignored.
Hundreds of tons of water also flow daily from the mountains through the contaminated site and into the Pacific. Nuclear engineer Arnie Gundersen long ago asked Tepco to dig a trench filled with absorbents to divert that flow. But he was told that would cost too much money.
Now Tepco wants to install a wall of ice. But that can't be built for at least two years. It's unclear where the energy to keep the wall frozen will come from, or if it would work at all.
Meanwhile, radiation is now reaching record levels in both the air and water.
The fallout has been already been detected off the coast of Alaska. It will cycle down along the west coast of Canada and the U.S. to northern Mexico by the end of 2014. Massive disappearances of sea lion pups, sardines, salmon, killer whales and other marine life are being reported, along with a terrifying mass disintegration of star fish. One sailor has documented a massive "dead zone" out 2,000 miles from Fukushima. Impacts on humans have already been documented in California and elsewhere.
Without global intervention, long-lived isotopes from Fukushima will continue to pour into the biosphere for decades to come.
The only power now being produced at Fukushima comes from a massive new windmill just recently installed offshore.  
Amidst a disaster it can't handle, the Japanese government is still pushing to re-open the 50 reactors forced shut since the melt-downs. It wants to avoid public fallout amidst a terrified population, and on the 2020 Olympics, scheduled for a Tokyo region now laced with radioactive hot spots. At least one on-site camera has stopped functioning. The government has also apparently stopped helicopter-based radiation monitoring.
A year ago a Japanese professor was detained 20 days without trial for speaking out against the open-air incineration of radioactive waste.
Now Prime Minister Abe can do far worse. The Times of India reports that the State Secrets Act is unpopular, and that Abe's approval ratings have dropped with its passage.
But the new law may make Japan's democracy a relic of its pre-Fukushima past.
It's the cancerous mark of a nuclear regime bound to control all knowledge of a lethal global catastrophe now ceaselessly escalating.
Visit EcoWatch's NUCLEAR page for more related news on this topic.
--------
Harvey Wasserman edits www.nukefree.org, where petitions calling for the repeal of Japan's State Secrets Act and a global takeover at Fukushima are linked. He is author of SOLARTOPIA! Our Green-Powered Earth.

Dow CEO Andrew Liveris and President Donald Trump in February.
U.S. Environmental Protection Agency (EPA) administrator Scott Pruitt met with Dow Chemical CEO Andrew Liveris before deciding to reverse an earlier EPA decision to ban the company's toxic and widely used pesticide, chlorpyrifos.
According to records obtained by the Associated Press, the EPA boss met with Liveris for about 30 minutes at a Houston hotel on March 9. Later that month, Pruitt announced that he would no longer pursue a ban on chlorpyrifos from being used on food, ignoring his agency's own review that even small amounts of the pesticide could impact fetus and infant brain development.
Keep reading...
Show less
www.facebook.com
Native communities and environmental justice advocates in Louisiana opened a new resistance camp Saturday to oppose the proposed Bayou Bridge Pipeline project. Called L'eau Est La Vie, or Water is Life, the camp will consist of floating indigenous art structures on rafts and constant prayer ceremonies during its first two weeks.
Keep reading...
Show less
Continuing its march toward elimination of key Clean Water Act protections, the U.S. Environmental Protection Agency (EPA) on Tuesday issued a formal notice of withdrawal of the Obama administration's rule defining which waters can be protected against pollution and destruction under federal law.
Keep reading...
Show less
The U.S. Environmental Protection Agency (EPA) is not doing enough to prevent weed resistance to the herbicide glyphosate (Roundup) says a new report from the EPA's Inspector General's Office, which draws in part on a report from the agbiotech company, Pioneer: Weed Management in the Era of Glyphosate Resistance.
Keep reading...
Show less
SUMR
When it comes to the latest wind turbine technologies, size matters. A group of six institutions and universities is designing an offshore wind turbine that will stand 500 meters in height. That's taller than the Eiffel Tower and the Empire State Building.
The research team, led by researchers at the University of Virginia, believes that its wind turbine concept will produce 50 megawatts of peak power, or about 10 times more powerful than conventional wind turbines.
Keep reading...
Show less
www.facebook.com
Natural gas is often considered the cleanest fossil fuel, but could it actually be dirtier than coal?
Watch as New York Times reporter Mark Bittman, in the above Year's of Living Dangerously video, investigates how much methane is leaking at fracking wells. Find out how the natural gas industry's claims compare to what scientists are reporting.
See what happens when Gaby Petron, an atmospheric scientist with NOAA, converts her van into a mobile methane detector and sets out across northeastern Colorado for two years, taking thousands of readings to uncover the truth.
www.youtube.com
Adrian Grenier was named UN Goodwill Ambassador earlier this month. The Hollywood actor, best known for his iconic role of A-list movie star Vincent Chase in the HBO smash hit and film Entourage, will advocate for drastically reducing single-use plastic and protection of marine species, and encourage his followers to make conscious consumer choices to reduce their environmental footprint, according to the UN Environment announcement.
"Together we must usher in a new era of compassion and carefulness through forward thinking environmental programs to drive measurable change," Grenier said. "I am personally committed to creating ways in which the global community can come together to help solve our most critical climate crises through routine, collective action.
"The more we connect to nature in our daily lives, the more dedicated we will become to our individual commitments. Together, I believe we can go further, faster in our race to achieve the UN Sustainable Development Goals by 2030."
Watch the video above to learn more.
The last week has seen a flood of stories on clean energy's prospects—stories that make your head spin with their conflicting tales of renewable energy's prospects of ending our dangerous addiction to fossil fuel power from coal and gas.
Keep reading...
Show less