Energy
Dec. 11, 2013 07:57AM EST
Japan's New 'Fukushima Fascism'

Fukushima continues to spew out radiation. The quantities seem to be rising, as do the impacts.
The site has been infiltrated by organized crime. There are horrifying signs of ecological disaster in the Pacific and human health impacts in the U.S.
But within Japan, a new State Secrets Act makes such talk punishable by up to ten years in prison.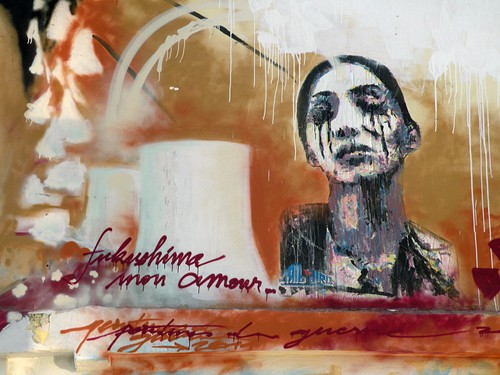 Taro Yamamoto, a Japanese legislator, says the law "represents a coup d'etat" leading to "the recreation of a fascist state." The powerful Asahi Shimbun newspaper compares it to "conspiracy" laws passed by totalitarian Japan in the lead-up to Pearl Harbor, and warns it could end independent reporting on Fukushima.
Prime Minister Shinzo Abe has been leading Japan in an increasingly militaristic direction. Tensions have increased with China. Massive demonstrations have been renounced with talk of "treason." 
But it's Fukushima that hangs most heavily over the nation and the world.
Tokyo Electric Power has begun the bring-down of hot fuel rods suspended high in the air over the heavily damaged Unit Four. The first assemblies it removed may have contained unused rods. The second may have been extremely radioactive.
But Tepco has clamped down on media coverage and complains about news helicopters filming the fuel rod removal.
Under the new State Secrets Act, the government could ban—and arrest—all independent media under any conditions at Fukushima, throwing a shroud of darkness over a disaster that threatens us all.
By all accounts, whatever clean-up is possible will span decades. The town of Fairfax, CA, has now called for a global takeover at Fukushima. More than 150,000 signees have asked the UN for such intervention.
As a private corporation, Tepco is geared to cut corners, slash wages and turn the clean-up into a private profit center.
It will have ample opportunity. The fuel pool at Unit Four poses huge dangers that could take years to sort out. But so do the ones at Units One, Two and Three. The site overall is littered with thousands of intensely radioactive rods and other materials whose potential fallout is thousands of times greater than what hit Hiroshima in 1945.
Soon after the accident, Tepco slashed the Fukushima workforce. It has since restored some of it, but has cut wages. Shady contractors shuttle in hundreds of untrained laborers to work in horrific conditions. Reuters says the site is heaving infiltrated by organized crime, raising the specter of stolen radioactive materials for dirty bombs and more.
Thousands of tons of radioactive water now sit in leaky tanks built by temporary workers who warn of their shoddy construction. They are sure to collapse with a strong earthquake.
Tepco says it may just dump the excess water into the Pacific anyway. Nuclear expert Arjun Makhijani has advocated the water be stored in supertankers until it can be treated, but the suggestion has been ignored.
Hundreds of tons of water also flow daily from the mountains through the contaminated site and into the Pacific. Nuclear engineer Arnie Gundersen long ago asked Tepco to dig a trench filled with absorbents to divert that flow. But he was told that would cost too much money.
Now Tepco wants to install a wall of ice. But that can't be built for at least two years. It's unclear where the energy to keep the wall frozen will come from, or if it would work at all.
Meanwhile, radiation is now reaching record levels in both the air and water.
The fallout has been already been detected off the coast of Alaska. It will cycle down along the west coast of Canada and the U.S. to northern Mexico by the end of 2014. Massive disappearances of sea lion pups, sardines, salmon, killer whales and other marine life are being reported, along with a terrifying mass disintegration of star fish. One sailor has documented a massive "dead zone" out 2,000 miles from Fukushima. Impacts on humans have already been documented in California and elsewhere.
Without global intervention, long-lived isotopes from Fukushima will continue to pour into the biosphere for decades to come.
The only power now being produced at Fukushima comes from a massive new windmill just recently installed offshore.  
Amidst a disaster it can't handle, the Japanese government is still pushing to re-open the 50 reactors forced shut since the melt-downs. It wants to avoid public fallout amidst a terrified population, and on the 2020 Olympics, scheduled for a Tokyo region now laced with radioactive hot spots. At least one on-site camera has stopped functioning. The government has also apparently stopped helicopter-based radiation monitoring.
A year ago a Japanese professor was detained 20 days without trial for speaking out against the open-air incineration of radioactive waste.
Now Prime Minister Abe can do far worse. The Times of India reports that the State Secrets Act is unpopular, and that Abe's approval ratings have dropped with its passage.
But the new law may make Japan's democracy a relic of its pre-Fukushima past.
It's the cancerous mark of a nuclear regime bound to control all knowledge of a lethal global catastrophe now ceaselessly escalating.
Visit EcoWatch's NUCLEAR page for more related news on this topic.
--------
Harvey Wasserman edits www.nukefree.org, where petitions calling for the repeal of Japan's State Secrets Act and a global takeover at Fukushima are linked. He is author of SOLARTOPIA! Our Green-Powered Earth.

Jul. 21, 2017 01:50PM EST
Will Rose / Greenpeace
Eleven peaceful activists from the Greenpeace ship Arctic Sunrise have taken to the water in inflatable boats with handheld banners to oppose the Statoil Songa Enabler oil rig, 275 km North off the Norwegian coast, in the Arctic Barents sea.
The banners say: "People Vs. Arctic Oil" and are directed at Statoil and the Norwegian government, which has opened a new, aggressive search for oil in the waters of the Barents Sea.
Keep reading...
Show less
Jul. 21, 2017 10:34AM EST
Dominion Pipeline Monitoring Coalition
The Federal Energy Regulatory Commission (FERC) paved the way Friday for the 600-mile, 42-inch fracked gas Atlantic Coast Pipeline to proceed when it issued the final environmental impact statement (FEIS). A joint project of utility giants Duke Energy and Dominion Energy, the Atlantic Coast Pipeline would move fracked gas from West Virginia into Virginia and North Carolina.
In April, the Sierra Club submitted more than 500 pages of legal and technical comments on FERC's draft EIS, which were joined by more than 18,000 individual comments detailing opposition to the project. The pipeline has been met with widespread opposition, with more than 1,000 people participating in public hearings across the three affected states. The Sierra Club recently requested that FERC issue a new environmental review document analyzing information that came in after or late in, the public comment process.
Keep reading...
Show less
Jul. 21, 2017 08:25AM EST
Greenpeace / PolluterWatch
By Jessica Corbett
"It's time Rex Tillerson step down or be removed," said Gigi Kellett of Corporate Accountability International, following an announcement on Thursday that ExxonMobil will pay $2 million for violating U.S. sanctions against Russian officials while the now-secretary of state was the company's CEO.
"ExxonMobil demonstrated reckless disregard for U.S. sanction requirements," according to enforcement filing released by the Treasury Department's Office of Foreign Assets Control (OFAC), which issued the penalty. Though the fine is reportedly the maximum penalty allowed, it's pittance to one of the world's most profitable and powerful corporations, which last year reported a profit of $7.8 billion.
Keep reading...
Show less
Jul. 21, 2017 11:15AM EST
New analysis from Amory B. Lovins debunks the notion that highly unprofitable, economically distressed nuclear plants should be further subsi­dized to meet financial, security, reliability and climate goals. The analysis, which will appear shortly in The Electricity Journal, shows that closing costly-to-run nuclear plants and reinvesting their saved operating costs in energy efficiency provides cheaper elec­tricity, increases grid reliability and security, reduces more carbon, and preserves (not distorts) market integrity—all without subsidies.

Keep reading...
Show less
Jul. 21, 2017 08:44AM EST
Oil Change International / Twitter
By Christian Detisch and Seth Gladstone
In the wake of Senate Republicans' ever-deepening debacle over their flailing attempts to strip health insurance from 22 million people, Majority Leader Mitch McConnell is desperate to do something—anything—to show that he can get legislation passed. To this end, he's bypassing the standard committee review process to push a complex 850+ page energy bill straight to the full Senate floor. Perhaps not surprisingly, this legislation, the Energy and Natural Resources Act of 2017, would be a disaster for public health and our climate.
Keep reading...
Show less
Jul. 21, 2017 08:11AM EST
Rooftop solar panels on a beach house in southern Florida. TAI VIINIKKA / CC BY-NC-ND 2.0
A new law passed this week in South Miami will require all new homes built in the city to install solar panels. The measure, which was inspired by a proposal from a teenage climate activist, will go into effect in September.
The text of the ordinance details the climate impacts facing South Miami.
Keep reading...
Show less
Jul. 21, 2017 10:27AM EST
www.youtube.com
Keep reading...
Show less
Jul. 21, 2017 08:49AM EST
iStock
By Katherine Paul and Ronnie Cummins
A recent series of articles by a Washington Post reporter could have some consumers questioning the value of the U.S. Department of Agriculture's (USDA) organic seal. But are a few bad eggs representative of an entire industry?
Consumers are all for cracking down on the fraudulent few who, with the help of Big Food, big retail chains and questionable certifiers give organics a bad name. But they also want stronger standards, and better enforcement—not a plan to weaken standards to accommodate "Factory Farm Organic."
Keep reading...
Show less


Get EcoWatch in your inbox