This website uses cookies to ensure you get the best experience while browsing it. By clicking 'Got It' you're accepting these terms.
Japan's New 'Fukushima Fascism'
Dec. 11, 2013 07:57AM EST

Fukushima continues to spew out radiation. The quantities seem to be rising, as do the impacts.
The site has been infiltrated by organized crime. There are horrifying signs of ecological disaster in the Pacific and human health impacts in the U.S.
But within Japan, a new State Secrets Act makes such talk punishable by up to ten years in prison.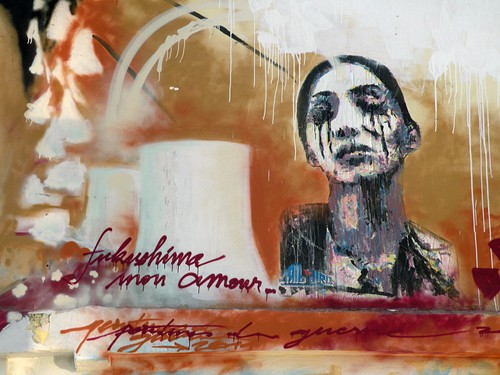 Taro Yamamoto, a Japanese legislator, says the law "represents a coup d'etat" leading to "the recreation of a fascist state." The powerful Asahi Shimbun newspaper compares it to "conspiracy" laws passed by totalitarian Japan in the lead-up to Pearl Harbor, and warns it could end independent reporting on Fukushima.
Prime Minister Shinzo Abe has been leading Japan in an increasingly militaristic direction. Tensions have increased with China. Massive demonstrations have been renounced with talk of "treason." 
But it's Fukushima that hangs most heavily over the nation and the world.
Tokyo Electric Power has begun the bring-down of hot fuel rods suspended high in the air over the heavily damaged Unit Four. The first assemblies it removed may have contained unused rods. The second may have been extremely radioactive.
But Tepco has clamped down on media coverage and complains about news helicopters filming the fuel rod removal.
Under the new State Secrets Act, the government could ban—and arrest—all independent media under any conditions at Fukushima, throwing a shroud of darkness over a disaster that threatens us all.
By all accounts, whatever clean-up is possible will span decades. The town of Fairfax, CA, has now called for a global takeover at Fukushima. More than 150,000 signees have asked the UN for such intervention.
As a private corporation, Tepco is geared to cut corners, slash wages and turn the clean-up into a private profit center.
It will have ample opportunity. The fuel pool at Unit Four poses huge dangers that could take years to sort out. But so do the ones at Units One, Two and Three. The site overall is littered with thousands of intensely radioactive rods and other materials whose potential fallout is thousands of times greater than what hit Hiroshima in 1945.
Soon after the accident, Tepco slashed the Fukushima workforce. It has since restored some of it, but has cut wages. Shady contractors shuttle in hundreds of untrained laborers to work in horrific conditions. Reuters says the site is heaving infiltrated by organized crime, raising the specter of stolen radioactive materials for dirty bombs and more.
Thousands of tons of radioactive water now sit in leaky tanks built by temporary workers who warn of their shoddy construction. They are sure to collapse with a strong earthquake.
Tepco says it may just dump the excess water into the Pacific anyway. Nuclear expert Arjun Makhijani has advocated the water be stored in supertankers until it can be treated, but the suggestion has been ignored.
Hundreds of tons of water also flow daily from the mountains through the contaminated site and into the Pacific. Nuclear engineer Arnie Gundersen long ago asked Tepco to dig a trench filled with absorbents to divert that flow. But he was told that would cost too much money.
Now Tepco wants to install a wall of ice. But that can't be built for at least two years. It's unclear where the energy to keep the wall frozen will come from, or if it would work at all.
Meanwhile, radiation is now reaching record levels in both the air and water.
The fallout has been already been detected off the coast of Alaska. It will cycle down along the west coast of Canada and the U.S. to northern Mexico by the end of 2014. Massive disappearances of sea lion pups, sardines, salmon, killer whales and other marine life are being reported, along with a terrifying mass disintegration of star fish. One sailor has documented a massive "dead zone" out 2,000 miles from Fukushima. Impacts on humans have already been documented in California and elsewhere.
Without global intervention, long-lived isotopes from Fukushima will continue to pour into the biosphere for decades to come.
The only power now being produced at Fukushima comes from a massive new windmill just recently installed offshore.  
Amidst a disaster it can't handle, the Japanese government is still pushing to re-open the 50 reactors forced shut since the melt-downs. It wants to avoid public fallout amidst a terrified population, and on the 2020 Olympics, scheduled for a Tokyo region now laced with radioactive hot spots. At least one on-site camera has stopped functioning. The government has also apparently stopped helicopter-based radiation monitoring.
A year ago a Japanese professor was detained 20 days without trial for speaking out against the open-air incineration of radioactive waste.
Now Prime Minister Abe can do far worse. The Times of India reports that the State Secrets Act is unpopular, and that Abe's approval ratings have dropped with its passage.
But the new law may make Japan's democracy a relic of its pre-Fukushima past.
It's the cancerous mark of a nuclear regime bound to control all knowledge of a lethal global catastrophe now ceaselessly escalating.
Visit EcoWatch's NUCLEAR page for more related news on this topic.
--------
Harvey Wasserman edits www.nukefree.org, where petitions calling for the repeal of Japan's State Secrets Act and a global takeover at Fukushima are linked. He is author of SOLARTOPIA! Our Green-Powered Earth.

EcoWatch Daily Newsletter
Sriram Madhusoodanan of Corporate Accountability speaking on conflict of interest demand of the People's Demands at a defining action launching the Demands at COP24. Corporate Accountability
By Patti Lynn
2018 was a groundbreaking year in the public conversation about climate change. Last February, The New York Times reported that a record percentage of Americans now believe that climate change is caused by humans, and there was a 20 percentage point rise in "the number of Americans who say they worry 'a great deal' about climate change."
The head of England's Environment Agency has urged people to stop watering their lawns as a climate-induced water shortage looms. Pexels
England faces an "existential threat" if it does not change how it manages its water, the head of the country's Environment Agency warned Tuesday.
Pexels
By Jessica Corbett
A new analysis revealed Tuesday that over the past two decades heat records across the U.S. have been broken twice as often as cold ones—underscoring experts' warnings about the increasingly dangerous consequences of failing to dramatically curb planet-warming emissions.
A flock of parrots in Telegraph Hill, San Francisco.
~dgies / Flickr
By Madison Dapcevich
Ask any resident of San Francisco about the waterfront parrots, and they will surely tell you a story of red-faced conures squawking or dive-bombing between building peaks. Ask a team of researchers from the University of Georgia, however, and they will tell you of a mysterious string of neurological poisonings impacting the naturalized flock for decades.
Fire burns in the North Santiam State Recreational Area on March 19. Oregon Department of Forestry
An early-season wildfire near Lyons, Oregon burned 60 acres and forced dozens of homes to evacuate Tuesday evening, the Oregon Department of Forestry (ODF) said, as KTVZ reported.
The initial cause of the fire was not yet known, but it has been driven by the strong wind and jumped the North Santiam River, The Salem Statesman Journal reported. As of Tuesday night, it threatened around 35 homes and 30 buildings, and was 20 percent contained.
Edwin Hardeman is the plaintiff in the first U.S. federal trial claiming that Roundup causes cancer. NOAH BERGER / AFP / Getty Images
A second U.S. jury has ruled that Roundup causes cancer.
The unanimous verdict was announced Tuesday in San Francisco in the first federal case to be brought against Monsanto, now owned by Bayer, alleging that repeated use of the company's glyphosate-containing weedkiller caused the plaintiff's cancer. Seventy-year-old Edwin Hardeman of Santa Rosa, California said he used Roundup for almost 30 years on his properties before developing non-Hodgkin's lymphoma.
The decision comes less than a year after a jury awarded $289 million to Bay-area groundskeeper Dewayne Johnson over similar claims. The amount was later reduced to $78 million.
"Today's verdict reinforces what another jury found last year, and what scientists with the state of California and the World Health Organization have concluded: Glyphosate causes cancer in people," Environmental Working Group President Ken Cook said in a statement. "As similar lawsuits mount, the evidence will grow that Roundup is not safe, and that the company has tried to cover it up."
Judge Vince Chhabria has split Hardeman's trial into two phases. The first, decided Tuesday, focused exclusively on whether or not Roundup use caused the plaintiff's cancer. The second, to begin Wednesday, will assess if Bayer is liable for damages.

"We are disappointed with the jury's initial decision, but we continue to believe firmly that the science confirms glyphosate-based herbicides do not cause cancer," Bayer spokesman Dan Childs said in a statement reported by The Guardian. "We are confident the evidence in phase two will show that Monsanto's conduct has been appropriate and the company should not be liable for Mr. Hardeman's cancer."
Some legal experts said that Chhabria's decision to split the trial was beneficial to Bayer, Reuters reported. The company had complained that the jury in Johnson's case had been distracted by the lawyers' claims that Monsanto had sought to mislead scientists and the public about Roundup's safety.

However, a remark made by Chhabria during the trial and reported by The Guardian was blatantly critical of the company.
"Although the evidence that Roundup causes cancer is quite equivocal, there is strong evidence from which a jury could conclude that Monsanto does not particularly care whether its product is in fact giving people cancer, focusing instead on manipulating public opinion and undermining anyone who raises genuine and legitimate concerns about the issue," he said.
Many regulatory bodies, including the U.S. Environmental Protection Agency, have ruled that glyphosate is safe for humans, but the World Health Organization's International Agency for Research on Cancer found it was "probably carcinogenic to humans" in 2015. A university study earlier this year found that glyphosate use increased cancer risk by as much as 41 percent.
Hardeman's lawyers Jennifer Moore and Aimee Wagstaff said they would now reveal Monsanto's efforts to mislead the public about the safety of its product.
"Now we can focus on the evidence that Monsanto has not taken a responsible, objective approach to the safety of Roundup," they wrote in a statement reported by The Guardian.
Hardeman's case is considered a "bellwether" trial for the more than 760 glyphosate cases Chhabria is hearing. In total, there are around 11,200 such lawsuits pending in the U.S., according to Reuters.
University of Richmond law professor Carl Tobias told Reuters that Tuesday's decision showed that the verdict in Johnson's case was not "an aberration," and could possibly predict how future juries in the thousands of pending cases would respond.
PxHere
Americans like wind turbines as neighbors, at least when compared with the alternatives.
Offutt Air Force Base after flooding on March 17. U.S. Air Force / TSgt. Rachelle Blake