Japanese Whaler's Injunction Against Sea Shepherd Denied in U.S. District Court
Feb. 20, 2012 09:20PM EST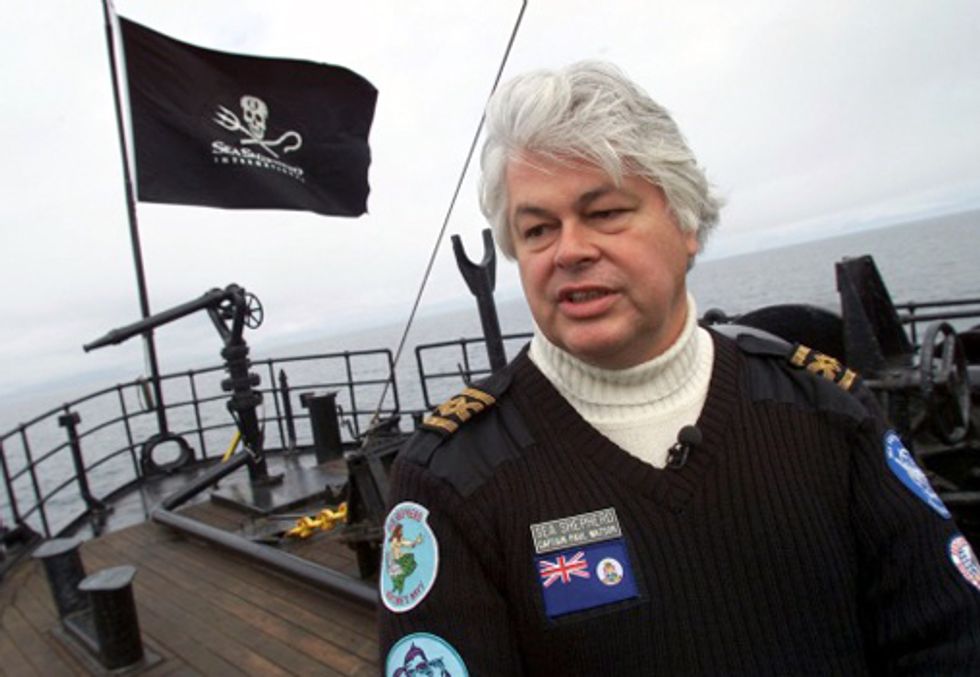 A Seattle district court has denied a preliminary injunction in the case of The Institute for Cetacean Research (ICR) vs. Sea Shepherd Conservation Society. This injunction was an attempt by the ICR to immediately halt Sea Shepherd's anti-whaling activities in the Southern Ocean Whale Sanctuary. Judge Richard A. Jones made it quite clear that in addition to looking at Sea Shepherd's activities in the Southern Ocean, the issue of whaling and its legality would indeed be at the heart of this case. Sea Shepherd's legal team, Harris and Moure, presented an outstanding defense against the ICR's attempt to halt Sea Shepherd's activities in the Southern Ocean. The judge acknowledged that Sea Shepherd is not a violent organization and does not intend to cause harm to anyone. Based on the declarations and videos submitted to the court Judge Jones declared "It is apparent to me the Sea Shepherd would prefer that people not get hurt. There is no evidence that they have ever done anything with the intention of hurting anyone."
The court declared that it does have subject matter jurisdiction over this case based on the Alien Torte Statute and admiralty jurisdiction. The Alien Torte Statute allows non-U.S. citizens to file civil suits in U.S. federal courts for cases dealing with violations of international law. The court also expressed displeasure with the Japanese whalers for filing an injunction against Sea Shepherd while appearing to be themselves in violation of an injunction issued by the Australian Federal Court. This injunction prohibits the whalers from hunting whales in the Australian Whale Sanctuary, which the ICR is clearly in violation of. Judge Jones asked the plaintiffs, represented by Portland-based law firm Miller and Nash, why they believed they should be able to ask another court for an injunction that benefits them, when they are clearly in violation of an injunction themselves. The plaintiff's answer to this was that because the ships move they can't confirm whether the whaling fleet is in Australian waters and therefore in violation of this injunction. As Sea Shepherd crews can attest, the Japanese whaling fleet has been in direct violation of this court ordered injunction issued in 2008 and have certainly killed whales within the Australian Marine Sanctuary.
Sea Shepherd has filed a motion to have the entire case dismissed from the U.S. court system on the grounds that this case should be resolved in either World Court, Australian Court or through diplomacy. The court requested more time to sort through the specific issues and arguments before ruling on this motion. Judge Jones has made it evident that if this case does go to trial that the court will hear arguments on the legality of whaling. "The plaintiffs insist that I am not supposed to consider the legality or illegality of the whaling activities. In my assessment, I believe it would be inappropriate for me to consider the balance of hardships or the public interest without considering the environmental consequences in this case. Now, it is clear to me that a substantial portion of the world believes it is very much not in the public interest to continue killing whales in the Southern Ocean. It is also clear to me that the environmental harms, like the killing of hundreds of whales, are relevant in the balance of hardships. So please understand in this context I must consider this aspect of the facts," said Judge Jones.
Upon learning the details of the court hearing, Captain Paul Watson, currently in the Southern Ocean, stated "I think we can count on Judge Jones to make a fair verdict on this case. I was impressed that he considers the issue of legality of whaling to be relevant here and Sea Shepherd would welcome a trial that addresses the legality of whaling. We are in the Southern Ocean not to protest whaling but to oppose an illegal activity and we have always said that we would prefer a court to deal with this issue rather than to risk confrontations on the high seas. The Japanese have unwittingly opened the door to challenging them in a U.S. Court over their activities by filing this case against Sea Shepherd. We intend to walk through that door."
--------
Established in 1977, Sea Shepherd Conservation Society (SSCS) is an international non-profit conservation organization whose mission is to end the destruction of habitat and slaughter of wildlife in the world's oceans in order to conserve and protect ecosystems and species. Sea Shepherd uses innovative direct-action tactics to investigate, document, and take action when necessary to expose and confront illegal activities on the high seas. By safeguarding the biodiversity of our delicately balanced oceanic ecosystems, Sea Shepherd works to ensure their survival for future generations. Founder and President Captain Paul Watson, is a world renowned, respected leader in environmental issues.
EcoWatch Daily Newsletter
Related Articles from EcoWatch
Recent Stories from EcoWatch