This website uses cookies to ensure you get the best experience while browsing it. By clicking 'Got It' you're accepting these terms.
Japanese Police Harass Marine Wildlife Conservationists
Dec. 20, 2011 08:50AM EST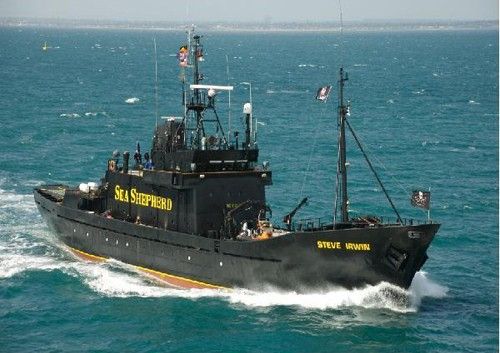 Eighteen officers of the Wakayama Prefecture police raided the Charmant Hotel where Sea Shepherd's Cove Guardians have been staying near Taiji, Japan. Armed with a warrant, which they claimed was for video taken by Cove Guardian Erwin Vermeulen, the police seized all of the Sea Shepherd volunteers' computers, phones, hard drives, photos, cameras and other items that the police deemed suspicious. The cell phones and cameras emptied of all secure digital (SD) cards were subsequently returned to the three Sea Shepherd volunteers present. No reasons have been given for this raid.
The raid follows the arrest of Dutch citizen and Cove Guardian Vermeulen, who was charged with assault on an employee of the Dolphin Resort Hotel. Vermeulen had been filming the transfer of dolphins from the sea to holding pens at the resort, and this employee called out to the police and claimed that Vermeulen had pushed him. There were no witnesses to this event. Vermeulen has been held in jail at Shingu since Dec. 16 with no communication or visitation permitted from Sea Shepherd personnel or family members.
This is the latest in a recent series of instances of harassment of Sea Shepherd volunteers in Japan. Two female Cove Guardians were assaulted by a fisherman Nov. 5, despite video evidence of the unprovoked assault, the fisherman was questioned briefly and released. On arrival in Osaka airport Dec. 16, enroute to Taiji, a male Cove Guardian from the U.S. was stripped down to his underwear, searched, and all of his computer equipment, camera, and Sea Shepherd clothing and paraphernalia were taken from him. No reason was given.
Detained and stripped of all electronics and communications equipment except their personal cell phones during the hotel raid were Sea Shepherd's remaining three Cove Guardians (Scott West, Melissa Sehgal and Ron Ball) and one volunteer from "Save Japan Dolphins" (Heather Hill), all U.S. citizens. They have since been released.
Sea Shepherd's Cove Guardians have been present to photo-document this ignoble tradition every September-March since 2008. Their mission is to promote public awareness and to pressure the government of Japan to stop supporting and permitting this practice. The Cove Guardians follow strict guidelines from Sea Shepherd headquarters to respect all local laws, maintain a low profile, and to serve as journalists to witness and document events there. This is the first time ever that the Cove Guardians have been imprisoned, subject to search and seizure, or even accused of violating any local laws.
The government of Japan has been taking multiple approaches to hobble Sea Shepherd's nonviolent protests of their large-scale dolphin and whale slaughters, through combinations of arrests, harassment, lawsuits, and imposition of financial and psychological hardship on the organization and its volunteers.
They have filed a lawsuit against Sea Shepherd in the U.S. for allegedly interfering with their annual whale hunt. And they claim to have spent the equivalent of $30 million USD this year, over and above their usual subsidies, to equip their whalers now headed for the Southern Ocean Whale Sanctuary with new tactics to oppose Sea Shepherd. This, despite the underfunded Tsunami Relief Fund and despite the International Maritime Organization's new regulation banning the use of heavy fuel oil—hence of the type used by the whalers' factory ship—south of 60° latitude.
Sea Shepherd's Founder and President, Captain Paul Watson said, "None of these bullying tactics by Japan will deter us from continuing to protect the whales and dolphins and other marine life of this planet."
This year's killing season in Taiji will go on through the end of March 2012. Sea Shepherd is encouraging the public to send emails, letters, phone calls and other communications to local Taiji government offices, the Fishermen's Union, Taiji Whale Museum, Dolphin Base, the Dolphin Resort hotel, and Japanese embassies and consulates around the world. They are also requesting donations to cover immediate replacement of at least one laptop and several SD cards for the volunteers' cameras, so that their documentation work can continue immediately.
For more information, click here.
—————
For several years, Sea Shepherd has been documenting and working to gain public support in order to end the brutal, unnecessary, unproductive annual capture and slaughter of hundreds of wild dolphins in Taiji, Japan. The continued courageous on-site presence of Sea Shepherd volunteers has brought about significant reduction in the number of dolphins tortured and killed, but their aim is to end it. Sea Shepherd's campaign in Taiji this year is called Infinite Patience, and their volunteers there are known as Cove Guardians.
EcoWatch Daily Newsletter
Waterloo Bridge during the Extinction Rebellion protest in London. Martin Hearn / Flickr / CC BY 2.0
Money talks. And today it had something to say about the impending global climate crisis.
Sam Cooper
By Sam Cooper
Thomas Edison once said, "I'd put my money on the sun and solar energy. What a source of power!"
Simple swaps that cut down on kitchen trash.
Sponsored
By Kayla Robbins
Along with the bathroom, the kitchen is one of the most daunting areas to try and make zero waste.
A NOAA research vessel at a Taylor Energy production site in the Gulf of Mexico in September 2018. NOAA
The federal government is looking into the details from the longest running oil spill in U.S. history, and it's looking far worse than the oil rig owner let on, as The New York Times reported.
Golde Wallingford submitted this photo of "Pure Joy" to EcoWatch's first photo contest. Golde Wallingford
EcoWatch is pleased to announce our third photo contest!

Damage at the Malheur National Wildlife Refuge from the 2016 occupation. USFWS
By Tara Lohan
When armed militants with a grudge against the federal government seized the Malheur National Wildlife Refuge in rural Oregon back in the winter of 2016, I remember avoiding the news coverage. Part of me wanted to know what was happening, but each report I read — as the occupation stretched from days to weeks and the destruction grew — made me so angry it was hard to keep reading.
Computer model projection of temperature anomalies across Europe on June 27. Temperature scale in °C. Tropicaltidbits.com
A searing heat wave has begun to spread across Europe, with Germany, France and Belgium experiencing extreme temperatures that are set to continue in the coming days.
Skull morphology of hybrid "narluga" whale. Nature / Mikkel Høegh Post
In the 1980s, a Greenlandic subsistence hunter shot and killed a whale with bizarre features unlike any he had ever seen before. He knew something was unique about it, so he left its abnormally large skull on top of his toolshed where it rested until a visiting professor happened upon it a few years later.