This website uses cookies to ensure you get the best experience while browsing it. By clicking 'Got It' you're accepting these terms.
Japanese Citizens Take Their Nuclear Fight to Court
Jul. 06, 2012 09:00AM EST
Energy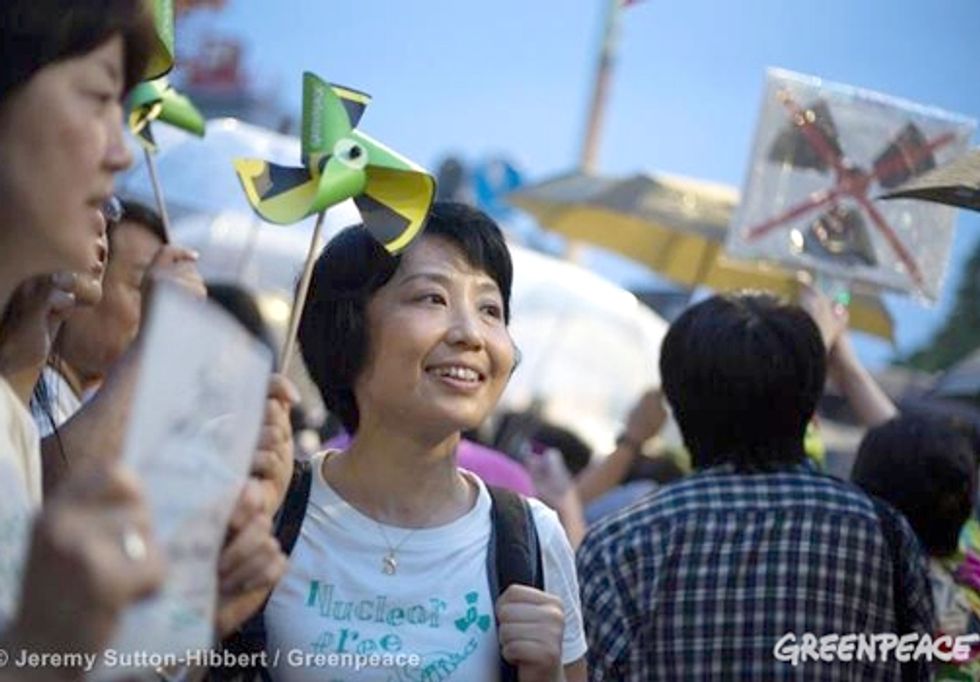 By Justin McKeating
With the first nuclear reactor to be restarted in Japan after the 2011 Fukushima disaster to begin producing electricity soon, it's clear the country's government has decided to step back into the dangerous past rather than race into a sustainable future of renewable energy.
The government is restarting reactors despite opposition from local leaders and despite massive protests from Japan's people. This disregard for their concerns has forced some groups to go to court to fight the restarts.
The government restarted the Number 3 reactor at the Ohi nuclear plant in Fukui Prefecture in central Japan on July 1. The tens of thousands of people who protested against the restart outside the prime minister's office in Tokyo were ignored, even though Prime Minister Yoshihiko Noda claimed he was "startled" by the huge size of the gathering. The government plans to restart Ohi's Number 4 reactor later this month.
The restart at Ohi has not gone smoothly. As if the people living close to nuclear reactors in Japan aren't worried enough, "more than two dozen alarms rang out at the plant. That came after three days after a separate alarm was triggered mid-week." Fortunately, those alarms were false and caused by "unstable atmospheric conditions, such as a dense fog." Attempts to reassure concerned people have failed at the outset.
This follows warnings just last week from Mitsuhisa Watanabe, a tectonic geomorphologist at Toyo University, and Katsuhiko Ishibashi, seismologist and professor emeritus at Kobe University. Using Ohi operator Kansai Electric Power Co's (KEPCO) own published seismic data, the scientists have found that the reactors sit on geological faults that could produce much larger earthquakes than KEPCO has previously admitted. In 2005, Ishibashi predicted an earthquake could cause a nuclear disaster. In March 2011, he was proved terribly right.
After being shown in such blunt terms that their government is not listening to them, concerned citizens are now resorting to legal means to try to stop the Ohi reactors.
The case of two groups, Green Action and Mihama-no-Kai (Osaka Citizens Against the Mihama, Ohi and Takahama Nuclear Power Plants), before a Japanese court concludes July 9, with a decision expected within two weeks.
The groups cite errors in the guidelines for reactor design safety criteria, the three active earthquake faults near the Ohi plant and the need to re-examine the fault under the plant. They also raise concerns that ageing piping at Ohi could be damaged by an earthquake, based on the suspicion that important equipment at the Fukushima reactors was damaged by the March 2011 earthquake and not by the subsequent tsunami. Here at Greenpeace we wish them every success in their bid.
Why has the Japanese government acted so rashly and irresponsibly?
The disaster at Fukushima is far from under control. Sixteen months after the reactors there melted down, record levels of radiation—enough to give a person a year's worth of radiation exposure in just 20 seconds—were found in the Number 1 reactor's building. Over at reactor Number 4, the building which houses 1,331 highly radioactive spent nuclear rods is "tilting" and "bulging". This week the pool's cooling system failed. The exposure of this fuel to the environment could result in a catastrophic release of radiation.
In the past year, the Japanese people have bravely shown the world that they can live without nuclear power. The Japanese government should follow where the people lead—away from an outdated, discredited and dangerous nuclear past and into a future that offers safe, clean and plentiful renewable energy. The way forward is clear.
Visit EcoWatch's NUCLEAR page for more related news on this topic.
EcoWatch Daily Newsletter
A Starbucks barista prepares a drink at a Starbucks Coffee Shop location in New York. Ramin Talaie / Corbis via Getty Images
By Cathy Cassata
Are you getting your fill of Starbucks' new Almondmilk Honey Flat White, Oatmilk Honey Latte, and Coconutmilk Latte, but wondering just how healthy they are?
By Sharon Kelly
Back in April last year, the Trump administration's Environmental Protection Agency decided it was "not necessary" to update the rules for toxic waste from oil and gas wells. Torrents of wastewater flow daily from the nation's 1.5 million active oil and gas wells and the agency's own research has warned it may pose risks to the country's drinking water supplies.
Swedish climate activist Greta Thunberg takes part in a "Friday for Future" youth demonstration in a street of Davos on Jan. 24, 2020 on the sideline of the World Economic Forum annual meeting. FABRICE COFFRINI / AFP via Getty Images
Treasury Secretary Steven Mnuchin pretended not to know who Greta Thunberg is, and then he told her to get a degree in economics before giving world leaders advice, as The Guardian reported.
The Visible Infrared Imaging Radiometer Suite on the Suomi NPP satellite acquired this image of forest fire smoke hovering over North America on Aug. 15, 2018. NASA Earth Observatory
New York City isn't known for having the cleanest air, but researchers traced recent air pollution spikes there to two surprising sources — fires hundreds of miles away in Canada and the southeastern U.S.
If temperatures continue to rise, the world is at risk from global
sea-level rise
, which will flood many coastal cities as seen above in Bangladesh. NurPhoto / Contributor / Getty Images
The mounting climate emergency may spur the next global financial crisis and the world's central banks are woefully ill equipped to handle the consequences, according to a new book-length report by the Bank for International Settlements (BIS), as S&P Global reported. Located in Basel, Switzerland, the BIS is an umbrella organization for the world's central banks.