Japan Hit by Massive Floods as 100,000+ Flee Homes After "Unprecedented' Rainfall
Sep. 10, 2015 10:36AM EST
Climate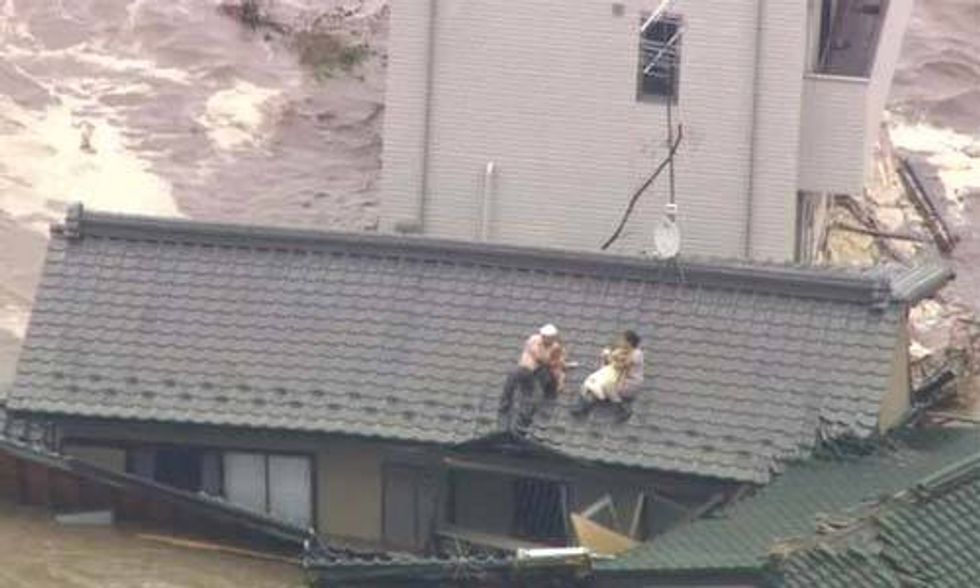 Widespread flooding and landslides in northeast Japan have forced more than 100,000 people to evacuate. The city of Joso, north of the capital Tokyo, was inundated after the Kinugawa River overflowed, reports the BBC. Originally, an additional 800,000 people were told to evacuate as a precautionary measure by officials, who warned the 5 million residents in northeastern Japan of "once in a half century rains."
#InPics | Tropical storm Etau causes massive floods in Japan | http://t.co/toJwfNLRhC pic.twitter.com/ZVEC3AFmKb

— The Indian Express (@IndianExpress) September 10, 2015
"Japan gets hit by, on average, 20 to 30 such storms each year," says the BBC. "This is the 18th this year so despite the heavy rainfall that we have experienced over the last few days, it was difficult to predict how severe the damage would be. The Kinugawa River bursting its banks took even experts by surprise, especially because of the widespread areas that it has affected." At least two people have died, 12 are injured and several others are missing as the flooding left large areas underwater. Scores of Joso residents clung to telephone poles and waited on rooftops to be rescued by helicopter. Entire houses have been swept away by the flooding.
Floods in Japan have forced tens of thousands of people from their homes, @BBCNews reports http://t.co/5oF2YY1S2z pic.twitter.com/Rzx6ZXBFYS — BuzzFeed News (@BuzzFeedNews) September 10, 2015
Worst rain in decades pound #Japan; tens of thousands evacuated as houses are swept away - http://t.co/H4pRKL0WjY pic.twitter.com/LMBkhliZRe

— Voice of America (@VOANews) September 10, 2015
State of emergency declared because of flooding in #Joso near Tokyo http://t.co/0FXoqI3J62 pic.twitter.com/dQvvWK40fo

— Bloomberg Business (@business) September 10, 2015
The torrential rain, which Takuya Deshimaru, chief forecaster at the Japan Meteorological Agency, called "unprecedented" for that part of Japan, was brought by Typhoon Etau, which has since been downgraded to a tropical storm. The storm, which made landfall on Wednesday, had moved out into the Sea of Japan by Thursday afternoon, but continued to dump heavy rainfall on many parts of the country.
"This is a downpour on a scale that we have not experienced before," Deshimaru told The Guardian. "Grave danger could be imminent."
The heavy rain caused "additional leaks of radioactive water at the stricken Fukushima Daiichi nuclear power plant," according to The Guardian. Rain "overwhelmed" the site's drainage pumps, releasing hundreds of tons of contaminated water into the Pacific. Joso was soaked with 20 inches of rainfall, NHK national television told Reuters, with weather officials expecting at least eight more inches in parts of eastern Japan, including Fukushima.
YOU MIGHT ALSO LIKE
Watch NASA Explain Why We Should All Be Worried About Greenland's Melting Ice Sheet
Europe's Next Crisis: Climate Refugees
Naomi Klein: 'Toxic Ideology of Market Fundamentalism' Is to Blame for the 'Degradation of the Planetary System'
EcoWatch Daily Newsletter
Recent Stories from EcoWatch