Japan 'Determined' to Resume Commercial Whaling

Kill more mother whales? That's what the Japanese government wants to do.
Gearing up to kill more than 1,000 whales in internationally protected waters, Japan's senior vice-minister announced that Japan is "determined to continue the [whaling] program until it leads to the resumption of commercial whaling."
It can take more than an hour for a harpooned whale to be dragged until it dies. We can't let it continue.
Now, in light of Japan's declaration that it intends to kill even more whales, President Barack Obama must make good on his promise. As the President himself put it, "allowing Japan to continue commercial whaling is unacceptable."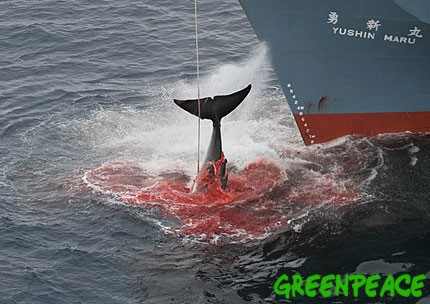 We need Obama to act before another whale is killed—and that means he needs to hear from you today. Thanks to your letters, the Obama administration has already taken important steps to save whales this year, standing up against vote-buying in the International Whaling Commission (IWC) and imposing diplomatic sanctions on Iceland.
Starting today, the U.S. must help turn the IWC into a conservation body that protects whales, not whaling. The Administration needs to have bilateral talks with nations who are stalling reforms and work with other conservation-minded nations. It's time to take a stand.
Ask Obama to fulfill his campaign promise to protect whales. We need the help of whale protectors like you to send 50,000 letters to Obama this week.
Tell President Obama, "There's no more time to delay on your word. Stop the brutal slaughter of whales now."
We've made remarkable strides to save whales this year, and we're not going to slide backward and let Japan resume commercial whaling. We can end this senseless practice once and for all, but we need to stand together and speak up.
www.facebook.com
Keep reading...
Show less
Keep reading...
Show less
www.elysee.fr
By Andy Rowell
There is a growing feeling within European capitals that a quiet, but deeply positive, revolution is happening under Emmanuel Macron in France.
Macron's opinion poll rating is high, especially boosted in how the young French president has reacted to Donald Trump on the international stage.
Keep reading...
Show less
Hawaii Renewable Energy Alliance
The latest issue of the U.S. Energy Information's "Electric Power Monthly" (with data through April 30) reveals that—for the first time since the beginning of the nuclear era—renewable energy sources (i.e., biomass, geothermal, hydropower, solar—inc. small-scale PV, wind) are now providing a greater share of the nation's electrical generation than nuclear power.
Keep reading...
Show less
www.youtube.com
Check out this great 360° virtual reality video by NowThis on the world's largest indoor vertical farm, AeroFarms. Located in Newark, New Jersey, AeroFarms grows more than 2 million pounds of greens a year without sunlight, soil or pesticides.
As reported by EcoWatch in July 2105, the $30 million, 70,000-square-foot AeroFarms headquarters dwarfs Japan's (already impressive) 25,000-square-foot vertical indoor farm, which had been the world's largest until now.
www.youtube.com
According to Bloomberg, "SeaWorld Entertainment Inc. received a subpoena earlier this month from regulators investigating disclosures and public statements by executives, including comments about the Blackfish documentary that caused a public backlash against the confinement of orcas.
Keep reading...
Show less
Wikipedia
By Franziska Spritzler, RD, CDE
Boosting your metabolic rate can help you lose body fat. However, most "fat-burning" supplements on the market are either unsafe, ineffective or both.
Fortunately, several natural foods and beverages have been shown to increase your metabolism and promote fat loss.
Keep reading...
Show less
Jun. 25, 2017 04:50PM EST
Monsanto, the maker of the glyphosate-based herbicide Roundup, filed a motion June 16 in U.S. District Court, Northern District of California to reconsider the chemical's addition to California's Proposition 65 list of agents known to cause cancer.
The agrochemical giant made this move based on a June 14 Reuters investigation of Dr. Aaron Blair, a lead researcher on the World Health Organization's International Agency for Research on Cancer (IARC) committee, that classified glyphosate as a "2A probable human carcinogen" in March 2015.
Keep reading...
Show less
Jun. 25, 2017 04:40PM EST
By Avery Friedman
Algae is often considered a nuisance, but for Sweden, the rapidly growing sea plant is now an asset.
As the Scandinavian country works to cut all of its greenhouse gas emissions by 2045, it's using algae to sop up the carbon emissions from cement.
Keep reading...
Show less