This website uses cookies to ensure you get the best experience while browsing it. By clicking 'Got It' you're accepting these terms.
Japan Declares They Will Defy International Court Ruling and Continue Whaling
Apr. 18, 2014 12:34PM EST
There has been disappointing and worrying news today. The Government of Japan has announced that it intends to return to the Southern Ocean to hunt whales in 2015. It has also officially announced that it will again send its factory whaling ship to hunt whales in the North Pacific, although it plans to target fewer whales.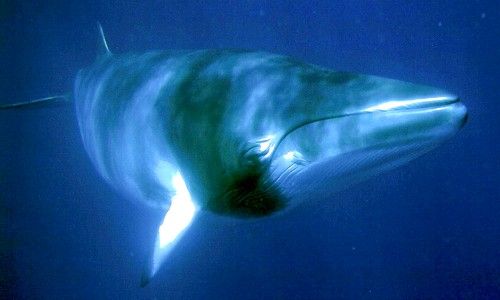 The announcement confirms that although no sperm whales will be targeted, Minke, Bryde's and endangered Sei whales will be targeted in the North Pacific in the coming weeks. This news comes just weeks after this year's Antarctic whale hunt was cancelled, following a March ruling by the UN's International Court of Justice that it was illegal.
That ruling clearly confirmed that so-called "scientific research" whaling in the Southern Ocean was being done for commercial purposes. The judgment led to an urgent review of whaling plans by the Government of Japan, in the midst of international criticism, as well as some internal political pressure.
There have been other significant developments too: Japanese internet giant Rakuten announced it would stop selling whale meat after a campaign by our colleagues Environmental Investigation Agency, and shipments of endangered fin whale meat en route to Japan have been exposed, blocked, and challenged by Greenpeace in Europe, Africa and Canada.
Recent media reports from Japan suggest there has been a frantic debate inside the Japanese government. The Government of Japan had already stated that the court case, despite focusing solely on Antarctic whaling, would have ramifications for the North Pacific hunt too. Today's confirmation to carry on whaling comes just days before President Obama's much-anticipated visit to Japan. It will surely cast a cloud on his conversations with Prime Minister Abe.
It's a frustrating time for those of us campaigning to end commercial whaling. The decision to go ahead with these hunts will draw more international criticism for the Government of Japan, and surely raise questions inside Japan as to why so much political effort goes into keeping this dying industry alive. This is an industry that should simply be consigned to the past, as stockpiles of unwanted whale meat and rapidly diminishing demand clearly show.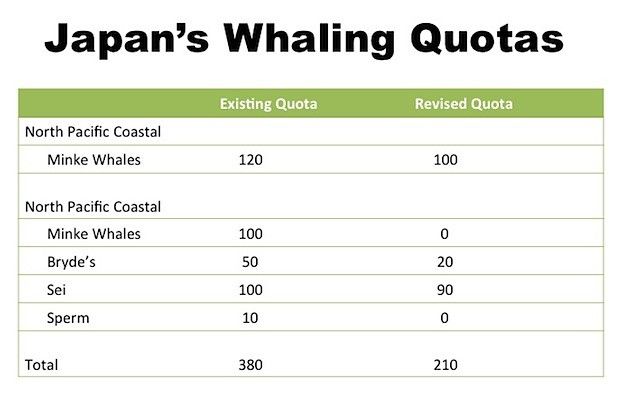 The international focus on continued commercial whaling on the high seas has stymied real international progress on whale conservation. Recent reports have shown that some whale species haven't yet recovered from commercial whaling in the last century. That's worrying when we consider all of the other threats, from climate change to ship strikes, that face the world's whales today.
It's clear that "scientific" whaling as it has been carried out for many years cannot continue. Now Japan has a chance to stop these whaling expeditions for good. Carrying on as usual might well result in more damaging legal challenges undermining Japan's international reputation. It's too bad. The international community reacted so warmly to Japan's seeming acceptance of the court judgment.
The UN court ruling, coupled with international criticism and plummeting demand for whale meat in Japan should give Japan an opportunity to end its whaling expeditions for good. Commercial whaling is simply not needed in modern Japan. Ending it might not be politically easy, but it's the right thing to do.
--------
YOU MIGHT ALSO LIKE
Report Exposes Products Driving International Killing and Trade of Whales
Shocking Court Documents Shows SeaWorld's Continued Cruelty of Orca Whales
Iceland Violates Global Trade Ban on Whale Products, U.S. Considering Sanctions 
--------
EcoWatch Daily Newsletter
Protesters gathered outside US Bank and Wells Fargo locations around the U.S. to protest investment in the Dakota Access Pipeline on Dec. 1, 2016. This photo is from a protest outside US Bank in south Minneapolis, Minnesota.
Fibonacci Blue / CC BY 2.0
By Jake Johnson
As a growing number of states move to pass laws that would criminalize pipeline protests and hit demonstrators with years in prison, an audio recording obtained by The Intercept showed a representative of a powerful oil and gas lobbying group bragging about the industry's success in crafting anti-protest legislation behind closed doors.
Reposted with permission from our media associate Common Dreams.

DESIREE MARTIN / AFP / Getty Images
Wildfires raging on Gran Canaria, the second most populous of Spain's Canary Islands, have forced around 9,000 people to evacuate.
Wolves in Mount Rainier, Washington. Ron Reznick / VW Pics / Universal Images Group via Getty Images
The last four members of an embattled wolf pack were killed in Washington State Friday, hours before the court order that could have saved them.
Aerial view of lava flows from the eruption of volcano Kilauea on Hawaii, May 2018. Frizi / iStock / Getty Images
Hawaii's Kilauea volcano could be gearing up for an eruption after a pond of water was discovered inside its summit crater for the first time in recorded history, according to the AP.
Plateau Creek near De Beque, Colorado, where land has been leased for oil and gas production. Helen H. Richardson / The Denver Post / Getty Images
By Randi Spivak
Slashing two national monuments in Utah may have received the most attention, but Trump's Interior Department and U.S. Forest Service have been quietly, systematically ceding control of America's public lands to fossil fuel, mining, timber and livestock interests since the day he took office.
Global SO2 Emission Hotspot Database / Greenpeace
A new report by Greenpeace International pinpointed the world's worst sources of sulfur dioxide pollution, an irritant gas that harms human health. India has seized the top spot from Russia and China, contributing nearly 15 percent of global sulfur dioxide emissions.
The huge surge this year in Amazon deforestation is leading some European countries to think twice about donations to the Amazon Fund. LeoFFreitas / Moment / Getty Images
By Sue Branford and Thais Borges
Ola Elvestrun, Norway's environment minister, announced Thursday that it is freezing its contributions to the Amazon Fund, and will no longer be transferring €300 million ($33.2 million) to Brazil. In a press release, the Norwegian embassy in Brazil stated:
Gina Lopez, the Philippine secretary of the environment, at a meeting with residents affected by a mine tailing disaster. Keith Schneider
Gina Lopez, a former Philippine environment secretary, philanthropist and eco-warrior, died on Aug. 19 from brain cancer. She was 65.