Japan Confirms Fukushima Worker Diagnosed With Cancer From Radiation Exposure
Oct. 20, 2015 10:45AM EST
Energy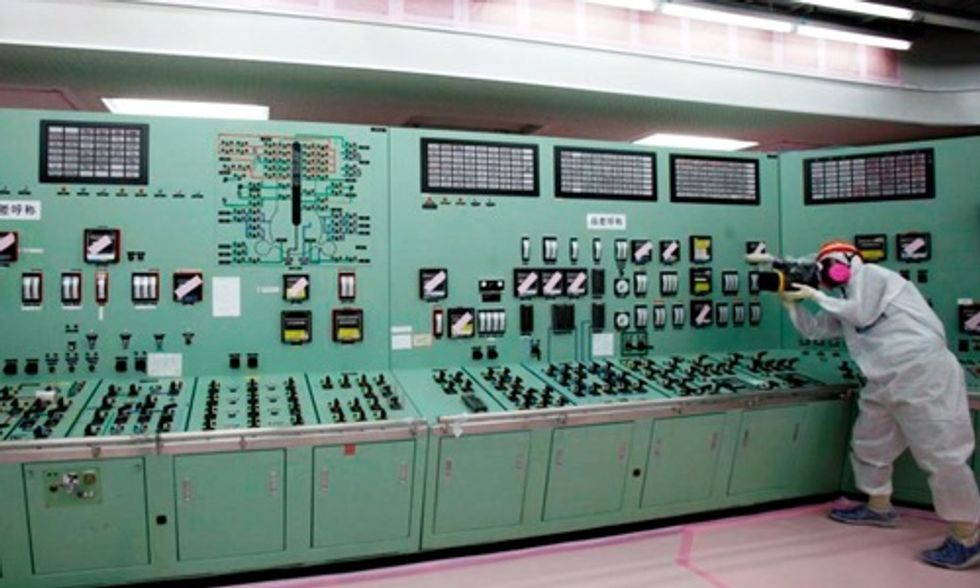 There's terrible news from Japan today: Japan's health ministry announced that a worker involved in the clean-up of the destroyed nuclear reactors at Fukushima has been diagnosed with "acute" leukemia due to his exposure to radiation.
Japan confirms for first time that a power-plant employee's leukemia is linked to Fukushima https://t.co/aG7EdpIl28 https://t.co/LJUaqbp8sh

— Bloomberg (@Bloomberg)1445345127.0
According to the Washington Post, the man, who worked at the Fukushima Daiichi nuclear disaster site between 2012 and 2013, has "acute myelogenous leukaemia—a cancer of the blood and bone marrow." His condition is a direct result of him working at Fukushima. Our thoughts are with him and his family and we hope he is receiving the very best medical treatment Japan has to offer.
In the light of this sad news, many people have questions to answer.
Fukushima's owner and operator TEPCO has made firm commitments to the safety of its workers. "[T]he safety of the workers and employees who are involved in the decommissioning operation is the highest priority," says the company's website.
The company now has to acknowledge its measures have been proven to be inadequate.
Japan's President Abe also needs to examine his conscience. President Abe has made repeated assurances that the situation at Fukushima is "under control." His government is in the process of lifting restrictions in contaminated areas and forcing evacuees to return.
We now see how empty those assurances were. Lifting of restrictions need to be halted immediately.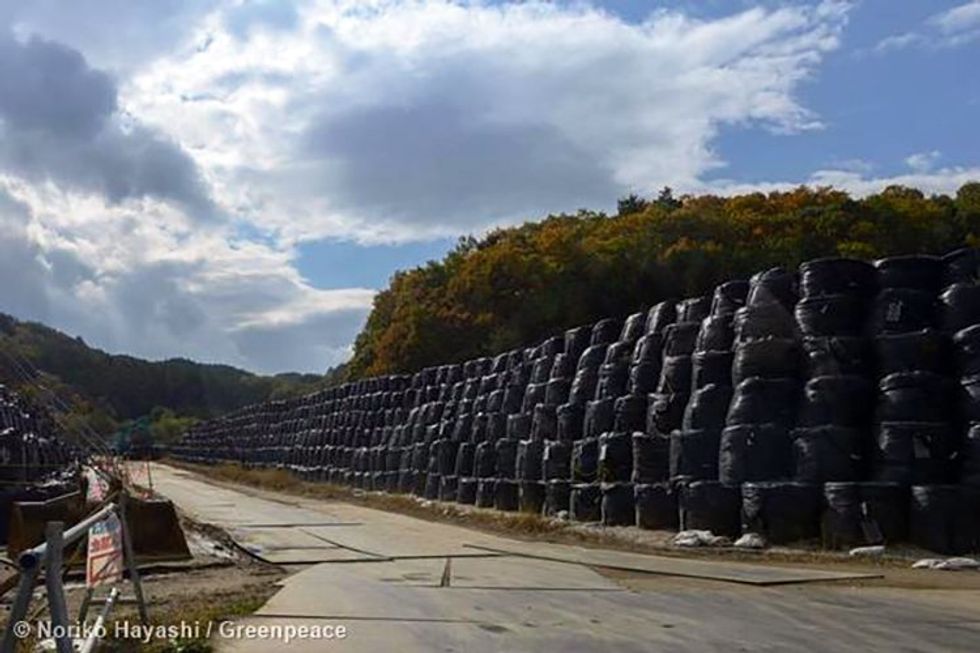 Piles of bags containing contaminated soil, mud and grass at a site in Iitate village. Photo credit: Noriko Hayashi / Greenpeace
Then there is the International Atomic Energy Agency (IAEA) and its complacent and premature assessment of the situation in Fukushima.
Only last month, the IAEA ignored major uncertainties and a lack of data in order to declare there would be no discernible health consequences as a result of the Fukushima disaster.
That was followed by the news that Professor Toshihide Tsuda of Okayama University has published a peer-reviewed study showing an increase of thyroid cancer in children who were younger than 18 and living in the area at the time of the disaster.
The Japanese government, TEPCO and the IAEA now need to move and move quickly.
What is being done to identify and help other workers who also may be affected? Safety procedures at Fukushima must be reviewed and radically improved as a matter of the utmost urgency.
Unsubstantiated and unscientific statements that downplay the long term impacts of the Fukushima disaster on people's health and the environment made by the IAEA and Japanese government must be retracted and re-examined.
The workers onsite and the citizens of Fukushima are suffering from the consequences of this nuclear disaster. Ignoring this reality denies their suffering and undermines their fight for justice for themselves and their families.
People's lives are at stake. Illness, propaganda and false promises are poor rewards for the courageous workers of Fukushima and the evacuees suffering through no fault of their own.
YOU MIGHT ALSO LIKE
24 Videos That Turn the Tide on Climate Change
Stop Giving Cancer Patients Toxic Cosmetics to 'Look Good, Feel Better'
86 Food Products Contain Possible Cancer-Causing Additive
Thyroid Cancer in Children Increases 30-Fold in Fukushima, New Study Says
EcoWatch Daily Newsletter