James Hansen: Fracking is 'Screwing Your Children and Grandchildren'
Speaking to Carbon Brief at the COP21 climate conference in Paris, Dr. James Hansen, one of the world's most prominent climate scientists, has strongly criticized the UK government's pursuit of fracking for shale gas.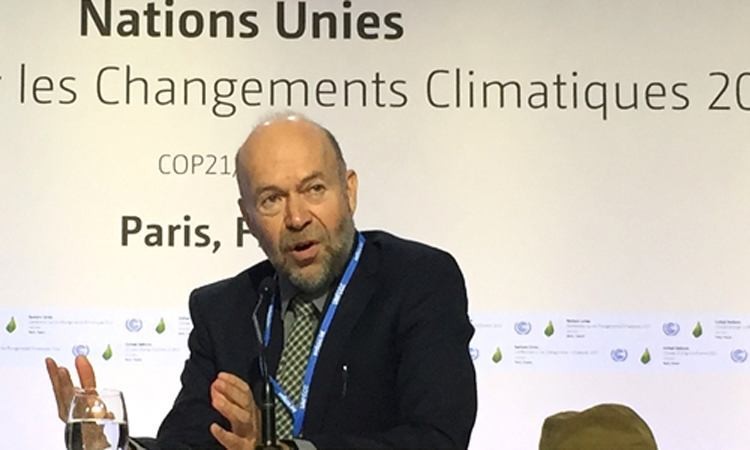 Asked what he thought of the UK government's policy of seeking to copy the U.S.'s fracking revolution, Hansen said:
Well, that's screwing your children and grandchildren. Because if you do that, then there's no way to avoid the consequences [of] multi-meter sea-level rise. But we can't do that. And that's what the science says crystal clear. And yet politicians pretend not to hear it, or not to understand it.
Hansen, the former director of the NASA Goddard Institute for Space Studies who famously warned the U.S. Congress about global warming in 1988, also responded to Carbon Brief's questions about other areas of UK energy policy, such as the proposed new Hinkley C nuclear plant Somerset ("more expensive than it should be"), carbon capture and storage ("a mirage") and the reining back on support for renewables.
Asked if he thought there were risks switching from coal to gas, Hansen said:
If gas were truly used as a very temporary bridge to replace coal … But that's not what's happening. If you build a new power plant, you don't plan to shut it down in 10 years. There's way too much gas in the ground. It would put us way over 2C, 3C, 4C. There's a huge amount of gas in the ground. What political leaders have not been willing to do is face the truth that you can't burn all of that. They're allowing, even bragging about, having found the technology to get more of the gas out of the ground with fracking.
Listen here:
YOU MIGHT ALSO LIKE
Yeb Saño and the Fast for the Climate Movement at COP21
Bernie Sanders: GOP Candidates Care More About Koch Money Than 'Preserving the Planet for Our Children'
"Ridiculously, Earth-Shatteringly Stupid": Daily Show Slams GOP Climate-Denying Gang
Prince Harry's Moving Photos From Africa Trip Show Brutal Reality of Poaching
Glyphosate, the main ingredient in Monsanto's widely used herbicide Roundup, will be added July 7 to California's list of chemicals known to the state to cause cancer, according to a Reuters report Tuesday. This news comes after the company's unsuccessful attempt to block the listing in trial court and requests for stay were denied by a state appellate court and California's Supreme Court.
California's Office of Environmental Health Hazard Assessment (OEHHA) announced the designation on Monday under the Safe Drinking Water and Toxic Enforcement Act of 1986, or Proposition 65.
Keep reading...
Show less
www.facebook.com
Keep reading...
Show less
Researchers from the Marine Animal Response Society examine one of the dead right whales. Marine Animal Response Society
Canadian government officials and marine biologists are investigating the mysterious deaths of six North American right whales. The endangered animals all turned up dead between June 6 and June 23 in the Gulf of St. Lawrence, off Canada's southeastern coast.
North Atlantic right whales are the rarest of all large whale species and among the rarest of all marine mammal species, with only about 450 right whales in the North Atlantic.
Keep reading...
Show less
Scott Pruitt testifies during his Senate confirmation hearing for EPA administrator, January 2017.
The U.S. Environmental Protection Agency's (EPA) chief of staff pressured the leader of its Board of Scientific Counselors to change her congressional testimony to downplay the impact of the agency's mass dismissal of scientists from the board, the New York Times reports.
Keep reading...
Show less
By Jason Mark
Sequoiadendron giganteum. That's the scientific name for the giant sequoia: the mammoth trees found in California's Sierra Nevada that are the largest organisms on Earth, and among the longest-lived. Biologists estimate that about half of all sequoias live in Giant Sequoia National Monument, a 328,000-acre preserve in the Southern Sierra Nevada established by President Clinton in 2000.
Now that national monument is in jeopardy.
Keep reading...
Show less
By Andy Rowell
Donald Trump this week is launching an "energy week," pushing the argument that the U.S. will become a net exporter of oil and gas.
The president and his cronies are talking about a new era of "U.S. energy dominance," which could stretch for decades to come. However, no one believes the president anymore.
Keep reading...
Show less
UN
By Colleen Curry
The United Nations has designated 23 new sites around the world to its World Network of Biosphere reserves—stunning natural landscapes that balance environmental and human concerns and strive for sustainability.
The forests, beaches and waterways were added to the list this year at the International Coordinating Council of the Man and the Biosphere Programme meeting in Paris earlier this month.
Keep reading...
Show less
Jun. 26, 2017 01:48PM EST
www.elysee.fr
By Andy Rowell
There is a growing feeling within European capitals that a quiet, but deeply positive, revolution is happening under Emmanuel Macron in France.
Macron's opinion poll rating is high, especially boosted in how the young French president has reacted to Donald Trump on the international stage.
Keep reading...
Show less
Jun. 26, 2017 12:32PM EST
www.facebook.com
Keep reading...
Show less