James Hansen: 'Emergency Cooperation Among Nations' Is Needed to Prevent Catastrophic Sea Level Rise
If a new scientific paper is proven accurate, the international target of limiting global temperatures to a 2°C rise this century will not be nearly enough to prevent catastrophic melting of ice sheets that would raise sea levels much higher and much faster than previously thought possible.
According to the new study—which has not yet been peer-reviewed, but was written by former NASA scientist James Hansen and 16 other prominent climate researchers—current predictions about the catastrophic impacts of global warming, the melting of vast ice sheets and sea level rise do not take into account the feedback loop implications of what will occur if large sections of Greenland and the Antarctic are consumed by the world's oceans.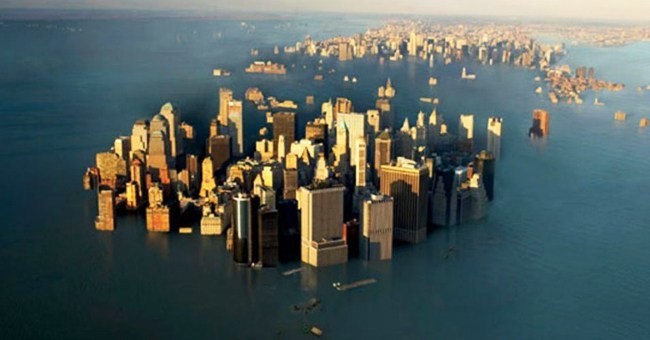 A summarized draft of the full report was released to journalists on Monday, with the shocking warning that such glacial melting will "likely" occur this century and could cause as much as a 10 foot sea-level rise in as little as 50 years. Such a prediction is much more severe than current estimates contained in reports issued by the Intergovernmental Panel on Climate Change (IPCC)—the UN-sponsored body that represents the official global consensus of the scientific community.
"If the ocean continues to accumulate heat and increase melting of marine-terminating ice shelves of Antarctica and Greenland, a point will be reached at which it is impossible to avoid large scale ice sheet disintegration with sea level rise of at least several meters," the paper states.
Separately, the researchers conclude that "continued high emissions will make multi-meter sea level rise practically unavoidable and likely to occur this century. Social disruption and economic consequences of such large sea level rise could be devastating. It is not difficult to imagine that conflicts arising from forced migrations and economic collapse might make the planet ungovernable, threatening the fabric of civilization."
The Daily Beast's Mark Hertsgaard, who attended a press call with Dr. Hansen on Monday, reports that the work presented by the researchers is
warning that humanity could confront "sea level rise of several meters" before the end of the century unless greenhouse gas emissions are slashed much faster than currently contemplated.
This roughly 10 feet of sea level rise—well beyond previous estimates—would render coastal cities such as New York, London, and Shanghai uninhabitable. "Parts of [our coastal cities] would still be sticking above the water," Hansen said, "but you couldn't live there."
This apocalyptic scenario illustrates why the goal of limiting temperature rise to 2 degrees Celsius is not the safe "guardrail" most politicians and media coverage imply it is, argue Hansen and 16 colleagues in a blockbuster study they are publishing this week in the peer-reviewed journal Atmospheric Physics and Chemistry. On the contrary, a 2C future would be "highly dangerous."
If Hansen is right—and he has been right, sooner, about the big issues in climate science longer than anyone—the implications are vast and profound.
In the call with reporters, Hansen explained that time is of the essence, given the upcoming climate talks in Paris this year and the grave consequences the world faces if bold, collective action is not taken immediately. "We have a global crisis that calls for international cooperation to reduce emissions as rapidly as practical," the paper states.
Hansen said he has long believed that many of the existing models were under-estimating the potential impacts of ice sheet melting, and told the Daily Beast: "Now we have evidence to make that statement based on much more than suspicion."
Though he acknowledged the publication of the paper was unorthodox, Hansen told reporters that the research itself is "substantially more persuasive than anything previously published."
For his part, Eric Holthaus, a meteorologist who writes about weather and climate for Slate, said the "bombshell" findings are both credible and terrifying. Holthaus writes:
To come to their findings, the authors used a mixture of paleoclimate records, computer models, and observations of current rates of sea level rise, but "the real world is moving somewhat faster than the model," Hansen says.
[...] The implications are mindboggling: In the study's likely scenario, New York City—and every other coastal city on the planet—may only have a few more decades of habitability left. That dire prediction, in Hansen's view, requires "emergency cooperation among nations."
In response to the paper, climate scientist Michael Oppenheimer of Princeton University affirmed: "If we cook the planet long enough at about two degrees warming, there is likely to be a staggering amount of sea level rise. Key questions are when would greenhouse-gas emissions lock in this sea level rise and how fast would it happen? The latter point is critical to understanding whether and how we would be able to deal with such a threat."
The new research, Oppenheimer added, "takes a stab at answering the 'how soon?' question but we remain largely in the dark. Giving the state of uncertainty and the high risk, humanity better get its collective foot off the accelerator."
And as the Daily Beast's Hertsgaard notes, Hansen's track record on making climate predictions should command respect from people around the world. The larger question, however, is whether humanity has the capacity to act.
"The climate challenge has long amounted to a race between the imperatives of science and the contingencies of politics," Hertsgaard concludes. "With Hansen's paper, the science has gotten harsher, even as the Nature Climate Change study affirms that humanity can still choose life, if it will. The question now is how the politics will respond—now, at Paris in December, and beyond."
YOU MIGHT ALSO LIKE 
10 Awesome Tweets From #ShellNo to Arctic Drilling Day of Action
Alaska's Rapidly Melting Glaciers: A Major Driver of Global Sea Level Rise
Cuban Embassy Opens in DC After 54 Years: Will Cuba Remain the 'Green Jewel' of the Caribbean?
Bill Maher is sick of billionaires' obsession with Mars, more like "Mars-a-Lago," he said.
In a new animation produced by ATTN:, the popular talk show host of Real Time, discusses the perils of our planet, including how "climate change is killing us."
Keep reading...
Show less
Dr. Benjamin D. Santer, research scientist
A group of prominent climate scientists have written a study explicitly refuting statements made by the U.S. Environmental Protection Agency Administrator Scott Pruitt on climate data. During his Senate confirmation hearing, Pruitt claimed in a written response that satellite data shows a "leveling off" of warming over the past two decades.
Keep reading...
Show less
By David Pomerantz
The Nevada Assembly passed a bill Wednesday that would dramatically increase the growth of renewable energy in the state, but Sheldon Adelson, the casino magnate and major donor to Donald Trump, is attempting to prevent the bill from becoming law.
Keep reading...
Show less
Matt Crossick
By Yosola Olorunshola
Whether it's through fashion or protest, Vivienne Westwood is not a woman afraid of making a statement.
On May 23, she rocked up to the residence of the Archbishop of Canterbury in London with a special guest—the Grim Reaper—to issue a strong statement on the Church of England's position on fracking.
Keep reading...
Show less
Military veterans from across Virginia released a letter Thursday opposing two proposed fracked-gas pipelines: Dominion Energy's Atlantic Coast Pipeline and EQT's Mountain Valley Pipeline. These pipelines would cross through pristine areas of Virginia, taking private property by use of eminent domain, removing mountain ridgetops and threatening valuable drinking water resources. The veterans view this as contrary to their service to protect and defend the freedom and security of American citizens.

Keep reading...
Show less
By Paul Brown
The food industry and big agricultural concerns are driving climate change and at the same time threatening to undermine efforts to feed the world's growing population, according to GRAIN, an organization that supports small farmers.
Particularly singled out for criticism are the large chemical fertilizer producers that have gained access to the United Nations talks on climate change. GRAIN accuses them of behaving like the fossil fuel companies did in the 1990s, pushing false information in the hope of delaying real action on climate change.
Keep reading...
Show less
May. 24, 2017 06:55PM EST
By Sydney Robinson
President Trump has no doubt been given a long list of extravagant, elaborate gifts in his lifetime, but the gift given to him today by Pope Francis may not make it on his most favorite list.
Keep reading...
Show less
May. 24, 2017 07:17PM EST
By John Rogers
Maybe it's because I first started working on clean energy while serving in the Peace Corps he founded, or maybe it's my years of working on these issues from his home state. But I can't help thinking about the 100th anniversary of John F. Kennedy's birth, and connecting his stirring rhetoric to the energy challenges of our times.
Here's what our 35th president might have said about the challenges of energy transition and the opportunities in clean energy:
"Change is the law of life. And those who look only to the past or present are certain to miss the future."
Keep reading...
Show less


Get EcoWatch in your inbox