This website uses cookies to ensure you get the best experience while browsing it. By clicking 'Got It' you're accepting these terms.


The best of EcoWatch, right in your inbox. Sign up for our email newsletter!
James Hansen: 'Emergency Cooperation Among Nations' Is Needed to Prevent Catastrophic Sea Level Rise
Jul. 21, 2015 01:17PM EST
Climate
If a new scientific paper is proven accurate, the international target of limiting global temperatures to a 2°C rise this century will not be nearly enough to prevent catastrophic melting of ice sheets that would raise sea levels much higher and much faster than previously thought possible.
According to the new study—which has not yet been peer-reviewed, but was written by former NASA scientist James Hansen and 16 other prominent climate researchers—current predictions about the catastrophic impacts of global warming, the melting of vast ice sheets and sea level rise do not take into account the feedback loop implications of what will occur if large sections of Greenland and the Antarctic are consumed by the world's oceans.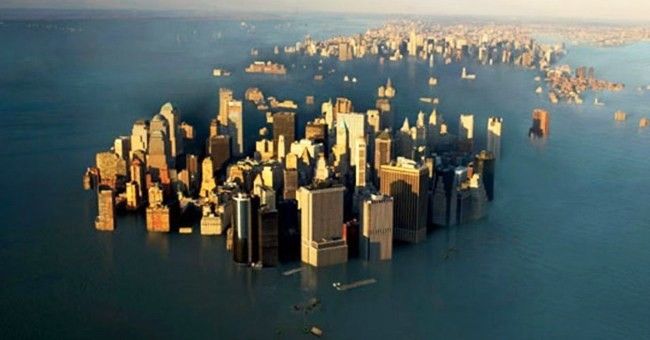 A summarized draft of the full report was released to journalists on Monday, with the shocking warning that such glacial melting will "likely" occur this century and could cause as much as a 10 foot sea-level rise in as little as 50 years. Such a prediction is much more severe than current estimates contained in reports issued by the Intergovernmental Panel on Climate Change (IPCC)—the UN-sponsored body that represents the official global consensus of the scientific community.
"If the ocean continues to accumulate heat and increase melting of marine-terminating ice shelves of Antarctica and Greenland, a point will be reached at which it is impossible to avoid large scale ice sheet disintegration with sea level rise of at least several meters," the paper states.
Separately, the researchers conclude that "continued high emissions will make multi-meter sea level rise practically unavoidable and likely to occur this century. Social disruption and economic consequences of such large sea level rise could be devastating. It is not difficult to imagine that conflicts arising from forced migrations and economic collapse might make the planet ungovernable, threatening the fabric of civilization."
The Daily Beast's Mark Hertsgaard, who attended a press call with Dr. Hansen on Monday, reports that the work presented by the researchers is
warning that humanity could confront "sea level rise of several meters" before the end of the century unless greenhouse gas emissions are slashed much faster than currently contemplated.
This roughly 10 feet of sea level rise—well beyond previous estimates—would render coastal cities such as New York, London, and Shanghai uninhabitable. "Parts of [our coastal cities] would still be sticking above the water," Hansen said, "but you couldn't live there."
This apocalyptic scenario illustrates why the goal of limiting temperature rise to 2 degrees Celsius is not the safe "guardrail" most politicians and media coverage imply it is, argue Hansen and 16 colleagues in a blockbuster study they are publishing this week in the peer-reviewed journal Atmospheric Physics and Chemistry. On the contrary, a 2C future would be "highly dangerous."
If Hansen is right—and he has been right, sooner, about the big issues in climate science longer than anyone—the implications are vast and profound.
In the call with reporters, Hansen explained that time is of the essence, given the upcoming climate talks in Paris this year and the grave consequences the world faces if bold, collective action is not taken immediately. "We have a global crisis that calls for international cooperation to reduce emissions as rapidly as practical," the paper states.
Hansen said he has long believed that many of the existing models were under-estimating the potential impacts of ice sheet melting, and told the Daily Beast: "Now we have evidence to make that statement based on much more than suspicion."
Though he acknowledged the publication of the paper was unorthodox, Hansen told reporters that the research itself is "substantially more persuasive than anything previously published."
For his part, Eric Holthaus, a meteorologist who writes about weather and climate for Slate, said the "bombshell" findings are both credible and terrifying. Holthaus writes:
To come to their findings, the authors used a mixture of paleoclimate records, computer models, and observations of current rates of sea level rise, but "the real world is moving somewhat faster than the model," Hansen says.
[...] The implications are mindboggling: In the study's likely scenario, New York City—and every other coastal city on the planet—may only have a few more decades of habitability left. That dire prediction, in Hansen's view, requires "emergency cooperation among nations."
In response to the paper, climate scientist Michael Oppenheimer of Princeton University affirmed: "If we cook the planet long enough at about two degrees warming, there is likely to be a staggering amount of sea level rise. Key questions are when would greenhouse-gas emissions lock in this sea level rise and how fast would it happen? The latter point is critical to understanding whether and how we would be able to deal with such a threat."
The new research, Oppenheimer added, "takes a stab at answering the 'how soon?' question but we remain largely in the dark. Giving the state of uncertainty and the high risk, humanity better get its collective foot off the accelerator."
And as the Daily Beast's Hertsgaard notes, Hansen's track record on making climate predictions should command respect from people around the world. The larger question, however, is whether humanity has the capacity to act.
"The climate challenge has long amounted to a race between the imperatives of science and the contingencies of politics," Hertsgaard concludes. "With Hansen's paper, the science has gotten harsher, even as the Nature Climate Change study affirms that humanity can still choose life, if it will. The question now is how the politics will respond—now, at Paris in December, and beyond."
YOU MIGHT ALSO LIKE 
10 Awesome Tweets From #ShellNo to Arctic Drilling Day of Action
Alaska's Rapidly Melting Glaciers: A Major Driver of Global Sea Level Rise
Cuban Embassy Opens in DC After 54 Years: Will Cuba Remain the 'Green Jewel' of the Caribbean?
EcoWatch Daily Newsletter
Pxhere
By Richard Denison
Readers of this blog know how concerned EDF is over the Trump EPA's approval of many dozens of new chemicals based on its mere "expectation" that workers across supply chains will always employ personal protective equipment (PPE) just because it is recommended in the manufacturer's non-binding safety data sheet (SDS).
By Grant Smith
From 2009 to 2012, Gregory Jaczko was chairman of the Nuclear Regulatory Commission, which approves nuclear power plant designs and sets safety standards for plants. But he now says that nuclear power is too dangerous and expensive — and not part of the answer to the climate crisis.
A lake in Rocky Mountain National Park. Brett Walton / Circle of Blue
By Brett Walton
When Greg Wetherbee sat in front of the microscope recently, he was looking for fragments of metals or coal, particles that might indicate the source of airborne nitrogen pollution in Rocky Mountain National Park. What caught his eye, though, were the plastics.
Gabriele Holtermann Gorden / Pacific Press / LightRocket / Getty Images
In a big victory for animals, Prada has announced that it's ending its use of fur! It joins Coach, Jean Paul Gaultier, Giorgio Armani, Versace, Ralph Lauren, Vivienne Westwood, Michael Kors, Donna Karan and many others PETA has pushed toward a ban.
This is a victory more than a decade in the making. PETA and our international affiliates have crashed Prada's catwalks with anti-fur signs, held eye-catching demonstrations all around the world, and sent the company loads of information about the fur industry. In 2018, actor and animal rights advocate Pamela Anderson sent a letter on PETA's behalf urging Miuccia Prada to commit to leaving fur out of all future collections, and the iconic designer has finally listened.
Amer Ghazzal / Barcroft Media / Getty Images
If people in three European countries want to fight the climate crisis, they need to chill out more.
That's the conclusion of a new study from think tank Autonomy, which found that Germany, the UK and Sweden all needed to drastically reduce their workweeks to fight climate change.
Amazon Employees for Climate Justice held a press conference after the annual shareholder meeting on May 22. Amazon Employees for Climate Justice
An artist's rendering of the recomposition facility. MOLT Studios
Washington became the first U.S. state to legalize human composting Tuesday, offering residents a more environmentally friendly way to dispose of their remains, AFP reported.
Mr.TinDC / Flickr / CC BY-ND 2.0
Many nutrients are essential for good health.