This website uses cookies to ensure you get the best experience while browsing it. By clicking 'Got It' you're accepting these terms.
James Hansen: Dangerous Sea Level Rise Will Occur in Decades, Not Centuries
Mar. 23, 2016 10:02AM EST
Climate
Dr. James Hansen, the former NASA scientist who is widely credited with being one of the first to raise concerns about human-caused global warming, is a co-author of a new report predicting that the world will undergo devastating sea level rise within mere decades—not centuries, as previously thought.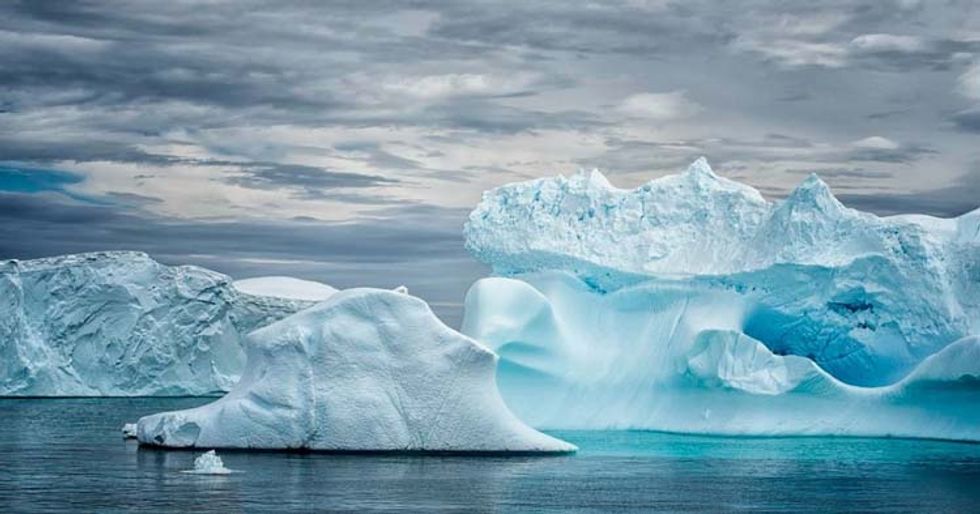 The report, published Tuesday in the open-access journal Atmospheric Chemistry and Physics, paints an even bleaker picture of the planet's future, positing that continued high fossil fuel emissions will "increase powerful storms" and drive sea-level rise of "several meters over a timescale of 50 to 150 years."
Hansen, who now serves as the director of the Climate Science Awareness and Solutions program at Columbia University Earth Institute, published the findings along with an international team of 18 researchers and academics.
As the abstract states, the predictions "differ fundamentally from existing climate change assessments." For example, the United Nation's Intergovernmental Panel on Climate Change (IPCC) in 2013 predicted three feet of sea level rise by 2100 if greenhouse gas emissions continue unabated.
A draft version of Hansen's paper released last year provoked wide debate among climate scientists.
Nonetheless, Michael Mann, a renowned climate scientist with the University of Pennsylvania, who is among those questioning some of the report's "extraordinary" claims, told the New York Times, "I think we ignore James Hansen at our peril."
The peer-edited report examines growing ice melt from Antarctica and Greenland and studies how that melting has historically amplified "feedbacks that increase subsurface ocean warming and ice shelf melting." Taking into consideration "rapid, large, human-made climate forcing," the study predicts a much more accelerated rate of sea level rise of several meters, beyond that which humanity is capable of adapting to.
Or, as Hansen put it, "We're in danger of handing young people a situation that's out of their control."
These staggering claims come as climate scientists continue to reel from the frightening speed at which the Earth is warming. On Monday, the World Meteorological Organization (WMO, issued a report warning that climate change is occurring at an "alarming rate" and that world leaders must act to curb greenhouse gases now, "before we pass the point of no return."
In a video released alongside the new report, Hansen, who left his position at NASA in 2013 so that he could fully commit himself to fighting climate change, says that the paper explores the consequences of continued greenhouse gas emissions. These include "superstorms stronger than any seen in modern times," sea level rise that will erase "all coastal cities," and, finally, "how soon we will pass points of no return."
Watch here:
YOU MIGHT ALSO LIKE
Photo Ark: One Man's Journey to Save the World's Most Endangered Species
Eating Less Meat Could Save 5 Million Lives, Cut Carbon Emissions by 33%
Dramatic Images Show Worst Coral Bleaching Event to Ever Hit Most Pristine Part of Great Barrier Reef
White House: 17 Western States Face New Threats to Water Supplies From Climate Change
EcoWatch Daily Newsletter
A harbour seal on an ice floe in Glacier Bay, Alaska. A new study shows that the climate crisis has warmed waters, changing ecosystems and crippling sea ice growth. Janette Hill / robertharding / Getty Images Plus
Doctors report that only 1 in 4 children are getting the recommended 60 minutes of physical activity per day. Ronnie Kaufman / DigitalVision / Getty Images
By Dan Gray
Pediatricians are being urged to start writing "exercise prescriptions" for the children they see in their office.
A First Nations protester walks in front of a train blockade in Tyendinaga, near Belleville, Ontario, Canada on Feb. 21, 2020. LARS HAGBERG / AFP via Getty Images
An indigenous rail blockade that snarled train travel in Canada for more than two weeks came to an end Monday when police moved in to clear protesters acting in solidarity with another indigenous community in British Columbia (B.C.), which is fighting to keep a natural gas pipeline off its land.
A rainbow snake, a rare reptile spotted in a Florida county for the first time in more than 50 years, seen here on July 5, 2013.
Kevin Enge / FWC Fish and Wildlife Research Institute / Flickr
A Florida hiker recently stumbled across a slithering surprise — a rare snake that hadn't been spotted in the area for more than 50 years.
We need our government to do everything it can to stop PFAS contamination and exposure from wreaking havoc in communities across the country. LuAnn Hun /
Unsplash
By Genna Reed
The EPA announced last week that it is issuing a preliminary regulatory determination for public comment to set an enforceable drinking water standard to two of the most common and well-studied PFAS, PFOA and PFOS.
This decision is based on three criteria:
PFOA and PFOS have an adverse effect on public health
PFOA and PFOS occur in drinking water often enough and at levels of public health concern;
regulation of PFOA and PFOS is a meaningful opportunity for reducing the health risk to those served by public water systems.