James Hansen: 2C Temperature Rise Would Be 'Disastrous'
By Tim Radford
Governments have set the wrong target to limit climate change. The goal at present—to limit global warming to a maximum of two degree Celsius higher than the average for most of human history—"would have consequences that can be described as disastrous," say 18 scientists in a review paper in the journal PLOS One.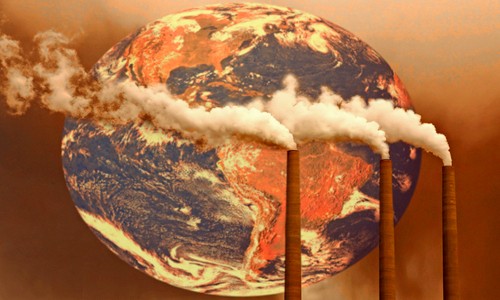 Photo courtesy of Shutterstock
With a two degree Celsius increase, "sea level rise of several meters could be expected," they say. "Increased climate extremes, already apparent at 0.8 degrees Celsuis warming, would be more severe. Coral reefs and associated species, already stressed with current conditions, would be decimated by increased acidification, temperature and sea level rise.
The paper's lead author is James Hansen, now at Columbia University, NY, and the former NASA scientist who in 1988 put global warming on the world's front pages by telling a U.S. government committee that, "It's time to stop waffling so much and say the evidence is pretty strong that the greenhouse effect is here."
Hansen's fellow authors include the economist Jeffrey Sachs of Columbia University and the biologist Camille Parmesan, of the University of Plymouth in the UK and the University of Texas at Austin.
Their argument is that humanity and nature—"the modern world as we know it"—is adapted to what scientists call the Holocene climate that has existed for more than 10,000 years—since the end of the Ice Age, the beginnings of agriculture and the first settlement of the cities.
Warming of one degree Celsius relative to 1880–1920 keeps global temperature close to the Holocene range, but warming of two degree Celsius, could cause "major dislocations for civilization."
The scientists study, uncompromisingly entitled Assessing 'Dangerous Climate Change': Required Reduction of Carbon Emissions to Protect Young People, Future Generations and Nature differs from many such climate analyses because it sets out its argument with remarkable directness and clarity, and serves as a useful briefing document for anyone—politicians, journalists and lay audiences—anxious to better understand the machinery of climate, and the forces that seem to be about to dictate climate change.
Its critics will point out that it is also remarkably short on the usual circumlocutions, caveats, disclaimers and equivocations that tend to characterise most scientific papers. Hansen and his co-authors are however quite open about the major areas of uncertainty: their implicit argument is that if the worst outcomes turn out to be true, the consequences for humankind could be catastrophic.
The scientists case is that most political debate addresses the questions of reducing greenhouse gas emissions, but does not and perhaps cannot factor in the all potentially dangerous unknowns—the slow feedbacks that will follow the thawing of the Arctic, the release of frozen reserves of methane and carbon dioxide in the permafrost and the melting of polar ice into the oceans. They point out that 170 nations have agreed on the need to limit fossil fuel emissions to avoid dangerous human-made climate change.
"However the stark reality is that global emissions have accelerated, and new efforts are underway to massively expand fossil fuel extractions by drilling to increasing ocean depths and into the Arctic, squeezing oil from tar sands and tar shale, hydro-fracking to expand extraction of natural gas, developing exploitation of methane hydrates and mining of coal via mountain-top removal and mechanized long wall-mining," the scientists write. 
The scientists argue that swift and drastic action to limit global greenhouse gas emissions and contain warming to around one degree Celsius would have two useful consequences. One is that it would not be far from the climate variations experienced as normal during the last 10,000 years, and secondly that it would make it more likely that the biosphere, and the soil, would be able to sequester a substantial proportion of the carbon dioxide  (CO2) released by human industrial civilization.
Trees are, in essence, captive carbon dioxide. But the warmer the world becomes, the more likely it is that existing forests—the Amazon, for example—will start to release more CO2 than they absorb, making the planet progressively even warmer.
Therefore the scientists make a case for limiting overall global carbon emissions to 500 giga-tons rather than the 1,000 billion tons in the two degree Celsius rise scenario.
"Although there is merit in simply chronicling what is happening, there is still opportunity for humanity to exercise free will," says Hansen.
Visit EcoWatch's CLIMATE CHANGE page for more related news on this topic.

Dow CEO Andrew Liveris and President Donald Trump in February.
U.S. Environmental Protection Agency (EPA) administrator Scott Pruitt met with Dow Chemical CEO Andrew Liveris before deciding to reverse an earlier EPA decision to ban the company's toxic and widely used pesticide, chlorpyrifos.
According to records obtained by the Associated Press, the EPA boss met with Liveris for about 30 minutes at a Houston hotel on March 9. Later that month, Pruitt announced that he would no longer pursue a ban on chlorpyrifos from being used on food, ignoring his agency's own review that even small amounts of the pesticide could impact fetus and infant brain development.
Keep reading...
Show less
www.facebook.com
Native communities and environmental justice advocates in Louisiana opened a new resistance camp Saturday to oppose the proposed Bayou Bridge Pipeline project. Called L'eau Est La Vie, or Water is Life, the camp will consist of floating indigenous art structures on rafts and constant prayer ceremonies during its first two weeks.
Keep reading...
Show less
Continuing its march toward elimination of key Clean Water Act protections, the U.S. Environmental Protection Agency (EPA) on Tuesday issued a formal notice of withdrawal of the Obama administration's rule defining which waters can be protected against pollution and destruction under federal law.
Keep reading...
Show less
The U.S. Environmental Protection Agency (EPA) is not doing enough to prevent weed resistance to the herbicide glyphosate (Roundup) says a new report from the EPA's Inspector General's Office, which draws in part on a report from the agbiotech company, Pioneer: Weed Management in the Era of Glyphosate Resistance.
Keep reading...
Show less
SUMR
When it comes to the latest wind turbine technologies, size matters. A group of six institutions and universities is designing an offshore wind turbine that will stand 500 meters in height. That's taller than the Eiffel Tower and the Empire State Building.
The research team, led by researchers at the University of Virginia, believes that its wind turbine concept will produce 50 megawatts of peak power, or about 10 times more powerful than conventional wind turbines.
Keep reading...
Show less
www.facebook.com
Natural gas is often considered the cleanest fossil fuel, but could it actually be dirtier than coal?
Watch as New York Times reporter Mark Bittman, in the above Year's of Living Dangerously video, investigates how much methane is leaking at fracking wells. Find out how the natural gas industry's claims compare to what scientists are reporting.
See what happens when Gaby Petron, an atmospheric scientist with NOAA, converts her van into a mobile methane detector and sets out across northeastern Colorado for two years, taking thousands of readings to uncover the truth.
www.youtube.com
Adrian Grenier was named UN Goodwill Ambassador earlier this month. The Hollywood actor, best known for his iconic role of A-list movie star Vincent Chase in the HBO smash hit and film Entourage, will advocate for drastically reducing single-use plastic and protection of marine species, and encourage his followers to make conscious consumer choices to reduce their environmental footprint, according to the UN Environment announcement.
"Together we must usher in a new era of compassion and carefulness through forward thinking environmental programs to drive measurable change," Grenier said. "I am personally committed to creating ways in which the global community can come together to help solve our most critical climate crises through routine, collective action.
"The more we connect to nature in our daily lives, the more dedicated we will become to our individual commitments. Together, I believe we can go further, faster in our race to achieve the UN Sustainable Development Goals by 2030."
Watch the video above to learn more.
The last week has seen a flood of stories on clean energy's prospects—stories that make your head spin with their conflicting tales of renewable energy's prospects of ending our dangerous addiction to fossil fuel power from coal and gas.
Keep reading...
Show less