This website uses cookies to ensure you get the best experience while browsing it. By clicking 'Got It' you're accepting these terms.
Jaguar Shot Dead After Olympic Torch Passing Ceremony in Brazil
Jun. 22, 2016 12:01PM EST
Animals
A jaguar was shot and killed Monday after an Olympic torch passing ceremony in Brazil.
The female jaguar, who was chained and sedated, was shot after she escaped from her handlers. She approached a soldier who shot her with a single pistol shot, Reuters reported. The torch ceremony and jaguar shooting occurred at a zoo attached to a military training center in the Amazon city of Manaus.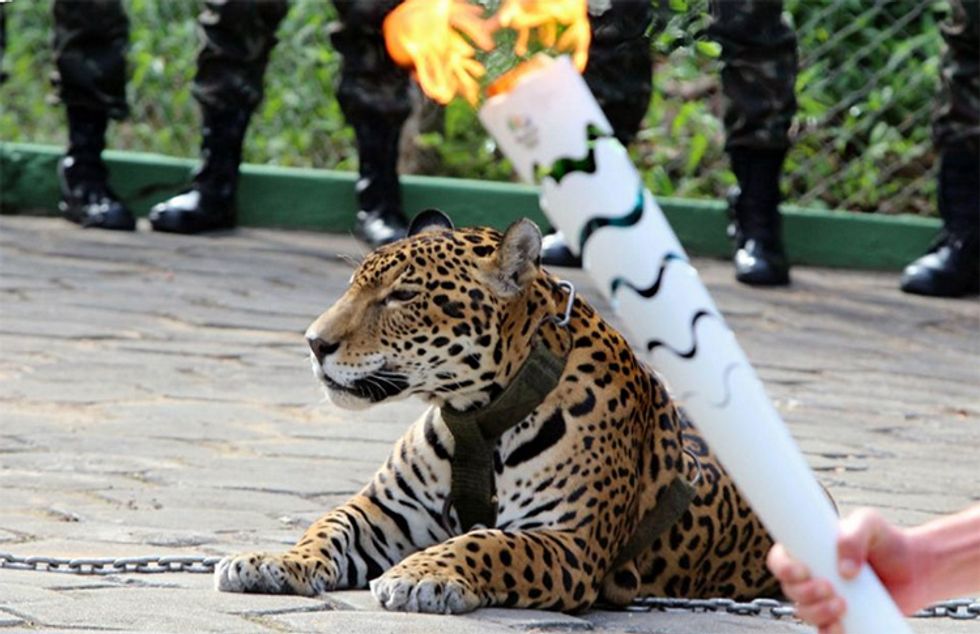 The female jaguar, Juma, shot and killed after an Olympic torch passing ceremony in Manaus, Brazil.
The military did not denounce the shooting, according to Buzzfeed:
"As security procedure to protect the physical integrity of the military and team treaters, the animal was shot with a pistol and died," the military said in a statement.

The jaguar's presence at the ceremony was illegal, according to Ipaam, Amazonas state government environmental authority. Ipaam oversees the use of wild animals in the state.
"No request was made to authorize the participation of the jaguar 'Juma' in the event of the Olympic torch," Ipaam said in a statement. The group is investigating the incident.
A brief part of the ceremony is captured in this ABC News video:
The Rio 2016 Olympic committee issued an apology via Twitter after the incident.
"We made a mistake in permitting the Olympic torch, a symbol of peace and unity, to be exhibited alongside a chained wild animal," the committee said. "This image goes against our beliefs and our values. We guarantee that there will be no more such incidents at Rio 2016."
Brazilians and animal lovers have expressed outrage over the incident.
Translation: "The jaguar had nothing to do with this mess, she tried to escape and ended up dead."
Translation: "What sense does it make to bring a jaguar to a torch passing ceremony?"
Many responded to the Rio 2016 twitter account's apology in anger.
People for the Ethical Treatment of Animals (PETA) weighed in too.
"Wild animals held captive and forced to do things that are frightening, sometimes painful and always unnatural are ticking time bombs—captivity puts animal and human lives at risk," the organization wrote in a blog post Tuesday.
Jaguars are a near-threatened species with an estimated 15,000 left in the wild, according to Defenders of Wildlife. There are only three known populations left in the U.S., the biggest of which consists of no more than 120 cats. The species is already extinct in Uruguay and El Salvador, according to the International Union for Conservation of Nature.
The Brazilian Olympic team selected a cartoon smiling jaguar named "Ginga" as its mascot last year to "highlight the efforts of conservation NGOs working to protect [the jaguar]," SB Nation reported.
YOU MIGHT ALSO LIKE:
Antibiotic-Resistant Bacteria Found in Rio de Janeiro Waterways Ahead of Olympics
AP Investigation Reveals Olympic Athletes Will Swim in 'Raw Sewage' in Rio Waterways
3.2 Million Animals Killed by Wildlife Services in 2015
6 Million Tropical Fish Imported Into U.S. Each Year Are Exposed to Cyanide Poisoning
EcoWatch Daily Newsletter
Baby orangutan and mother orang utan seen walking in Jakarta, Indonesia. Aprison Photography / Moment / Getty Images
By Tara Lohan
To be a good wildlife photographer, you need an expertly trained eye. But good ears help, too.
Worker spraying toxic pesticides or insecticides on corn plantation. D-Keine / E+ / Getty Images
Poor people in developing countries are far more likely to suffer from exposure to pesticides classified as having high hazard to human health or the environment, according to new data that Unearthed analyzed.
Power to heat, to cool, to drive the world's industries. Renewables can supply it all.
Jason Blackeye / Unsplash
By Paul Brown
Virtually all the world's demand for electricity to run transport and to heat and cool homes and offices, as well as to provide the power demanded by industry, could be met by renewable energy by mid-century.

Phthalates, a group of chemicals used to make plastics more flexible and harder to break, affect health in many ways. Tatyana Tomsickova Photography / Moment / Getty Images
By George Citroner
Exposure to phthalates was associated with autism traits in boys (but not girls) between ages 3 and 4 years, according to a new study.
However, the risk was diminished in women who took folic acid during their pregnancy.
This study is the first to find that folic acid supplements provide a protective effect from phthalates.
Exposure in the womb to a group of endocrine-disrupting chemicals called phthalates was associated with autism traits in boys (but not girls) between ages 3 and 4 years, according to a new study.
A coral and fish community at the Great Barrier Reef, northeast of Port Douglas, Queensland, Australia, on Aug. 28, 2018. Francois Gohier / VWPics / Universal Images Group via Getty Images
Researchers released a sobering study this week showing that all of the world's coral reefs may be lost to the climate crisis by 2100.