J.K. Rowling Says Trump Worse Than Voldemort, Sen. Graham Says Trump Should 'Go to Hell'
Dec. 08, 2015 03:00PM EST
Politics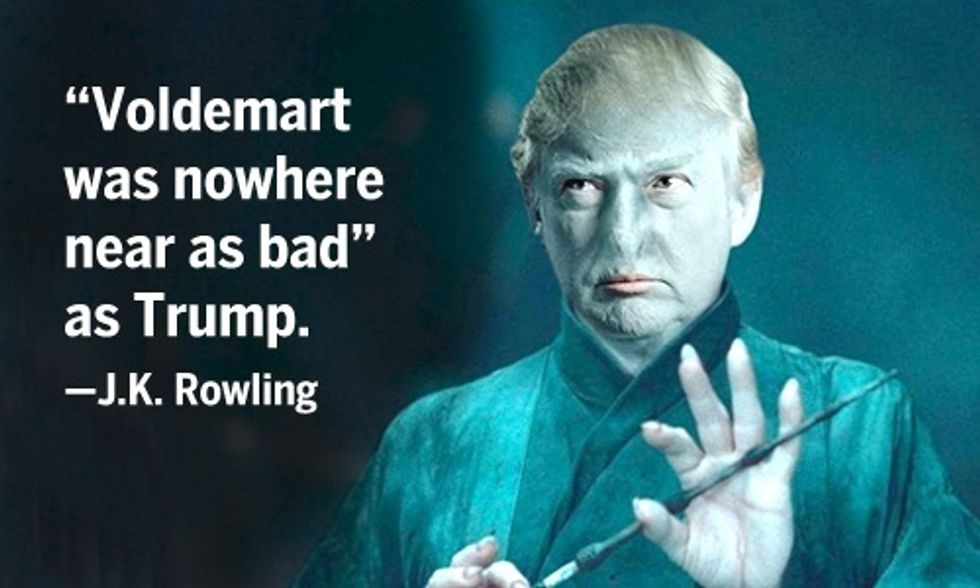 Following the deadly attacks involving Islamic extremists in Paris and San Bernardino, California, Donald Trump in a press release yesterday called for a "total and complete shutdown of Muslims entering the United States." This sparked an intense backlash from, not only the general public, but even his GOP rivals and other Republicans.
ISIS wants nothing more than for westerners to reject&vilify the Muslims living here The more we hate the more we legitimize them Fuck trump

— Bianca Adamo (@Bianca Adamo)1449538063.0
[email protected]

has gone from making absurd comments to being downright dangerous with his bombastic rhetoric.

— Lindsey Graham (@Lindsey Graham)1449526344.0
Jeb Bush called Trump "unhinged," while former Vice President Dick Cheney said it "goes against everything we stand for and believe in."
Donald Trump is unhinged. His "policy" proposals are not serious.

— Jeb Bush (@Jeb Bush)1449526728.0
-gb
On Trump's Muslim ban, @ChrisChristie: "This is kind of thing people say when they have no experience & no idea what they're talking about."

— Matt Katz (@Matt Katz)1449525131.0
"Just foolish," said Sen. John McCain (R-AZ).  He's "a race-baiting, xenophobic, religious bigot," said Sen. Lindsey Graham (R-SC), who urged his party this morning to tell Trump to "go to hell."
Trump campaign manager Corey Lewandowski told CNN yesterday that the ban should apply to Muslims looking to immigrate to the U.S., as well as those looking to visit as tourists "until our country's representatives can figure out what is going on." He added, "it does not apply to people living in the country, except we have to be vigilant."
Trump doubled down on his statement this morning. "You're going to have many more World Trade Centers if you don't solve it—many, many more and probably beyond the World Trade Center," referring to the Sept. 11, 2001 attacks in New York City, the deadliest attack on American soil since Pearl Harbor.
Obama's deputy national security adviser Ben Rhodes called Trump's remarks "totally contrary to our values as Americans."
Sierra Club Executive Director Michael Brune said, "Donald Trump's comments are disgraceful, unpresidential and should be repudiated by all responsible individuals and organizations in America."
"This is not conservatism," said House Speaker Paul Ryan (R-WI) today in a televised statement. "What was proposed yesterday is not what this party stands for, and, more importantly, it's not what this country stands for."
Trump has been increasingly compared to Adolf Hitler, which he said he's fine with. But the comparison that has really seemed to stick is that of Voldemort, which has Harry Potter fans everywhere atwitter. There's even a hashtag: "Voldetrump."
Trump "all Muslims ruin everything" Voldemort "all Mudbloods ruin everything". Trump = Voldemort

— Danielle Bishop (@Danielle Bishop)1449573265.0
Please stop clicking on or watching me anything about Trump. The attention only makes it worse. Treat him like Voldemort and he'll go away.

— Shane S (@Shane S)1449552010.0
Maybe the only way to stop Trump is to give him the Voldemort treatment #HeWhoMustNotBeNamed

— Mansur Gidfar (@Mansur Gidfar)1449530565.0
One Twitter follower had an alternative way to "make America great again" (Trump's campaign slogan):
Fortunately, to settle the debate over who is more evil, J.K. Rowling herself weighed in:
How horrible. Voldemort was nowhere near as bad. https://t.co/hFO0XmOpPH

— J.K. Rowling (@J.K. Rowling)1449575972.0
Rowling's comment led one Twitter user to remark:
@jk_rowling @BBCNewsbeat And in one foul swoop, you tweet the mood of an entire nation 😂

— Jake Thompson (@Jake Thompson)1449576022.0
YOU MIGHT ALSO LIKE
Bernie Wins Readers' Poll for TIME Person of the Year But Gets Snubbed as Trump Makes Shortlist
21 Teens Tell Exxon and Koch Brothers: Get Out of Our Lawsuit
Arnold Schwarzenegger Doesn't 'Give a ****' Whether You Agree With Him on Climate Change
EcoWatch Daily Newsletter