This website uses cookies to ensure you get the best experience while browsing it. By clicking 'Got It' you're accepting these terms.
It's Time to Jump on the Train to the Future: All Aboard the Low Carbon Express
Oct. 20, 2015 02:50PM EST
Climate

Six weeks from the Paris climate summit, this was the week that incumbent fossil interests pulled back from their long-held line of defense, the argument that reliance on coal and oil was essential for global prosperity, growth and stability, and that climate risks would simply have to be endured. Instead two powerful forces seem poised to sweep the global community towards a potential solution to the climate crisis.
The first game-changer is the now seemingly inexorable shift in the economics of clean energy and renewables. The second was the decision taken after the Copenhagen debacle to abandon the top down rationing approach of the first 15 years of climate diplomacy, replacing it with a bottom-up, bidding in approach ratifying rather than forcing emerging communities of interest.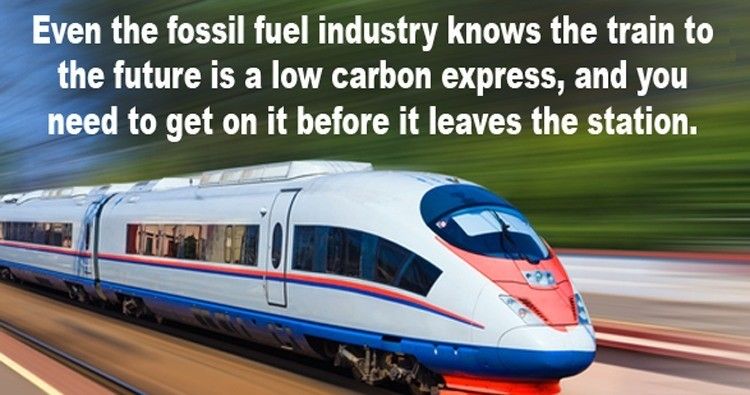 Photo credit: Shutterstock
As momentum builds for Paris, coal and oil companies, and their historic utility and automotive partners, are abandoning their 20 year insistence that no alternative to fossils exists. The two largest auto manufacturers, Toyota and Volkswagen, declared in a single week that the future belongs to electric cars, with Toyota giving a date for the end of the internal combustion era, 2050.
BP's Chief Economist warned that, given global climate concerns, it was unlikely that even existing reserves of oil would be fully exploited, much less "the new discoveries which are being made all the time or of the vast resources of fossil fuels not yet booked as reserves."
Ten of the globe's biggest power companies, representing 30 percent of global electricity generation, issued a declaration asking for the Paris COP to "accelerate the development and deployment worldwide of energy efficiency measures and of innovative technologies with effective policies."  Many were low carbon generators like Electricite de France and Hydro-Quebec, but historically coal dominated American Electric Power signed up as well.
In another configuration, 14 major multi-national giants, including coal mining behemoths BHP and Billiton, oil giants Shell and BP, Alcoa, #1 cement producer Lafarge, plus  a number of lower carbon utilities and tech companies, called for the Paris Agreement to embrace long-term policy certainty, transparency, competitive markets and carbon pricing.
Most startlingly, the national oil companies of Saudi Arabia and Mexico joined eight other oil producers in an Oil and Gas Climate Initiative which declared "Our shared ambition is for a 2 degree Celsius future … Over the coming years we will collectively strengthen our actions and investments to contribute to reducing the greenhouse gas intensity of the global energy mix," and called on the world community to embrace a Paris agreement which would advance that goal.
So what's going on? Most likely the companies themselves do not quite agree—or perhaps know—how far they will pull back from their historic positions before counter-attacking again the emerging clean energy transition. U.S. coal and oil producers are spectacularly absent from this new consensus, with Exxon Mobil responding to Congressional demand for Justice Department fraud investigations into its climate denial financing by clinging to its previous blunt riposte that it was not going "to fake it" on climate change—the world would have to live through it. Do U.S. companies see the world differently—maybe? But as likely they are afraid to offend their Congressional Republican allies, who desperately want to keep climate change as a partisan wedge issue.
And not all the signers have changed their stripes. AEP, for example, is still trying to persuade the Ohio Public Utility Commission to approve a rate-payer subsidy to guarantee profits at its aging fleet of coal fired power plants.
By why is Big Carbon and its allies retreating now?
Perhaps because they see no choice.
This same week opened with the Bloomberg New Energy Finance (BNEF) regional summit at a stunningly refurbished old brewery in the City of London. I told my opening panel that the forthcoming 21st Conference of the Parties (COP 21 in UN jargon) will make as much progress as the previous 20 put together. And the question put to the final panel by the moderator is whether or not I am right—a query they deftly evade.
But the intervening two days drive home the likelihood of success in Paris. Even with Europe clean energy investment lagging with its overall economy, on-shore wind now provides the cheapest electrons available in both Britain and Germany.
Europe's slump is partly driven by a transition pains moving from high cost mechanisms like feed-in-tariffs more efficient tools like reverse auctions.
And the massive European investments from 2010-2013 shaved off the lucrative peak demand loads which made solar panels so lucrative. But having done so, Europe is teed up for the world's next big task. Even at today's investment levels, by 2040 a huge fraction of global power will come from variable renewables (wind and solar): Germany 77 percent, China 37 percent, Mexico 32 percent, India 32 percent. (The U.S., BNEF projects, lags at 24 percent because of cheap gas. I think America will in fact catch up).
But this vast influx of clean electrons creates a new investment need: storage and connected transmission to stabilize power supplies and integrate zero cost but variable supply electrons—Europe now becomes the test bed for this phase of the clean energy transition.
Elsewhere clean energy marches on. While the details matter, wind and solar will become cheaper than new build coal and gas everywhere. Michael Liebrich in his keynote flashes a telling quote from Bill Koch: "The coal business in the U.S has kind of died, so we're out of the coal business," and points out that compared to 2013, 2015 investment in coal has dropped a stunning 75 percent.
Or here's India for example: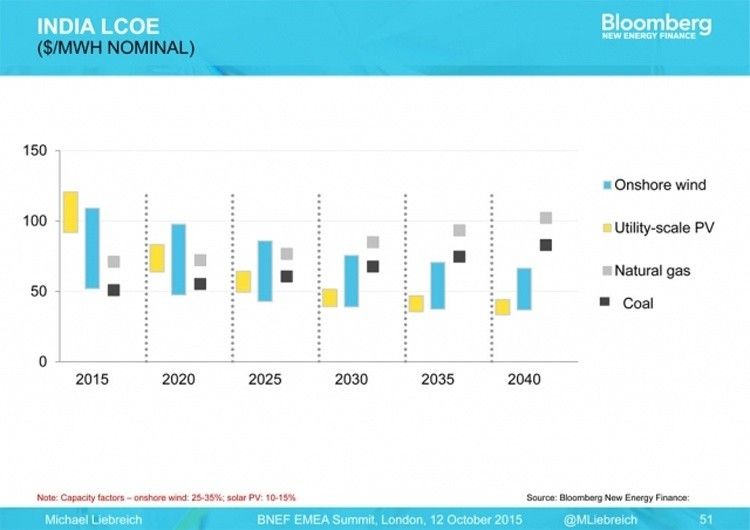 As a result, BNEF projects that renewables get most of the money: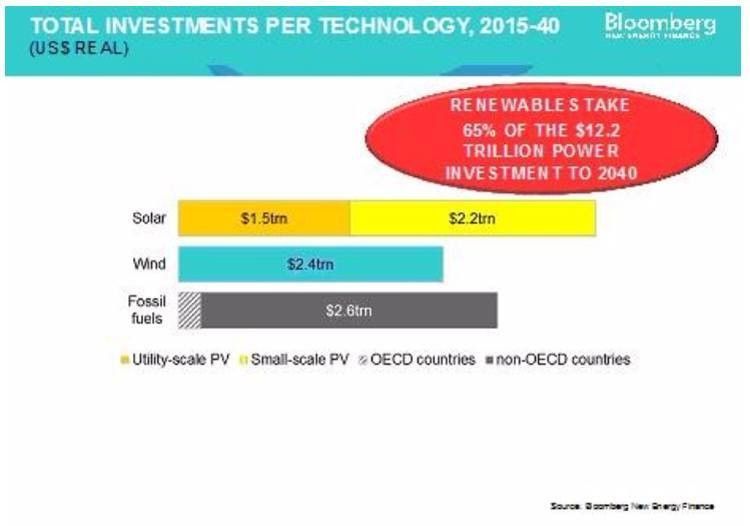 And even as the raw economics of low-carbon energy are on display here, so too the assertive role of cities, states and companies in embracing clean energy innovation is changing the politics of Paris. The Compact of Mayors has passed the 200 city mark, encompassing almost 4 percent of the world's population.
These two forces—clean energy's growing affordability edge, and the bottom up pressure on national governments from cities and the business community—means that fossil fuel interests could longer prevent climate progress simply by leveraging their sheer size to freeze nation state's from accelerating the shift to the future. Stephen Harper's government in Canada refused to embrace climate progress, but Canada's cities—Vancouver, Toronto, Montreal,  Edmonton—are racing forward, as are its major provinces—Quebec, Ontario, British Columbia and—very soon, my intelligence suggests, even Alberta. (Now Harper is gone).
Set against these two positive drivers a highly resistant, incumbent fossil fuel complex remains determined to hold on to its market share as long as it can. Coal and Oil have withdrawn from their untenable "never" position. Their next battle ground lies in "when." The G20 commitment this spring was to decarbonize by "the need of the century." Climate science has a different calendar—fossils must essentially be gone by 2050. That extra 50 years is, to coal and oil, worth fighting for—and natural gas is oil's alternative of choice. Their secret weapon? Ever lower prices. Liebrich points out that while the pace of technological progress for wind and solar has been dramatic, so too has been improvements in shale drilling for oil and natural gas.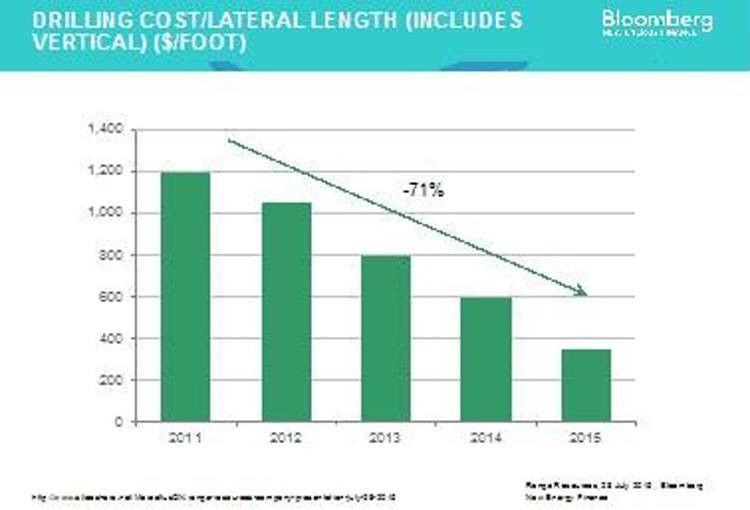 "People believe that the normal trend is for fossils to get more expensive with occasional dips. But it's more the norm for them to get cheaper in real terms, with intermittent spikes." And Liebrich warns that the big losers from climate progress—nations whose economies rely on fossil fuel exports, the Saudi Arabia's, Venezuela's, Russia's and Australia's of the world—have yet to reveal their back-up strategy.
So price alone will not sweep renewables and clean energy to dominance—it will take the active engagement of energy consumers, whether they are cities, companies or publics. After all, for energy consumers, stranding fossil fuel assets is a big win—because it means something cheaper and better has emerged. So while carbon exporting nations and the fossil fuel producers allied with them remain powerful, their role going forward is clearly defensive—retreat they will, but our challenge is to make that retreat a rout.
This summer is only a start, and Paris will only be a milepost—but it is a very strong start. It is a stunning shift from Copenhagen that 190 nations covering 90 percent of current carbon emissions have now submitted their national emission reduction pledges—some shockingly ambitious, some limp and lame, a few perhaps bogus—but the expectation of climate action is now global, not just confined to the U.S., the EU and Japan. This matters. Johan Rockstrom, a climate scientist who pessimistically argued in 2009 that it was almost too late to pull back from the climate brink, has now concluded that the story is turning around. "We have a paradox unique to our era. On a scientific basis there is more reason to be nervous than ever before. But at the same time there has never before been so much reason for hope."
There is a palpable sense that the train to the future is a low carbon express, and you need to get on it before it leaves the station.
YOU MIGHT ALSO LIKE
Dalai Lama: Climate Change Is Destroying Tibet's 'Roof of the World'
Cities Hold the Key to Ensuring a Climate Safe World
Bill Nye: 5 Simple Things You Need to Know About Climate Change
EcoWatch Daily Newsletter
Tuna auctions are a tourist spectacle in Tokyo. Outside the city's most famous fish market, long queues of visitors hoping for a glimpse of the action begin to form at 5 a.m. The attraction is so popular that last October the Tsukiji fish market, in operation since 1935, moved out from the city center to the district of Toyosu to cope with the crowds.

gmnicholas / E+ / Getty Images
Kristan Porter grew up in a fishing family in the fishing community of Cutler, Maine, where he says all roads lead to one career path: fishing. (Porter's father was the family's lone exception. He suffered from terrible seasickness, and so became a carpenter.) The 49-year-old, who has been working on boats since he was a kid and fishing on his own since 1991, says that the recent warming of Maine's cool coastal waters has yielded unprecedented lobster landings.
Aerial view of lava flows from the eruption of volcano Kilauea on Hawaii, May 2018. Frizi / iStock / Getty Images
Hawaii's Kilauea volcano could be gearing up for an eruption after a pond of water was discovered inside its summit crater for the first time in recorded history, according to the AP.
The Eqip Sermia Glacier is seen behind a moraine left exposed by the glacier's retreat during unseasonably warm weather on Aug. 1 at Eqip Sermia, Greenland. Sean Gallup / Getty Images
hadynyah / E+ / Getty Images
By Johnny Wood
The Ganges is a lifeline for the people of India, spiritually and economically. On its journey from the Himalayas to the Bay of Bengal, it supports fishermen, farmers and an abundance of wildlife.
The river and its tributaries touch the lives of roughly 500 million people. But having flowed for millennia, today it is reaching its capacity for human and industrial waste, while simultaneously being drained for agriculture and municipal use.
Here are some of the challenges the river faces.
By Jake Johnson
As a growing number of states move to pass laws that would criminalize pipeline protests and hit demonstrators with years in prison, an audio recording obtained by The Intercept showed a representative of a powerful oil and gas lobbying group bragging about the industry's success in crafting anti-protest legislation behind closed doors.
Reposted with permission from our media associate Common Dreams.

DESIREE MARTIN / AFP / Getty Images
Wildfires raging on Gran Canaria, the second most populous of Spain's Canary Islands, have forced around 9,000 people to evacuate.