Renewable Energy
02 May 2014
It's Time To Double Down on Renewable Energy and Move Beyond Coal
I would never argue that we should ignore the problems being caused by climate disruption around the world—we need to acknowledge and take responsibility for them. But I believe it's equally important to tell some other parts of the story: That we are not powerless and that we have solutions we can start using now.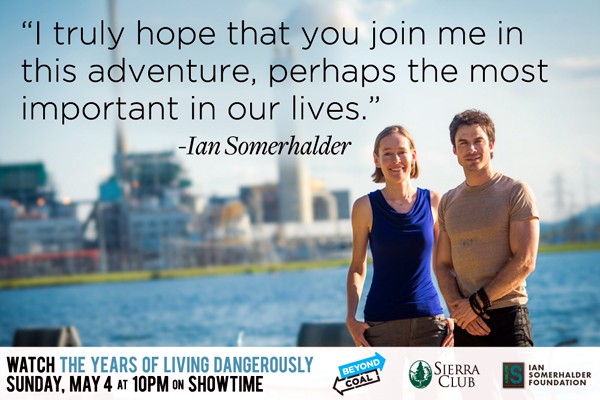 The opportunity to do that is one reason why I was thrilled to participate in the Showtime documentary series Years of Living Dangerously. Although the program doesn't shy away from the dangers we face if we don't take action on climate disruption, it also introduces us to some of the inspiring people who are doing what only people can do: Making a dent in the universe.
For the show, I travelled to Asheville, NC, where I met people of all ages and from all backgrounds who are fighting to protect their most basic resources: clean air and safe drinking water. The local utility company, Duke Energy, had been accused of improperly disposing of waste from a coal-burning power plant, leaving toxic ash to contaminate drinking water and the historic French Broad River. After people in Asheville got organized and raised their voices, Duke Energy announced for the first time that it would consider phasing out the plant—a huge victory! Now, Asheville residents are joining with clergy and people of faith from across North Carolina to take their message to the Duke Energy shareholders meeting in Charlotte.
Why is the coal issue so important? Because coal-fired power plants are the biggest source of global warming pollution, both here and abroad. They're killing our planet. At the same time, those plants cause of a lot of other misery. Here in the U.S., the acid rain, ozone and smog from these plants exacerbates children's asthma and causes thousands of premature deaths—every year. More than 40 percent of Americans live in areas with unhealthy air, as coal plants emit sulfur dioxide, nitrogen oxide and even the mercury that ends up in our waterways and (eventually) our tuna sandwiches.
Fact: Neither solar nor wind power has ever caused an asthma attack or heart failure. Clean energy not only will reduce emissions, it will save thousands of lives. Even without the urgent necessity of addressing global warming, switching to renewables should be a no-brainer for health reasons alone.
That's especially true since, it turns out, we don't actually need to keep pursuing the dangerous and toxic fossil fuels that make people sick, pollute our air and water, and fuel extreme weather. We have better ways of doing things, and we already know that they work.
That's right, clean, renewable energy is already here and already making a difference. In many places, wind and solar are replacing fossil fuels not just because renewables are cleaner and healthier, but because they make more sense economically. After all, when your energy source is free and inexhaustible, you have a leg up on the competition. That's why Minnesota's Public Utilities Commission recently chose to a develop a distributed solar photovoltaic project over competing proposals for natural gas plants to meet new power generation needs. The solar turned out to be a better value for customers.
The biggest mistake we could make would be to think that by adopting clean energy, we are somehow giving something up. In fact, every fossil fuel energy source we replace with a clean energy solution brings us that much closer to a healthy, thriving world.
The promise of renewable energy and the work of people like Asheville's "move beyond coal" activists are more than enough to keep me hopeful. So let's double down on solar energy. Let's build more wind turbines. Let's be more energy-efficient and weatherize our homes. Let's build a healthy economy based on good-paying, clean energy jobs that benefit our communities. Because every step we move forward on this path is one that we'll never have to retrace. Once we get clean energy, there's simply no way we'll ever want to go back to the old way of doing things.
Tune in to Years of Living Dangerously, Sunday at 10 p.m. ET/PT on Showtime.
——–
YOU ALSO MIGHT LIKE
Years of Living Dangerously,Years of Opportunity
No More Excuses: Duke Energy, Clean Up Your Toxic Ash Holes
Watch Full First Episode of 'Years of Living Dangerously
——–
Disturbing footage of a snake in Goa, India vomiting an empty soft drink bottle highlights the world's mounting plastic pollution crisis.
Keep reading...
Show less
By Melissa Hellmann
When her eldest son was in elementary school in the Oakland Unified School District, Ruth Woodruff became alarmed by the meals he was being served at school. A lot of it was frozen, processed foods, packed with preservatives. At home, she was feeding her children locally sourced, organic foods.
Keep reading...
Show less
May. 28, 2017 01:33PM EST
Laurie Woolever
By James O'Hare
There are 20 million people in the world facing famine in South Sudan, Somalia, Nigeria and Yemen. In developed nations, too, people go hungry. Venezuela, for instance, is enduring food insecurity on a national level as a result of economic crisis and political corruption. In the U.S., the land of supposed excess, 12.7 percent of households were food insecure in 2015, meaning they didn't know where their next meal would come from.
Keep reading...
Show less
May. 28, 2017 01:22PM EST
Melwater, Greenland ice sheet. Diane Tuft
Artists are taking the climate crisis into frame and the results are emotional, beautiful and stirring.
So you've seen the best climate change cartoons and shared them with your friends. You've showed your family the infographics on climate change and health, infographics on how the grid works and infographics about clean, renewable energy. You've even forwarded these official National Oceanic and Atmospheric Administration graphs that explain the 10 clear indicators of climate change to your colleagues at the office.
Keep reading...
Show less
May. 27, 2017 01:11PM EST
As the Trump administration moves full speed ahead on boosting the oil and fossil fuel industry, opposition to increased pipeline construction is cropping up in different communities around the country.
Keep reading...
Show less
May. 27, 2017 01:02PM EST
Minke whale stranding near Havergate Island in Suffolk. MCGA.
By Simon Evans
Last Saturday, two dead whales washed up on the coast of Suffolk, in eastern England, and a third was spotted floating at sea.
What happened next illustrates how news can spread and evolve into misinformation, when reported by journalists rushing to publish before confirming basic facts or sourcing their own quotes.
Keep reading...
Show less
May. 27, 2017 01:22PM EST
By Monica Amarelo and Paul Pestano
Sun safety is a crucial part of any outdoor activity for kids, and sunscreen can help protect children's skin from harmful ultraviolet rays. Kids often get sunburned when they're outside unprotected for longer than expected. Parents need to plan ahead and keep sun protection handy in their cars or bags.
Keep reading...
Show less
May. 27, 2017 01:02PM EST
By Joe McCarthy
A lot of people take part in community clean-up efforts—spending a Saturday morning picking up litter in a park, mowing an overgrown field or painting a fence.
Keep reading...
Show less