It's Time to #BreakFree LA and Go 100% Renewables
I've lived in my house in Torrance, California for 23 years now. I've been in LA since I was 19 years old in 1976, back when then Gov. Brown was telling us that we were "living in an era of diminished expectations." He always was so ahead of the curve …
Like I say, I live in Torrance, home of the exploding ExxonMobil refinery where our Air Quality Management District just gave the refinery operators exemptions to exceed pollution limits while they restart the aging climate wrecker back up.
I was at the meeting where they cut the deal and I had this to say about that:
Knowing that Exxon had been stonewalling subpoenas from the Chemical Safety Board and that an expose' had recently been published about Exxon's coverup of their own company's climate science knowledge while they lied to their own shareholders and the public—we still couldn't get any of our local elected leaders to come out and say it was time for Exxon to go and for Torrance to #BreakFree of their abusive relationship with the company now under investigation by 20 different Attorneys Generals.
To their great credit, our members of Congress, Representatives Maxine Waters and Ted Lieu, have been stronger than anyone on this issue, but even they aren't saying the obvious—that we need to #breakfree from fossil fuels—and an exploding refinery owned by lying racketeers is as good a place to #breakfree as any. What the hell are we waiting for? Apparently more explosions, leaks, flaring and four year olds with asthma rocking their inhalers.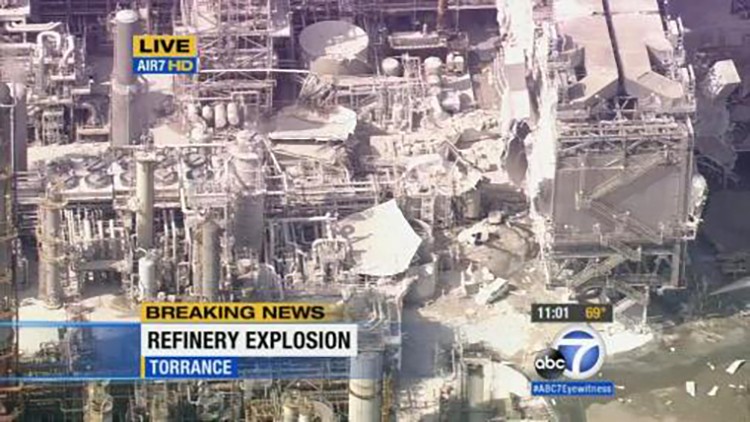 But the Exxon Mobil refinery is just one of six refineries within 12 miles of my home—and even though I live in a coastal community we have some of the shittiest air quality anywhere around—because it's not just the refineries pumping greenhouse gasses and health wrecking pollution into the air we breathe, it's also the Port of Los Angeles, the Port of Long Beach and the Los Angeles International Airport also within that dozen mile circle.
I live 3.9 miles from the Exxon refinery but I've got brothers and sisters in communities including Carson, in Wilmington, in West Adams, in Inglewood, in San Pedro, in South LA, in Long Beach and throughout the LA basin who are right over the fence from the refinery or the port operations or the the urban oil extraction and toxic chemicals that go with it. Often right outside their bedroom windows and where their kids play.
None of these frontline and fence-line friends has to wait for the future impacts of climate change to reach their everyday lives, because they and their families have already been dealing with the consequences of living in what they knowingly call "the Sacrifice Zone" every day for a long long time now.
And none of their local elected officials have stepped up as their champions. Not any City Council members, not enough state elected officials and not enough members of the South Coast Air Quality Management District, the California Air Resources Board, the Coastal Commission or any other regulatory group tasked with protecting the people.
So we're going to have to do it without the politicians. We will #BreakFreeLA and take to the streets ourselves.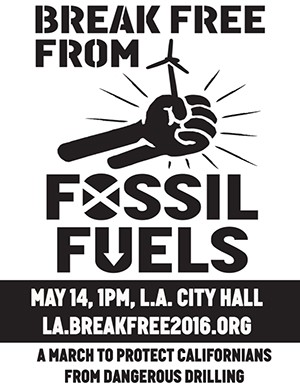 In the absence of leadership, the people will lead. Moms like those who started South Bay Flare will lead and people like those who make up Stand LA will lead and the kids who make up our South Bay Los Angeles 350 Youth Leadership Teams and our friends at the high school environmental clubs.
Real leadership is coming from the Nurses Union and the Service Employees International Union and the International Longshore and Warehouse Union and the Communications Workers of America—all of whom know we need to #BreakFreeLA without putting their fingers in the air to test the wind. Real leadership is coming from The Carson Coalition and Communities for a Better Environment and from all the Bernie Sanders for President supporters. All of them already know the air stinks and that we need to #breakfree from fossil fuels.
When I was a kid growing up in Brooklyn in the early 1960s, once a week we used to burn everyone's garbage in incinerators that every apartment building had. White ash and god knows what else used to fall from the air like nuclear winter snow on a weekly basis. There were no restrictions on what you could throw into the incinerator or what got burned up. But by the early 70s we knew better, passed the Clean Air Act and stopped burning our garbage.
Today we know better about the fossil fuel garbage we burn in our homes and in our cars and at our factories—and we need to stop burning that garbage. The science tells us we need to stop burning all of it in the next 10 years or kill our climate. But the rogue and reckless fossil fuel industry keeps yelling, "Burn, baby, burn!"
Actual reality tells us we already have all the renewable energy and storage products ready to take their place right now, not in some Star Wars Death Star future. I've been working on the local 100 percent renewable energy solution nonstop for the last two years personally, so I know we can get all of LA County powered by renewables by 2026.
That's why on Saturday, May 14, I'll be in the streets of downtown Los Angeles demanding that we go 100 percent renewable powered over the next 10 years and #BreakFreeLA of the greed and sellouts who have kept us chained to fossil fuels for their own gain at the bidding of their monetized masters. Join the action here.
Joe Galliani has been the organizer of South Bay Los Angeles 350 Climate Action Group since 2009. He has been the chair of the South Bay Clean Power working group since 2014.
YOU MIGHT ALSO LIKE
New Report Shows 'Natural Gas Increasingly Becoming an Unnecessary Bridge to Nowhere'
10 States Blocking the Power of the Sun
Panama Papers Prove America Has the Money to Transition to 100% Clean Energy
Billionaire Climate Activist to Spend $25 Million to Register Millennial Voters
Risa Scott / RF Scott Imagery
The Bioscience Resource Project and the Center for Media and Democracy released a trove of rediscovered and newly digitized chemical industry and regulatory agency documents Wednesday stretching back to the 1920s. The documents are available here.
Together, the papers show that both industry and regulators understood the extraordinary toxicity of many chemical products and worked together to conceal this information from the public and the press. These papers will transform our understanding of the hazards posed by certain chemicals on the market and the fraudulence of some of the regulatory processes relied upon to protect human health and the environment.
Keep reading...
Show less
Trevor Hall. PHOTO CREDIT: Emory Hall
I'm a huge Trevor Hall fan so when I saw he was playing in my hometown of Cleveland, I was stoked. I knew seeing the show would be fantastic, but I was also thinking an interview with Trevor would be something really cool to give EcoWatch readers. So, lucky enough, I was offered an interview and was able to hop on my paddleboard from Whiskey Island on the shore of Lake Erie, head up the Cuyahoga River and get to the Music Box Supper Club just in time to chat with Trevor before the show.
"My dad was a drummer, so most my musical influence comes from my dad," Trevor said during our nearly hour interview. "Growing up, my dad had this CD collection in the hallway and I was always fascinated by all the CDs. My hobby was pulling out a CD that looked cool and I'd put it on the stereo and pretend I was rocking out. My dad was really into The Doobie Brothers, Allman Brothers, Earth Wind & Fire, Simply Red, and Crosby, Stills, Nash & Young."
Keep reading...
Show less
The Arbuckle Mountain Wind Farm in southern Oklahoma. Brian Hardzinski / KGOU
American Electric Power (AEP) will invest $4.5 billion in a wind energy project in Oklahoma that could become the largest wind farm in the U.S., the utility announced Wednesday.
AEP will develop a 350-mile transmission line for the 2 GW farm.
Keep reading...
Show less
Environment America / Twitter
The sun is rising on a newer, cleaner era of American energy use.
The U.S. generates nearly eight times as much electricity from the sun and the wind than it did in 2007—enough to power more than 25 million homes—and the average American uses 10 percent less energy than he or she did 10 years ago, according to a new report by Environment America Research and Policy Center.
The report, Renewables on the Rise: A Decade of Progress Toward a Clean Energy Future, also cites a 20-fold increase in battery storage of electricity and the meteoric rise in sales of electric cars—from virtually none in 2007 to nearly 160,000 last year—as evidence that despite attempted rollbacks in Washington, a clean energy revolution is under way across the U.S.
Keep reading...
Show less
Cirrus clouds over Golden Gate Bridge. Brocken Inaglory / Wikimedia Commons
By Tim Radford
Geoengineering, the deliberate alteration of the planet to undo its inadvertent alteration by humans over the past 200 years, is back on the scientific agenda, with a climate compromise suggested as a possible solution.
One group wants to turn down the global thermostat and reverse the global warming trend set in train by greenhouse gases released by fossil fuel combustion, by thinning the almost invisible cirrus clouds that trap radiation and keep the planet warm.
Keep reading...
Show less
By Joe McCarthy
This past June was the third hottest June in recorded history—only 2016 and 2015 had hotter Junes.
The global average temperature has been surpassing the 20th century average for 41 straight years. "Record-breaking temperatures" has almost become a platitude since the turn of the century, yet the consequences of this shift are devastating communities and environments in new ways around the world.
Keep reading...
Show less
iStock
By Joe McCarthy
Tony Maphosa, a Zimbabwean poacher, is accused of putting cyanide in watering holes and salt pans used by elephants numerous times over several years.
All told, his poisoning spree is said to have killed more than 100 elephants, according to Zimbabwean authorities who have been searching for Maphosa for four years.
Keep reading...
Show less
iStock
By David Doniger
As the nation and the world swelter through another year of extraordinary heat, storms, drought and disrupted weather, Senators Sheldon Whitehouse and Brian Schatz introduced carbon fee legislation Wednesday to help curb the heat-trapping pollution that drives this dangerous climate disruption.
Representatives Earl Blumenauer and David Cicilline are introducing companion legislation in the House of Representatives.
Keep reading...
Show less