This website uses cookies to ensure you get the best experience while browsing it. By clicking 'Got It' you're accepting these terms.
I've lived in my house in Torrance, California for 23 years now. I've been in LA since I was 19 years old in 1976, back when then Gov. Brown was telling us that we were "living in an era of diminished expectations." He always was so ahead of the curve …
Like I say, I live in Torrance, home of the exploding ExxonMobil refinery where our Air Quality Management District just gave the refinery operators exemptions to exceed pollution limits while they restart the aging climate wrecker back up.
I was at the meeting where they cut the deal and I had this to say about that:
Knowing that Exxon had been stonewalling subpoenas from the Chemical Safety Board and that an expose' had recently been published about Exxon's coverup of their own company's climate science knowledge while they lied to their own shareholders and the public—we still couldn't get any of our local elected leaders to come out and say it was time for Exxon to go and for Torrance to #BreakFree of their abusive relationship with the company now under investigation by 20 different Attorneys Generals.
To their great credit, our members of Congress, Representatives Maxine Waters and Ted Lieu, have been stronger than anyone on this issue, but even they aren't saying the obvious—that we need to #breakfree from fossil fuels—and an exploding refinery owned by lying racketeers is as good a place to #breakfree as any. What the hell are we waiting for? Apparently more explosions, leaks, flaring and four year olds with asthma rocking their inhalers.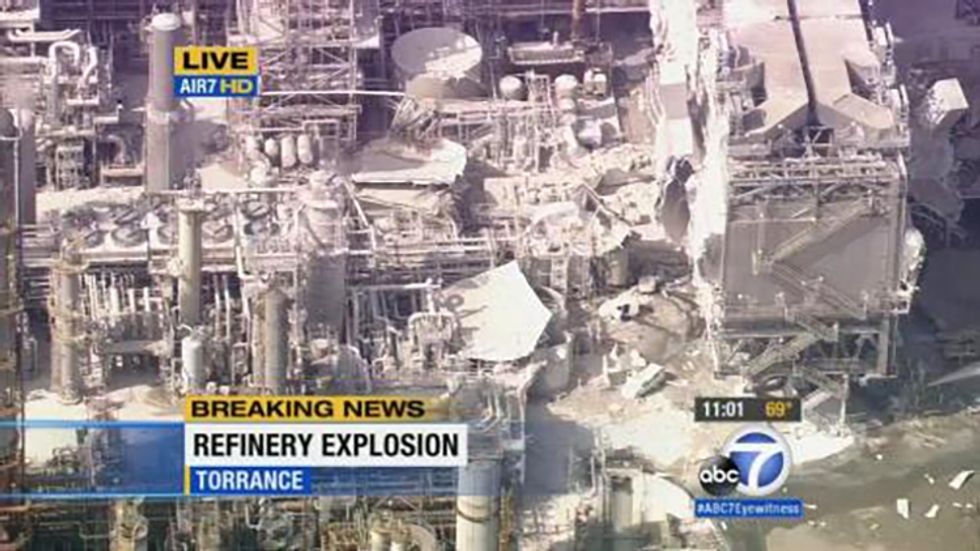 But the Exxon Mobil refinery is just one of six refineries within 12 miles of my home—and even though I live in a coastal community we have some of the shittiest air quality anywhere around—because it's not just the refineries pumping greenhouse gasses and health wrecking pollution into the air we breathe, it's also the Port of Los Angeles, the Port of Long Beach and the Los Angeles International Airport also within that dozen mile circle.
I live 3.9 miles from the Exxon refinery but I've got brothers and sisters in communities including Carson, in Wilmington, in West Adams, in Inglewood, in San Pedro, in South LA, in Long Beach and throughout the LA basin who are right over the fence from the refinery or the port operations or the the urban oil extraction and toxic chemicals that go with it. Often right outside their bedroom windows and where their kids play.
None of these frontline and fence-line friends has to wait for the future impacts of climate change to reach their everyday lives, because they and their families have already been dealing with the consequences of living in what they knowingly call "the Sacrifice Zone" every day for a long long time now.
And none of their local elected officials have stepped up as their champions. Not any City Council members, not enough state elected officials and not enough members of the South Coast Air Quality Management District, the California Air Resources Board, the Coastal Commission or any other regulatory group tasked with protecting the people.
So we're going to have to do it without the politicians. We will #BreakFreeLA and take to the streets ourselves.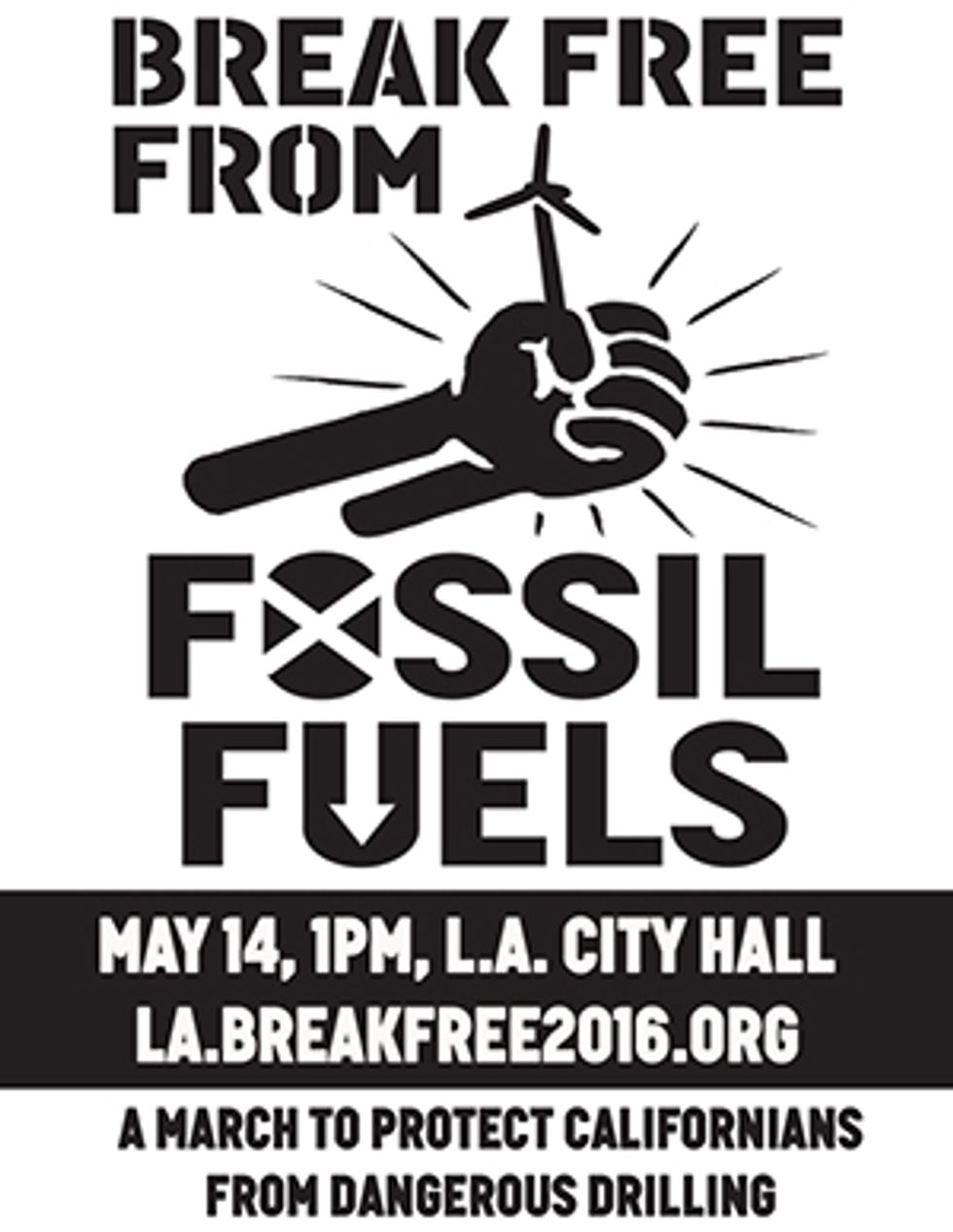 In the absence of leadership, the people will lead. Moms like those who started South Bay Flare will lead and people like those who make up Stand LA will lead and the kids who make up our South Bay Los Angeles 350 Youth Leadership Teams and our friends at the high school environmental clubs.
Real leadership is coming from the Nurses Union and the Service Employees International Union and the International Longshore and Warehouse Union and the Communications Workers of America—all of whom know we need to #BreakFreeLA without putting their fingers in the air to test the wind. Real leadership is coming from The Carson Coalition and Communities for a Better Environment and from all the Bernie Sanders for President supporters. All of them already know the air stinks and that we need to #breakfree from fossil fuels.
When I was a kid growing up in Brooklyn in the early 1960s, once a week we used to burn everyone's garbage in incinerators that every apartment building had. White ash and god knows what else used to fall from the air like nuclear winter snow on a weekly basis. There were no restrictions on what you could throw into the incinerator or what got burned up. But by the early 70s we knew better, passed the Clean Air Act and stopped burning our garbage.
Today we know better about the fossil fuel garbage we burn in our homes and in our cars and at our factories—and we need to stop burning that garbage. The science tells us we need to stop burning all of it in the next 10 years or kill our climate. But the rogue and reckless fossil fuel industry keeps yelling, "Burn, baby, burn!"
Actual reality tells us we already have all the renewable energy and storage products ready to take their place right now, not in some Star Wars Death Star future. I've been working on the local 100 percent renewable energy solution nonstop for the last two years personally, so I know we can get all of LA County powered by renewables by 2026.
That's why on Saturday, May 14, I'll be in the streets of downtown Los Angeles demanding that we go 100 percent renewable powered over the next 10 years and #BreakFreeLA of the greed and sellouts who have kept us chained to fossil fuels for their own gain at the bidding of their monetized masters. Join the action here.
Joe Galliani has been the organizer of South Bay Los Angeles 350 Climate Action Group since 2009. He has been the chair of the South Bay Clean Power working group since 2014.
YOU MIGHT ALSO LIKE
New Report Shows 'Natural Gas Increasingly Becoming an Unnecessary Bridge to Nowhere'
10 States Blocking the Power of the Sun
Panama Papers Prove America Has the Money to Transition to 100% Clean Energy
Billionaire Climate Activist to Spend $25 Million to Register Millennial Voters
EcoWatch Daily Newsletter
A verdant and productive urban garden in Havana. Susanne Bollinger / Wikimedia Commons
By Paul Brown
When countries run short of food, they need to find solutions fast, and one answer can be urban farming.
Trevor Noah appears on set during a taping of "The Daily Show with Trevor Noah" in New York on Nov. 26, 2018.
The Daily Show With Trevor Noah / YouTube screenshot
Rebecca Burgess came up with the idea of a fibersheds project to develop an eco-friendly, locally sourced wardrobe.
Nicolás Boullosa / CC BY 2.0
By Tara Lohan
If I were to open my refrigerator, the origins of most of the food wouldn't be too much of a mystery — the milk, cheese and produce all come from relatively nearby farms. I can tell from the labels on other packaged goods if they're fair trade, non-GMO or organic.
A television crew reports on Hurricane Dorian while waves crash against the Banana River sea wall. Paul Hennessy / SOPA Images / LightRocket / Getty Images
By Mark Hertsgaard and Kyle Pope
Some good news, for a change, about climate change: When hundreds of newsrooms focus their attention on the climate crisis, all at the same time, the public conversation about the problem gets better: more prominent, more informative, more urgent.
U.S. Senators Chris Coons (D-Del.) and Mike Braun (R-Ind.) met with Bill Gates on Nov. 7 to discuss climate change and ways to address the challenge.
Senator Chris Coons
The U.S. Senate's bipartisan climate caucus started with just two members, a Republican from Indiana and a Democrat from Delaware. Now it's up to eight members after two Democrats, one Independent and three more Republicans joined the caucus last week, as The Hill reported.
A timelapse video shows synthetic material and baby fish collected from a plankton sample from a surface slick taken off Hawaii's coast.
Honolulu Star-Advertiser / YouTube screenshot