This website uses cookies to ensure you get the best experience while browsing it. By clicking 'Got It' you're accepting these terms.
It's Official: Young People Want Our Country Powered by Renewables
Sep. 10, 2015 12:40PM EST
Business
Yesterday NextGen Climate released polling showing that young voters in key presidential swing states are looking for a presidential candidate with a plan to tackle climate change, strengthen our economy, create jobs and improve public health by accelerating the transition to clean energy. In a poll of young voters in key battleground states conducted by Hart Research, 74 percent of voters under 35 said they would be more likely to vote for a presidential candidate who set a goal for powering America with 50 percent clean energy by 2030. A clear majority of these young voters—more than 80 million of whom are eligible to vote in 2016—say that this goal is "necessary" and "an important priority" for the country.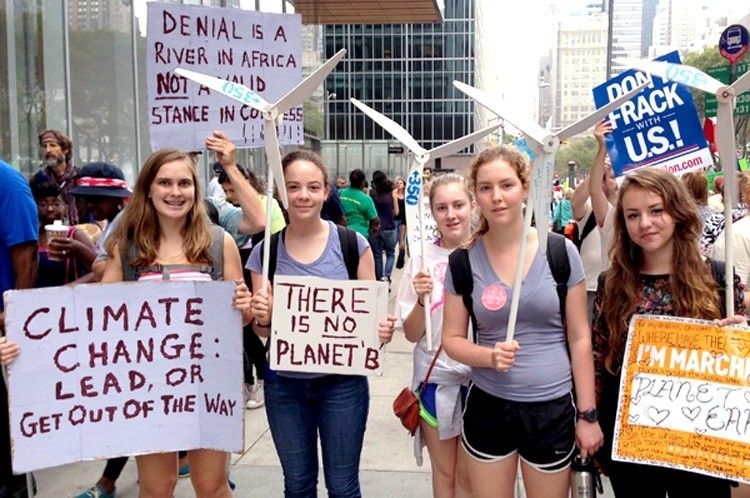 Young Americans strongly back proposals that will accelerate the transition to a clean energy economy, grow our economy and create jobs. Photo credit: Stefanie Spear
"Presidential candidates should take notice: young voters will turn out on Election Day for leaders with a concrete plan to build a clean energy future," said NextGen Climate President Tom Steyer. "If presidential candidates want to win over young voters—and win the White House—they need to lay out a plan to achieve more than 50 percent clean energy by 2030."
"Young voters see climate change as a serious threat and are looking for a presidential candidate with a forward-looking vision to solving our country's toughest economic problems—presenting clear potential for a candidate who has a bold plan around expanding clean energy to heighten their enthusiasm and capture the votes of young Americans," said Hart Research President Geoff Garin.
Young Americans strongly back proposals that will accelerate the transition to a clean energy economy, grow our economy and create jobs. In fact, 68 percent of young voters believe that achieving more than 50 percent clean energy by 2030 would have a positive effect on America's economy overall and create jobs. The poll finds there is no downside for candidates in committing to an ambitious clean energy goal and there is a considerable potential upside. Sixty-three percent of young voters say they'd be more likely to vote for Hillary Clinton if she supports this ambitious clean energy goal. In fact 26 percent of voters who did not initially support Clinton or only weakly supported her—including a disproportionate number of young voters—say they would be more likely to vote for Clinton if she committed to achieving more than 50 percent clean energy by 2030.
Young voters are set to play a critical part in choosing our next president and deciding the future of our country and two thirds of young Americans—including a majority of Republicans—believe that spurring innovation and investment in clean energy and creating 21st century jobs should be an important issue in the upcoming presidential race. NextGen Climate is committed to engaging these voters on this critical issue through innovative digital, cultural engagement and campus organizing campaigns.
This week, NextGen Climate and Reverb launched the national Campus Consciousness Tour—a series of concerts promoting clean energy and featuring musicians like Nate Ruess. The tour is part of NextGen Climate's effort to bring voices influential with young Americans into the fight for a clean energy future. Other recent efforts include a video produced by NextGen Climate, "Climate Deniers Be Cray!," featuring comedian Jenny Slate taking on climate change deniers in Washington, DC NextGen Climate also ran ads on Snapchat during the first Republican debate, which reached tens of thousands of young voters in Ohio, New Hampshire and Iowa and ignited an authentic conversation among young voters about the need to take action on climate change.
In the key presidential states of Iowa and New Hampshire, NextGen Climate is organizing on more than 34 local colleges and universities to engage with students on the need for presidential candidates to embrace the transition to a clean energy economy. In the weeks and months ahead, NextGen Climate will continue to use innovative digital, field and cultural engagement tactics to engage young voters on the need for our leaders to lay out a plan to achieve more than 50 percent clean energy by 2030.
YOU MIGHT ALSO LIKE
Solar Power Just Broke Another Record in the U.S.​
Third U.S. City Goes 100% Renewable
Kids Explain to Adults Why We Should Repower Our Schools With 100% Renewable Energy
EcoWatch Daily Newsletter
Hedges, 2019 © Hugh Hayden. All photos courtesy of Lisson Gallery
By Patrick Rogers
"I'm really into trees," said the sculptor Hugh Hayden. "I'm drawn to plants."
BruceBlock / iStock / Getty Images
Thanks to their high concentration of powerful plant compounds, foods with a natural purple hue offer a wide array of health benefits.
Environmental Investigation Agency
Last week, the Peruvian Palm Oil Producers' Association (JUNPALMA) promised to enter into an agreement for sustainable and deforestation-free palm oil production. The promise was secured by the U.S. based National Wildlife Federation (NWF) in collaboration with the local government, growers and the independent conservation organization Sociedad Peruana de Ecodesarrollo.
Pixabay
Leaked documents show that Jair Bolsonaro's government intends to use the Brazilian president's hate speech to isolate minorities living in the Amazon region. The PowerPoint slides, which democraciaAbierta has seen, also reveal plans to implement predatory projects that could have a devastating environmental impact.
XL CATLIN SEAVIEW SURVEY / THE OCEAN AGENCY
Hope may be on the horizon for the world's depleted coral reefs thanks to scientists who successfully reproduced endangered corals in a laboratory setting for the first time, according to Reuters.
Last week we received positive news on the border wall's imminent construction in an Arizona wildlife refuge. The Trump administration delayed construction of the wall through about 60 miles of federal wildlife preserves.
PhotoAlto / Frederic Cirou / Getty Images
Drinking water treated with fluoride during pregnancy may lead to lower IQs in children, a controversial new study has found.