This website uses cookies to ensure you get the best experience while browsing it. By clicking 'Got It' you're accepting these terms.
It's Official ... the Winner of the Worst Climate Denier in Congress Is ...
Mar. 23, 2015 07:27AM EST
Climate
The votes are counted. The winner is in. Having survived stiff competition in a field of 16 of the most outrageous climate deniers Congress has to offer, Sen. James Inhofe of Oklahoma has taken the trophy in the Denial Finals of the Climate Change Fantasy Tournament sponsored by Organizing for Action (OFA).
How could he not? He's the proud author of the 2010 book, The Greatest Hoax: How The Global Warming Conspiracy Threatens Your Future.
"With all of the hysteria, all of the fear, all of the phony science, could it be that man-made global warming is the greatest hoax ever perpetrated on the American people?" said Sen. Inhofe. "It sure sounds like it."
He's clearly more conversant with Nazi references than with climate science. He compared the U.S. Environmental Protection Agency (EPA) to the "Gestapo" and said the movement to address climate change is like the "Third Reich" and "The Big Lie."
"Genesis 8:22 said that as long as the Earth remains, there will be springtime, harvest, cold and heat, winter and summer, day and night," he said. "My point is, God's still up there, and the arrogance of people who think that we, human beings, would be able to change what He is doing in the climate is to me outrageous."
He recently made headlines and subjected himself to widespread mockery when he tossed a snowball on the floor of the Senate, claiming he had thereby disproved global warming.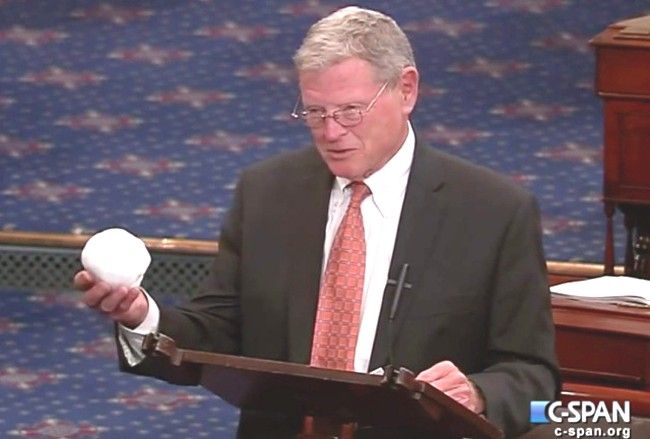 And scarily, when the Republicans took control of the Senate in January, he became chairman of the Senate and Public Works Committee where he has promised a commitment to crippling the U.S. EPA's ability to protect our environment.
Inhofe faced a tough field in the Climate Change Fantasy Tournament. In the first round he defeated Terrible Ted Cruz of Texas who has called those concerned with climate change "alarmists" and said, "They've got a problem because the science doesn't back them up." In the Embarrassing Eight Round he bested Senate Majority Leader Mitch McConnell of Kentucky who is currently running around the country telling states to simple thumb their noses at the U.S. EPA's Clean Power Plant rule and keep spewing as much carbon emissions as they please.
In perhaps his easiest match, he faced California Congressman Duncan Hunter in the Flunked-Science Four round. While Hunter isn't as well known as some of the competition, he gave it his all with statements like "Nobody really knows the cause [of climate change]. It could be caused by carbon dioxide or methane. Maybe we should kill the cows to stop the methane, or stop breathing to stop the CO2," and "Thousands of people die every year of cold, so if we had global warming it would save lives."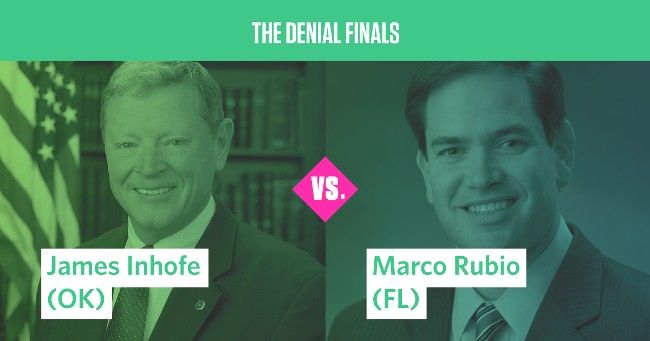 But he was vanquished by Inhofe, who earned the chance to face Florida Sen. Marco Rubio in the Denial Finals. Undoubtedly Rubio was handicapped by his continual flip-flopping on climate change, giving even statements such as "I don't agree with the notion that some are putting out there, including scientists, that somehow there are actions we can take today that would actually have an impact on what's happening in our climate. Our climate is always changing" a bit less juice than they would have needed to take him to the top.
In addition, Rubio entered the final less battle-hardened than Inhofe. On his side of the draw, he didn't face any serious competition until the Flunked-Science Four round, dispatching Louisiana's Bill Cassidy and North Carolina's Bob Pittinger quickly before climbing past the more formidable House Speaker John Boehner to get to the final.
"It takes a lot to beat out some of the most shameless deniers in the country like Ted Cruz, Mitch McConnell and Marco Rubio," said OFA. "But in the end, none of them had a chance against the guy who literally wrote the book on climate change denial, calling the scientific consensus 'The Greatest Hoax.' If there was any doubt, he ended it by taking to the Senate floor to throw a snowball in a ridiculous attempt to disprove global warming. That's a pretty embarrassing distinction for the senator who heads up the environmental committee."
YOU MIGHT ALSO LIKE
Have You Filled Out Your Bracket Yet? Which Climate Deniers Will Make It to the Final Four?
Watch Sen. Inhofe Throw a Snowball on Senate Floor to Prove Climate Change Is a 'Hoax'
Climate Denier-in-Chief Inhofe to Head Senate Environment Committee
EcoWatch Daily Newsletter
Wesley Martinez Da Costa / EyeEm / Getty Images
By David R. Montgomery
Would it sound too good to be true if I was to say that there was a simple, profitable and underused agricultural method to help feed everybody, cool the planet, and revitalize rural America? I used to think so, until I started visiting farmers who are restoring fertility to their land, stashing a lot of carbon in their soil, and returning healthy profitability to family farms. Now I've come to see how restoring soil health would prove as good for farmers and rural economies as it would for the environment.
skaman306 / Moment / Getty Images
Radish (Raphanus sativus) is a cruciferous vegetable that originated in Asia and Europe (1Trusted Source).
The Centers for Disease Control (CDC) released new numbers that show vaping-related lung illnesses are continuing to grow across the country, as the number of fatalities has climbed to 33 and hospitalizations have reached 1,479 cases, according to a CDC update.
During the summer, the Arctic tundra is usually a thriving habitat for mammals such as the Arctic fox. Education Images / Universal Images Group via Getty Images
Reports of extreme snowfall in the Arctic might seem encouraging, given that the region is rapidly warming due to human-driven climate change. According to a new study, however, the snow could actually pose a major threat to the normal reproductive cycles of Arctic wildlife.
Vegan rice and garbanzo beans meals.
Ella Olsson /
Pexels
One common concern about vegan diets is whether they provide your body with all the vitamins and minerals it needs.
Many claim that a whole-food, plant-based diet easily meets all the daily nutrient requirements.
A fracking well looms over a residential area of Liberty, Colorado on Aug. 19.
WildEarth Guardians / Flickr