It's Official: Republicans Want Climate Action and Support Accelerating Renewable Energy
Sep. 29, 2015 11:05AM EST
Climate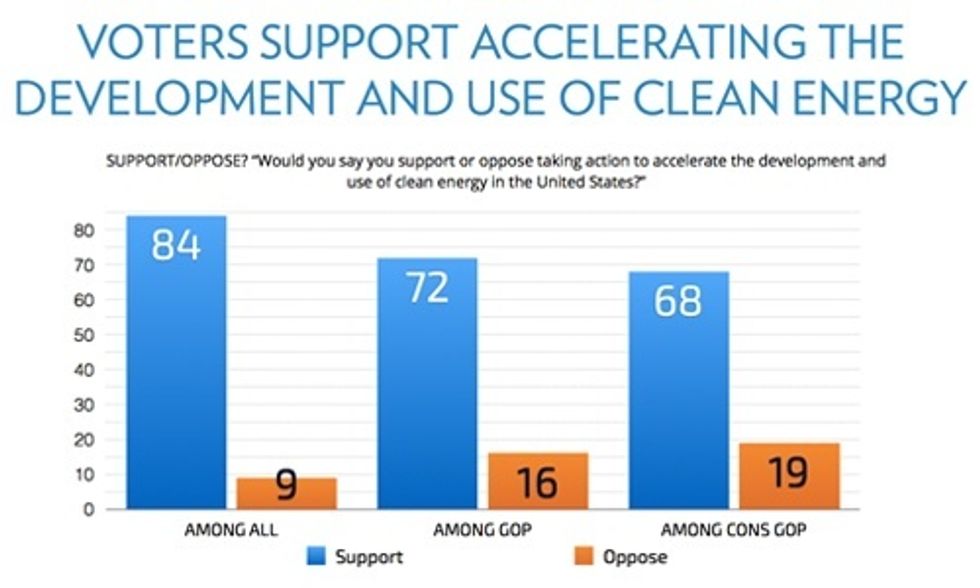 A majority of Republican voters—including 54 percent of self-described conservative Republicans—believe climate change is real and humans play some role, according to a new survey conducted by three prominent Republican pollsters.
"The results echo a number of other recent surveys concluding that despite the talk of many of the party's candidates, a significant number of Republicans and independent voters are inclined to support candidates who would back some form of climate action," reports The New York Times.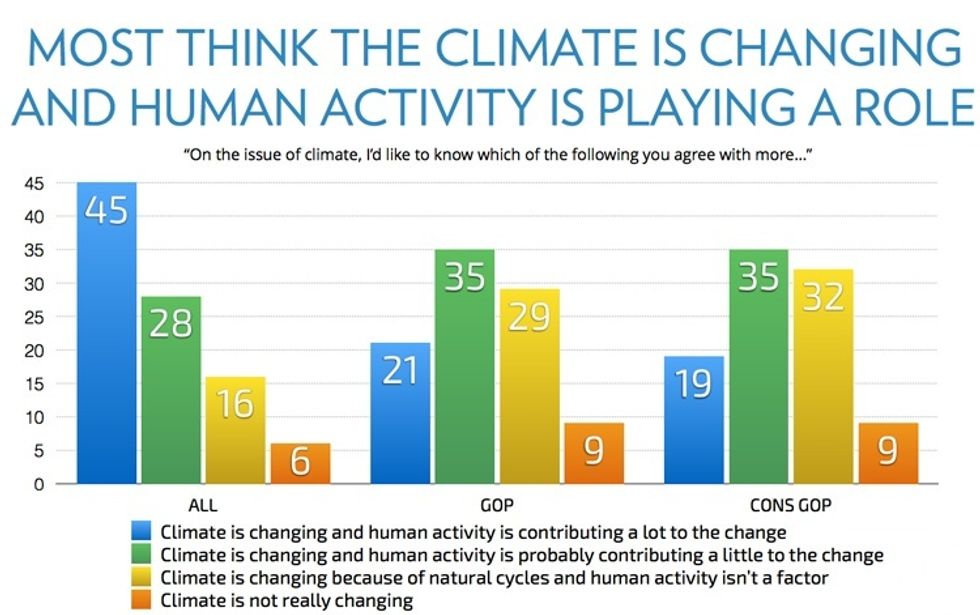 Only a third of Republicans, even conservative Republicans, believe that the climate is changing because of natural cycles and only 9 percent of all Republicans think the climate isn't changing at all. "Outright dismissal of climate change is limited, even among conservative Republicans," say the pollsters. "However, most Republicans hesitate to say climate change has 'a lot' to do with human activity."
The findings don't exactly align with the rhetoric of many of the top presidential candidates, including Donald Trump, Ben Carson, Sen. Marco Rubio (R-FL) and Sen. Ted Cruz (R-TX), who have all, at some point, outright rejected climate science. In the first GOP primary debate, climate change didn't even come up in the prime time debate and at the so-called happy hour debate Lindsey Graham was the only candidate to talk about it after being asked by Fox News moderator Bill Hemmer how Republicans can "trust" him after working on a climate bill with Democrats and President Obama. In the second debate, there was one question on climate change and the candidates spent most of the time attacking President Obama's climate change policies and making strange assertions like "America is not a planet."
The survey was commissioned by Jay Faison, a conservative businessman who has pledged $175 million to convince Republicans to act on climate change. To conduct the survey, Faison enlisted Echelon Insights, North Star Opinion Research and Public Opinion Strategies.
"I'm pretty frustrated about the political divide," Faison told ABC. "This is too important to leave to the Democrats."
"Faison is the most active Republican donor on climate issues, a sort of GOP counterpart to Democratic mega-donor Tom Steyer," explains ABC. Steyer whose group NextGen Climate has been pushing candidates on both sides of the political divide to take climate action. Ahead of the most recent GOP debate, the group ran an ad campaign invoking Ronald Reagan's "Common Sense" speech to urge Republican presidential candidates to develop a plan for the country to go 50 percent renewable by 2030.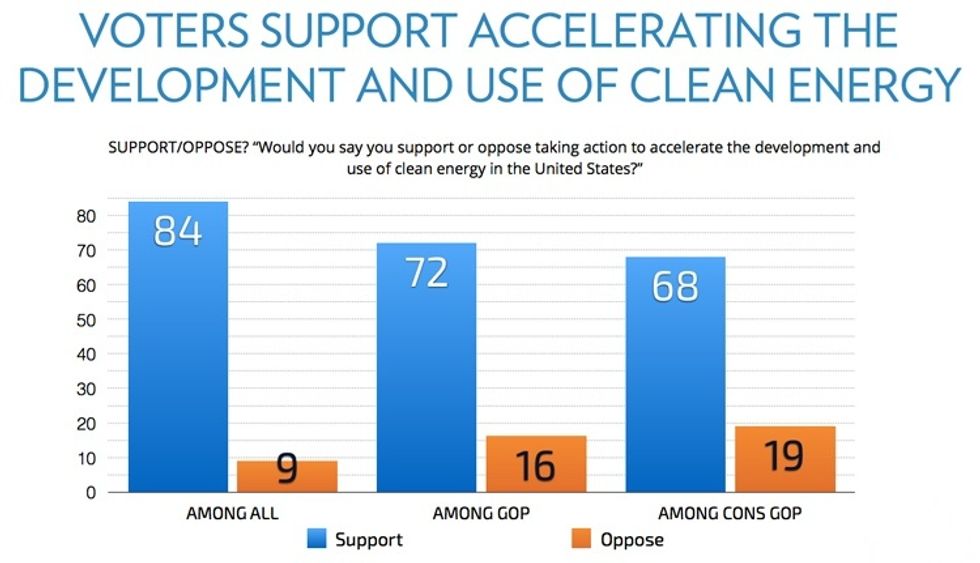 The poll found widespread support for renewable energy. Among all Republicans, 72 percent said they support "taking action to accelerate the development and use of clean energy in the United States?" And even among conservative Republicans, a full 68 support such action.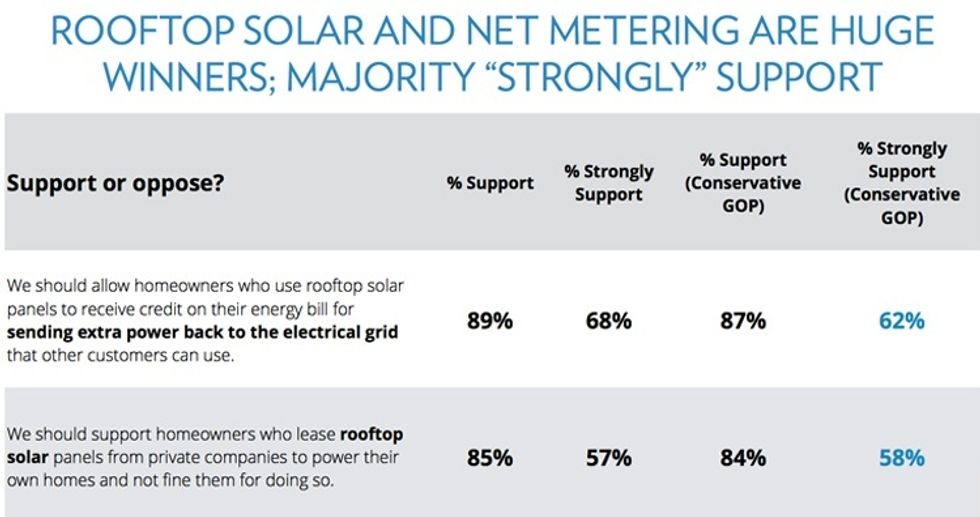 Rooftop solar was very popular with 87 percent of conservative Republicans supporting policies that would promote installation of rooftop solar panels, if they would allow homeowners to save money by selling electricity back to the power company. And 66 percent of conservative Republicans said they would support policies that would require electric utilities to include renewable power in their generation mix.
The polling found the strongest frames for discussing renewable energy were less pollution, more innovation and greater independence.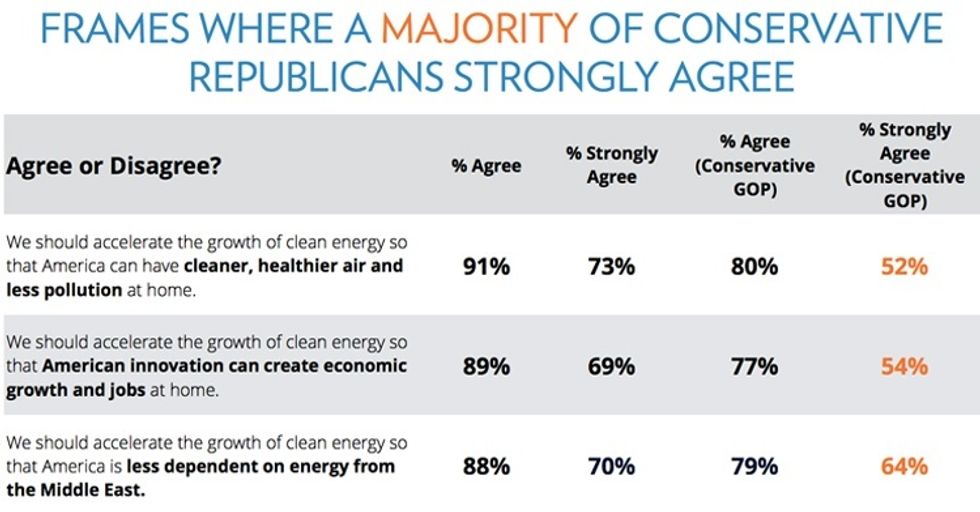 And while a quarter of Republicans were strongly opposed to carbon fees, government research and development, and tax incentives, a surprising number support policies aimed at addressing climate change.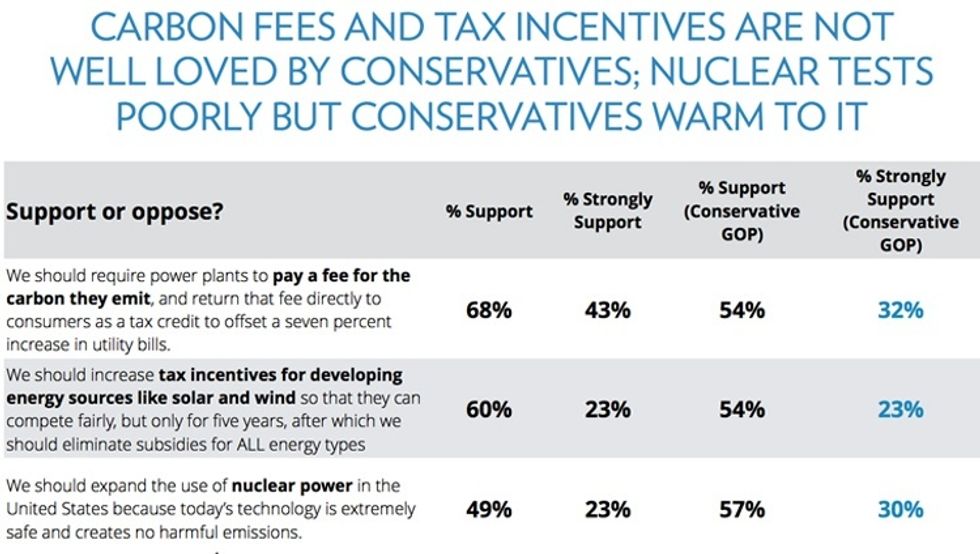 YOU MIGHT ALSO LIKE
Michael Bloomberg: It's Time to Ramp Up Local Climate Efforts
Tesla CEO Elon Musk: VW Scandal Shows Time's Up for Fossil Fuels
7 Signs Renewable Energy Is Here to Stay
Solar-Powered Mayflower to Cross the Atlantic 400 Years After Pilgrim Voyage
EcoWatch Daily Newsletter