This website uses cookies to ensure you get the best experience while browsing it. By clicking 'Got It' you're accepting these terms.
It's Official: Plastic Bags Banned in California
Sep. 30, 2014 01:51PM EST
California Gov. Jerry Brown added his signature this morning and made it official: single-use plastic bags are being banned from many of the state's retail establishments. SB 270, passed by the legislature and sent to Gov. Brown's desk for final approval in late August, phases out the bags, starting with large grocery stores and pharmacies in July 2015, and in convenience and liquor stores one year later. California is the first state to ban the bags, although many cities across the country have done so. This came despite heavy lobbying and spending from "Big Plastic," led by out-of-state bag manufacturers.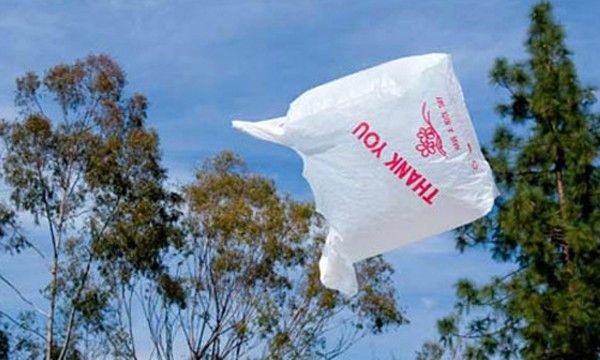 "This bill is a step in the right direction—it reduces the torrent of plastic polluting our beaches, parks and even the vast ocean itself," said Brown. "We're the first to ban these bags, and we won't be the last."
The bill was authored by state senator Alex Padilla, a Democrat from the San Fernando Valley. Today he said, "I applaud Governor Brown for signing SB 270 into law. A throw-away society is not sustainable. Moving from single-use plastic bags to reusable bags is common sense. Governor Brown's signature reflects our commitment to protect the environment and reduce government costs."
The environmental and citizen groups who spent a decade working toward this day were exultant.
"From the thousands of sea turtles that are now safer from plastic bags to the thousands of volunteers who remove these bags from our beaches and rivers, this bill means a cleaner ocean for everyone," said Nathan Weaver of Environment California, one of the groups behind the effort. "I applaud Governor Brown for signing SB 270 and phasing out single-use plastic bags. Nothing we use for a few minutes should pollute our ocean for hundreds of years."
"California policy makers have made a clear statement in enacting the bag ban: producers are responsible for the end of life impacts of their products," said Mark Murray, executive director of Californians Against Waste, the bill's sponsor. "If a product is too costly to society and the environment, California is prepared to move to eliminate it."
127 California cities, towns and counties have already banned the bags, including major cities like Los Angeles, Oakland, Long Beach and San Jose, covering more than a third of the state's population. San Francisco was the first city in the country to regulate them, starting in 2007.
"For nearly 10 million Californians, life without plastic grocery bags is already a reality," said Murray. "Bag bans reduce plastic pollution and waste, lower bag costs at grocery stores and now we're seeing job growth in California at facilities that produce better alternatives. Forty years ago there were no plastic grocery bags; four years from now, we'll forget there ever were."
Heal the Bay, another group involved in ban campaign, said that this is just the beginning of their efforts to rid the state of trash pollution.
"Plastic bags serve as a 'gateway' issue for us, getting people to think more sustainably in other areas of their life, whether it's skipping plastic water bottles or refusing drinking straws," said the group. "Following this victory, Heal the Bay will pivot to a comprehensive statewide solution for trash control—a strong statewide trash policy that would compel all municipalities to meet strict numeric reductions in the amount of trash they send to our local rivers and ocean waterways."
YOU MIGHT ALSO LIKE
Plastic Bag Bans Spread Across U.S.
22 Facts About Plastic Pollution (And 10 Things We Can Do About It)
EcoWatch Daily Newsletter
Last week, the Peruvian Palm Oil Producers' Association (JUNPALMA) promised to enter into an agreement for sustainable and deforestation-free palm oil production. The promise was secured by the U.S. based National Wildlife Federation (NWF) in collaboration with the local government, growers and the independent conservation organization Sociedad Peruana de Ecodesarrollo.
Pixabay
Leaked documents show that Jair Bolsonaro's government intends to use the Brazilian president's hate speech to isolate minorities living in the Amazon region. The PowerPoint slides, which democraciaAbierta has seen, also reveal plans to implement predatory projects that could have a devastating environmental impact.
XL CATLIN SEAVIEW SURVEY / THE OCEAN AGENCY
Hope may be on the horizon for the world's depleted coral reefs thanks to scientists who successfully reproduced endangered corals in a laboratory setting for the first time, according to Reuters.
Last week we received positive news on the border wall's imminent construction in an Arizona wildlife refuge. The Trump administration delayed construction of the wall through about 60 miles of federal wildlife preserves.
PhotoAlto / Frederic Cirou / Getty Images
Drinking water treated with fluoride during pregnancy may lead to lower IQs in children, a controversial new study has found.
National Institude of Allergy and Infectious Disease
A Greenpeace rally calls for a presidential campaign climate debate on June 12 in Washington, DC. Sarah Silbiger / Getty Images