Popular
Nov. 16, 2015 10:47AM EST
It's Official: Oklahoma Experiences More Earthquakes Than Anywhere Else in the World
It's official: Oklahoma now has more earthquakes than anywhere else in the world, according to a spokesman from the Oklahoma Corporation Commission (OCC), which oversees the Sooner State's oil and gas industry.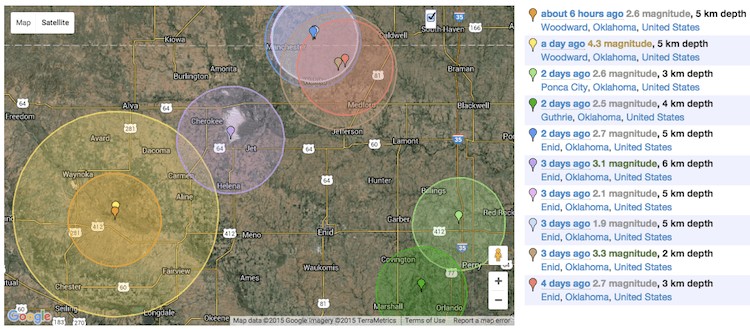 Earthquaketrack.com
"We have had 15 [earthquakes] in Medford since 5 o'clock Saturday morning," said spokesman Matt Skinner on Nov. 9, according to the Enid News. "We've got an earthquake issue."
"OCC has developed areas of interest, where earthquake clusters have occurred. A cluster is two earthquakes within a half mile of each other, with one measuring at least magnitude 3.2. Originally, they were three-mile circles, then six-mile circles. The circles grew in number and now encompass a very large area of Oklahoma—about 9,000 square miles in all, [Skinner] said," reported the Enid News.
Scientists have linked this never-ending spate of tremors to the state's drilling boom. The Oklahoma Geological Survey concluded that the injection of wastewater byproducts into deep underground disposal wells from fracking operations has triggered the seismic activity in Oklahoma.
As EcoWatch reported two months ago, Oklahoma went from two earthquakes a year before 2009 to two a day. This year, roughly 700 earthquakes of magnitude 3 or higher has shook the state, compared to 20 in 2009.
The tremors are such a frequent occurrence that the OCC has forced changes to 500 disposal wells around the state, including the shut down of wells around the city of Cushing, which holds one of the largest crude oil storage facilities in the world.
The OCC is requiring well operators to show that water is not being injected below the state's deepest rock formations, which is believed to contribute to the earthquakes.
Incidentally, Oklahoma has about 4,500 disposal wells with about 3,500 still in operation, so these regulations only applied to a small fraction of the wells.
Skinner said the Oklahoma Geological Survey has seen an overall reduction in earthquakes. However, he noted, "Now, this weekend may have blown that out of the water, I don't know."
"Again, based on the data, it would appear that even if you do the right thing, it's going to take a long time," he said. "There's no quick off switch."
In August, even pro-business Oklahoma Gov. Mary Fallin admitted there was a "direct correlation between the increase of earthquakes that we've seen in Oklahoma [and] disposal wells."
However, Fallin is still weighing some of the pros and cons of fracking in her state. Oklahoma is one of the top natural gas-producing states in the country, and the sector provides a significant number of jobs in the state.
"We want to do it wisely without harming the economic activity we certainly enjoy and the revenue, quite frankly, we certainly enjoy," Fallin said. "The council has worked very hard to ensure the energy sector, state agencies, environmentalists and academia are all talking and sharing that data and we have a scientific-based approach to reducing seismicity in our state."
Many Oklahomans are worried that, one day, a damaging earthquake could strike. Fallin's advice to residents is that "they should call their insurance agent and see what types of products are available," to protect themselves. This advice from the governor was unsurprisingly met by criticism.
Angela Spotts, co-founder of Stop Fracking Oklahoma (formerly Stop Fracking Payne County), said many insurance policies have high deductibles and cover only catastrophic damage, according to Tulsa World.
"It really appears to me we are protecting the industry in this state," Spotts said. "Their jobs are important. But my home and all the people I speak for that don't have the courage to stand up and speak out, our lives, homes, property and well-being is every bit as important as the jobs in the oil and gas industry. And I sincerely don't believe the actions have been quick enough and fast enough and protecting from one of the big ones from happening."
YOU MIGHT ALSO LIKE 
Portland Bans Fossil Fuel Export
Gov. Cuomo Vetoes Port Ambrose Liquefied Natural Gas Project
TransCanada's Next Move? Pipeline to Mexico Carrying U.S. Fracked Gas
Pennsylvania Township Passes Bill of Rights Banning Fracking Wastewater Injection Wells
The Santa Barbara City Council approved a resolution Tuesday opposing new drilling off the California coast and fracking in existing offshore oil and gas wells. The resolution is the first in a new statewide campaign to rally local governments against proposals to expand offshore fossil fuel extraction in federal waters.
The vote—which makes Santa Barbara the first California city to oppose both fracking and new offshore drilling—follows President Trump's April 28 executive order urging federal agencies to expand oil and gas leasing in federal waters. The order could expose the Pacific Ocean to new oil leasing for the first time in more than 30 years.
Keep reading...
Show less
www.facebook.com
Starting Wednesday, the vast majority of Americans can learn about every potentially harmful chemical in their drinking water and what scientists say are the safe levels of those contaminants. The Environmental Working Group's (EWG) new national Tap Water Database is the most complete source available on the quality of U.S. drinking water, aggregating and analyzing data from almost 50,000 public water systems in all 50 states and the District of Columbia.
The organization has earned a reputation for ambitious data-mining research projects that shake up policy debates and consumer markets. EWG's online Farm Subsidy Database, listing millions of subsidy recipients, and its Skin Deep guide to more than 70,000 personal care products, draw tens of millions of visitors every year.
Keep reading...
Show less
By Stacy Malkan
Ever since they classified the world's most widely used herbicide as "probably carcinogenic to humans," a team of international scientists at the World Health Organization's (WHO) cancer research group have been under withering attack by the agrichemical industry and its surrogates.
In a front-page series, The Monsanto Papers, the French newspaper Le Monde described the attacks as "the pesticide giant's war on science," and reported, "to save glyphosate, the firm [Monsanto] undertook to harm the United Nations agency against cancer by all means."
Keep reading...
Show less
Shutterstock
The U.S. electric utility industry recognized decades ago that burning fossil fuels would lead to increased warming, yet later opposed efforts to shift away from coal, according to a new report.
The lengthy report from the Energy and Policy Institute uses reams of archival documents to demonstrate that utility industry representatives knew as far back as 1968 that burning fossil fuels could trigger "catastrophic effects" on the climate.
Keep reading...
Show less
www.youtube.com
By Sharon Kelly
The Pennsylvania's Environmental Hearing Board ordered Sunoco Pipeline LP Tuesday to temporarily halt some types of work on a $2.5 billion pipeline project designed to carry 275,000 barrels a day of butane, propane and other liquid fossil fuels from Ohio and West Virginia, across Pennsylvania, to the Atlantic coast.
On July 19, three environmental groups presented Judge Bernard Labuskes, Jr. with documentation showing that the project had caused dozens of drilling fluid spills and other accidents between April and mid-June.
Keep reading...
Show less
www.youtube.com
By Andy Rowell
The UK has followed France in banning the sale of new petrol and diesel cars by 2040, as part of its plan to tackle chronic air pollution in cities. The government has been coming under intense pressure to act, with an estimated 40,000 people dying prematurely a year from air pollution.
Keep reading...
Show less
By Colleen Curry
People traveling across America today can, if they're lucky, pitch a tent in the same exact spot that early American explorers and map-makers Lewis and Clark did, amid the jagged rocks and sweeping plains of the Upper Missouri River Breaks in central Montana.
Brent Rose, a journalist and filmmaker who has been traveling around the U.S. in a van for two years, was one of the lucky ones.
Keep reading...
Show less
www.youtube.com
Kyara, a killer whale born at SeaWorld San Antonio just three months ago, died Monday at the park, as reported in this video from Newsy. Kyara is the last orca to be born in captivity under the SeaWorld breeding program, which shut down in 2016.
In a statement, SeaWorld said the cause of death was "likely pneumonia" and that "Kyara had faced some very serious and progressive health issues over the last week."
Keep reading...
Show less