This website uses cookies to ensure you get the best experience while browsing it. By clicking 'Got It' you're accepting these terms.
It's Easy Being Green
Mar. 16, 2012 08:29AM EST
Energy
One of my favorite events of the year is right around the corner—the Cleveland International Film Festival from March 22 to April 1. There are many aspects of the festival I enjoy, but perhaps what I find most valuable is the opportunity to engage in conversation on the plethora of topics addressed in the documentaries shown during the 11-day event.
Here's a listing of the It's Easy Being Green films that will play at this year's festival. There are hundreds of other films on a variety of topics, so be sure to check out the entire listing of films by clicking here.
If you live near Cleveland, do your best to make it to one of the nation's finest and most attended film festivals. I promise it will be worth it. See you there.
To purchase tickets to the festival, click here. Enter the coupon code ECO and receive $2 off per ticket.
Bidder 70 (Work in Progress)
USA | Directed by Beth Gage, George Gage | Running time: 73 minutes

Thursday, March 29 | 8:45 p.m.
Friday, March 30 | 2:20 p.m.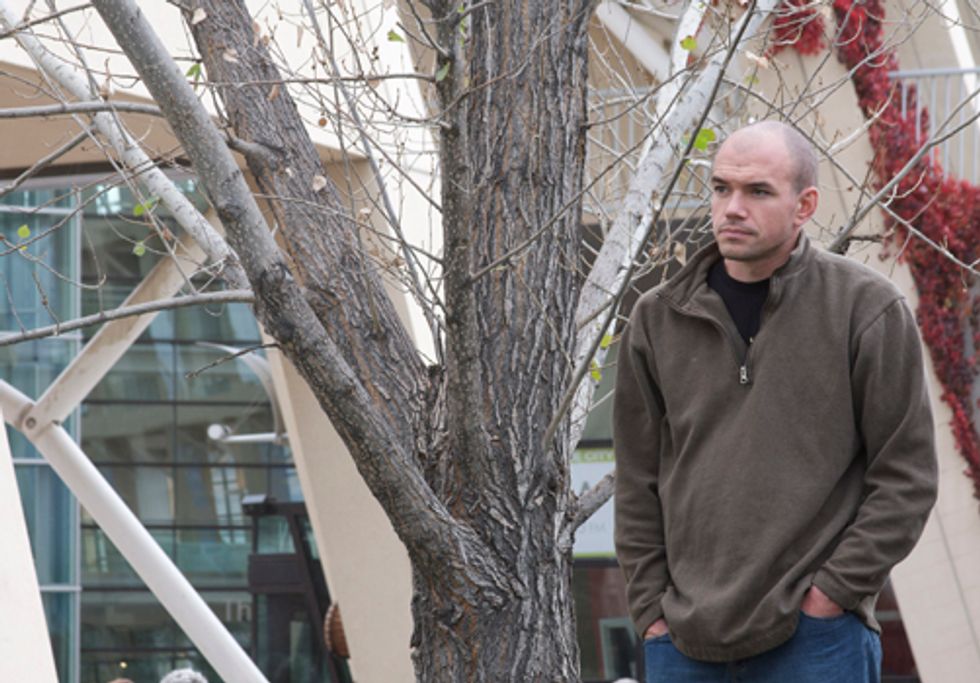 In December 2008 young environmentalist Tim DeChristopher attended a BLM Oil and Gas lease auction concerning thousands of acres of land surrounding national parks and monuments in Utah. As BIDDER 70, DeChristopher won nearly 22,000 acres he had no intention of drilling on, thus saving them from environmental disaster. Also, he had no intention of paying. DeChristopher's act of civil disobedience derailed the Bush Administration's last minute attempts to auction off pristine parcels of our planet's most beautiful lands for oil and gas exploration. Like most acts of civil disobedience, DeChristopher's was met with troubling legal action for, as the government called it, "disrupting open public processes and causing financial harm to the government and other individuals." And they were serious when they said that. BIDDER 70 follows DeChristopher in the months leading up to his trial, during which the new Obama administration declared the initial auction as improper and pulled all parcels from auction. Refusing to bide his time quietly, DeChristopher heroically began campaigning for peaceful demonstrations to help protect Mother Earth. In an age of rising tensions between The Establishment and The People, DeChristopher proves the best warriors are the peaceful fighters. —Tyler Whidden
Cape Spin: An American Power Struggle
[For a more in-depth overview of this film, read my previous piece by clicking here.]
USA | Directed by Robbie Gemmel, John Kirby | Running time: 87 minutes
Thursday, March 29 | 11:45 a.m.
Friday, March 30 | 4:30 p.m. with FilmForum.
Saturday, March 31 | 6:00 p.m.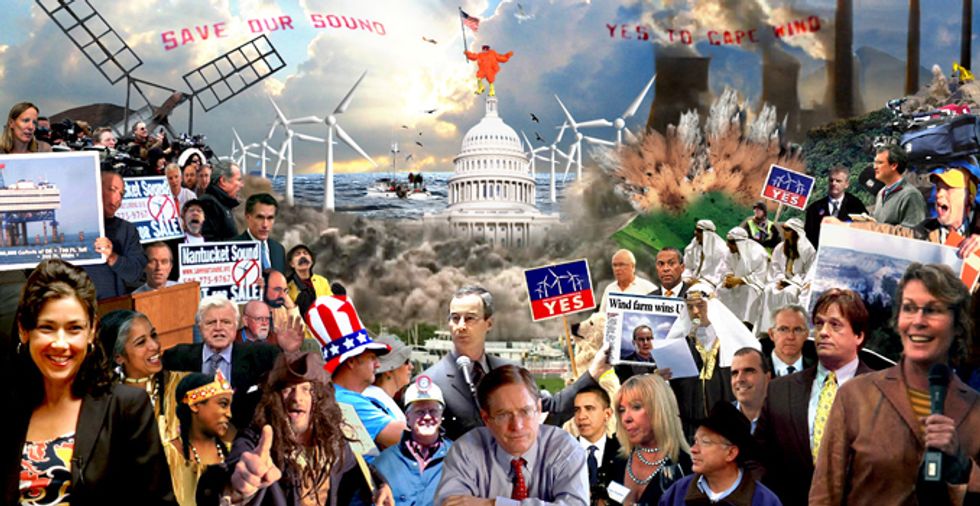 Nantucket Sound is the vacation playground for America's richest families who have summer homes on the surrounding islands of Martha's Vineyard, Nantucket, and Cape Cod. Long a tourist destination, The Sound is now home to an approved plan to place 130 wind turbines as tall as 440 feet about ten miles from shore. CAPE SPIN is an inside look into the ensuing public outcry from local residents who don't want to see their million-dollar-views ruined, and the ambitious support from environmental groups eager to see The Sound serve as home to the country's first offshore wind farm. Getting an in-depth look into the political tug-of-war that has continued since the original 2001 proposal for Cape Wind's green energy project, it becomes clear that regardless of the motivations on both sides of the issue, this is going to be a well-financed fight to the finish. On the one side, Cape Wind serves as a marker for the U.S.'s attempts to be the planet's leader in renewable energy; on the other side, some of the most influential political and entrepreneurial players in our country are fighting for the right to unobstructed horizons. Even the environment-loving Kennedy family is pitted against the Cape Wind project. CAPE SPIN provides further proof that in the fight for a greener planet, there's nothing greener than cash. —Tyler Whidden
Dirty Energy
USA | Directed by Bryan D. Hopkins | Running time: 94 minutes
Wednesday, March 28 | 7:15 p.m. *** Screening at Capitol Theater ***
Thursday, March 29 | 2:00 p.m.
Friday, March 30 | 11:50 a.m.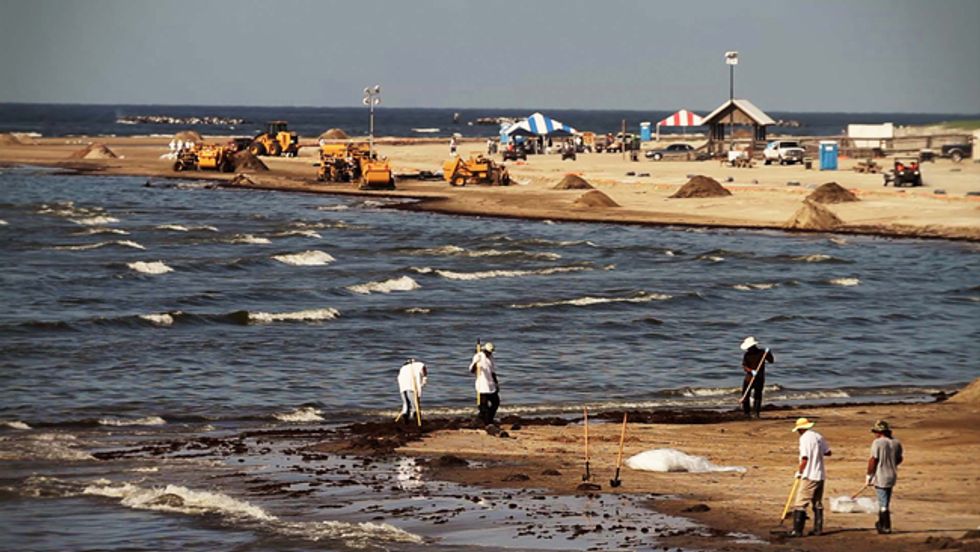 In April 2010 the Deepwater Horizon drilling rig exploded in the Gulf of Mexico, killing 11 workers and setting off a chain of events that has ruined the tourist-heavy, natural ecosystem of the Gulf Coast. Millions of barrels of oil leaked into the Gulf waters every day for weeks and BP, the company in charge of the drilling, pledged to clean up the mess and make right what their negligence did wrong. Now, nearly two years later, our televisions are inundated with commercials from BP claiming "the beaches are open" and all is well in tourism and industry. DIRTY ENERGY is a documentary that sets out to tell the untold story of the disastrous effects the Deepwater explosion had, and is still having, on the economy and people of the Gulf Coast. Fishing industry destroyed, people dying from the effects of the clean-up—this is the film BP doesn't want you to see. After Hurricane Katrina, the region may have felt like it could survive anything. But DIRTY ENERGY provides the reality that sometimes Mother Nature is no match for the reckless, on-going destruction of corporate greed. As the film asks, "Is this the beginning, or the end?" —Tyler Whidden
The Island President
USA, MALDIVES | Directed by Jon Shenk | Running time: 101 minutes
Thursday, March 29 | 6:25 p.m.
Friday, March 30 | 2 p.m.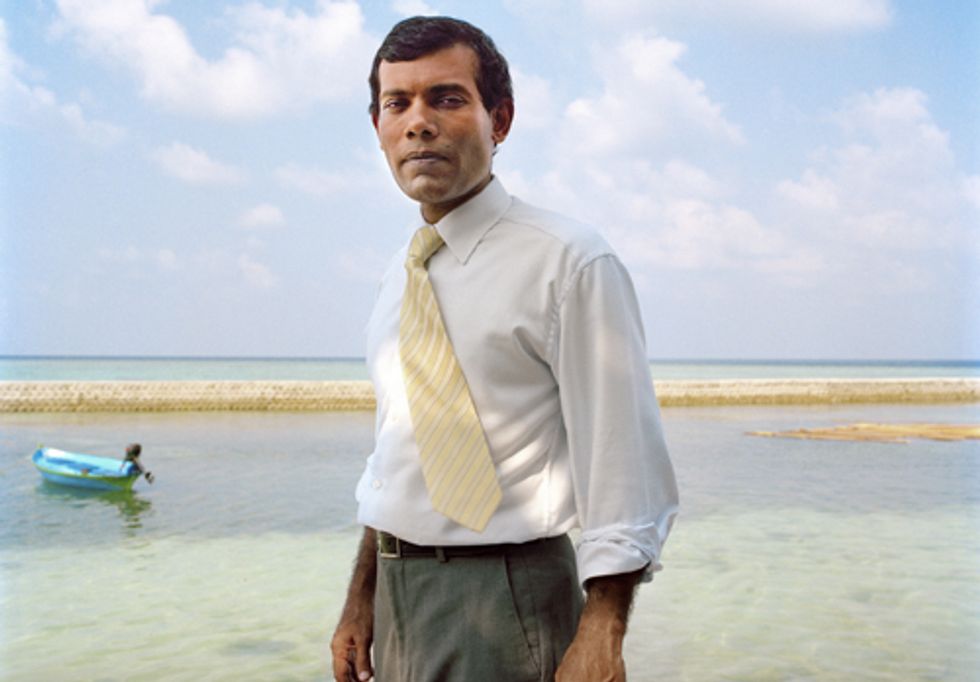 Maldives are a string of over 2,000 islands in the Indian Ocean where the totalitarian rule of their previous regime lasted decades and imprisoned many of its citizens. But now the island nation fears for its existence from a far larger and more determined enemy: climate change. THE ISLAND PRESIDENT follows the charming Mohamed Nasheed who was once a political prisoner. But now, as the president who has brought democracy to his people, he must face the fight for their existence. In the months leading up to the Copenhagen Climate Summit of 2009, Nasheed must try to change the focus of climate change to carbon reduction, while facing much larger and stubborn nations like China, the United States, and the Maldives' neighbors in India. Inspiring in his convictions and determined in his fight, Nasheed is the underdog who has one chance to make history, so he can change the future. (In English and Dhivehi with subtitles). —Tyler Whidden
Last Call at the Oasis
USA | Directed by Jessica Yu | Running time: 105 minutes
Friday, March 30 | 6:20 p.m.
Saturday, March 31 | 11:45 a.m.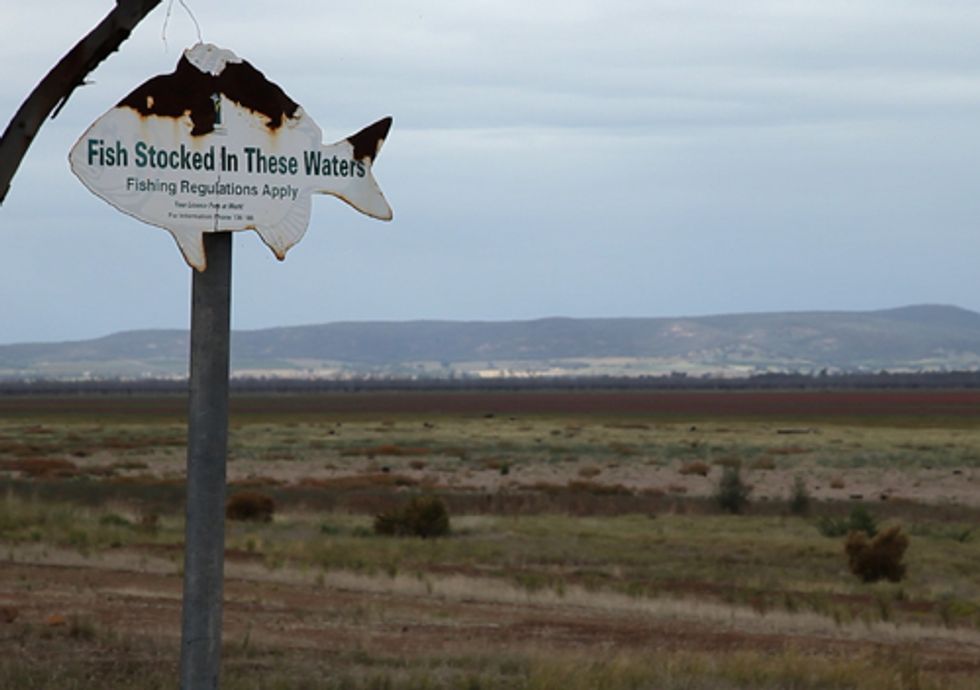 From the company that brought us "An Inconvenient Truth" (2006), "Food, Inc." (2008), and "Waiting for Superman" (2010), comes LAST CALL AT THE OASIS—veteran director Jessica Yu's exposé on the current global water crisis of biblical proportions. Inspired by Alex Prud'homme's The Ripple Effect, this documentary highlights both the vital role that water plays—in fact, it is one of the few elements that all life depends on—and the terrifying reality that what we're not polluting or commercializing, we are rapidly running out of. With stunning landscape photography and brilliant interviews from water experts such as Erin Brockovich, Dr. Peter Gleick, Jay Famiglietti, and Robert Glenman, LAST CALL AT THE OASIS shatters myths about our most precious resource and illustrates how its misuse and climate change have already begun drastically hurting a number of communities worldwide. Though poignant and daunting, Yu's film proves entertaining and suprisingly upbeat, quenching our thirst for a way to fix the problems we've created for ourselves, but reminding us that we must act now. —Tyler Whidden
People of a Feather
CANADA | Directed by Joel Heath | Running time: 90 minutes
Tuesday, March 27 | 6:45 p.m.
Wednesday, March 28 | 4:05 p.m.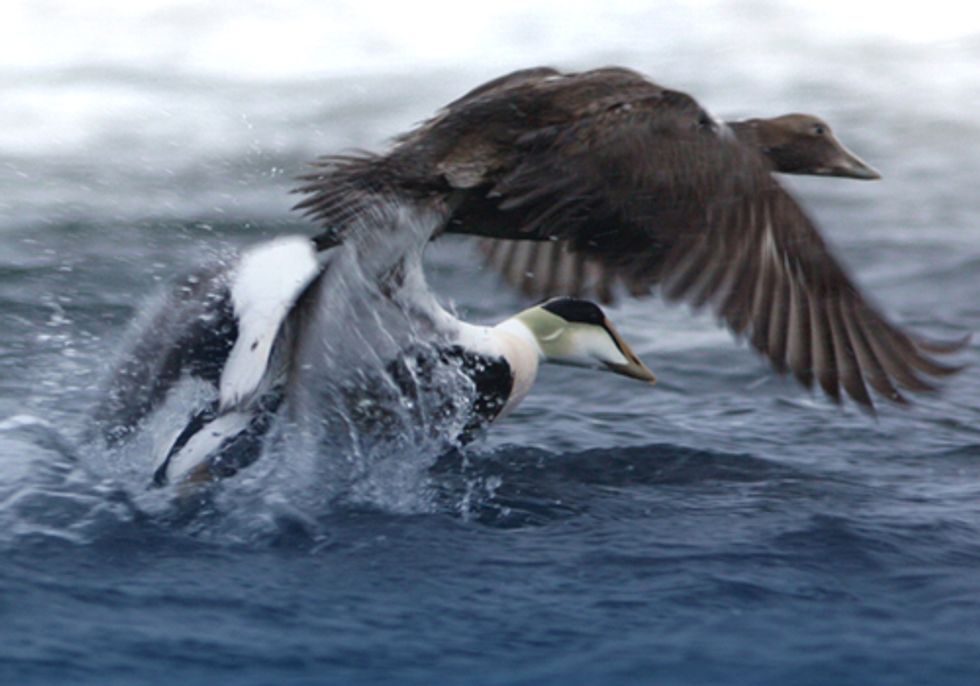 Filmmaker Joel Heath was tasked with researching the dropping population of the Eider bird in the Hudson Bay region of Canada. Essential to the survival of the Inuit people of the Bay, the disappearance of Eider bird populations is further evidence of the negative effects of hydroelectric dams used to power the eastern seaboard. Living amongst the native people, Heath worked inside a small box filming the birds as they dove for their food; he also witnessed the changing ice close in on a dying Eider population. Filmed over seven years, PEOPLE OF A FEATHER explores how damming has changed the water currents, thus changing the ice flows and migration patterns of the birds and fish. After centuries of hunting these lands, the local indigenous people of the Sanikiluaq community are in a fight for survival against modernization and human-caused climate change. With scenes of modern day Inuit hunting the lands juxtaposed with re-creations from their ancestors' traditions, this is an in-depth look into one of our continent's oldest civilizations. A beautiful film with incredible shots of arctic wilderness, PEOPLE OF A FEATHER provides us with a perspective we may never see again. (In English and Inuktituk with subtitles). —Tyler Whidden
You've Been Trumped
UNITED KINGDOM | Directed by Anthony Baxter | Running time: 96 minutes
Saturday, March 31 | 9:30 p.m.
Sunday, April 1 | 5:30 p.m.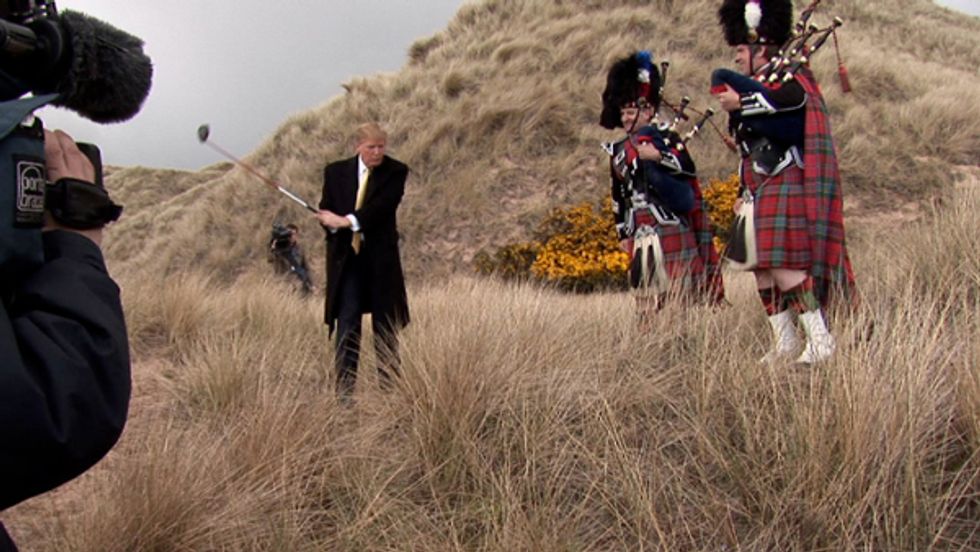 The black Range Rovers wend their way through the dunes of Balmedie, on the Scottish coast in Aberdeenshire. A scrum of reporters rushes to meet them. Donald Trump, his carefully coiffed mane blowing sideways in the wind, steps out and approaches the microphone to speak. Trump has big plans to turn this pristine coastline, home to generations of farmers and salmon fishermen, into a tourist attraction for the rich. His project, a billion pound investment, involves building two golf courses, a 450-room hotel, and 950 holiday apartments. Though the Aberdeenshire council questions the environmental sustainability of the project, the Scottish government, ever mindful of job creation, takes it out of their hands and green-lights it. What follows is a Braveheart battle for Scottish independence, pitting local residents threatened with eviction against the megalomaniacal American billionaire. In YOU'VE BEEN TRUMPED, British filmmaker Anthony Baxter, a polite version of Michael Moore, interviews furious residents, hounds government authorities, and gets roughed up by the local constabulary as he throws light on The Donald's unsavory business practices. —Tyler Whidden
EcoWatch Daily Newsletter
By Fino Menezes
Everyone adores dolphins. Intelligent, inquisitive and playful, these special creatures have captivated humans since the dawn of time. But dolphins didn't get to where they are by accident — they needed to develop some pretty amazing superpowers to cope with their environment.
Protesters face off against security during the Dakota Access Pipeline protests. ROBYN BECK / AFP / Getty Images
In just two weeks, three states have passed laws criminalizing protests against fossil fuel infrastructure.
Donald Trump and Anthony Fauci, director of the National Institute of Allergy and Infectious Diseases, listen to White House coronavirus response coordinator Deborah Birx speak in the Rose Garden for the daily coronavirus briefing at the White House on March 29, 2020 in Washington, DC. Tasos Katopodis / Getty Images
President Donald Trump has bowed to the advice of public health experts and extended social distancing measures designed to slow the spread of the new coronavirus till at least April 30.
Pexels
By Charli Shield
At unsettling times like the coronavirus outbreak, it might feel like things are very much out of your control. Most routines have been thrown into disarray and the future, as far as the experts tell us, is far from certain.
Pie Ranch in San Mateo, California, is a highly diverse farm that has both organic and food justice certification. Katie Greaney
By Elizabeth Henderson
Farmworkers, farmers and their organizations around the country have been singing the same tune for years on the urgent need for immigration reform. That harmony turns to discord as soon as you get down to details on how to get it done, what to include and what compromises you are willing to make. Case in point: the Farm Workforce Modernization Act (H.R. 5038), which passed in the House of Representatives on Dec. 11, 2019, by a vote of 260-165. The Senate received the bill the next day and referred it to the Committee on the Judiciary, where it remains. Two hundred and fifty agriculture and labor groups signed on to the United Farm Workers' (UFW) call for support for H.R. 5038. UFW President Arturo Rodriguez rejoiced: