This website uses cookies to ensure you get the best experience while browsing it. By clicking 'Got It' you're accepting these terms.
It's a Bike ... It's a Scooter ... It's a Fun New Way to Ride Around Town
Apr. 13, 2015 07:51AM EST
Biking enthusiasts can glide through their city in a whole new way with the Halfbike II, a vehicle that combines both running and cycling at the same time.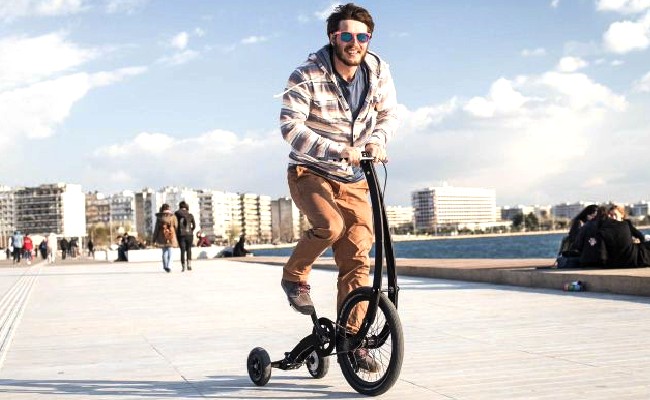 Created by Martin Angelov and Mihail Klenovby of Bulgarian design company Kolelinia, the Halfbike II is a fun alternative to getting around town. Like riding a Segway with pedals, riders hold onto the handlebars for balance and make turns by leaning one way or the other.
"The standing rider position is very close to walking," Klenov told Dezeen. "It allows the rider to control the Halfbike using his or her whole body instead of just the hands like on a bicycle."
"Furthermore," he added, "the spine stays straight and the chest is not constrained between your hands like it is on a bike, which makes using the full capacity of your lungs easier."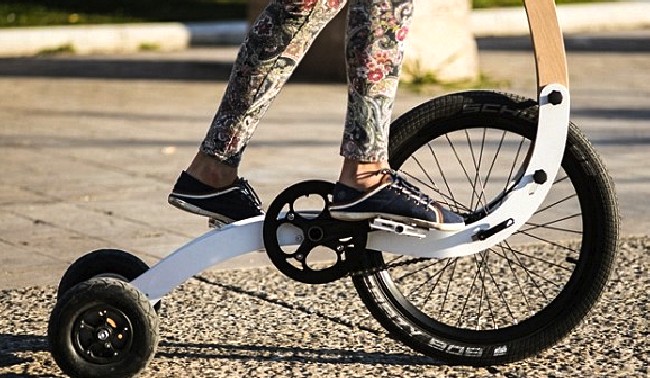 The Halfbike II consists of a curved aluminum base frame, a plywood handlebar, a large front wheel and two smaller wheels, as well as pedals and a cog and chain mechanism. It's also a vast improvement from its unstable-looking previous iteration, the Halfbike, where the handlebar connected to the frame in one long rod.
Those riding the Halfbike II will get quite the leg workout, especially uphill. The designers said on their successful Kickstarter campaign that the bike is best suited for riding on flat ground and gentle slopes.
"Going up a steep hill takes some sweat and effort but if you're looking for exercise you'll certainly get it," they joked.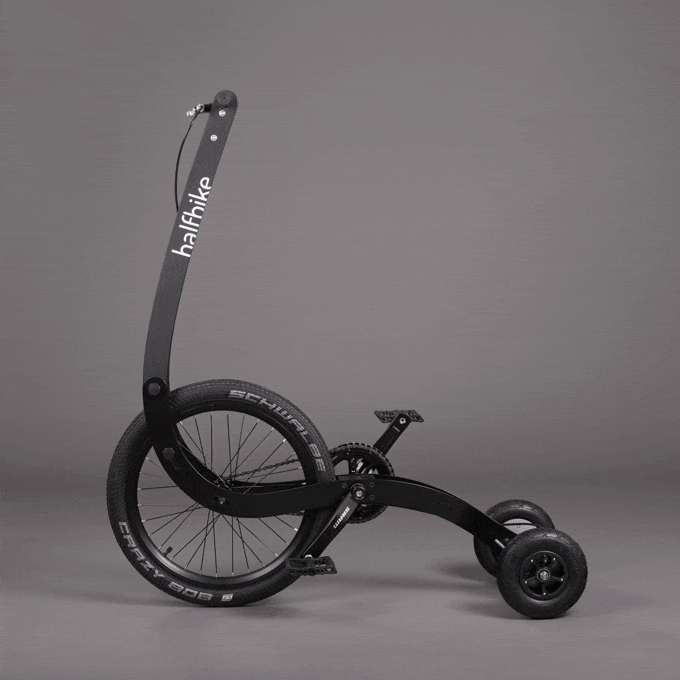 One of the best features of the the Halfbike II is how it's compact and light, like a scooter. It's 44 inches tall when standing and weighs under 18 pounds.
It can also be folded, making it easy to take onto public transit, placed into a trunk of a car or stored under a desk or in a closet. When folded, it's a mere 21 inches tall.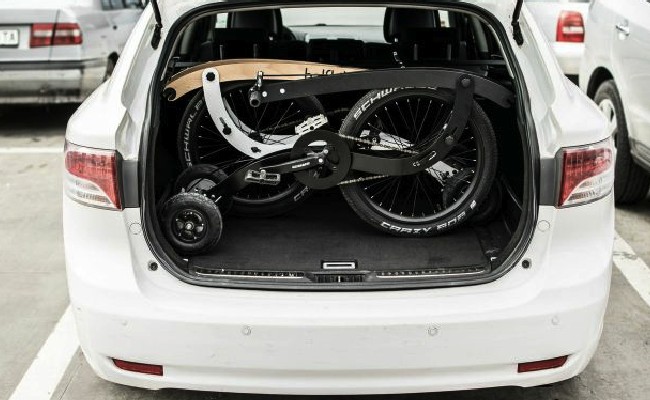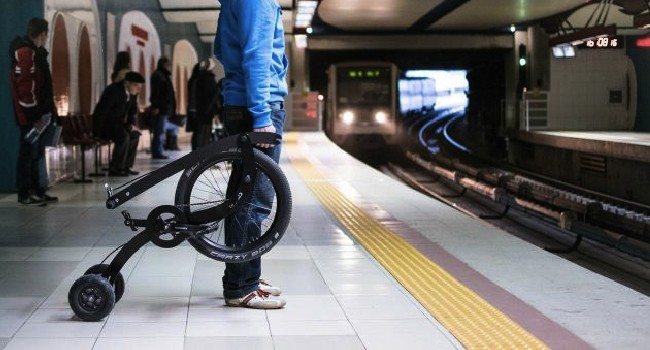 The designers said they aren't trying to convince everyone to get rid of their trusty old bike. "The two are so different that they're actually hard to compare," they said. "The feeling of riding a Halfbike is really nothing like riding a bicycle. But believe us, you'll certainly enjoy exactly that difference."
The Halfbike II is available for purchase via Kickstarter, with shipments starting around July. The company is currently trying to reach their stretch goal of $250,000 in order to add lights and fenders to the ride.
Check out the Halfbike in motion in the video below.
YOU MIGHT ALSO LIKE
5 Reasons Cargo Bikes Are the Perfect Mode of Transportation
Move Over Food Trucks: Eco-Friendly Food Bikes Hit the Streets
PeopleImages / E+ / Getty Images
By Daniel Ross
Hurricane Florence, which battered the U.S. East Coast last September, left a trail of ruin and destruction estimated to cost between $17 billion and $22 billion. Some of the damage was all too visible—smashed homes and livelihoods. But other damage was less so, like the long-term environmental impacts in North Carolina from hog waste that spilled out over large open-air lagoons saturated in the rains.
Hog waste can contain potentially dangerous pathogens, pharmaceuticals and chemicals. According to the state's Department of Environmental Quality, as of early October nearly 100 such lagoons were damaged, breached or were very close to being so, the effluent from which can seep into waterways and drinking water supplies.
This picture taken on May 21, 2018 shows discarded climbing equipment and rubbish scattered around Camp 4 of Mount Everest. Decades of commercial mountaineering have turned Mount Everest into the world's highest rubbish dump as an increasing number of big-spending climbers pay little attention to the ugly footprint they leave behind. DOMA SHERPA / AFP / Getty Images
China has closed its Everest base camp to tourists because of a buildup of trash on the world's tallest mountain.
Researchers tested the eggs of Arctic northern fulmers like these in Nunavut, Canada.
Fiona Paton / Flickr
By Madison Dapcevich
Plastics have been recorded in every corner of the world, from the remote icy waters of Antarctica to the bellies of deep-sea fishes. Now, preliminary findings presented at this year's American Association for the Advancement of Science (AAAS) annual meeting in Washington, DC suggest that bird eggs from the high Arctic—one of the most remote wildernesses on the planet—show evidence of contamination from chemicals used in plastics.

A small Australian rat that lived on a 12 acre island in the Great Barrier Reef has become the first mammal to go extinct primarily because of human-caused climate change, the Australian Government confirmed Monday.
The Bramble Cay melomys was first declared extinct after a 2014 search on Bramble Cay, its native island in the Torres Strait, between Queensland, Australia and Papua New Guinea, according to a 2016 report by the University of Queensland and the Queensland government.