This website uses cookies to ensure you get the best experience while browsing it. By clicking 'Got It' you're accepting these terms.
Island of Tokelau Becomes World's First Solar-Powered Country
Nov. 15, 2012 09:58AM EST
By Paul E McGinniss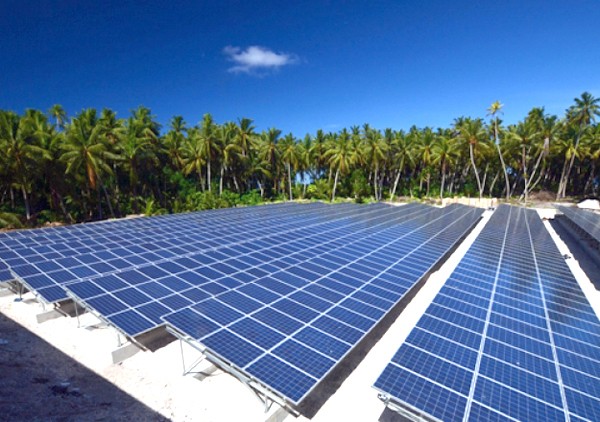 Goodbye diesel generators, hello sunshine and coconuts! The remote Pacific island nation of Tokelau, which lies midway between New Zealand and Hawaii and was settled over a thousand years ago, is the first country on the planet to give up fossil fuels and power itself solely by renewable resources.  
Tokelau's three atolls, which are territory of New Zealand,  now have independent renewable energy systems comprised of solar Photovoltaic (PV) panels and coconut biofuel powered generators. Each renewable power plant has battery back up installed and produce enough clean energy to supply 150 percent of the countries current demand.
Previously the island country powered itself by shipping in thousands of barrels of dirty diesel fuel. According to PowerSmart, the New Zealand based company which  installed the Tokelau Renewable Energy Project, diesel generators were burning around 200 liters of fuel daily on each of Tokelau's three atolls, meaning more than 2,000 barrels of diesel were used to generate electricity in Tokelau each year, costing more than $1 million NZD.  Money saved from diesel fuel costs will now be put toward social programs.
Minister of Foreign Affairs for New Zealand, Murray McCully said in a statement: "Until now, Tokelau has been 100 percent dependent upon diesel for electricity generation, with heavy economic and environmental costs."
PowerSmart Managing Director Mike Bassett-Smith says the company is proud to be leading the project because of the impact it will have on the well-being of the people of Tokelau:
"All across the Pacific there are clear issues with the current and expected future costs of electricity generated using diesel, not to mention the environmental costs and risks of unloading diesel drums on tropical atolls. ... Energy costs underpin the economic and social development of these nations and making a positive impact on these issues is the single most important reason we started this business."
New Zealand is now working with the pacific nations of Tonga and the Cook Islands to develop renewable energy. And the renewable energy project in Tokelau has generated much interest in renewable energy from New Zealanders as well.
Many countries around the world are announcing aggressive plans for renewable energy development. Saudi Arabia just announced plans to go 100 percent renewable with Mecca working toward becoming the first city in Saudi Arabia to operate an entire power plant from renewable energy sources.
Scotland has set a goal of 100 percent renewable energy by 2020.
In India a climate change movement against fossil fuels has rallied many to embrace clean energy, including the remote village of Sompeta in the state of Andhra Pradesh, to adopt widespread installation of solar PV.
Despite enormous pressure from the heavily subsided, powerful fossil fuels industry, the U.S. has made great strides in developing renewable resources. According to the Renewable Energy Policy Network for the 21st Century, as of 2011 the U.S. was number one in geothermal energy capacity in the world and second in wind power. And we are the fifth largest producer of power from solar PV.
But we have a long way to go if we want to be 100 percent renewable. According to the U.S. Energy Information Agency, approximately 8 percent of U.S. power is now generated by renewable resources. And the U.S. is the second largest consumer of energy, after China, which recently surpassed American energy consumption.
There is an urgent need to combat climate change and get off fossil fuels. Bill McKibben, founder of 350.org, pointed out in his feature piece for Rolling Stone Magazine, "We have five times as much oil and coal and gas on the books as climate scientists think is safe to burn. We'd have to keep 80 percent of those reserves locked away underground to avoid that fate. Before we knew those numbers, our fate had been likely. Now, barring some massive intervention, it seems certain." McKibben is working hard to get these facts out to Americans during his Do the Math Tour.
Fortunately, there's reason for hope. Think Progress reported that renewable electricity nearly doubled under the first Obama administration. And in 2011, global investments in renewable energy surpassed investments in fossil fuels for the first time. Since 2004, one trillion dollars have been invested in the global clean energy sector.
Let's keep the momentum building and keep steady pressure on world leaders, as well as our state and federal governments to push for 100 percent clean energy. Sign EcoWatch's petition today, telling Congress to expedite renewable energy.
Visit EcoWatch's RENEWABLES page for more related news on this topic.
--------
Paul E McGinniss is The New York Green Advocate. He is a green building consultant and real estate broker in New York. He is pretty much obsessed with all things environment and has lately become a resiliency addict.
KarinaKnyspel / iStock / Getty Images
2018 saw a number of studies pointing to the outsized climate impact of meat consumption. Beef has long been singled out as particularly unsustainable: Cows both release the greenhouse gas methane into the atmosphere because of their digestive processes and require a lot of land area to raise. But for those unwilling to give up the taste and texture of a steak or burger, could lab-grown meat be a climate-friendly alternative? In a first-of-its-kind study, researchers from the Oxford Martin School set out to answer that question.
Three scissor-tailed flycatcher fledglings in a mesquite tree in Texas. Texas Eagle / CC BY-NC 2.0
By Gary Paul Nabhan
President Trump has declared a national emergency to fund a wall along our nation's southern border. The border wall issue has bitterly divided people across the U.S., becoming a vivid symbol of political deadlock.
PeopleImages / E+ / Getty Images
By Daniel Ross
Hurricane Florence, which battered the U.S. East Coast last September, left a trail of ruin and destruction estimated to cost between $17 billion and $22 billion. Some of the damage was all too visible—smashed homes and livelihoods. But other damage was less so, like the long-term environmental impacts in North Carolina from hog waste that spilled out over large open-air lagoons saturated in the rains.
Hog waste can contain potentially dangerous pathogens, pharmaceuticals and chemicals. According to the state's Department of Environmental Quality, as of early October nearly 100 such lagoons were damaged, breached or were very close to being so, the effluent from which can seep into waterways and drinking water supplies.
This picture taken on May 21, 2018 shows discarded climbing equipment and rubbish scattered around Camp 4 of Mount Everest. Decades of commercial mountaineering have turned Mount Everest into the world's highest rubbish dump as an increasing number of big-spending climbers pay little attention to the ugly footprint they leave behind. DOMA SHERPA / AFP / Getty Images
China has closed its Everest base camp to tourists because of a buildup of trash on the world's tallest mountain.