This website uses cookies to ensure you get the best experience while browsing it. By clicking 'Got It' you're accepting these terms.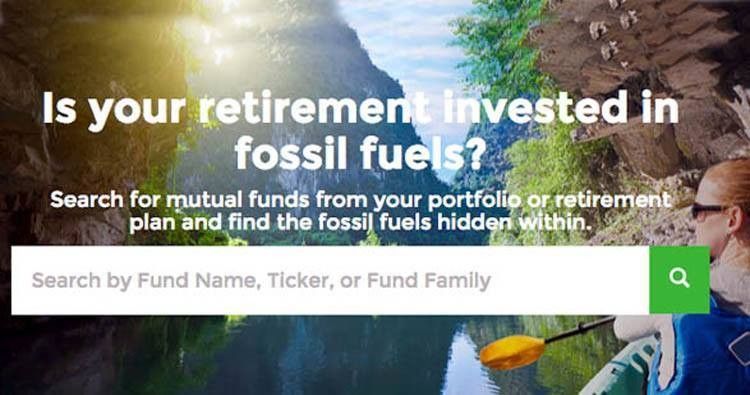 With more than 91 million Americans having $5.6 trillion invested in the five major fund families that control recordkeeping at 75 percent of all employer-sponsored retirement plans, you've got to figure that many people are investing in companies not aligned with their values. With divest from fossil fuel campaigns gaining significant momentum, even if you want to divest from carbon, how can you really be sure your money is invested in companies you want to see prosper?
Fortunately for people that want to make sure their money isn't underwriting the fossil fuel industry, a new free-to-the-public web tool is now available—FossilFreeFunds.org. Launched today by the shareholder advocacy nonprofit As You Sow, Fossil Free Funds is the first website that allows investors to compare mutual funds' holdings against the Carbon Underground 200 list—the 100 largest coal and 100 largest oil/gas companies—fossil-fired utilities and coal holdings. With a tool this powerful, people can now rest assured that their investments aren't contributing to climate change.
And, for those interested in joining the thousands of foundations and individuals, with assets totaling more than $50 billion, as of September 2014, to take the Divest-Invest pledge to decarbonize their investments, stripping these companies from one's portfolio is the minimum requirement.
"Since the beginning of the divestment movement, investors have been clamoring for transparency and a way to identify how they can use their portfolios to actively combat climate change," said Andrew Behar, As You Sow's CEO. "We developed FossilFreeFunds.org after we realized that our own 401(k) was composed of mutual funds that had major oil, gas and coal extraction companies—but we had no idea. We figured that if we didn't know, then probably no one did. This tool gives everyone the power to truly know what they own, so they can own what they own."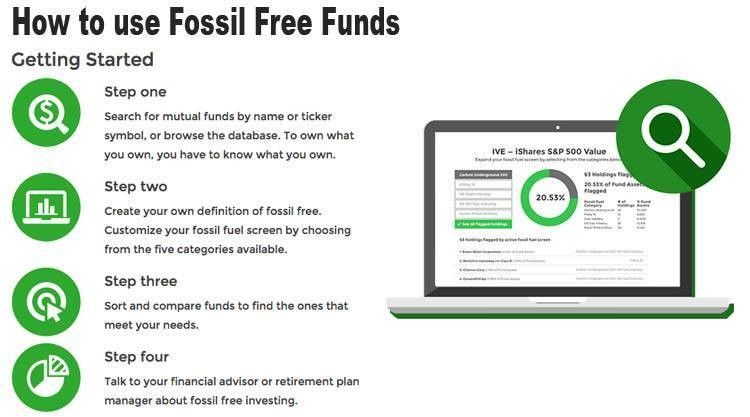 As You Sow uses Morningstar fund holding data in collaboration with Carbon Underground 200, Carbon Tracker Initiative, BrightScope and HIP investor. The online tool reveals where fossil fuel holdings are hiding in 1,500 of the most-held mutual funds. Since the five major fund families—including Fidelity, Vanguard and TIAA-CREF—do not offer any diversified mutual funds that are socially responsible and free of the 200 largest fossil fuel companies, consumers have lacked the information and transparency they need to make adequate decisions about where to invest their money.
"With comprehensive fund holdings data, we are able to provide greater transparency and help investors better evaluate the sustainable and ethical effect of their investments," said Joanna McGinley, head of global redistributor solutions for Morningstar. According to Julie Fox Gorte, senior vice president for sustainable investing at Pax World Management LLC, "There are many things investors can do to address the risks created by climate change, especially the risks created by combustion of fossil fuels. One is to avoid fossil fuel stocks."
Interested in going completely "fossil free" with your investments? Fossil Free Funds provides an easy-to-use platform which screens for coal, smaller oil/gas companies, service industries (e.g. Halliburton) and fossil-fired utilities.
As You Sow explains, "Funds that are clear of investments in a given segment earn a green badge. Funds can earn a maximum of five badges. Out of the 1,500 funds with the highest plan count, only 12 diversified and SRI funds have earned the five badge rating, including Parnassus Endeavor fund (PARWX), Portfolio 21 Global Equity (PORTX), USA Mutuals Barrier (VICEX), Brown Advisory Sustainable Growth (BAWAX), PAX World Growth (PXGAX), Green Century Balanced (GCBLX), Gabelli SRI (SRIGX) and Shelton Green Alpha (NEXTX)."
Here's an example of searching the SPDR S&P 500 ETF on FossilFreeFunds.org: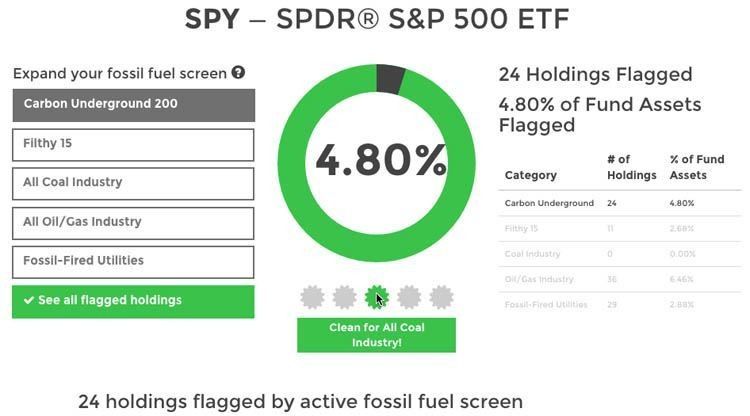 According to a survey conducted earlier this year by the Morgan Stanley Institute for Sustainable Investing, 71 percent of active individual investors describe themselves as interested in sustainable investing, while nearly 65 percent believe sustainable investing will become more prevalent over the next five years, with millennials and women at the forefront of sustainable investing. The Fossil Free Funds tool helps empower these consumers to get to the bottom of where oil, gas and coal investments are hiding in their portfolios, so they can sell mutual funds that don't align with their objectives and reinvest in funds that do, or work with their financial advisors to divest and reinvest.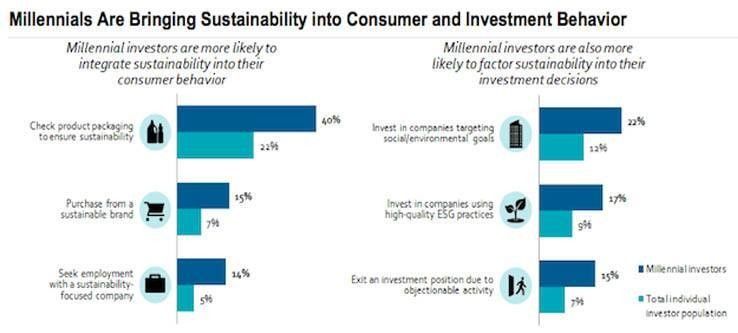 But what happens if employees options don't provide a fossil free alternative? Consumers can download a 401(k) toolkit to help them advocate with their retirement plan administrators to include fossil free investment options.
According to Fox Gorte, "At some point, fossil fuels will be stranded assets; this is already happening to coal, the dirtiest of fossil fuels. Michael Bloomberg recently noted that in his blog, 'Obama Didn't Kill Coal, the Market Did.' Citigroup recently reported that if we are to limit future warming to 2ᵒ C, $100 trillion worth of fossil fuel reserves will become stranded assets. This won't happen overnight, but however it does, investors who are not prepared for it will wish they were."
And, as 350.org co-founder Bill McKibben said, "None of us want to fund the destruction of the planet—here's an easy tool to make sure you're not, and to turn you into a champion of solutions."
Behar was recently interviewed about the launch of FossilFreeFunds.org by Diana Dehm of Sustainability News on LA Talk Radio. Listen here:
YOU MIGHT ALSO LIKE
Koch Brothers: Apocalyptical Forces of Ignorance and Greed, Says RFK Jr.
Burning All of the World's Fossil Fuels Would Completely Melt the Antarctic Ice Sheet
Neglect Over Climate Change Is Putting My Generation of Skiers on Styrofoam Snow
EcoWatch Daily Newsletter
David Gilmour performs at Anfiteatro Scavi di Pomei on July 7, 2016 in Pompei, Italy. Francesco Prandoni / Redferns / Getty Images
David Gilmour, guitarist, singer and songwriter in the rock band Pink Floyd, set a record last week when he auctioned off 126 guitars and raised $21.5 million for ClientEarth, a non-profit environmental law group dedicated to fighting the global climate crisis, according to CNN.
U.S. Secretary of Agriculture Sonny Perdue speaks during a forum April 18, 2018 in Washington, DC. Alex Wong / Getty Images
The Trump administration ratcheted up its open hostility to climate science in a move that may hide essential information from the nation's farmers.
Simple swaps that cut down on kitchen trash.
Sponsored
By Kayla Robbins
Along with the bathroom, the kitchen is one of the most daunting areas to try and make zero waste.
Protestors and police stand on ether side of railway tracks. dpa / picture-alliance
Police have cleared 250 climate activists who stayed overnight at the Garzweiler brown coal mine in western Germany, officials said Sunday.
Cecilie_Arcurs / E+ / Getty Images
By Megan Jones and Jennifer Solomon
The #MeToo movement has caused profound shake-ups at organizations across the U.S. in the last two years. So far, however, it has left many unresolved questions about how workplaces can be more inclusive and equitable for women and other diverse groups.

Cigarette butts are the most-littered item found at beach clean ups. John R. Platt
By Tara Lohan
By now it's no secret that plastic waste in our oceans is a global epidemic. When some of it washes ashore — plastic bottles, plastic bags, food wrappers — we get a stark reminder. And lately one part of this problem has been most glaring to volunteers who comb beaches picking up trash: cigarette butts.

Andrea Rodgers, second from the right, takes notes during a hearing in the Juliana v. U.S. case before the 9th Circuit Court of Appeals in Portland, Oregon on June 4. Colleague Elizabeth Brown sits to her left, while colleague Julia Olson sits on her right, with co-council Philip Gregory on Julia's right. Robin Loznak / Our Children's Trust
By Fran Korten
On June 4, Andrea Rodgers was in the front row of attorneys sitting before a three-judge panel of the 9th Circuit Court. The court session, held in Portland, Oregon, was to determine whether the climate change lawsuit (Juliana v. United States) brought by 21 young plaintiffs should be dismissed, as requested by the U.S. government, or go on to trial.
Seventy Extinction Rebellion protesters were arrested outside The New York Times building Saturday.
SCOOTERCASTER / YouTube screenshot