Is Your Retirement Invested in Fossil Fuels?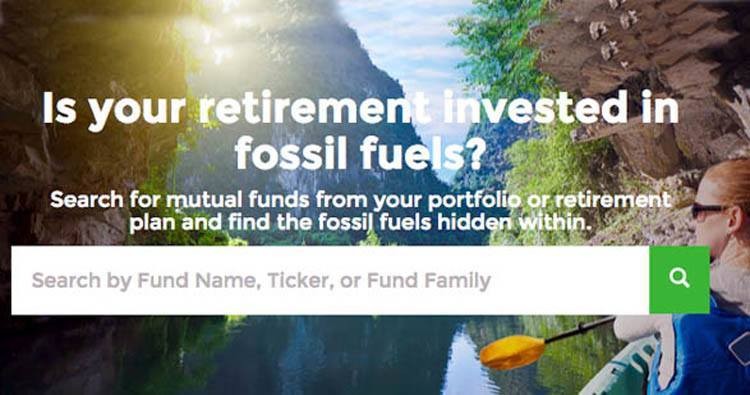 With more than 91 million Americans having $5.6 trillion invested in the five major fund families that control recordkeeping at 75 percent of all employer-sponsored retirement plans, you've got to figure that many people are investing in companies not aligned with their values. With divest from fossil fuel campaigns gaining significant momentum, even if you want to divest from carbon, how can you really be sure your money is invested in companies you want to see prosper?
Fortunately for people that want to make sure their money isn't underwriting the fossil fuel industry, a new free-to-the-public web tool is now available—FossilFreeFunds.org. Launched today by the shareholder advocacy nonprofit As You Sow, Fossil Free Funds is the first website that allows investors to compare mutual funds' holdings against the Carbon Underground 200 list—the 100 largest coal and 100 largest oil/gas companies—fossil-fired utilities and coal holdings. With a tool this powerful, people can now rest assured that their investments aren't contributing to climate change.
And, for those interested in joining the thousands of foundations and individuals, with assets totaling more than $50 billion, as of September 2014, to take the Divest-Invest pledge to decarbonize their investments, stripping these companies from one's portfolio is the minimum requirement.
"Since the beginning of the divestment movement, investors have been clamoring for transparency and a way to identify how they can use their portfolios to actively combat climate change," said Andrew Behar, As You Sow's CEO. "We developed FossilFreeFunds.org after we realized that our own 401(k) was composed of mutual funds that had major oil, gas and coal extraction companies—but we had no idea. We figured that if we didn't know, then probably no one did. This tool gives everyone the power to truly know what they own, so they can own what they own."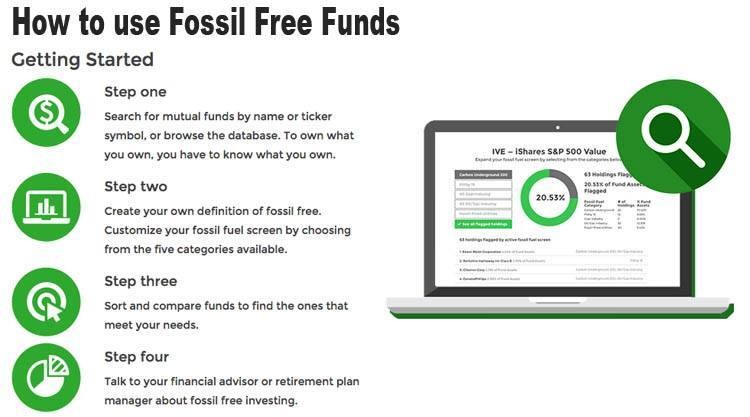 As You Sow uses Morningstar fund holding data in collaboration with Carbon Underground 200, Carbon Tracker Initiative, BrightScope and HIP investor. The online tool reveals where fossil fuel holdings are hiding in 1,500 of the most-held mutual funds. Since the five major fund families—including Fidelity, Vanguard and TIAA-CREF—do not offer any diversified mutual funds that are socially responsible and free of the 200 largest fossil fuel companies, consumers have lacked the information and transparency they need to make adequate decisions about where to invest their money.
"With comprehensive fund holdings data, we are able to provide greater transparency and help investors better evaluate the sustainable and ethical effect of their investments," said Joanna McGinley, head of global redistributor solutions for Morningstar. According to Julie Fox Gorte, senior vice president for sustainable investing at Pax World Management LLC, "There are many things investors can do to address the risks created by climate change, especially the risks created by combustion of fossil fuels. One is to avoid fossil fuel stocks."
Interested in going completely "fossil free" with your investments? Fossil Free Funds provides an easy-to-use platform which screens for coal, smaller oil/gas companies, service industries (e.g. Halliburton) and fossil-fired utilities.
As You Sow explains, "Funds that are clear of investments in a given segment earn a green badge. Funds can earn a maximum of five badges. Out of the 1,500 funds with the highest plan count, only 12 diversified and SRI funds have earned the five badge rating, including Parnassus Endeavor fund (PARWX), Portfolio 21 Global Equity (PORTX), USA Mutuals Barrier (VICEX), Brown Advisory Sustainable Growth (BAWAX), PAX World Growth (PXGAX), Green Century Balanced (GCBLX), Gabelli SRI (SRIGX) and Shelton Green Alpha (NEXTX)."
Here's an example of searching the SPDR S&P 500 ETF on FossilFreeFunds.org: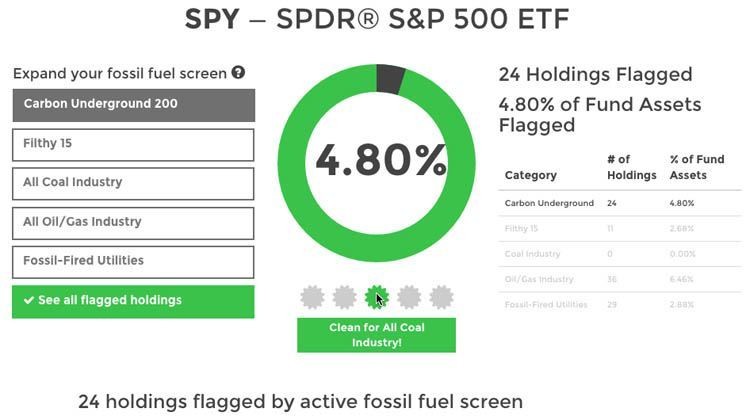 According to a survey conducted earlier this year by the Morgan Stanley Institute for Sustainable Investing, 71 percent of active individual investors describe themselves as interested in sustainable investing, while nearly 65 percent believe sustainable investing will become more prevalent over the next five years, with millennials and women at the forefront of sustainable investing. The Fossil Free Funds tool helps empower these consumers to get to the bottom of where oil, gas and coal investments are hiding in their portfolios, so they can sell mutual funds that don't align with their objectives and reinvest in funds that do, or work with their financial advisors to divest and reinvest.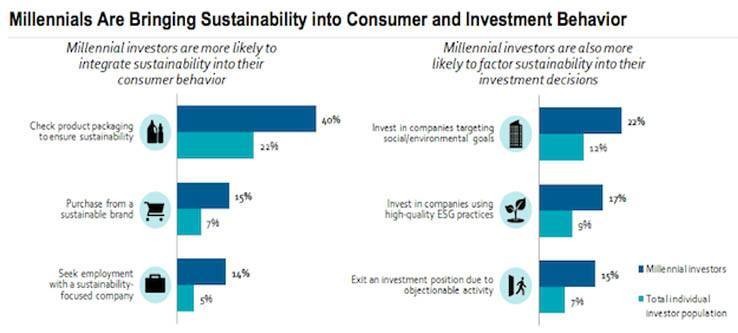 But what happens if employees options don't provide a fossil free alternative? Consumers can download a 401(k) toolkit to help them advocate with their retirement plan administrators to include fossil free investment options.
According to Fox Gorte, "At some point, fossil fuels will be stranded assets; this is already happening to coal, the dirtiest of fossil fuels. Michael Bloomberg recently noted that in his blog, 'Obama Didn't Kill Coal, the Market Did.' Citigroup recently reported that if we are to limit future warming to 2ᵒ C, $100 trillion worth of fossil fuel reserves will become stranded assets. This won't happen overnight, but however it does, investors who are not prepared for it will wish they were."
And, as 350.org co-founder Bill McKibben said, "None of us want to fund the destruction of the planet—here's an easy tool to make sure you're not, and to turn you into a champion of solutions."
Behar was recently interviewed about the launch of FossilFreeFunds.org by Diana Dehm of Sustainability News on LA Talk Radio. Listen here:
YOU MIGHT ALSO LIKE
Koch Brothers: Apocalyptical Forces of Ignorance and Greed, Says RFK Jr.
Burning All of the World's Fossil Fuels Would Completely Melt the Antarctic Ice Sheet
Neglect Over Climate Change Is Putting My Generation of Skiers on Styrofoam Snow
Dow CEO Andrew Liveris and President Donald Trump in February.
U.S. Environmental Protection Agency (EPA) administrator Scott Pruitt met with Dow Chemical CEO Andrew Liveris before deciding to reverse an earlier EPA decision to ban the company's toxic and widely used pesticide, chlorpyrifos.
According to records obtained by the Associated Press, the EPA boss met with Liveris for about 30 minutes at a Houston hotel on March 9. Later that month, Pruitt announced that he would no longer pursue a ban on chlorpyrifos from being used on food, ignoring his agency's own review that even small amounts of the pesticide could impact fetus and infant brain development.
Keep reading...
Show less
www.facebook.com
Native communities and environmental justice advocates in Louisiana opened a new resistance camp Saturday to oppose the proposed Bayou Bridge Pipeline project. Called L'eau Est La Vie, or Water is Life, the camp will consist of floating indigenous art structures on rafts and constant prayer ceremonies during its first two weeks.
Keep reading...
Show less
Continuing its march toward elimination of key Clean Water Act protections, the U.S. Environmental Protection Agency (EPA) on Tuesday issued a formal notice of withdrawal of the Obama administration's rule defining which waters can be protected against pollution and destruction under federal law.
Keep reading...
Show less
The U.S. Environmental Protection Agency (EPA) is not doing enough to prevent weed resistance to the herbicide glyphosate (Roundup) says a new report from the EPA's Inspector General's Office, which draws in part on a report from the agbiotech company, Pioneer: Weed Management in the Era of Glyphosate Resistance.
Keep reading...
Show less
SUMR
When it comes to the latest wind turbine technologies, size matters. A group of six institutions and universities is designing an offshore wind turbine that will stand 500 meters in height. That's taller than the Eiffel Tower and the Empire State Building.
The research team, led by researchers at the University of Virginia, believes that its wind turbine concept will produce 50 megawatts of peak power, or about 10 times more powerful than conventional wind turbines.
Keep reading...
Show less
www.facebook.com
Natural gas is often considered the cleanest fossil fuel, but could it actually be dirtier than coal?
Watch as New York Times reporter Mark Bittman, in the above Year's of Living Dangerously video, investigates how much methane is leaking at fracking wells. Find out how the natural gas industry's claims compare to what scientists are reporting.
See what happens when Gaby Petron, an atmospheric scientist with NOAA, converts her van into a mobile methane detector and sets out across northeastern Colorado for two years, taking thousands of readings to uncover the truth.
www.youtube.com
Adrian Grenier was named UN Goodwill Ambassador earlier this month. The Hollywood actor, best known for his iconic role of A-list movie star Vincent Chase in the HBO smash hit and film Entourage, will advocate for drastically reducing single-use plastic and protection of marine species, and encourage his followers to make conscious consumer choices to reduce their environmental footprint, according to the UN Environment announcement.
"Together we must usher in a new era of compassion and carefulness through forward thinking environmental programs to drive measurable change," Grenier said. "I am personally committed to creating ways in which the global community can come together to help solve our most critical climate crises through routine, collective action.
"The more we connect to nature in our daily lives, the more dedicated we will become to our individual commitments. Together, I believe we can go further, faster in our race to achieve the UN Sustainable Development Goals by 2030."
Watch the video above to learn more.
The last week has seen a flood of stories on clean energy's prospects—stories that make your head spin with their conflicting tales of renewable energy's prospects of ending our dangerous addiction to fossil fuel power from coal and gas.
Keep reading...
Show less


Get EcoWatch in your inbox