This website uses cookies to ensure you get the best experience while browsing it. By clicking 'Got It' you're accepting these terms.
It has long been known that exposure to toxic chemicals in many beauty products can lead to an array of negative health conditions. So when The New York Times released the second part of an investigative report on nail salon workers, it confirmed something that many of us know (and perhaps willfully ignore): the beauty industry has an ugly truth.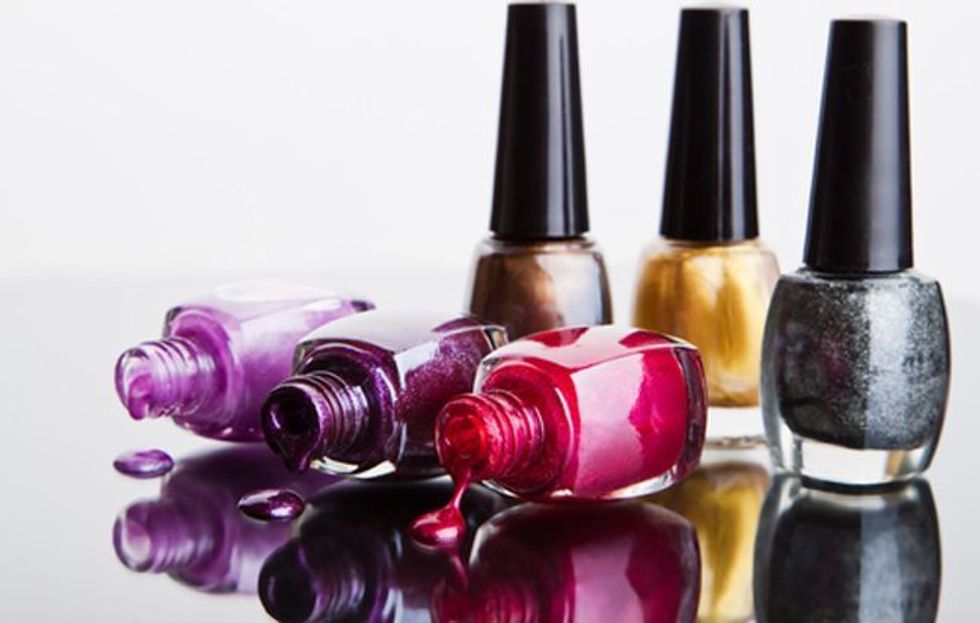 Photo credit: Shutterstock
You've probably smelled the pungent fumes that hit your nose as soon as you enter a nail salon—now imagine working in it. As nail salon employees across the country pamper, slough and polish their customers hands and feet, they inhale clouds of acrylic dust, nail polish fumes and removers and other harsh chemical ingredients day in and day out.
The outcome is not pretty. The Times described tragic instances of workers' "children who are born slow or 'special,'" or how they suffered miscarriages, cancers, chronic coughs and painful skin afflictions. The paper described:
The prevalence of respiratory and skin ailments among nail salon workers is widely acknowledged. More uncertain, however, is their risk for direr medical issues. Some of the chemicals in nail products are known to cause cancer; others have been linked to abnormal fetal development, miscarriages and other harm to reproductive health.
A number of studies have also found that cosmetologists—a group that includes manicurists, as well as hairdressers and makeup artists—have elevated rates of death from Hodgkin's disease, of low birth-weight babies and of multiple myeloma, a form of cancer.
In one particularly memorable vignette, Ki Ok Chung, a manicurist for nearly 20 years, said that her fingerprints have nearly disappeared due to her work with files, solvents and emollients.
Not only are they at risk to many serious medical concerns, many of these workers (who are mostly women and many undocumented) are also subject to exploitive treatment and receive shockingly low pay, the newspaper revealed in the first part of the series.
"There are so many stories but no one that dares to tell them; no one dares to tell them because they have no one to tell," Nancy Otavalo, a 39-year-old manicurist who suffered a miscarriage last year, told the Times. "There are thousands of women who are working in this, but no one asking: 'What's happening to you? How do you feel?' We just work and work."
The report also pointed out what's commonly known as the "toxic trio" in many nail polish varieties: toluene, dibutyl phthalate (or DBP) and formaldehyde, that have been linked to a slew of health conditions.
According to the Environmental Protection Agency, overexposure to toluene "may cause irritation to eyes and nose, weakness, exhaustion, confusion, inappropriate feelings of happiness, dizziness, headache, dilated pupils, runny eyes, anxiety, muscle fatigue, inability to sleep, feeling of numbness/tingling, skin rash, and in more serious cases of overexposure or intentional abuse, liver and kidney damage. DBP, which has banned in the European Union (EU) since 2003, "can cause irritation to eyes, stomach and upper respiratory system, and prolonged exposure to high concentrations may be hazardous to human reproduction and development," the EPA said. Formaldehyde, can cause skin irritation and rashes, and will be banned in the EU by 2016.
Cosmetics industry officials, however, have denied that the chemicals lead to any health problems. DBP, toluene and formaldehyde "have been found to be safe under current conditions of use in the United States," Lisa Powers, a spokeswoman for the Personal Care Products Council, the main trade association and lobbying group for the cosmetics industry, told the publication. "The safe and historical use of these ingredients is not questioned by the Federal Drug Administration."
But one doctor, who has treated many nail salon workers, described the awful symptoms he's commonly seen.
"They come in usually with breathing problems, some symptoms similar to an allergy, and also asthma symptoms—they cannot breathe," said Dr. Charles Hwu, who works in Flushing, Queens in the report. "Judging from the symptoms with these women, it seems that they are either smokers, secondhand smokers or asthma patients, but they are none of the above. They work for nail salons."
While limited exposure to these chemicals is fine for the occasional mani-pedi, it's the health of the person wielding the brushes and solvents we should also be thoughtfully considering. With summer around the corner and flip-flop season approaching, perhaps you should think carefully about your next visit to the nail salon.
YOU MIGHT ALSO LIKE
Who's Really Paying for Our Cheap Clothes?
EcoWatch Daily Newsletter
A Starbucks barista prepares a drink at a Starbucks Coffee Shop location in New York. Ramin Talaie / Corbis via Getty Images
By Cathy Cassata
Are you getting your fill of Starbucks' new Almondmilk Honey Flat White, Oatmilk Honey Latte, and Coconutmilk Latte, but wondering just how healthy they are?
By Sharon Kelly
Back in April last year, the Trump administration's Environmental Protection Agency decided it was "not necessary" to update the rules for toxic waste from oil and gas wells. Torrents of wastewater flow daily from the nation's 1.5 million active oil and gas wells and the agency's own research has warned it may pose risks to the country's drinking water supplies.
Swedish climate activist Greta Thunberg takes part in a "Friday for Future" youth demonstration in a street of Davos on Jan. 24, 2020 on the sideline of the World Economic Forum annual meeting. FABRICE COFFRINI / AFP via Getty Images
Treasury Secretary Steven Mnuchin pretended not to know who Greta Thunberg is, and then he told her to get a degree in economics before giving world leaders advice, as The Guardian reported.
The Visible Infrared Imaging Radiometer Suite on the Suomi NPP satellite acquired this image of forest fire smoke hovering over North America on Aug. 15, 2018. NASA Earth Observatory
New York City isn't known for having the cleanest air, but researchers traced recent air pollution spikes there to two surprising sources — fires hundreds of miles away in Canada and the southeastern U.S.
If temperatures continue to rise, the world is at risk from global
sea-level rise
, which will flood many coastal cities as seen above in Bangladesh. NurPhoto / Contributor / Getty Images
The mounting climate emergency may spur the next global financial crisis and the world's central banks are woefully ill equipped to handle the consequences, according to a new book-length report by the Bank for International Settlements (BIS), as S&P Global reported. Located in Basel, Switzerland, the BIS is an umbrella organization for the world's central banks.