Is Your Mutual Fund a Climate Change Denier or Climate Champion?
By Rob Berridge and Jackie Cook
New proxy voting data showcasing how mutual fund companies voted on climate change resolutions in 2015 reveals a major divide in their thinking on this mega issue that will have wide-ranging ripples on investment portfolios.
Among 42 mutual fund companies whose voting we analyzed, nine companies, including the world's largest mutual fund company Vanguard, failed to support a single climate-related shareholder resolution in 2015. The other eight are American Funds, American Century, Blackrock, Fidelity, ING (Voya), Lord Abbett, Pioneer and Putnam.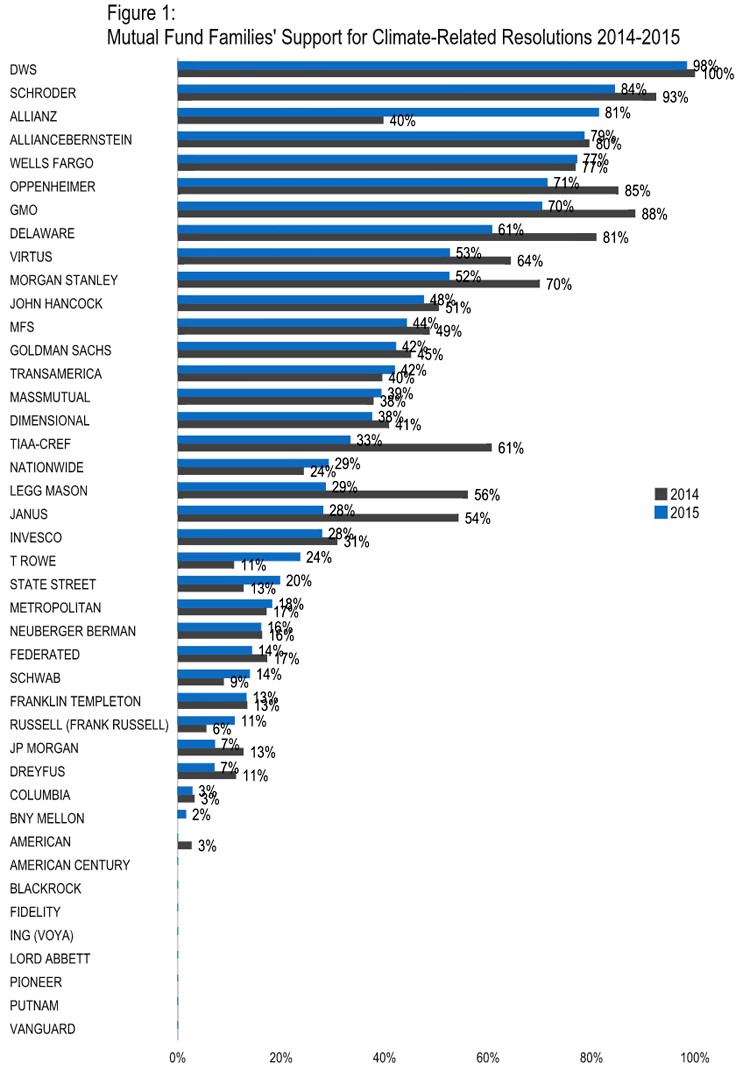 In stark contrast, seven fund companies supported 70 percent or more of the 73 climate-related resolutions that were included in our analysis, including AllianceBernstein, Allianz, Deutsche (formerly DWS), GMO, Oppenheimer, Schroder and WellsFargo.
The resolutions filed by investors request that companies take such actions as: set greenhouse gas (GHG) reduction goals; disclose the risk of assets such as fossil fuel reserves and coal plants being unusable—"stranded" in Wall Street parlance—due to weakening global demand for fossil fuel products; disclose political lobbying expenditures related to climate change; and issue sustainability reports describing material business risks from climate change.
These common sense requests are believed by investors to be financially material to many of the companies receiving the resolutions and to mutual fund companies who have a fiduciary duty to vote in the best interests of their clients.
For example, an electric utility that is upgrading a coal-fired power plant that lasts 40 years (rather than, say, investing in solar projects or energy efficiency programs) is taking on significant risk considering that 196 countries worldwide recently approved an historic climate agreement in Paris aimed at dramatically reducing greenhouse gas emissions. The U.S. has specifically pledged to reduce its carbon emissions by 26 - 28 percent by 2025, with a key centerpiece being the U.S. Environmental Protection Agency's Clean Power Plan aimed at reducing power plant carbon emissions. Under these scenarios, a recently upgraded coal plant will probably have to be retired well before the end of its planned life, which risks financial losses for the utility and its shareholders. Shareholders need to know how power companies are planning to avoid such losses and to adapt their business models to the transition to a low carbon economy.
Further underscoring their responsibilities on these proxy votes, some of the mutual fund companies, such as Vanguard, are members of the UN's Principles for Responsible Investment (PRI), meaning that they have publicly committed to six principles, including: Principle 2 "active ownership," which entails actions such as supporting resolutions on environmental, social and governance (ESG) issues; and Principle 3 to "seek appropriate disclosure on issues by the entities in which we invest."
Simply put, climate change is among the most critical ESG issues intended to be addressed by PRI signatories, and failing to support any climate resolutions brings into question whether some PRI members are adhering to the principles.
Some mutual fund companies are themselves publicly traded, and investors have begun to file shareholder resolutions asking mutual fund companies to disclose why they fail to support financially material climate resolutions. For example, Zevin Asset Management filed shareholder resolutions with Franklin Resources and T. Rowe Price Group during the 2016 proxy season because it appears that both firms' proxy voting records are inconsistent with proactive approaches to climate change. Walden Asset Management co-filed the T. Rowe Price resolution, which will be voted on at the company's annual meeting in May.
Sonial Kowal, president of Zevin Asset Management, explained to us:
"Proxy voting is one of the principal ways in which investors can engage in active management of portfolio risks and opportunities related to climate change, so inconsistency on climate poses a reputational risk to Franklin and T. Rowe, especially given the proactive record of many of their competitors. Given the severe threats of climate change to human societies and economies, clients may start to wonder if their investments are in good hands. We also hope that other investment companies will now become more thorough and transparent in making decisions when voting on climate related resolutions."
Adding to such reputational risks are campaigns such as a petition, launched by U.S. PIRG, asking Vanguard to vote in favor of resolutions regarding political spending disclosure. More than 65,000 people have signed the petition so far. Walden Asset Management recently sent a letter to Vanguard zeroing in on climate-related voting (some of these resolutions ask companies to disclose lobbying expenditures) and received a response that includes this defense of Vanguard's approach:
"… while we believe that some of the issues animating these proposals are worthy of attention and may have long term implications for a company, we have not been convinced that the prescriptive framing of the proposals will address the risks in a way that drives long term value. Our aim is to influence change that is clearly linked to value creation, and in some cases a simple vote "for" or "against" a proxy proposal doesn't get to the heart of an issue."
Vanguard's explanation is inadequate. For climate change alone, resolutions filed in 2015 covered approximately 20 different types of requests, with many requesting disclosure of risks and others asking for comprehensive sustainability disclosure. Vanguard failed to support even a single one of this broad variety of resolutions. Vanguard's claim that they are all too "prescriptive" is disingenuous. The U.S. Securities and Exchange Commission (SEC) has rules against filing resolutions that are "ordinary business," or that seem to micromanage a company. A number of the resolutions Vanguard failed to support have survived SEC scrutiny on this very question.
As financial, environmental and societal risks from climate change escalate, it is important for shareholders to know if their mutual funds are taking one of the simplest steps to address the risks—voting for climate resolutions.
If your fund company is failing to do so, it is time to give them call, write them a letter or sign petitions such as the one sent to Vanguard. These flawed myopic approaches, such as Vanguard's, need to change.
Rob Berridge is director of shareholder engagement at the nonprofit sustainability group Ceres. Jackie Cook is founder and curator of the Fund Votes and Climate Risk Disclosure Projects.
YOU MIGHT ALSO LIKE
Is Your Retirement Invested in Fossil Fuels?
182: Total Number of Climate Deniers in Congress
February Smashes Earth's All-Time Global Heat Record by a Jaw-Dropping Margin
Science and Politics Clash as Humanity Nears Climate Change Tipping Point
Werner Baumann (left), CEO of Bayer AG, and Hugh Grant, chairman and CEO of Monsanto. Bayer
The European Commission, the European Union's executive arm, announced Tuesday it has opened an in-depth investigation into Bayer's proposed $66 billion takeover of Monsanto over "concerns that the merger may reduce competition in areas such as pesticides, seeds and traits."

The controversial merger, if successful, will form the world's largest integrated seed and pesticide company.
Keep reading...
Show less
www.youtube.com
U.S. Environmental Protection Agency (EPA) administrator Scott Pruitt appears in a video sponsored by the beef industry calling on farmers and ranchers to file official comments on a proposal to withdraw and rewrite the Obama-era "Waters of the United States" rule (or WOTUS) before the Aug. 28 deadline.
The National Cattlemen's Beef Association (NCBA) video was produced by the beef lobbying organization's policy division, Beltway Beef and was released last week. Notably, NCBA spent $117,375 in lobbying last year.
Keep reading...
Show less
Two years ago, Stanford University professor Mark Jacobson and his collaborators published a widely circulated study that detailed how the U.S. can eliminate nuclear, biofuels and fossil fuels and transition to 100 percent renewable energy by 2050.
Now, in a paper published Wednesday in the new scientific journal Joule, Jacobson and 26 co-authors created clean energy roadmaps not just for the 50 United States, but for 139 individual countries.

Keep reading...
Show less
Subtitle removed and sidebar altered on federal health website. EDGI
The effects of climate change is inextricably linked to human health. The burning of fossil fuels releases carbon dioxide and other greenhouse gases that traps heat in the atmosphere, causing global temperatures to spike, air quality to worsen, all while fueling droughts, floods and storms that impact food and water security.
Climate change is making us sick in many ways, but it appears that the Trump administration trying to downplay this fact.
Keep reading...
Show less
Pax Ahimsa Gethen / Wikimedia Commons
By Steve Horn
Energy Transfer Partners, owner of the Dakota Access pipeline, has filed a $300 million Racketeer Influenced and Corrupt Organizations (RICO) lawsuit against Greenpeace and other environmental groups for their activism against the long-contested North Dakota-to-Illinois project.
In its 187-page complaint, Energy Transfer alleges that "putative not-for-profits and rogue eco-terrorist groups who employ patterns of criminal activity and campaigns of misinformation to target legitimate companies and industries with fabricated environmental claims and other purported misconduct" caused the company to lose "billions of dollars."
Keep reading...
Show less
ExxonMobil misled the public on what it knew about climate change and its link to fossil fuels, according to a groundbreaking new analysis of the company's internal and external communications.
In a study published Tuesday in the journal Environmental Research Letters, Harvard postdoctoral fellow Geoffrey Supran and professor Naomi Oreskes reviewed nearly 200 communications on climate change from the oil giant, including scientific research, internal company memos and paid editorial features in the New York Times.
Keep reading...
Show less
Energy
Aug. 22, 2017 12:55PM EST
Tallahassee Democrat / Twitter
The U.S. District Court of Appeals ruled 2-1 Tuesday saying that the Federal Environmental Energy Regulatory Commission (FERC) failed to adequately review the environmental impacts of the greenhouse gas (GHG) emissions of the fracked gas Sabal Trail pipeline, which runs more than 500 miles through Alabama, Georgia and Florida.
Keep reading...
Show less
Offshore Staghorn coral nursery. Rescue-A-Reef, UM Rosenstiel School of Marine and Atmospheric Science
As ocean waters warm and acidify, corals across the globe are disappearing. Desperate to prevent the demise of these vital ecosystems, researchers have developed ways to "garden" corals, buying the oceans some much-needed time. University of Miami Rosenstiel School marine biologist Diego Lirman sat down with Josh Chamot of Nexus Media to describe the process and explain what's at stake. This interview has been edited for length and clarity.
Keep reading...
Show less


Get EcoWatch in your inbox