Is Your Coffee Maker Toxic?
For many people, that rich steaming cup of coffee is an essential part of getting the day off on the right foot. And we've learned that drinking coffee (not in excess!) can actually be good for your health. A study published in the New England Journal of Medicine in 2012 showed that people who drink coffee live longer than those who don't, provided they don't smoke.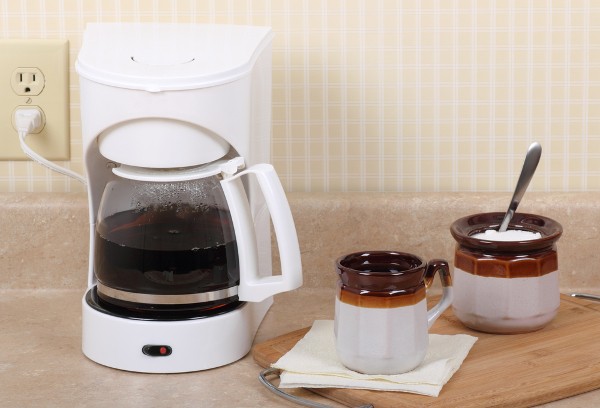 Photo credit: Shutterstock
Of course, nothing is ever simple. What kind of coffee should you drink? Fair trade and organic are of course the best for you and the planet.
But toxins can get into your coffee from another source you may not have given much thought to: your coffee maker. While trying to choose from the various types and preparation methods available as brewing coffee has become something of a contemporary art form, maybe you haven't considered whether the coffee maker itself is toxic.
Many drinkers have noticed an odd plastic taste in their coffee immediately after buying a new coffee maker. That's a sign that something is getting into your coffee that's not coming from the beans. More and more information is emerging about how plastic containers of various types can shed chemicals into whatever it is they contain, especially when that something is a hot liquid. Byphenol A (BPA), an endocrine disruptor that could lead to reproductive issues such as infertility and even some types of cancers, has been found in a variety of plastic items as well as the lining of canned foods.
As this information has become more widely known, many manufacturers of products that come into contact with food are removing BPA from plastic. That includes the makers of some plastic coffee pots, which are advertising BPA-free products. But many plastic coffee makers aren't labeled so there's no way of knowing if they are BPA-free. And companies that promote that their products are BPA-free may be replacing that chemical with another that's equally bad for you.
The safest thing to do is to look for a coffee maker with a no plastic parts or at least none that come into contact with the pot's contents. That might mean rethinking how you make your coffee. While single-serve and drip brewing coffee makers are the most convenient, those are the ones most likely to be made primarily of plastic.
But there are other types of coffee making systems that tend to be made of glass and stainless steel, much safer choices if you're worried about bad chemicals in your coffee. That old-fashioned percolator your mom used is one of those. If she didn't throw it out after buying a new plastic one, appropriate it! These vintage-style metal coffee pots may look clunky, but they're generally safe, as long as they are stainless steel and not lined with aluminum. Plenty of new ones are on the market if you can't find mom's.
Many of the trendy new ways of brewing coffee also utilize plastic-free equipment also. With their glass carafes and stainless steel mesh filters, sleek French press coffeemakers generally bypass plastic entirely. The process is more complicated than plug-in-and-brew coffee pots. But if making your morning coffee is a leisurely ritual for you, it's a perfect solution—and many people swear the taste of the finished cup is far superior.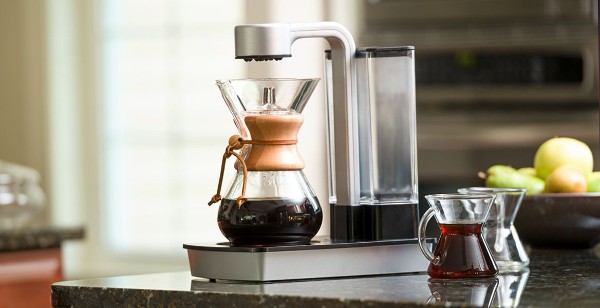 There are some well-known coffee makers on the market that are plastics-free. One is the all-glass coffee pot produced by Chemex. Created nearly 75 years ago, the Chemex pot has won design awards and is on permanent display at New York City's Museum of Modern Art. It features a heat-resistant, non-porous glass carafe, a wooden collar, a natural paper filter—and no plastic.
Porcelain is another alternative to plastic. Walküre's German-made coffee machines and cup filters are among the best known, their design requiring neither a paper filter nor a metal sieve. Like the Chemex pots, they have a long history, going back over 100 years. And like Chemex, Walküre promotes the superior taste their process offers.
It might be a little more work. But with the assurance that no bad chemicals are leeching into your coffee, it might be worth it.
YOU MIGHT ALSO LIKE
Why You Should Drink Organic Coffee
Why Shade Grown Coffee Is Better
www.youtube.com
Volkswagen is bringing back its hippie-approved minivan but with a 21st century upgrade—the new I.D. Buzz is all-electric.
The concept car was first revealed at the Detroit Auto Show in January and now the German automaker is officially putting its reinvigorated Microbus into production.
Keep reading...
Show less
I have asked repeatedly to have my short interview clip removed from this film. The director refuses. He believes his film is fair and balanced. I do not.

I am often interviewed (see media) and hardly ever quoted incorrectly or out of context. This film is one of those rare exceptions.
Keep reading...
Show less
Top of JPMorgan Chase Tower, Dallas, Texas. Joe Mabel / Wikimedia
Keep reading...
Show less
Cupping symptoms associated with dicamba damage on a cucumber plant. University of Arkansas.
Arkansas farmers filed a class-action lawsuit last week against Monsanto and German chemical company BASF, alleging that the companies' dicamba-based herbicides caused damage to their properties.
The plaintiffs claim that Monsanto and BASF implemented and controlled the dicamba crop system, releasing seed technology without a corresponding, safe and approved herbicide.
Keep reading...
Show less
Cup and bubblegum corals found in Northeast U.S. Canyons, the Atlantic's first marine monument. NOAA
Interior Sec. Ryan Zinke, who recently recommended a reduction in the size of the 1.35 million acre Bears Ears National Monument to President Trump, is advocating for more drilling and mining on public lands and waters.
The former Montana Rep. told Reuters that the development of America's protected federal lands could help the country become a "dominant" global energy force.
Keep reading...
Show less
Gage Skidmore / Flickr (CC BY-SA 2.0)
Dozens of scientists on the U.S. Environmental Protection Agency's (EPA) Board of Scientific Counselors and board subcommittees have been informed that they will not be renewed for their roles advising the agency, the Washington Post reported.
Keep reading...
Show less
www.youtube.com
Worried about the future of the Great Barrier Reef? If so, you're not alone.
Many publications have already written obituaries for the reef, despite the fact that it is not completely dead. Thanks to this video via Vox for sounding the alarm on this critical issue, before it's too late.
Keep reading...
Show less
Mike Mozart
By Olga V. Naidenko, Ph.D.
In a landmark rule with global repercussions, California state scientists are preparing to issue the world's first health guideline for Monsanto's glyphosate herbicide based on its cancer risk. The state's proposed safe level is more than 100 times lower than the U.S. Environmental Protection Agency's (EPA) legal allowance for the average-sized American.
Keep reading...
Show less
www.youtube.com
By Bob Henson
A high risk of life-threatening flooding continues on Wednesday over parts of the central Gulf Coast as Tropical Storm Cindy lumbers toward shore. The greatest flood threat will be across low-lying areas of far southern Mississippi and Alabama, according to the NWS/NOAA Weather Prediction Center. A second area with a moderate flood risk lies across far southeast Texas and southwest Louisiana.
Keep reading...
Show less