This website uses cookies to ensure you get the best experience while browsing it. By clicking 'Got It' you're accepting these terms.
For many people, that rich steaming cup of coffee is an essential part of getting the day off on the right foot. And we've learned that drinking coffee (not in excess!) can actually be good for your health. A study published in the New England Journal of Medicine in 2012 showed that people who drink coffee live longer than those who don't, provided they don't smoke.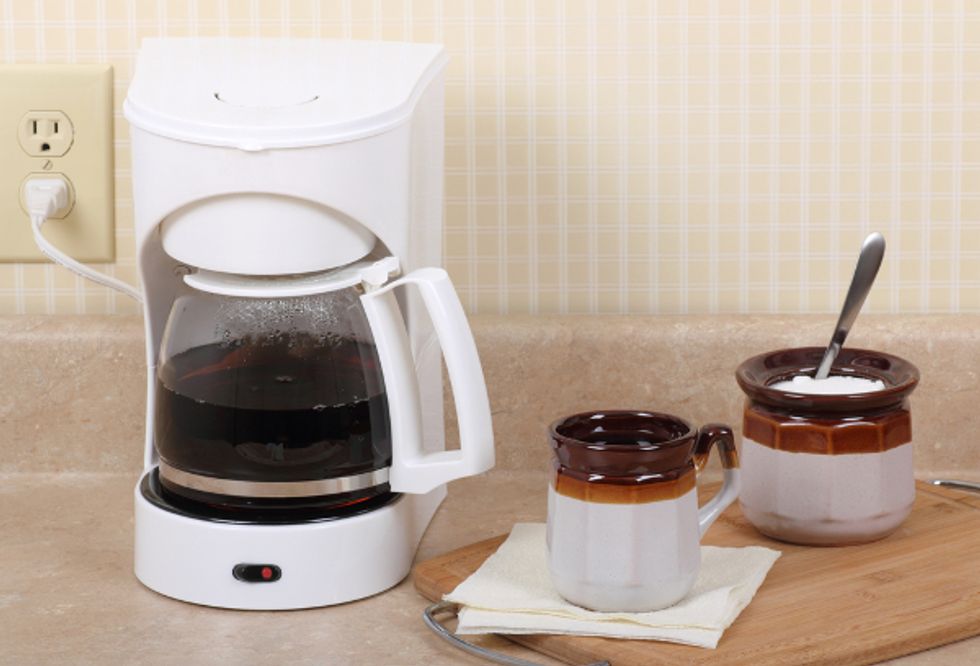 Photo credit: Shutterstock
Of course, nothing is ever simple. What kind of coffee should you drink? Fair trade and organic are of course the best for you and the planet.
But toxins can get into your coffee from another source you may not have given much thought to: your coffee maker. While trying to choose from the various types and preparation methods available as brewing coffee has become something of a contemporary art form, maybe you haven't considered whether the coffee maker itself is toxic.
Many drinkers have noticed an odd plastic taste in their coffee immediately after buying a new coffee maker. That's a sign that something is getting into your coffee that's not coming from the beans. More and more information is emerging about how plastic containers of various types can shed chemicals into whatever it is they contain, especially when that something is a hot liquid. Byphenol A (BPA), an endocrine disruptor that could lead to reproductive issues such as infertility and even some types of cancers, has been found in a variety of plastic items as well as the lining of canned foods.
As this information has become more widely known, many manufacturers of products that come into contact with food are removing BPA from plastic. That includes the makers of some plastic coffee pots, which are advertising BPA-free products. But many plastic coffee makers aren't labeled so there's no way of knowing if they are BPA-free. And companies that promote that their products are BPA-free may be replacing that chemical with another that's equally bad for you.
The safest thing to do is to look for a coffee maker with a no plastic parts or at least none that come into contact with the pot's contents. That might mean rethinking how you make your coffee. While single-serve and drip brewing coffee makers are the most convenient, those are the ones most likely to be made primarily of plastic.
But there are other types of coffee making systems that tend to be made of glass and stainless steel, much safer choices if you're worried about bad chemicals in your coffee. That old-fashioned percolator your mom used is one of those. If she didn't throw it out after buying a new plastic one, appropriate it! These vintage-style metal coffee pots may look clunky, but they're generally safe, as long as they are stainless steel and not lined with aluminum. Plenty of new ones are on the market if you can't find mom's.
Many of the trendy new ways of brewing coffee also utilize plastic-free equipment also. With their glass carafes and stainless steel mesh filters, sleek French press coffeemakers generally bypass plastic entirely. The process is more complicated than plug-in-and-brew coffee pots. But if making your morning coffee is a leisurely ritual for you, it's a perfect solution—and many people swear the taste of the finished cup is far superior.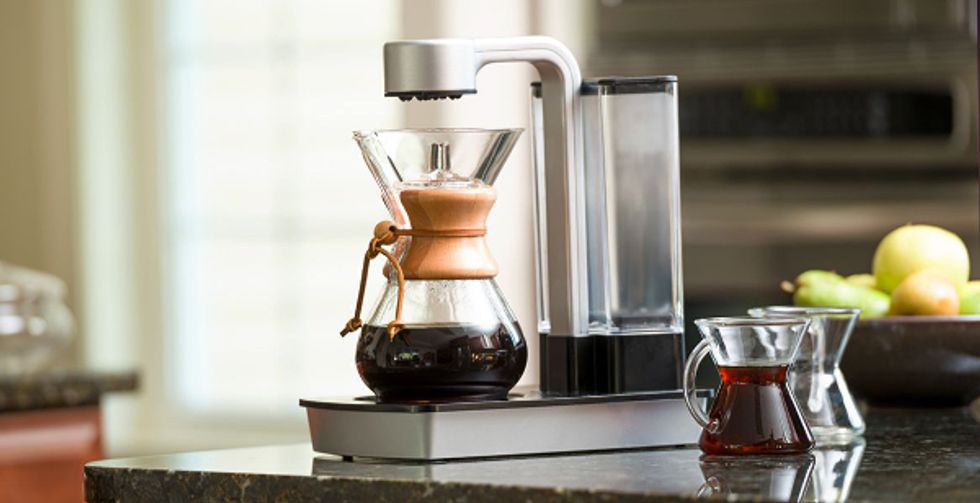 There are some well-known coffee makers on the market that are plastics-free. One is the all-glass coffee pot produced by Chemex. Created nearly 75 years ago, the Chemex pot has won design awards and is on permanent display at New York City's Museum of Modern Art. It features a heat-resistant, non-porous glass carafe, a wooden collar, a natural paper filter—and no plastic.
Porcelain is another alternative to plastic. Walküre's German-made coffee machines and cup filters are among the best known, their design requiring neither a paper filter nor a metal sieve. Like the Chemex pots, they have a long history, going back over 100 years. And like Chemex, Walküre promotes the superior taste their process offers.
It might be a little more work. But with the assurance that no bad chemicals are leeching into your coffee, it might be worth it.
YOU MIGHT ALSO LIKE
Why You Should Drink Organic Coffee
Why Shade Grown Coffee Is Better
EcoWatch Daily Newsletter
A First Nations protester walks in front of a train blockade in Tyendinaga, near Belleville, Ontario, Canada on Feb. 21, 2020. LARS HAGBERG / AFP via Getty Images
An indigenous rail blockade that snarled train travel in Canada for more than two weeks came to an end Monday when police moved in to clear protesters acting in solidarity with another indigenous community in British Columbia (B.C.), which is fighting to keep a natural gas pipeline off its land.
A rainbow snake, a rare reptile spotted in a Florida county for the first time in more than 50 years, seen here on July 5, 2013.
Kevin Enge / FWC Fish and Wildlife Research Institute / Flickr
A Florida hiker recently stumbled across a slithering surprise — a rare snake that hadn't been spotted in the area for more than 50 years.
We need our government to do everything it can to stop PFAS contamination and exposure from wreaking havoc in communities across the country. LuAnn Hun /
Unsplash
By Genna Reed
The EPA announced last week that it is issuing a preliminary regulatory determination for public comment to set an enforceable drinking water standard to two of the most common and well-studied PFAS, PFOA and PFOS.
This decision is based on three criteria:
PFOA and PFOS have an adverse effect on public health
PFOA and PFOS occur in drinking water often enough and at levels of public health concern;
regulation of PFOA and PFOS is a meaningful opportunity for reducing the health risk to those served by public water systems.
Charging EVs in Stockholm: But where does a dead battery go? Ranjithsiji / Wikimedia Commons
By Kieran Cooke
Driving an electric-powered vehicle (EV) rather than one reliant on fossil fuels is a key way to tackle climate change and improve air quality — but it does leave the old batteries behind as a nasty residue.
U.S. Secretary of the Treasure Steven Mnuchin arrives for a welcome dinner at the Murabba Palace in Riyadh, Saudi Arabia on Feb. 22, 2020 during the G20 finance ministers and central bank governors meeting. FAYEZ NURELDINE / AFP via Getty Images
Finance ministers from the 20 largest economies agreed to add a scant mention of the climate crisis in its final communiqué in Riyadh, Saudi Arabia on Sunday, but they stopped short of calling it a major economic risk, as Reuters reported. It was the first time the G20 has mentioned the climate crisis in its final communiqué since Donald Trump became president in 2017.