This website uses cookies to ensure you get the best experience while browsing it. By clicking 'Got It' you're accepting these terms.
Is Your City Listed in Latest Ranking of Bicycle Friendly Communities?
Oct. 15, 2013 03:26PM EST
Business
The growing number of people pedaling along the sidewalks and streets aren't just biking in urban areas.
The League of American Bicyclists released its latest ranking of Bicycle Friendly Communities (BFC) today, including 32 communities that are new to the list, many of which are suburbs. There are now 291 BFCs in 48 states.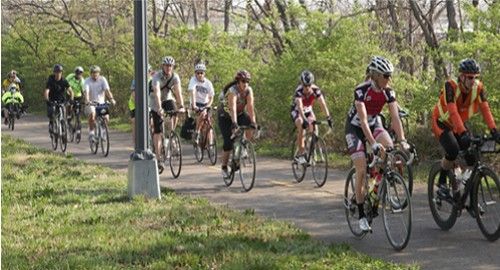 The League considers the addition of that many suburbs a win in the battle to reduce emissions.
"One of the great challenges in envisioning a truly bicycle-friendly America is the need to transform suburban communities," League President Andy Clarke said. "Well, that transformation is evidently underway and is being lead by communities like Menlo Park, CA; Elmhurst, IL; Reston, VA; and Richfield, MN."
The BFC program has been around for a decade. Each year, communities apply to become a BFC and can receive advice on the investments needed to increase biking in their areas. They can receive platinum, gold or bronze awards based on their level of commitment to increasing biking.
Places like Elmhurst and Ferguson, MO, serve as examples to cities that aren't on the list. The League estimates that 10 to 20 percent of students in Elmhurst bike to school. That figure prompted the installation of hundreds of additional bike racks at local schools. About 300 miles away, Ferguson introduced an Earn-a-Bike program to encourage children to use safety when biking around town.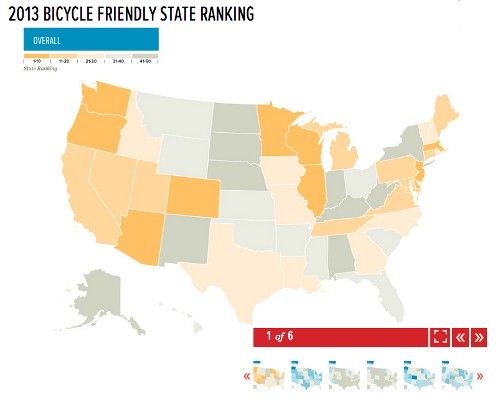 "Ferguson's residents and businesses, with the help of regional organizations, have been working to update our practices and policies to be more bicycle- and pedestrian-friendly," said Dwayne T. James, Ferguson city council member.  "Receiving this bronze award shows that we're on the right path to doing what is right and what is best for our residents and the region as a whole. I'm thankful for this honor as well as look forward to continuing our efforts to be an even better Bicycle Friendly Community." 
There are just four platinum communities on the list—Boulder, CO; Davis, CA; Fort Collins, CO; and Portland, OR. Though Colorado has two of the top four platinum communities, the state is ranked second  on the League's Bicycle Friendly America map. Washington is ranked No. 1, with 10 BFCs and 20 bicycle friendly businesses.
California has 44 bicycle friendly businesses, including Facebook, which is listed as a gold-level company. The social network partnered with Menlo Park, the silver-level BFC where it is headquartered, on a program to build a 394-resident housing complex within walking distance to its headquarters. Menlo Park's amount of commuters grew by 8 percent since last year's ranking.
"We've worked hard over the past few years to raise our BFC status through policy, infrastructure and education efforts to encourage more active transportation in Menlo Park and improve our community health, environment, and quality of life," Menlo Park Mayor Peter Ohtaki said. "We look forward to continuing to enhance bike connections and amenities across the City to encourage a healthy, vibrant community." 
EcoWatch Daily Newsletter
By Anita Desikan
The Trump administration is routinely undermining your ability — and mine, and everyone else's in this country — to exercise our democratic rights to provide input on the administration's proposed actions through the public comment process. Public comments are just what they sound like: an opportunity for anyone in the public, both individuals and organizations, to submit a comment on a proposed rule that federal agencies are required by law to read and take into account. Public comments can raise the profile of an issue, can help amplify the voices of affected communities, and can show policymakers whether a proposal has broad support or is wildly unpopular.
Alena Gamm / EyeEm / Getty Images
Picture this: a world where chocolate is as rare as gold. No more five-dollar bags of candy on Halloween. No more boxes of truffles on Valentine's day. No more roasting s'mores by the campfire. No more hot chocolate on a cold winter's day.
Who wants to live in a world like that?
Fabian Krause / EyeEm / Getty Images
Water protectors of all persuasions gathered in talking circles at Borderland Ranch in Pe'Sla, the heart of the sacred Black Hills, during the first Sovereign Sisters Gathering. At the center are Cheryl Angel in red and white and on her left, Lyla June. Tracy Barnett
By Tracy L. Barnett
Sources reviewed this article for accuracy.
For Sicangu Lakota water protector Cheryl Angel, Standing Rock helped her define what she stands against: an economy rooted in extraction of resources and exploitation of people and planet. It wasn't until she'd had some distance that the vision of what she stands for came into focus.
Hedges, 2019 © Hugh Hayden. All photos courtesy of Lisson Gallery
By Patrick Rogers
"I'm really into trees," said the sculptor Hugh Hayden. "I'm drawn to plants."
BruceBlock / iStock / Getty Images
Thanks to their high concentration of powerful plant compounds, foods with a natural purple hue offer a wide array of health benefits.