This website uses cookies to ensure you get the best experience while browsing it. By clicking 'Got It' you're accepting these terms.
Is the Whale Shark Tourism Industry Conservation or Exploitation?
May. 03, 2016 07:05AM EST
Animals
By Neela Eyunni
It was 4:45 a.m. when I arrived at Tanawan Beach in Oslob, Cebu. Despite the darkness, the parking lot was already bustling with tour buses and visitors, who had come from all over the world. Local boatmen, easy identified by their long sleeve blue shirts, prepared for the influx of visitors to come.
---
Like everyone else, I had made the long journey to this little-known town in the Philippines to see one thing … whale sharks.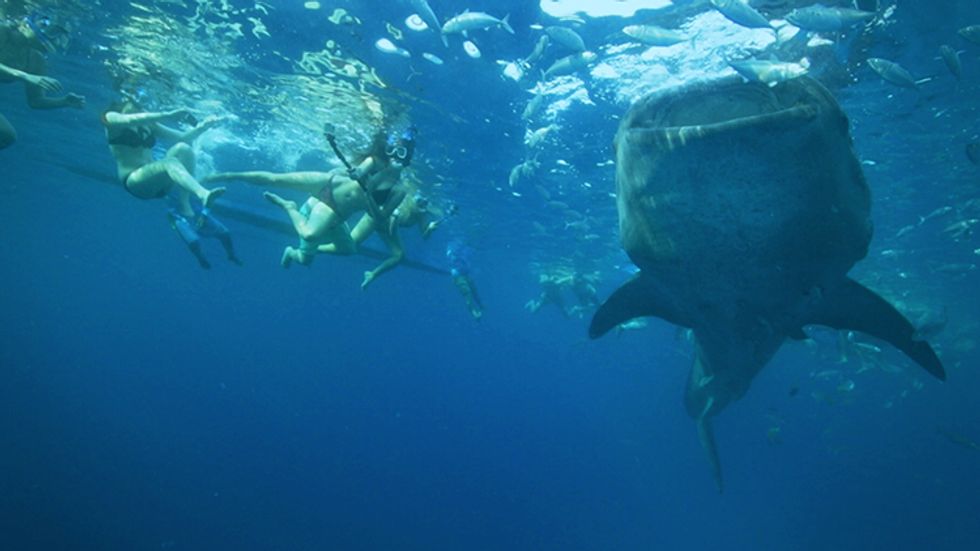 A quick internet search on where to swim with whale sharks revealed unbelievable images of snorkelers just a few feet away from the giant filter feeders. Furthermore, Tanawan Beach, the area where the whale shark interactions occur, guaranteed sightings. I could hardly contain my exhilaration as I arrived at the beach that first morning.
The reality of the situation, however, was far from what I had expected. After heading out in a boat with several other tourists, I spotted my first whale shark. My initial excitement soon faded when I saw the sharks swallowing handfuls of food being tossed into the water by Tanawan Beach staff. The whale sharks looked more like domestic pets than wild animals as they followed the feeder boats, continuously gulping down food at the surface.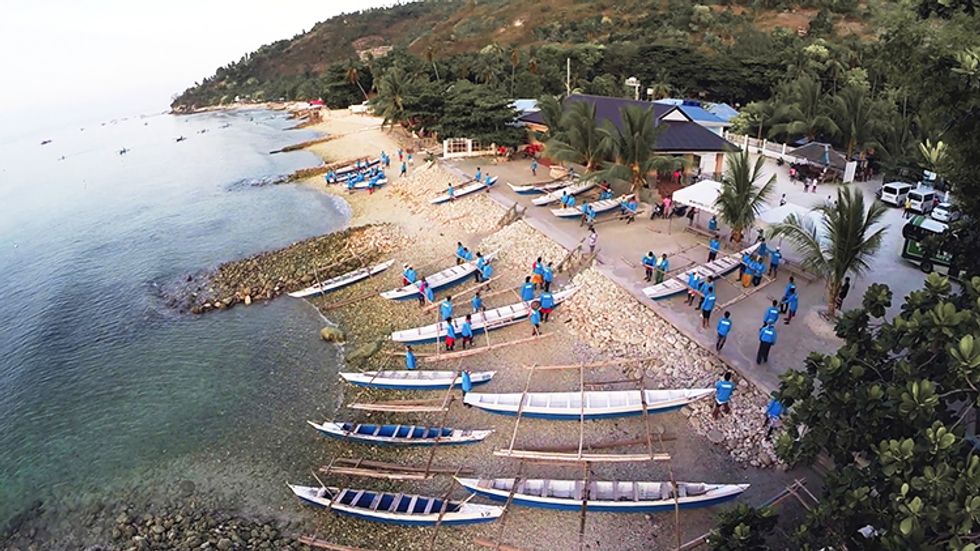 My experience at Tanawan Beach no doubt left me disappointed, but more importantly it left me concerned about the sharks' welfare. How were these interactions, which included giving the sharks food, impacting their behavior?
Less than two months later I was back with a film crew. The documentary On the Brink: Uncharted Waters follows my personal journey to answers my initial questions. It reveals how some practices could leave the sharks vulnerable to poachers and ultimately threaten the survival of the entire species. It further examines how this in turn could have a devastating impact on the marine ecosystem. Referring to the film's title, the balance between conservation and exploitation is "on the brink."
However, the issue of whale shark tourism in the Philippines is complex and it's impossible to fully understand without looking at the human aspect as well. The whale shark interactions have single-handedly lifted Oslob, Cebu from extreme poverty, with residents only recently gaining access to healthcare and education. Oslob's mayor, Ronald Guaren, insists the revenue generated by the whale shark tourism industry goes directly back into the town's development.
The question is: How do we balance the needs of people and the needs of sharks to make the industry responsible and sustainable?
The answer may not be simple. But by looking at other whale shark tourism destinations in the Philippines, like Donsol in Luzon Island, I've learned that it is possible. Donsol's whale shark tourism industry has a strict ban on feeding and operates for just six months out of the year.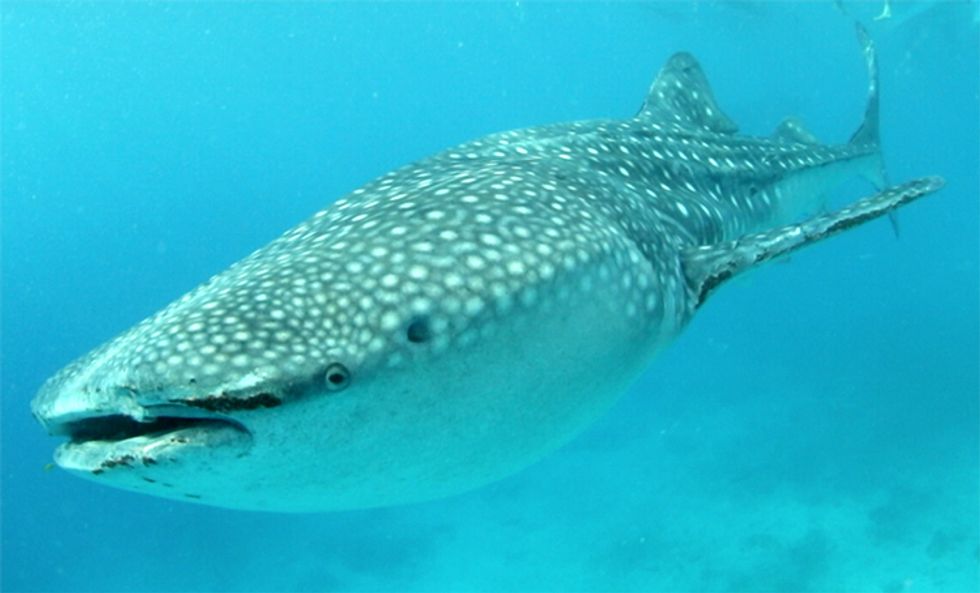 Through my experience, I have come to understand that the first step is to create a diversified economy. Whale sharks are wild and unpredictable animals. By relying solely on them for income, local governments are leaving themselves financially vulnerable. The industry also requires tighter nationwide regulations, something that conservation groups in the Philippines are currently working towards.
But lasting change can only occur when we as tourists choose to put the welfare of animals over our own interests. It is this shift in mindset and the acknowledgement that our individual actions can and do make a difference that is the key to sustainable shark tourism, not only in the Philippines but around the world.
EcoWatch Daily Newsletter
A harbour seal on an ice floe in Glacier Bay, Alaska. A new study shows that the climate crisis has warmed waters, changing ecosystems and crippling sea ice growth. Janette Hill / robertharding / Getty Images Plus
Doctors report that only 1 in 4 children are getting the recommended 60 minutes of physical activity per day. Ronnie Kaufman / DigitalVision / Getty Images
By Dan Gray
Pediatricians are being urged to start writing "exercise prescriptions" for the children they see in their office.
A First Nations protester walks in front of a train blockade in Tyendinaga, near Belleville, Ontario, Canada on Feb. 21, 2020. LARS HAGBERG / AFP via Getty Images
An indigenous rail blockade that snarled train travel in Canada for more than two weeks came to an end Monday when police moved in to clear protesters acting in solidarity with another indigenous community in British Columbia (B.C.), which is fighting to keep a natural gas pipeline off its land.
A rainbow snake, a rare reptile spotted in a Florida county for the first time in more than 50 years, seen here on July 5, 2013.
Kevin Enge / FWC Fish and Wildlife Research Institute / Flickr
A Florida hiker recently stumbled across a slithering surprise — a rare snake that hadn't been spotted in the area for more than 50 years.
We need our government to do everything it can to stop PFAS contamination and exposure from wreaking havoc in communities across the country. LuAnn Hun /
Unsplash
By Genna Reed
The EPA announced last week that it is issuing a preliminary regulatory determination for public comment to set an enforceable drinking water standard to two of the most common and well-studied PFAS, PFOA and PFOS.
This decision is based on three criteria:
PFOA and PFOS have an adverse effect on public health
PFOA and PFOS occur in drinking water often enough and at levels of public health concern;
regulation of PFOA and PFOS is a meaningful opportunity for reducing the health risk to those served by public water systems.