Is the Fracking Boom Coming to an End?
Jun. 09, 2015 11:14AM EST
Energy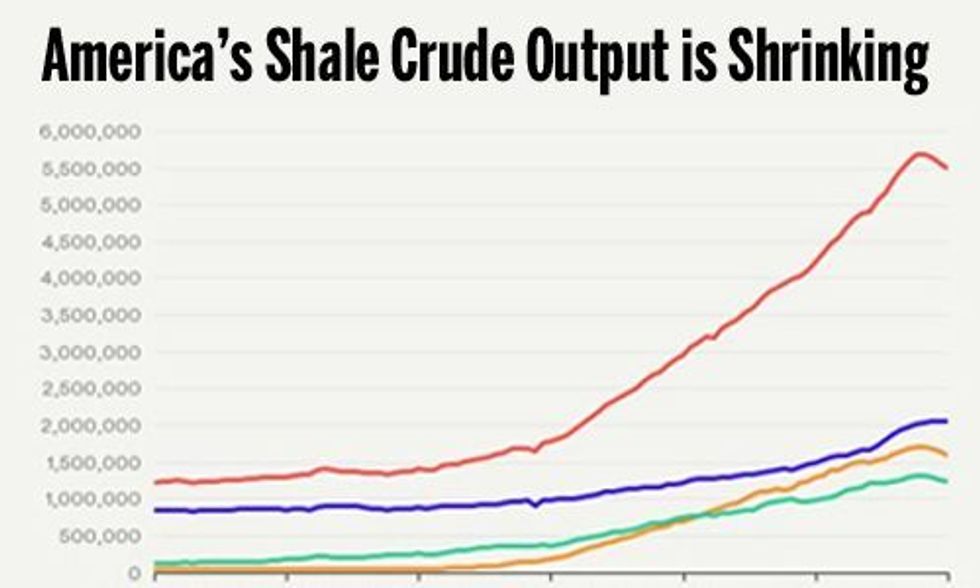 Since fracking began its boom period in the last decade, its supporters have promoted it as the answer to all of  the U.S.'s energy issues. It would free us from dependence on foreign oil, they said, thereby strengthening national security. And in fact, the U.S. has become the world's largest exporter of fossil fuels, while prices at the gas pump have dropped steeply as fracked oil and gas production has exploded. States like Texas, Colorado, North Dakota, Pennsylvania and Ohio have welcomed frackers to their shale deposits, even though others, such as New York and Maryland, have resisted the lure due to concerns about fracking's impacts on human health and the environment.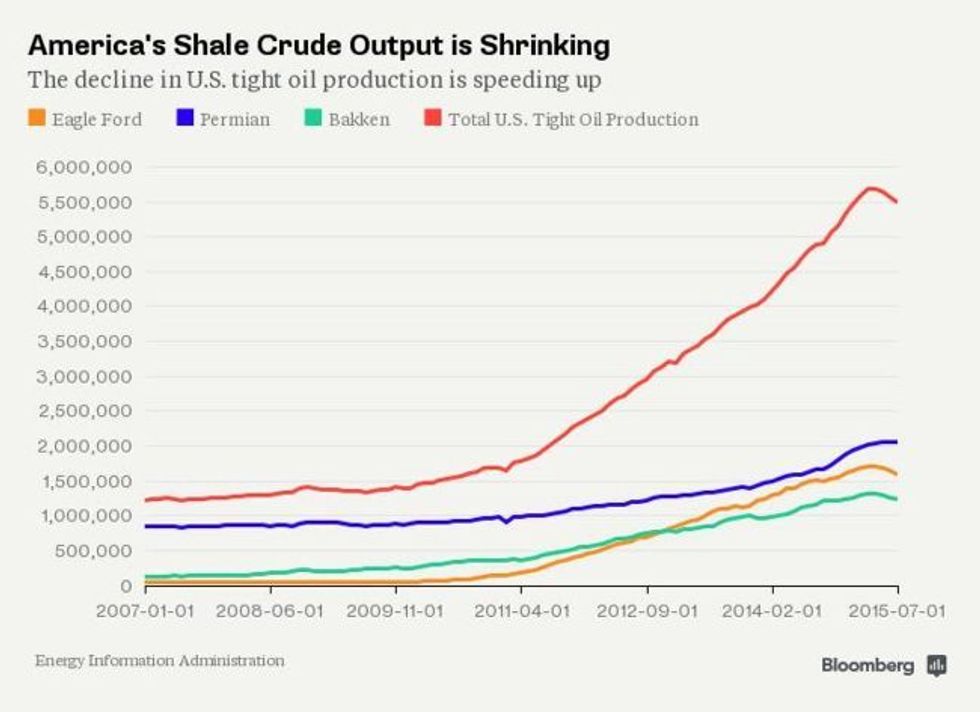 Fracking took off in the U.S. around 2009, but there are signs the boom could be ending. Image credit: EIA/Bloomberg
But could the gravy train be derailing? While production is still at record levels, there are signs that should worry any company or economy that is heavily invested in the fracking process.
Compared to conventional wells, fracked wells tend to be initially productive but taper off quickly and then are shut down as operators move to new locations. And that is starting to catch up with them.
"Production has to come down because rigs drilling for oil are down 57 percent this year," James Williams, president of Arkansas-based energy consultancy WTRG Economics, told Bloomberg News. "Countering that is the fact that the rigs we're still using are more efficient and drilling in areas where you get higher production. So that has delayed the decline."
According to the U.S. Energy Information Administration (EIA), some of the largest shale deposits will see a downturn in their output, and very soon. Output will shrink 1.3 percent this month. Texas' Eagle Ford shale deposit will be pumping 49,000 barrels less a day in July, the EIA projects, while North Dakota's Bakken shale region will lose 29,000 barrels a day. Overall, the EIA is projected that fracking will fall by 93,000 barrels a day in July, the biggest drop since the onset of the boom in 2009.
Not only are existing wells less productive, but remaining shale gas and oil becomes progressively harder and more expensive to extract. In Montana, whose northeast corner sits over a section of the Bakken shale region, no major new drilling rig has opened since April for the first time since at least 2009. Meanwhile, OPEC has been playing a game of chicken with U.S. oil producers, refusing to cut its rate of production and driving plummeting prices. Even though drilling technology is improving, the lower prices make it less attractive to go after the harder-to-reach deposits, as the price per barrel has dropped below what's needed to make these expensive wells profitable.
In North Dakota and Texas, two states whose economies roared into overdrive due to fracking, layoffs have become epidemic, with tens of thousands of jobs disappearing in the last year. Drilling companies in North Dakota are ending the lavish perks they once offered to lure workers to the isolated region.
In January, the rig count in North Dakota reached the lowest level in five years with 157 compared to 189 a year earlier. According to CNN, MBI Energy Services CEO Jim Arthaud said, "My prediction is we're down to 50 rigs by June."
There were actually 82 active rigs as of this week, which is being touted as good news.
YOU MIGHT ALSO LIKE
Never Say Never: Maryland Fracking Moratorium Becomes Law
Mapping the Dangers of Fracking
EcoWatch Daily Newsletter
Recent Stories from EcoWatch