This website uses cookies to ensure you get the best experience while browsing it. By clicking 'Got It' you're accepting these terms.
Is the EPA Covering up Oil Dispersant Dangers?
May. 16, 2012 01:41PM EST
Energy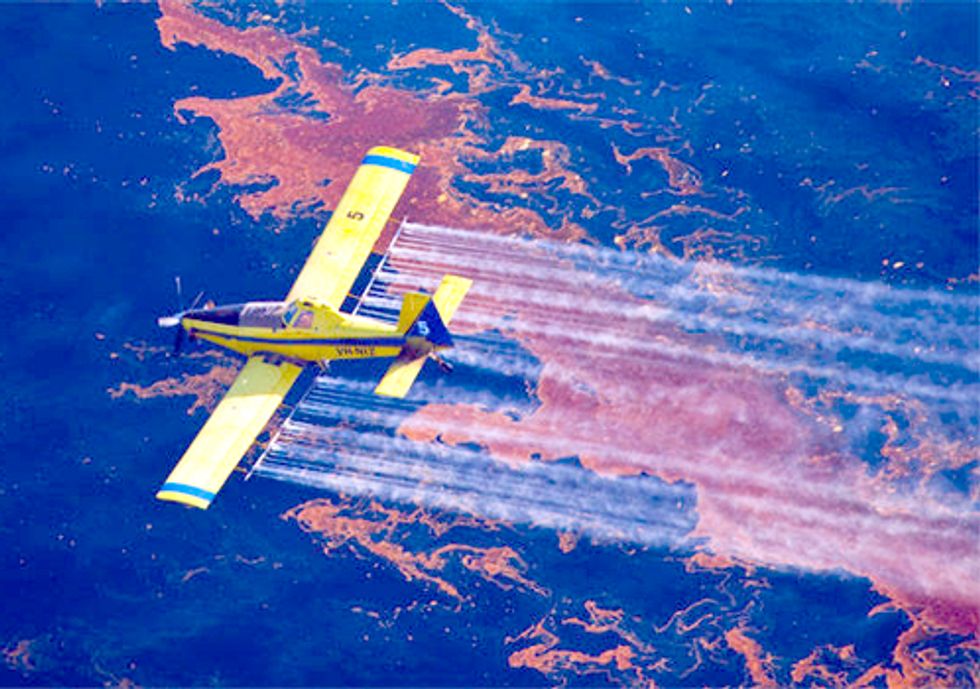 By Farron Cousins
Less than two years ago, the U.S. Environmental Protection Agency (EPA) told BP that they had to stop using the highly dangerous and potentially toxic oil dispersant Corexit on the oil that was spewing from a blown out wellhead at the bottom of the Gulf of Mexico. BP refused, and the EPA took no action.
But this week, the EPA has told us all that there is absolutely nothing to worry about, and that Corexit is essentially "non-toxic."
Those of us living along the Gulf Coast would all love to breathe a huge sigh of relief, but we're too busy choking on the toxic air that has been causing "mystery respiratory illnesses" for two years now.
But still, the EPA released a report earlier this month that says that their testing revealed that the numerous dispersants used in the cleanup fall into the "practically non-toxic" or "slightly toxic" category. What they mean by this is that the dispersants essentially have an equal toxicity to the oil that was released into the Gulf of Mexico.
Again, this new report runs completely contradictory to what the agency was warning us about in immediate months following the disaster. But instead of insisting that BP use equally effective, less toxic organic methods of dispersants, they went along with the oil giant and allowed them to continue pumping toxic chemicals into our waters.
The EPA's claims also seem to go against the actual warning label of Corexit. Steven Pedigo recently pointed out the following about Corexit:
Corexit's label clearly states it can cause kidney failure and death and the MSDS (Material Safety Data Sheet) specifically warns, "Do not contaminate surface water" with it. Additionally, toxicity testing in regards to marine species shows little tolerance by all forms of sea life; thus, applying it on spills as a preferred response method increases the toxicity of the spilled oil on which it is used.
To make matters even worse, studies have shown that dispersants, statistically, have no effect on the oil. Estimates say that at least two million gallons of Corexit were poured into the Gulf of Mexico after the oil spill.
This is not the first time the EPA has misled the public on the dangers of oil dispersants. EPA official turned whistleblower Hugh Kaufman told Democracy Now! two years ago that the agency was hiding the real dangers of Corexit from the public:
Corexit is one of a number of toxic dispersants that are used to atomize the oil and force it down the water column so that it's invisible to the eye.
In this case, these dispersants were used in massive quantities, almost two million gallons so far, to hide the magnitude of the spill and save BP money.
And the government—both EPA, NOAA, etc.—have been sock puppets for BP in this cover-up.
Now, by hiding the amount of spill, BP is saving hundreds of millions, if not billions, of dollars in fines, and so, from day one, there was tremendous economic incentive to use these dispersants to hide the magnitude of the gusher that's been going on for almost three months.
… People who work near [Corexit] are hemorrhaging internally [but the] EPA now is taking the position that they really don't know how dangerous it is, even though if you read the label, it tells you how dangerous it is.
… for example, in the Exxon Valdez case, people who worked with dispersants, most of them are dead now.
The average death age is around fifty.
It's very dangerous, and it's an economic—it's an economic protector of BP, not an environmental protector of the public.
Those are very powerful statements from a man who was working for the EPA on this matter.
For the EPA to tell us that Corexit and other dispersants used to destroy the oil are "non-toxic" is incredibly irresponsible and dangerous. The illnesses that are popping up in residents and cleanup workers are very real, and it would be hard to say that they aren't a direct result of the oil disaster.
For more information, click here.
EcoWatch Daily Newsletter
A verdant and productive urban garden in Havana. Susanne Bollinger / Wikimedia Commons
By Paul Brown
When countries run short of food, they need to find solutions fast, and one answer can be urban farming.
Trevor Noah appears on set during a taping of "The Daily Show with Trevor Noah" in New York on Nov. 26, 2018.
The Daily Show With Trevor Noah / YouTube screenshot
Rebecca Burgess came up with the idea of a fibersheds project to develop an eco-friendly, locally sourced wardrobe.
Nicolás Boullosa / CC BY 2.0
By Tara Lohan
If I were to open my refrigerator, the origins of most of the food wouldn't be too much of a mystery — the milk, cheese and produce all come from relatively nearby farms. I can tell from the labels on other packaged goods if they're fair trade, non-GMO or organic.
A television crew reports on Hurricane Dorian while waves crash against the Banana River sea wall. Paul Hennessy / SOPA Images / LightRocket / Getty Images
By Mark Hertsgaard and Kyle Pope
Some good news, for a change, about climate change: When hundreds of newsrooms focus their attention on the climate crisis, all at the same time, the public conversation about the problem gets better: more prominent, more informative, more urgent.
U.S. Senators Chris Coons (D-Del.) and Mike Braun (R-Ind.) met with Bill Gates on Nov. 7 to discuss climate change and ways to address the challenge.
Senator Chris Coons
The U.S. Senate's bipartisan climate caucus started with just two members, a Republican from Indiana and a Democrat from Delaware. Now it's up to eight members after two Democrats, one Independent and three more Republicans joined the caucus last week, as The Hill reported.
A timelapse video shows synthetic material and baby fish collected from a plankton sample from a surface slick taken off Hawaii's coast.
Honolulu Star-Advertiser / YouTube screenshot