This website uses cookies to ensure you get the best experience while browsing it. By clicking 'Got It' you're accepting these terms.
Is the EPA Covering up Oil Dispersant Dangers?
May. 16, 2012 01:41PM EST
Energy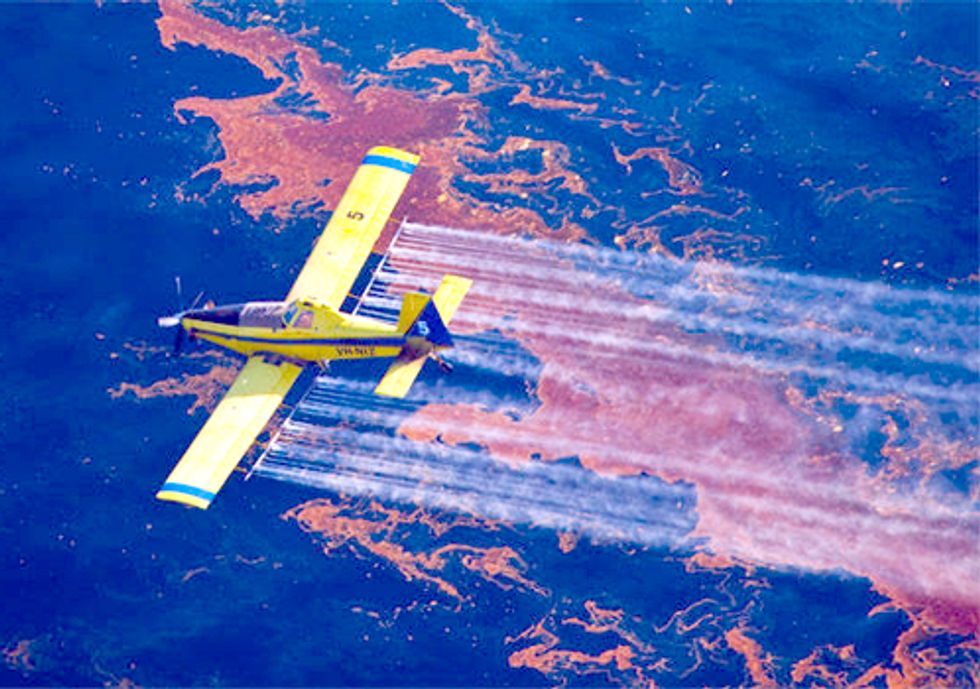 By Farron Cousins
Less than two years ago, the U.S. Environmental Protection Agency (EPA) told BP that they had to stop using the highly dangerous and potentially toxic oil dispersant Corexit on the oil that was spewing from a blown out wellhead at the bottom of the Gulf of Mexico. BP refused, and the EPA took no action.
But this week, the EPA has told us all that there is absolutely nothing to worry about, and that Corexit is essentially "non-toxic."
Those of us living along the Gulf Coast would all love to breathe a huge sigh of relief, but we're too busy choking on the toxic air that has been causing "mystery respiratory illnesses" for two years now.
But still, the EPA released a report earlier this month that says that their testing revealed that the numerous dispersants used in the cleanup fall into the "practically non-toxic" or "slightly toxic" category. What they mean by this is that the dispersants essentially have an equal toxicity to the oil that was released into the Gulf of Mexico.
Again, this new report runs completely contradictory to what the agency was warning us about in immediate months following the disaster. But instead of insisting that BP use equally effective, less toxic organic methods of dispersants, they went along with the oil giant and allowed them to continue pumping toxic chemicals into our waters.
The EPA's claims also seem to go against the actual warning label of Corexit. Steven Pedigo recently pointed out the following about Corexit:
Corexit's label clearly states it can cause kidney failure and death and the MSDS (Material Safety Data Sheet) specifically warns, "Do not contaminate surface water" with it. Additionally, toxicity testing in regards to marine species shows little tolerance by all forms of sea life; thus, applying it on spills as a preferred response method increases the toxicity of the spilled oil on which it is used.
To make matters even worse, studies have shown that dispersants, statistically, have no effect on the oil. Estimates say that at least two million gallons of Corexit were poured into the Gulf of Mexico after the oil spill.
This is not the first time the EPA has misled the public on the dangers of oil dispersants. EPA official turned whistleblower Hugh Kaufman told Democracy Now! two years ago that the agency was hiding the real dangers of Corexit from the public:
Corexit is one of a number of toxic dispersants that are used to atomize the oil and force it down the water column so that it's invisible to the eye.
In this case, these dispersants were used in massive quantities, almost two million gallons so far, to hide the magnitude of the spill and save BP money.
And the government—both EPA, NOAA, etc.—have been sock puppets for BP in this cover-up.
Now, by hiding the amount of spill, BP is saving hundreds of millions, if not billions, of dollars in fines, and so, from day one, there was tremendous economic incentive to use these dispersants to hide the magnitude of the gusher that's been going on for almost three months.
… People who work near [Corexit] are hemorrhaging internally [but the] EPA now is taking the position that they really don't know how dangerous it is, even though if you read the label, it tells you how dangerous it is.
… for example, in the Exxon Valdez case, people who worked with dispersants, most of them are dead now.
The average death age is around fifty.
It's very dangerous, and it's an economic—it's an economic protector of BP, not an environmental protector of the public.
Those are very powerful statements from a man who was working for the EPA on this matter.
For the EPA to tell us that Corexit and other dispersants used to destroy the oil are "non-toxic" is incredibly irresponsible and dangerous. The illnesses that are popping up in residents and cleanup workers are very real, and it would be hard to say that they aren't a direct result of the oil disaster.
For more information, click here.
EcoWatch Daily Newsletter
A new report spotlights a U.N. estimate that at least 275 million people rely on healthy coral reefs. A sea turtle near the Heron Island in the Great Barrier Reef is seen above. THE OCEAN AGENCY / XL CATLIN SEAVIEW SURVEY
In a new report about how the world's coral reefs face "the combined threats of climate change, pollution, and overfishing" — endangering the future of marine biodiversity — a London-based nonprofit calls for greater global efforts to end the climate crisis and ensure the survival of these vital underwater ecosystems.
Half of the extracted resources used were sand, clay, gravel and cement, seen above, for building, along with the other minerals that produce fertilizer. Cavan Images / Cavan / Getty Images
The world is using up more and more resources and global recycling is falling. That's the grim takeaway from a new report by the Circle Economy think tank, which found that the world used up more than 110 billion tons, or 100.6 billion metric tons, of natural resources, as Agence France-Presse (AFP) reported.
By Gero Rueter
Heating with coal, oil and natural gas accounts for around a quarter of global greenhouse gas emissions. But that's something we can change, says Wolfgang Feist, founder of the Passive House Institute in the western German city of Darmstadt.

By George Citroner
Recent research finds that official government figures may be underestimating drug deaths by half.
Researchers estimate that 142,000 people died due to drug use in 2016.
Drug use decreases life expectancy after age 15 by 1.4 years for men and by just under 1 year for women, on average.
Government records may be severely underreporting how many Americans die from drug use, according to a new study by researchers from the University of Pennsylvania and Georgetown University.
Water coolers in front of shut-off water fountains at Center School in Stow, MA on Sept. 4, 2019 after elevated levels of PFAS were found in the water. David L. Ryan / The Boston Globe via Getty Images
In a new nationwide assessment of drinking water systems, the Environmental Working Group found that toxic fluorinated chemicals known as PFAS are far more prevalent than previously thought.