Is the Chemical Acrylamide in Coffee Harmful to Your Health?
The health benefits of drinking coffee are pretty impressive.
It has been shown to enhance brain function, increase metabolic rate and improve exercise performance (1, 2, 3).
A regular intake has also been linked with a lower risk of dementia, Alzheimer's, Parkinson's and type 2 diabetes (4, 5, 6, 7, 8, 9, 10).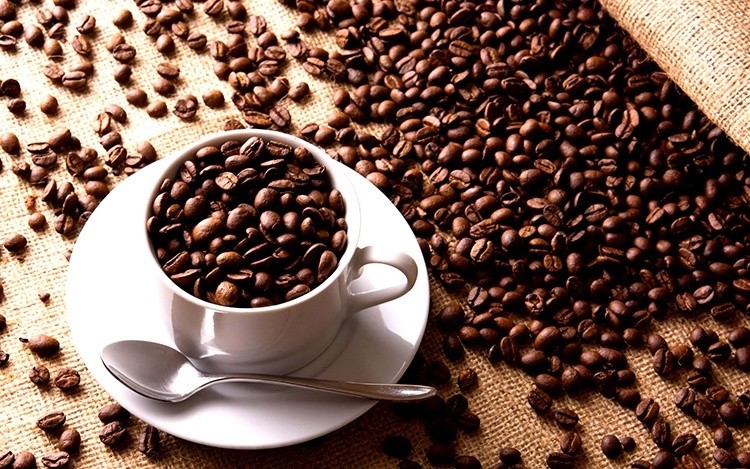 However, coffee also contains a potentially harmful chemical called acrylamide.
What is Acrylamide?
The chemical acrylamide (or acrylic amide) is a white, odorless, crystal compound. It has the chemical formula C3H5NO.
It's used to make plastics and treat waste water, among other things.
Overexposure at work can cause damage to the nervous system and it's also thought to increase the risk of cancer (13, 14, 15).
Day-to-day we are exposed to acrylamide through smoking and secondhand smoke, as well as personal care products and household items.
In 2002, Swedish scientists also discovered it in a wide range of foods, including baked goods and coffee (16).
Scientists believe the acrylamide in food is a product of the Maillard reaction. This reaction occurs when sugars and amino acids are heated above 248 F or 120 C (17, 18).
What we do know is that when coffee beans are roasted, acrylamide is formed. There's no way to remove acrylamide from coffee, so when you drink it, you're exposing yourself to the chemical (19).
Bottom Line: Acrylamide is a potentially harmful chemical formed during the coffee bean roasting process.
Is Acrylamide Really Harmful?
Acrylamide can definitely be harmful.
Yet, as is often the case in nutrition, the devil is in the dose.
Workplace exposure to very high doses of acrylamide can cause nerve damage and disorders of the nervous system (13, 14).
Studies in animals have also repeatedly shown that acrylamide causes cancer when eaten.
However, the doses given to animals have been 1000–100,000 times larger than the amounts humans are exposed to through diet.
Humans also metabolize acrylamide differently, so we are exposed to a lower dose of the chemical when our body breaks it down (20).
Unfortunately, there are few human studies on the safety of acrylamide in food and the results have been inconsistent (21).
It's also important to keep in mind that acrylamide is not a new problem. Despite only recently being discovered in our food, it's likely to have been there in some amount since man started cooking.
Bottom Line: Workplace exposure to high amounts of acrylamide can cause nerve damage. In very high doses, acrylamide is known to cause cancer in animals. We don't know how much of it is safe for humans.
How Much Acrylamide Does Coffee Contain?
The amount of acrylamide in coffee varies greatly.
A 2013 study analyzed 42 samples of coffee, including 11 instant coffees and three coffee substitutes (grain coffee).
They found instant coffee to have 100 percent more acrylamide than fresh roasted coffee, while coffee substitutes had 300 percent more (22).
They also noted that acrylamide levels peak early in the heating process and then decline. So lighter colored coffee beans have more acrylamide than darker ones that are roasted longer.
Bottom Line: The amount of acrylamide in coffee can vary greatly. Well roasted, dark, fresh coffee beans are likely to have the lowest amount.
Is Drinking Coffee Risky?
While a link between acrylamide intake and cancer in humans hasn't been proven, it cannot be ruled out.
However, coffee drinking has not been shown to increase your risk of cancer. In fact, it's linked with a reduced risk of developing some types of cancers (23).
For example, in one study, people who increased their coffee intake by 2 cups per day had a 40 percent lower risk of liver cancer (24).
Coffee drinking is also linked to a plethora of other health benefits, such as living longer and a reduced risk of many diseases.
Bottom Line: Coffee hasn't been shown to increase your risk of cancer. It has actually been linked with a reduced risk of some types of cancers, such as liver cancer.
Should You Stop Drinking Coffee to Avoid Acrylamide?
Avoiding acrylamide completely is not possible.
At the moment we consume less acrylamide than the maximum exposure levels recommended by the European Food Safety Authority (25).
While it's not possible to buy coffee that is completely free of acrylamide, the coffee industry is working on practical solutions to reduce its presence (26, 27).
Given the potential health benefits of coffee, it's not something you need to cut out.
Bottom Line: Coffee contains many other chemicals that may be beneficial to your health; cutting it out isn't necessary.
How to Minimize Your Acrylamide Exposure
There is no evidence that small amounts of dietary acrylamide cause harm.
However, if you are concerned, then here are a few steps you can take to minimize your exposure:
Quit smoking and try to minimize your exposure to secondhand smoke.
Keep frying to a minimum, as it produces the most acrylamide of all cooking methods.
Try not to burn or char foods on the grill.
Toast bread to a light brown color and avoid burnt toast.
Let your bread dough proof longer—the fermentation of yeast reduces the amount of asparagine in the dough, so less acrylamide is made (29).
Choose dark roasted coffee and avoid instant coffee and coffee alternatives.
Bottom Line: Completely avoiding acrylamide is impossible. However, you can make a few changes to reduce your acrylamide intake.
Take Home Message
Coffee contains various substances that are linked to positive effects on health.
These outweigh the potential negative effects of acrylamide, so there's no need to stop drinking coffee if you enjoy it.
This article was reposted from our media associate Authority Nutrition.
YOU MIGHT ALSO LIKE
5 Non-Stick Pans That Won't Give You Cancer
The Truth About Gluten: Is it Healthy for Me?
Dr. Mark Hyman: The Secret Fat That Makes You Thin
Laurie Woolever
By James O'Hare
There are 20 million people in the world facing famine in South Sudan, Somalia, Nigeria and Yemen. In developed nations, too, people go hungry. Venezuela, for instance, is enduring food insecurity on a national level as a result of economic crisis and political corruption. In the U.S., the land of supposed excess, 12.7 percent of households were food insecure in 2015, meaning they didn't know where their next meal would come from.
Keep reading...
Show less
Melwater, Greenland ice sheet. Diane Tuft
Artists are taking the climate crisis into frame and the results are emotional, beautiful and stirring.
So you've seen the best climate change cartoons and shared them with your friends. You've showed your family the infographics on climate change and health, infographics on how the grid works and infographics about clean, renewable energy. You've even forwarded these official National Oceanic and Atmospheric Administration graphs that explain the 10 clear indicators of climate change to your colleagues at the office.
Keep reading...
Show less
May. 27, 2017 01:11PM EST
As the Trump administration moves full speed ahead on boosting the oil and fossil fuel industry, opposition to increased pipeline construction is cropping up in different communities around the country.
Keep reading...
Show less
May. 27, 2017 01:02PM EST
Minke whale stranding near Havergate Island in Suffolk. MCGA.
By Simon Evans
Last Saturday, two dead whales washed up on the coast of Suffolk, in eastern England, and a third was spotted floating at sea.
What happened next illustrates how news can spread and evolve into misinformation, when reported by journalists rushing to publish before confirming basic facts or sourcing their own quotes.
Keep reading...
Show less
May. 27, 2017 01:22PM EST
By Monica Amarelo and Paul Pestano
Sun safety is a crucial part of any outdoor activity for kids, and sunscreen can help protect children's skin from harmful ultraviolet rays. Kids often get sunburned when they're outside unprotected for longer than expected. Parents need to plan ahead and keep sun protection handy in their cars or bags.
Keep reading...
Show less
May. 27, 2017 01:02PM EST
By Joe McCarthy
A lot of people take part in community clean-up efforts—spending a Saturday morning picking up litter in a park, mowing an overgrown field or painting a fence.
Keep reading...
Show less
May. 26, 2017 03:22PM EST
Rink Glacier in western Greenland, with a meltwater lake visible center. NASA/OIB
Scientists have had their eyes on Greenland as its iconic glaciers have begun disappearing due to a warming climate. But, what they didn't expect to see was a whole new type of melting.
Keep reading...
Show less
May. 26, 2017 03:40PM EST
A coalition of conservation groups and others announced Thursday that a historic number of comments and petitions of support have been submitted to the U.S. Department of the Interior in support of Bears Ears National Monument. Despite the entirely inadequate 15-day comment period ending on May 26, more than 685,000 comments in support of Bears Ears National Monument have been collected.
Keep reading...
Show less


Get EcoWatch in your inbox