This website uses cookies to ensure you get the best experience while browsing it. By clicking 'Got It' you're accepting these terms.
Is 'Sustainable Beef' an Oxymoron?
Mar. 11, 2015 10:24AM EST
Food
In the face sagging beef sales, a slew of U.S. beef industry stakeholders have formed the U.S. Roundtable for Sustainable Beef (USRSB) to figure out how to source beef that's, well, more "sustainable."
And although the USRSB's intentions might be good, Americans can't have their steak and eat it, too. That's because the vast amount of resources it takes to produce enough beef for the country on a commercial scale will never be truly be sustainable.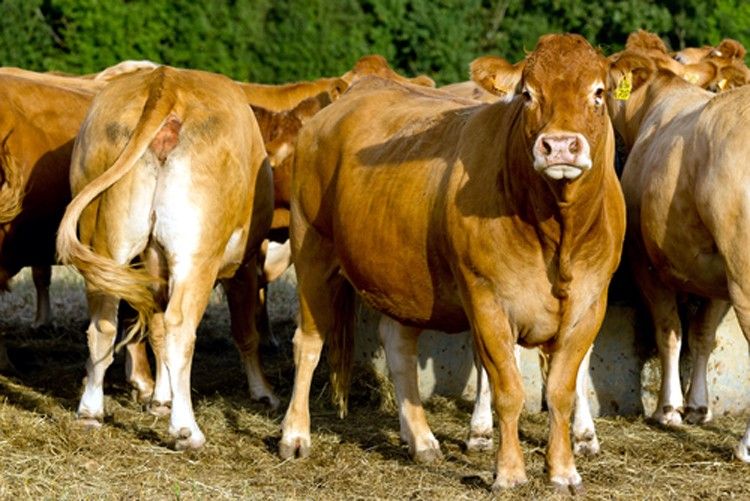 Photo credit: Shutterstock
A total of 43 participants make up the roundtable, including McDonald's, Walmart, Cargill and Tyson Foods Inc., environmental groups World Wildlife Federation (WWF) and The Nature Conservancy, as well as producers, processors, foodservice operators, packers and allied industry in the U.S. beef value chain. According to an announcement made last week, the roundtable's mission is to "advance, support and communicate continuous improvement in U.S. beef sustainability through leadership, innovation, multi-stakeholder engagement and collaboration."
Nicole Johnson-Hoffman, vice president of Cargill Value Added Meats and interim chair of USRSB acknowledged, "Research tells us American consumers are increasingly interested in the social, economic and environmental impacts of the beef they purchase." The diverse groups are coming together to "establish metrics and criteria that will be used to benchmark the present and help measure improvements in the sustainability of American beef going forward," she added.
The organizations have yet to hammer out concrete policies, but is the USRSB just trying to make Americans (who eat more beef than any other country) feel less guilty about buying Big Macs or supermarket steaks? The USRSB's release clearly states that the group will follow the same vague definition for "sustainable beef" as set by the Global Roundtable for Sustainable Beef (GRSB), a similar multinational beef industry stakeholder group.
Here's why that's a little eyebrow raising. Last November, the GRSB organized a sustainable beef summit in San Paolo and released a large report called the Principles and Criteria for Global Sustainable Beef that put forth their sustainability goals for the global beef chain.
Although it was a step in the right direction, the report was deemed as "greenwashing" in a scathing letter signed by nearly two dozen leading NGOs, including Friends of the Earth, Animal Welfare Approved, Food & Water Watch and more. These organizations (and many others) slammed the GRSB primarily for failing to "address misuse of antibiotics or establish meaningful standards for workers' rights, animal welfare or environmental performance." A different letter from the Institute of Agriculture and Trade Policy called the GRSB report as "nothing more than an attempt to pass off 'business as usual' farming as 'sustainable.'"
At the moment, it looks like the USRSB is headed down a similar path as its global counterpart. Their press release states in lofty language, "the USRSB will develop sustainability indicators relevant to the various beef systems in the United States, as well as a means to verify sustainable progress in a transparent manner that can be shared." But, it also noted, "similar to GRSB, the USRSB will not mandate standards or verify the performance of individual beef value chain participants." Although the USRSB is still in its early stages, mandating production standards and verification of its members is critical to sustainable beef production.
It goes without saying that major regulations are needed to reign in commercial beef. The meat is, by far, the worst meat for the environment. We've mentioned before that agriculture accounts for about 6 percent of total U.S. global warming emissions, and beef production alone accounts for 2.2 percent of the total, roughly equivalent to the emissions from 33 average-sized coal-fired power plants. Additionally, beef cattle and stored cattle manure also are responsible for 18 percent of U.S. methane emissions, which have nearly 25 times the warming effect of carbon dioxide.
Alongside the health concerns of red meat (including coronary heart disease and breast, colon and prostate cancer), particularly alarming is the practice of feeding antibiotics to prevent disease in healthy animals. In fact, roughly 80 percent of antibiotics purchased in the U.S. are fed to livestock, spawning a superbug crisis, which can spread in the environment, contaminate food supplies and undermine the effectiveness of antibiotics. In fact, superbugs have been linked to 23,000 human deaths and 2 million illnesses annually in the U.S., costing the American health care system $20 billion in direct costs, according to the U.S. Centers for Disease Control and Prevention.
Last week, McDonald's (which already pledged to buy sustainable beef by 2016 before joining the USRSB) announced that they were no longer using human antibiotics in chickens out of superbug fears. However, many critics noticed that the fast food chain did not rule out using the drugs in beef or pork. Perhaps, as Reuters pointed out, the reasoning is that ethically raised or antibiotic-free beef is already in short supply and can be difficult to obtain. Chipotle and CKE Restaurants have to go as far as Australia to find their antibiotic-free beef. Brad Haley, CKE's chief marketing officer, told the news organization, "I don't think there's enough for sizeable chains to move over in the immediate future." He added, "there simply isn't enough all-natural beef."
Besides skimming over environmental and health concerns, the USRSB's announcement made no indication that they will be examining the cruel and unsustainable methods of factory farming. Unless they are grass-fed and raised on pastures, much of the beef that ends up on our plates come from feedlot cattle that spend their brief lives in crammed into feedlots eating genetically modified corn and soybeans.
This multi-stakeholder roundtable will have input from many of its members, including environmental organizations that will hopefully put the pressure on Big Beef. "By 2050, more than 9 billion people will consume twice as much food as we do today," said WWF senior program officer Nancy Labbe in the release. "We are excited to be part of this important step toward balancing social, economic and environmental demands to feed a growing world while conserving natural resources, reducing waste and preserving biodiversity."
Other environmental advocates are eager to see what policies the USRSB will come up with. "First off, it's great that all these players are coming together and talking about solutions," Jonathan Gelbard, sustainable livestock specialist with the National Resource Defense Council, told GreenBiz. "But if what they do is not credible and does not effectively address what the science clearly identifies, people are going to be watching."
YOU MIGHT ALSO LIKE
Millennials Drive Sustainable Food Practices at Fast-Casual Restaurants
Chipotle Proves Sustainable Food Sourcing Is Profitable
Ice Cream Giant Announces Plans to Stop Using Milk From Cows Treated With Artificial Hormone rBST
EcoWatch Daily Newsletter
A glacier is seen in the Kenai Mountains on Sept. 6, near Primrose, Alaska. Scientists from the U.S. Geological Survey have been studying the glaciers in the area since 1966 and their studies show that the warming climate has resulted in sustained glacial mass loss as melting outpaced the accumulation of new snow and ice. Joe Raedle / Getty Images
By Mark Mancini
On Aug. 18, Iceland held a funeral for the first glacier lost to climate change. The deceased party was Okjökull, a historic body of ice that covered 14.6 square miles (38 square kilometers) in the Icelandic Highlands at the turn of the 20th century. But its glory days are long gone. In 2014, having dwindled to less than 1/15 its former size, Okjökull lost its status as an official glacier.
Members of Chicago Democratic Socialists of America table at the Logan Square Farmers Market on Aug. 18. Alex Schwartz
By Alex Schwartz
Among the many vendors at the Logan Square Farmers Market on Aug. 18 sat three young people peddling neither organic vegetables, gourmet cheese nor handmade crafts. Instead, they offered liberation from capitalism.
Hackney primary school students went to the Town Hall on May 24 in London after school to protest about the climate emergency. Jenny Matthews / In Pictures / Getty Images
Bird watching in the U.S. may be a lot harder than it once was, since bird populations are dropping off in droves, according to a new study.
Amazon CEO Jeff Bezos announces the co-founding of The Climate Pledge at the National Press Club on Sept. 19 in Washington, DC. Paul Morigi / Getty Images for Amazon
The day before over 1,500 Amazon.com employees planned a walkout to participate in today's global climate strike, CEO Jeff Bezos unveiled a sweeping plan for the retail and media giant to be carbon neutral by 2040, 10 years ahead of the Paris agreement schedule.
For the past seven years, the Anishinaabe people have been facing the largest tar sands pipeline project in North America. We still are. In these dying moments of the fossil fuel industry, Water Protectors stand, prepared for yet another battle for the water, wild rice and future of all. We face Enbridge, the largest pipeline company in North America, and the third largest corporation in Canada. We face it unafraid and eyes wide open, for indeed we see the future.
The climate crisis often intensifies systems of oppression. Rieko Honma / Stone / Getty Images Plus
By Mara Dolan
We see the effects of the climate crisis all around us in hurricanes, droughts, wildfires, and rising sea levels, but our proximity to these things, and how deeply our lives are changed by them, are not the same for everyone. Frontline groups have been leading the fight for environmental and climate justice for centuries and understand the critical connections between the climate crisis and racial justice, economic justice, migrant justice, and gender justice. Our personal experiences with climate change are shaped by our experiences with race, gender, and class, as the climate crisis often intensifies these systems of oppression.