This website uses cookies to ensure you get the best experience while browsing it. By clicking 'Got It' you're accepting these terms.
Is Seaweed the New Kale?
Jul. 11, 2014 07:00AM EST
Food
Strewn along beaches in tangled clumps, seaweed tells the fractal tales of tides. Anchored in the water, they are an underwater melody. These algae are not just beautiful but also vital to the ocean's well being; they are the base of the ocean's food web and sea creatures need them for sustenance and protection. It's also the ultimate super food for us.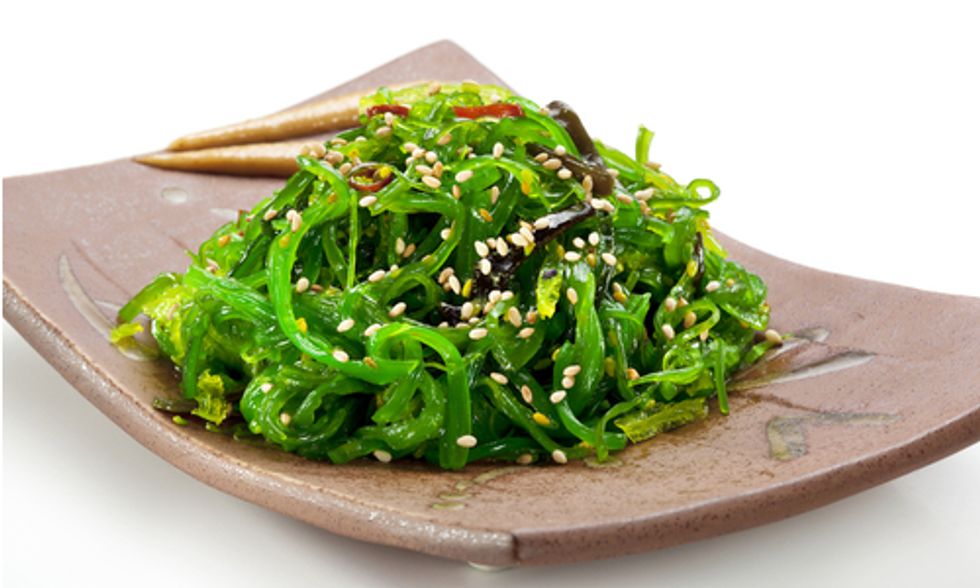 Photo courtesy of Shutterstock
Seaweed is naturally high in many vitamins and anti-oxidants and rich in magnesium, calcium and iron. It has iodine and omega 3's in spades. In fact, it's one of the most nutritious things you can eat. Recent studies show that it even helps with weight loss. Scientists found a compound in common seaweed could stop the body absorbing fat. Another recent study found women who eat seaweed while pregnant, give birth to better future readers.
These saline vegetables have fertilized crops, been used as a growing medium and saved populations from disease and hunger. Yet have been very under-utilized. But now they are coming into their own. Some of the most interesting chefs around are highlighting them on their menus, and using them for everything from cocktails to appetizers, salads, breads and main courses. Seaweed is being touted as the "new kale." People are finding it a delicious way to make creative dishes with an added "umami" or depth.
Some easy ways to use it are creating a stir-fry with sliced seaweed, fresh ginger and sesame oil. For a delicious dashi broth make a simple combination of kombu, bonita flakes and shiitake mushrooms. Use this broth as a base for soups, and braise vegetables or seafood with it. If you ferment, add seaweed to your kimchi or sauerkraut. Mix it with lentils for a veggie burger and put it on a grill. You can make a pesto from seaweed to toss with soba noodles or use as a sauce for squash. On the British Isles, it's used in breads, like lavar and some seaweeds creates the binding agent for puddings. Also, it's pretty amazing mixed with butter. Let them sit together in the refrigerator, and a savory umami flavor infuses through it. Use it to top roasted vegetables or smear it on bread.
So eat your way all the way down the food web, and harvest or buy the sea vegetables swaying in the current. All you need is a low tide and sense of adventure.
EcoWatch Daily Newsletter
California Gov. Gavin Newsom speaking with attendees at the 2019 California Democratic Party State Convention at the George R. Moscone Convention Center in San Francisco.
Gage Skidmore
/ Flickr /
CC BY-SA 2.0
California Gov. Gavin Newsom imposed new restrictions on oil exploration in his state yesterday by putting a moratorium on hundreds hydraulic fracturing permits until the projects are reviewed by independent scientists, as the AP reported.
The endangered Houston toad. Courtesy of U.S. Fish and Wildlife Service
While the planet continues to heat up, almost every single one of the 459 species listed as endangered in the U.S. will struggle as the climate crisis intensifies, according to new research published in the journal Nature Climate Change.
"This singular scientific achievement was accomplished at Heliogen's commercial facility in Lancaster, California."
Heliogen
A startup backed by Bill Gates unveiled a breakthrough solar technology Tuesday that could free heavy industry from fossil fuels.
Rhodiola rosea is an adaptogenic herb that can help with chronic fatigue and stress-related burnout. Tero Laakso / Flickr
By Gavin Van De Walle, MS, RD
While everyone has specific life stressors, factors related to job pressure, money, health, and relationships tend to be the most common.
Stress can be acute or chronic and lead to fatigue, headaches, upset stomach, nervousness, and irritability or anger.
A video shows a woman rescuing a koala from Australia's wildfires.
VOA News / YouTube screenshot
More than 350 koalas may have died in the wildfires raging near the Australian town of Port Macquarie in New South Wales, but one got a chance at survival after a woman risked her life to carry him to safety.