This website uses cookies to ensure you get the best experience while browsing it. By clicking 'Got It' you're accepting these terms.
Is Seaweed the New Kale?
Jul. 11, 2014 07:00AM EST
Strewn along beaches in tangled clumps, seaweed tells the fractal tales of tides. Anchored in the water, they are an underwater melody. These algae are not just beautiful but also vital to the ocean's well being; they are the base of the ocean's food web and sea creatures need them for sustenance and protection. It's also the ultimate super food for us.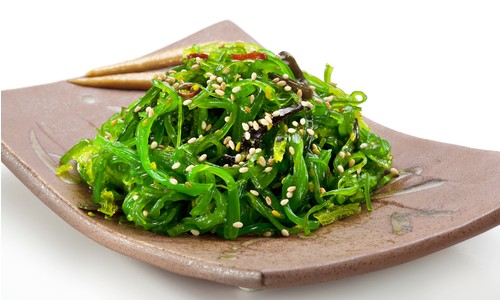 Photo courtesy of Shutterstock
Seaweed is naturally high in many vitamins and anti-oxidants and rich in magnesium, calcium and iron. It has iodine and omega 3's in spades. In fact, it's one of the most nutritious things you can eat. Recent studies show that it even helps with weight loss. Scientists found a compound in common seaweed could stop the body absorbing fat. Another recent study found women who eat seaweed while pregnant, give birth to better future readers.
These saline vegetables have fertilized crops, been used as a growing medium and saved populations from disease and hunger. Yet have been very under-utilized. But now they are coming into their own. Some of the most interesting chefs around are highlighting them on their menus, and using them for everything from cocktails to appetizers, salads, breads and main courses. Seaweed is being touted as the "new kale." People are finding it a delicious way to make creative dishes with an added "umami" or depth.
Some easy ways to use it are creating a stir-fry with sliced seaweed, fresh ginger and sesame oil. For a delicious dashi broth make a simple combination of kombu, bonita flakes and shiitake mushrooms. Use this broth as a base for soups, and braise vegetables or seafood with it. If you ferment, add seaweed to your kimchi or sauerkraut. Mix it with lentils for a veggie burger and put it on a grill. You can make a pesto from seaweed to toss with soba noodles or use as a sauce for squash. On the British Isles, it's used in breads, like lavar and some seaweeds creates the binding agent for puddings. Also, it's pretty amazing mixed with butter. Let them sit together in the refrigerator, and a savory umami flavor infuses through it. Use it to top roasted vegetables or smear it on bread.
So eat your way all the way down the food web, and harvest or buy the sea vegetables swaying in the current. All you need is a low tide and sense of adventure.
Pixabay
By John R. Platt
The world needs to change the way it eats, not just as individuals but as a society.
The Russian military is taking measures to protect the residents of a remote Arctic settlement from a mass of polar bears, German press agency DPA reported.
The move comes after regional authorities declared a state of emergency over the weekend after sightings of more than 50 bears in the town of Belushya Guba since December.
This year's letter from Bill and Melinda Gates focused on nine things that surprised them. For the Microsoft-cofounder, one thing he was surprised to learn was the massive amount of new buildings the planet should expect in the coming decades due to urban population growth.
"The number of buildings in the world is going to double by 2060. It's like we're going to build a new New York City every month for the next 40 years," he said.
Over the past few years, it seems vegan cooking has gone from 'brown rice and tofu' to a true art form. These amazing cooks show off the creations on Instagram—and we can't get enough.