This website uses cookies to ensure you get the best experience while browsing it. By clicking 'Got It' you're accepting these terms.
Is Salt Good or Bad for My Health?
Dec. 28, 2015 01:54PM EST
Food
Health organizations have been warning us about the dangers of salt for a long time.
That's because high salt intake has been claimed to cause a number of health problems, including high blood pressure and heart disease.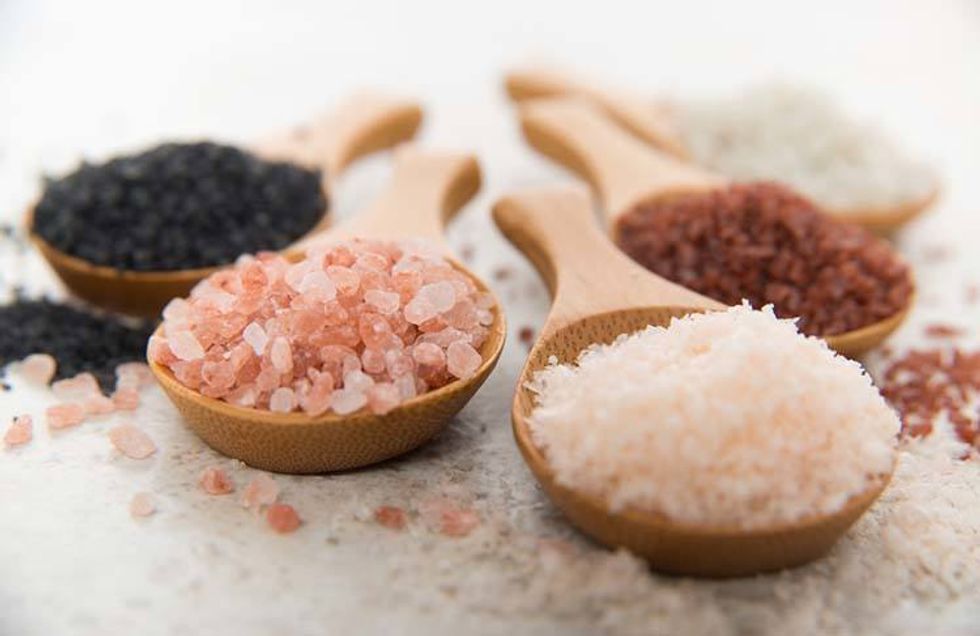 Photo credit: Shutterstock
However, decades of research have failed to provide convincing evidence to support this (1).
What's more, many studies actually show that eating too little salt can be harmful.
This article takes a detailed look at salt and its health effects.
What is Salt?
Salt is also called sodium chloride (NaCl). It consists of 40 percent sodium and 60 percent chloride, by weight.
Salt is by far the biggest dietary source of sodium and the words "salt" and "sodium" are often used interchangeably.
Some varieties of salt may contain trace amounts of calcium, potassium, iron and zinc. Iodine is often added to table salt (2, 3).
The essential minerals in salt act as important electrolytes in the body. They help with fluid balance, nerve transmission and muscle function.
Some amount of salt is naturally found in most foods. It's also frequently added to foods in order to improve flavor.
Historically, salt was used to preserve food. High amounts can prevent growth of the bacteria that cause food to go bad.
Salt is harvested in two main ways: from salt mines and by evaporating sea water or other mineral-rich water.
There are actually many types of salt available. Common varieties include plain table salt, Himalayan pink salt and sea salt.
This is What Salt Looks Like: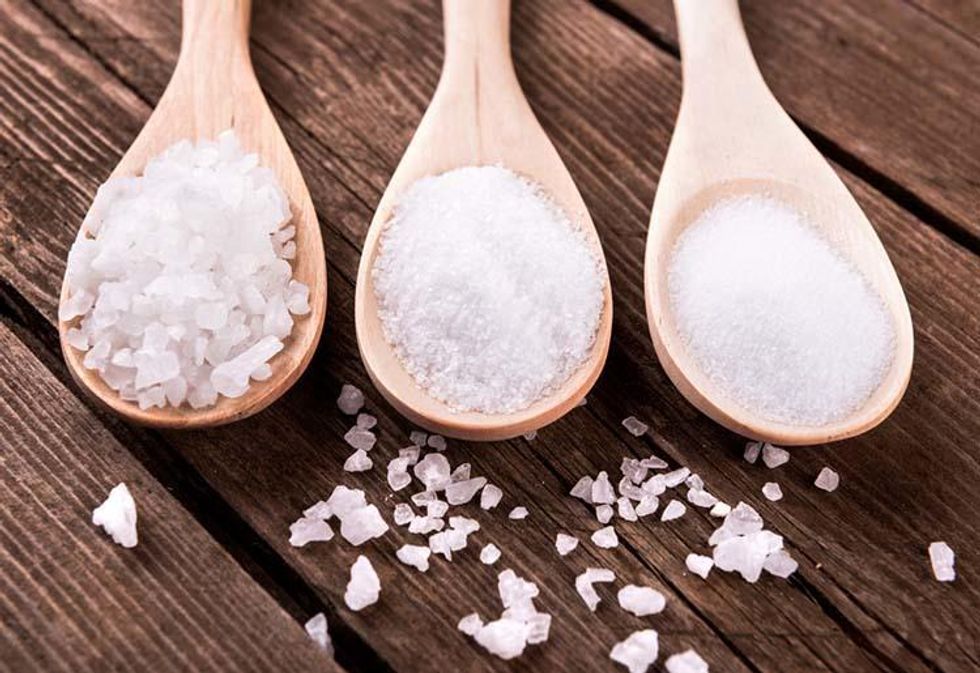 Photo credit: Shutterstock
The different types of salt may vary in taste, texture and color. In the picture above, the salt on the left is more coarsely ground. The salt on the right is finely ground table salt.
In case you're wondering which type is the healthiest, the truth is that they are all quite similar.
Bottom Line: Salt is mainly composed of two minerals, sodium and chloride, which have various functions in the body. It is found naturally in most foods and is widely used to improve flavor.
How Does Salt Affect Heart Health?
Health authorities have been telling us to cut back on sodium for decades. They say you should consume no more than 2,300 mg of sodium per day, preferably less (4, 5, 6).
This amounts to about one teaspoon or 6 grams of salt (salt is 40 percent sodium, so multiply sodium grams by 2.5).
However, about 90 percent of U.S. adults consume a lot more than that (7).
Eating too much salt is claimed to raise blood pressure, thereby increasing the risk of heart disease and stroke.
However, there are some serious doubts about the true benefits of sodium restriction.
It is true that reducing salt intake can lower blood pressure, especially in people with a medical condition called salt-sensitive hypertension (8).
But, for healthy individuals, the average reduction is very subtle.
One study from 2013 found that for individuals with normal blood pressure, restricting salt intake reduced systolic blood pressure by only 2.42 mmHg and diastolic blood pressure by only 1.00 mmHg (9).
That is like going from 130/75 mmHg to 128/74 mmHg. These are not exactly the impressive results you would hope to get from enduring a tasteless diet.
What's more, some review studies have found no evidence that limiting salt intake will reduce the risk of heart attacks, strokes or death (10, 11).
Bottom Line: Limiting salt intake does result in a slight reduction in blood pressure. However, there is no strong evidence linking reduced salt intake to a lower risk of heart attacks, strokes or death.
Low Salt Intake can be Harmful
There is some evidence suggesting that a low-salt diet can be downright harmful.
The negative health effects include:
Bottom Line: A low-salt diet has been linked to higher LDL and triglyceride levels and increased insulin resistance. It may increase the risk of death from heart disease, heart failure and type 2 diabetes.
High Salt Intake is Linked to Stomach Cancer
Stomach cancer, also known as gastric cancer, is the fifth most common cancer.
It is the third leading cause of cancer death worldwide and is responsible for more than 700,000 deaths each year (23).
Several observational studies associate high-salt diets with an increased risk of stomach cancer (24, 25, 26, 27).
A massive review article from 2012 looked at data from seven prospective studies, including a total of 268,718 participants (28).
It found that people with high salt intake have a 68 percent higher risk of stomach cancer, compared to those who have a low salt intake.
Exactly how or why this happens is not well understood, but several theories exist:
However, keep in mind that these are observational studies. They can not prove that high salt intake causes stomach cancer, only that the two are strongly associated.
Bottom Line: Several observational studies have linked high salt intake with an increased risk of stomach cancer. This may be caused by several factors.
Which Foods are High in Salt/Sodium?
Most of the salt in the modern diet comes from restaurant foods or packaged, processed foods.
In fact, it is estimated that about 75 percent of the salt in the U.S. diet comes from processed food. Only 25 percent of the intake occurs naturally in foods or is added during cooking or at the table (32).
Salted snack foods, canned and instant soups, processed meat, pickled foods and soy sauce are examples of high-salt foods.
There are also some seemingly un-salty foods that actually contain surprisingly high amounts of salt, including bread, cottage cheese and some breakfast cereals.
If you are trying to cut back, then food labels almost always list the sodium content.
Bottom Line: Foods that are high in salt include processed foods, such as salted snacks and instant soups. Less obvious foods, such as bread and cottage cheese, may also contain a lot of salt.
Should You Eat Less Salt?
Some health conditions make it necessary to cut back on salt. If your doctor wants you to limit your salt intake, then definitely continue to do so (8, 33).
However, if you are a healthy person who eats mostly whole, single ingredient foods, then there is probably no need for you to worry about your salt intake.
In this case, you can feel free to add salt during cooking or at the table in order to improve flavor.
Eating extremely high amounts of salt can be harmful, but eating too little may be just as bad for your health (16).
As is so often the case in nutrition, the optimal intake is somewhere between the two extremes.
This article was reposted from our media associate Authority Nutrition.
YOU MIGHT ALSO LIKE
10 Foods That Could Disappear Because of Climate Change
9 Reasons Why You Should Not Fear Healthy Carbs
Dr. Mark Hyman: Do You Have Skinny-Fat Syndrome?
EcoWatch Daily Newsletter
By George Citroner
The Office of Disease Prevention and Health Promotion and the World Health Organization currently recommend either 150 minutes of moderate intensity exercise (walking, gardening, doing household chores) or 75 minutes of vigorous aerobic exercise (running, cycling, swimming) every week.
But there's little research looking at the benefits, if any, of exercising less than the 75 minute minimum.
Mary Daly, president of the San Francisco Federal Reserve Bank, poses for a photograph. Nick Otto / Washington Post / Getty Images
It seems the reality of the climate crisis is too much for the Federal Reserve to ignore anymore.
Passengers trying to reach Berlin's Tegel Airport on Sunday were hit with delays after police blocked roads and enacted tighter security controls in response to a climate protest.
A military police officer in Charlotte, North Carolina, pets Rosco, a post-traumatic stress disorder companion animal certified to accompany him, on Jan. 11, 2014.
North Carolina National Guard
For 21 years, Doug Distaso served his country in the United States Air Force.
He commanded joint aviation, maintenance, and support personnel globally and served as a primary legislative affairs lead for two U.S. Special Operations Command leaders.
But after an Air Force plane accident left him with a traumatic brain injury, post-traumatic stress disorder (PTSD), and chronic pain, Distaso was placed on more than a dozen prescription medications by doctors at the U.S. Department of Veterans Affairs (VA).
(L) Selma Three Stone Engagement Ring. (R) The Greener Diamond Farm Project. MiaDonna
By Bailey Hopp
If you had to choose a diamond for your engagement ring from below or above the ground, which would you pick … and why would you pick it? This is the main question consumers are facing when picking out their diamond engagement ring today. With a dramatic increase in demand for conflict-free lab-grown diamonds, the diamond industry is shifting right before our eyes.
Preliminary tests of the bubble barrier have shown it to be capable of ushering 80 percent of the canal's plastic waste to its banks.
The Great Bubble Barrier / YouTube screenshot
The scourge of plastic waste that washes up on once-pristine beaches and finds its way into the middle of the ocean often starts on land, is dumped in rivers and canals, and gets carried out to sea. At the current rate, marine plastic is predicted to outweigh all the fish in the seas by 2050, according to Silicon Canals.

Wilson "Woody" Powell served in the Air Force during the Korean war. But in the decades since, he's become staunchly anti-war.
Sen. Bernie Sanders and Rep. Alexandria Ocasio-Cortez at a rally in Council Bluffs, Iowa on Nov. 8.
Matt Johnson /
CC BY 2.0
By Julia Conley
Joined by Rep. Alexandria Ocasio-Cortez Friday night, Sen. Bernie Sanders held the largest rally of any 2020 Democratic presidential candidate to date in Iowa, drawing more than 2,400 people to Iowa Western Community College in Council Bluffs.