This website uses cookies to ensure you get the best experience while browsing it. By clicking 'Got It' you're accepting these terms.
New Yorkers who visit their local parks have likely been exposed to glyphosate, the controversial, cancer-linked main ingredient in Monsanto's popular herbicide Roundup. But the data about herbicide and pesticide spraying projects across the city isn't adding up.
In May 2015, in response to the concerns of community activists and public health advocates, the city government released a report, Pesticide Use by New York City Agencies in 2014, detailing the use of pesticides by city agencies in 2014. According to that report, the city applied glyphosate 2,748 times.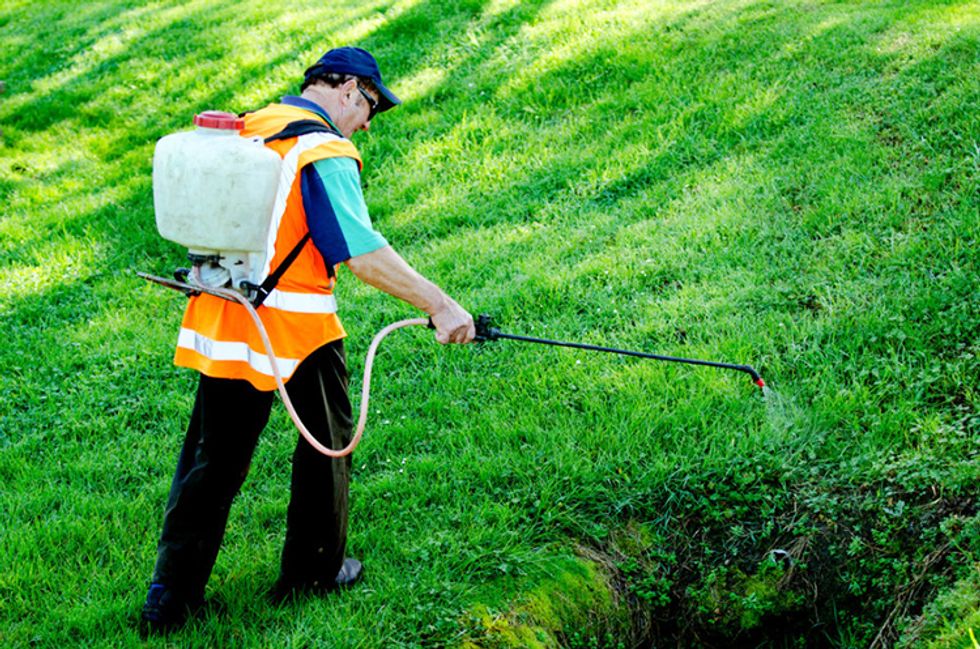 New York isn't the only major U.S. city that sprays glyphosate. San Francisco, Oakland, Portland, Seattle and Philadelphia also use the controversial herbicide. Photo credit: ChameleonsEye / Shutterstock
However, according to data procured by a Freedom of Information Law request, the city has revealed only 2,000 locations of glyphosate use in 2014. Pesticide information related to Central Park and other areas that are managed not by the city government, but by nonprofit conservancies has not been made public.
Several environmental and community activist groups, including Reverend Billy and the Stop Shopping Choir, Stop the Spray and members of the Coalition Against Poison Parks, are pursuing legal action to "force the City to reveal all locations where it has been used."
According to the parks report, the city applied pesticides 162,584 times in 2014. Various city agencies used nearly 8,000 gallons and more than 100,000 pounds of pesticides. Compared to 2013 levels, there was a 21 percent increase in insecticides by volume in 2014. What is of particular concern is the fact that, as the report states, "there was a 16 percent increase in herbicide use by volume, reversing a declining trend. Much of the change was due to a 9 percent increase in glyphosate products used."
In March 2015, the World Health Organization, the UN's public health agency, said glyphosate, which is widely used on genetically modified crops such as corn and soybeans, likely causes cancer. In its report, the International Agency for Research on Cancer, WHO's cancer arm, classified glyphosate as "probably carcinogenic to humans." The International Agency for Research on Cancer scientists found that the chemical "induced DNA and chromosomal damage in mammals and in human and animal cells in vitro."
They concluded that there was "sufficient evidence" that the herbicide causes cancer in non-human animals and "limited evidence" that it also causes non-Hodgkin lymphoma in humans. They said that the primary exposure to glyphosate comes through diet, home use—Roundup is a popular consumer gardening spray for people who are not informed about effective nontoxic methods—and living near sprayed areas.
A study published in February in the journal Environmental Health found that glyphosate persists in soil and water longer than previously thought and that human exposure to the chemical is rising. The chemical also has harmful effects on birds, fish and other wildlife.
While there was an increase in glyphosate use in New York City in 2014 as compared to 2013, the amount is much lower than it was in 2009, when, according to the Parks Department, it was used "to control invasive species in remote, often wooded, parkland." The increase in glyphosate spraying in 2014 may have been due to "forest restoration work [which] was again done by Parks and their contractors, accounting for a substantial proportion of the city's glyphosate use."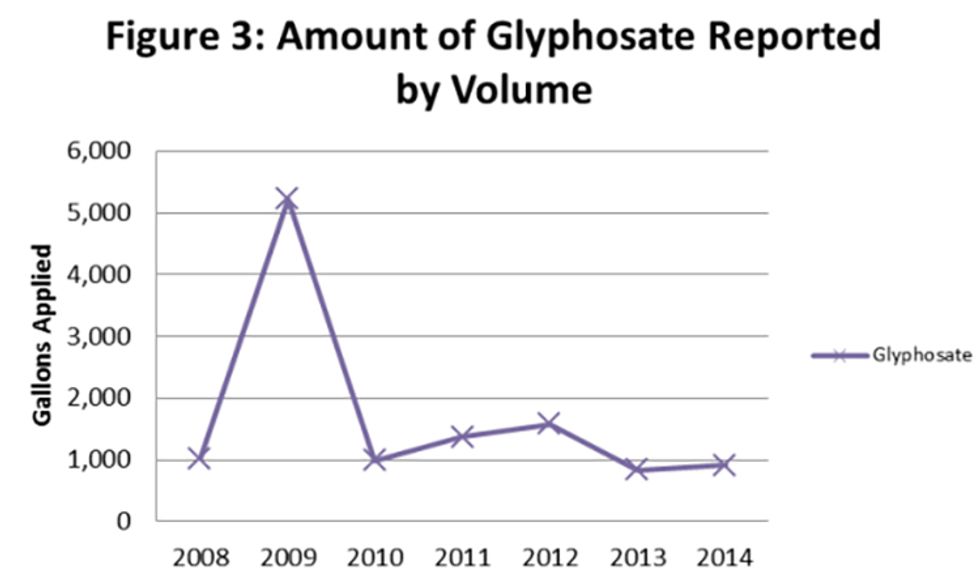 To help residents steer clear of the toxic areas, Reverend Billy and the Stop Shopping Choir, a performance-based activist group based in New York City, created a map charting the parks and public areas across the city that have been sprayed with glyphosate. The map was created using data provided by the New York City Parks Department.
EcoWatch Daily Newsletter
Protesters holding signs in solidarity with the Wet'suwet'en Nation outside the Canadian Consulate in NYC. The Indigenous Peoples Day NYC Committee (IPDNYC), a coalition of 13 Indigenous Peoples and indigenous-led organizations gathered outside the Canadian Consulate and Permanent Mission to the UN to support the Wet'suwet'en Nation in their opposition to a Coastal GasLink pipeline scheduled to enter their traditional territory in British Columbia, Canada. Erik McGregor / LightRocket / Getty Images
Tensions are continuing to rise in Canada over a controversial pipeline project as protesters enter their 12th day blockading railways, demonstrating on streets and highways, and paralyzing the nation's rail system
Horseshoe Bend (seen above) is a horseshoe-shaped meander of the Colorado River in Page, Arizona.
didier.camus
/ Flickr /
public domain
Millions of people rely on the Colorado River, but the climate crisis is causing the river to dry up, putting many at risk of "severe water shortages," according to new research, as The Guardian reported.
An alarming sign of an impending drought is the decreased snowpack in the Sierra Nevada Mountain range, as seen here in Christmas Valley, South Lake Tahoe, California on Feb. 15, 2020.
jcookfisher
/
CC BY 2.0
California is headed toward drought conditions as February, typically the state's wettest month, passes without a drop of rain. The lack of rainfall could lead to early fire conditions. With no rain predicted for the next week, it looks as if this month will be only the second time in 170 years that San Francisco has not had a drop of rain in February, according to The Weather Channel.
New and recent books explore how we can effectively respond to climate change while enhancing our health and happiness. Kei Uesugi / DigitalVision / Getty Images
A warm day in winter used to be a rare and uplifting relief.

Now such days are routine reminders of climate change – all the more foreboding when they coincide with news stories about unprecedented wildfires, record-breaking "rain bombs," or the accelerated melting of polar ice sheets.
Where, then, can one turn for hope in these dark months of the year?