This website uses cookies to ensure you get the best experience while browsing it. By clicking 'Got It' you're accepting these terms.
New Yorkers who visit their local parks have likely been exposed to glyphosate, the controversial, cancer-linked main ingredient in Monsanto's popular herbicide Roundup. But the data about herbicide and pesticide spraying projects across the city isn't adding up.
In May 2015, in response to the concerns of community activists and public health advocates, the city government released a report, Pesticide Use by New York City Agencies in 2014, detailing the use of pesticides by city agencies in 2014. According to that report, the city applied glyphosate 2,748 times.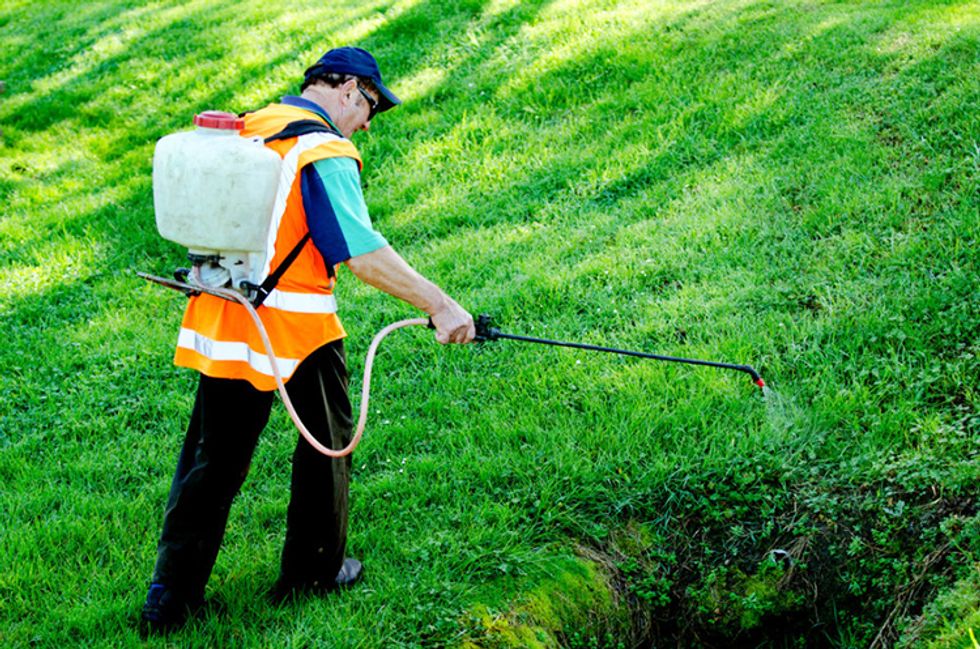 New York isn't the only major U.S. city that sprays glyphosate. San Francisco, Oakland, Portland, Seattle and Philadelphia also use the controversial herbicide. Photo credit: ChameleonsEye / Shutterstock
However, according to data procured by a Freedom of Information Law request, the city has revealed only 2,000 locations of glyphosate use in 2014. Pesticide information related to Central Park and other areas that are managed not by the city government, but by nonprofit conservancies has not been made public.
Several environmental and community activist groups, including Reverend Billy and the Stop Shopping Choir, Stop the Spray and members of the Coalition Against Poison Parks, are pursuing legal action to "force the City to reveal all locations where it has been used."
According to the parks report, the city applied pesticides 162,584 times in 2014. Various city agencies used nearly 8,000 gallons and more than 100,000 pounds of pesticides. Compared to 2013 levels, there was a 21 percent increase in insecticides by volume in 2014. What is of particular concern is the fact that, as the report states, "there was a 16 percent increase in herbicide use by volume, reversing a declining trend. Much of the change was due to a 9 percent increase in glyphosate products used."
In March 2015, the World Health Organization, the UN's public health agency, said glyphosate, which is widely used on genetically modified crops such as corn and soybeans, likely causes cancer. In its report, the International Agency for Research on Cancer, WHO's cancer arm, classified glyphosate as "probably carcinogenic to humans." The International Agency for Research on Cancer scientists found that the chemical "induced DNA and chromosomal damage in mammals and in human and animal cells in vitro."
They concluded that there was "sufficient evidence" that the herbicide causes cancer in non-human animals and "limited evidence" that it also causes non-Hodgkin lymphoma in humans. They said that the primary exposure to glyphosate comes through diet, home use—Roundup is a popular consumer gardening spray for people who are not informed about effective nontoxic methods—and living near sprayed areas.
A study published in February in the journal Environmental Health found that glyphosate persists in soil and water longer than previously thought and that human exposure to the chemical is rising. The chemical also has harmful effects on birds, fish and other wildlife.
While there was an increase in glyphosate use in New York City in 2014 as compared to 2013, the amount is much lower than it was in 2009, when, according to the Parks Department, it was used "to control invasive species in remote, often wooded, parkland." The increase in glyphosate spraying in 2014 may have been due to "forest restoration work [which] was again done by Parks and their contractors, accounting for a substantial proportion of the city's glyphosate use."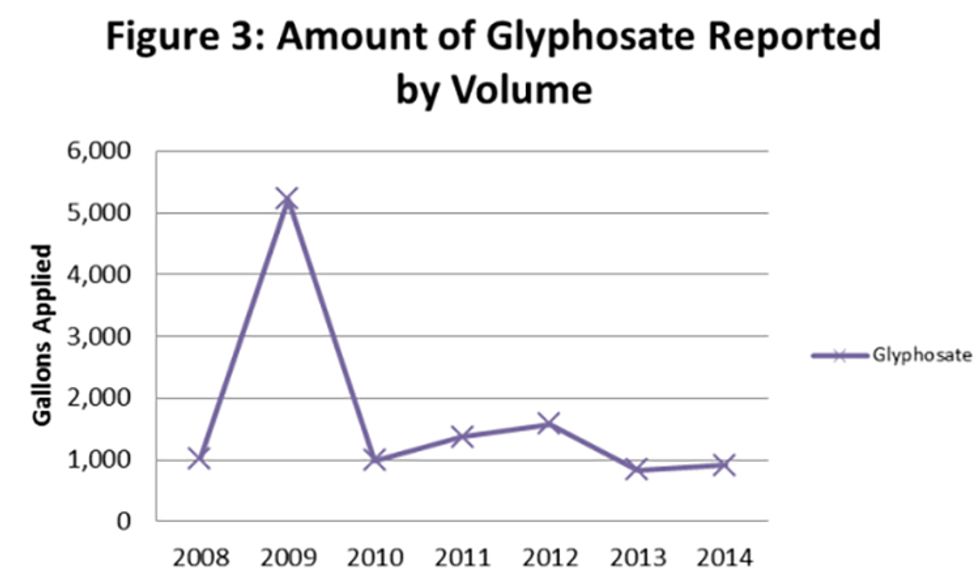 To help residents steer clear of the toxic areas, Reverend Billy and the Stop Shopping Choir, a performance-based activist group based in New York City, created a map charting the parks and public areas across the city that have been sprayed with glyphosate. The map was created using data provided by the New York City Parks Department.
EcoWatch Daily Newsletter
Aerial view of Ruropolis, Para state, northen Brazil, on Sept. 6, 2019. Tthe world's biggest rainforest is under threat from wildfires and rampant deforestation. JOHANNES MYBURGH / AFP via Getty Images
By Kate Martyr
Deforestation in Brazil's Amazon rainforest last month jumped to the highest level since records began in 2015, according to government data.
A total of 563 square kilometers (217.38 square miles) of the world's largest rainforest was destroyed in November, 103% more than in the same month last year, according to Brazil's space research agency.
From January to November this year an area almost the size of the Caribbean island of Puerto Rico was destroyed — an 83% overall increase in destruction when compared with the same period last year.
The figures were released on Friday by the National Institute for Space Research (INPE), and collected through the DETER database, which uses satellite images to monitor forest fires, forest destruction and other developments affecting the rainforest.
What's Behind the Rise?
Overall, deforestation in 2019 has jumped 30% compared to last year — 9,762 square kilometers (approximately 3769 square miles) have been destroyed, despite deforestation usually slowing during November and December.
Environmental groups, researchers and activists blamed the policies of Brazil's president Jair Bolsonaro for the increase.
They say that Bolosonaro's calls for the Amazon to be developed and his weakening support for Ibama, the government's environmental agency, have led to loggers and ranchers feeling safer and braver in destroying the expansive rainforest.
His government hit back at these claims, pointing out that previous governments also cut budgets to environment agencies such as Ibama.
The report comes as Brazil came to loggerheads with the Association of Small Island States (AOSIS) over climate goals during the UN climate conference in Madrid.
AOSIS blasted Brazil, among other nations, for "a lack of ambition that also undermines ours."
Last month, a group of Brazilian lawyers called for Bolsonaro to be investigated by the International Criminal Court over his environmental policies.
Reposted with permission from DW.
The Carolina parakeet went extinct in 1918. James St. John /
CC BY 2.0
The Carolina parakeet, the only parrot species native to the U.S., went extinct in 1918 when the last bird died at the Cincinnati Zoo. Now, a little more than 100 years later, researchers have determined that humans were entirely to blame.
Pexels
Vitamin C is a very important nutrient that's abundant in many fruits and vegetables.
BLM drill seeders work to restore native grasses after wildfire on the Bowden Hills Wilderness Study Area in southeast Oregon, Dec. 14, 2018. Marcus Johnson / BLM / CC BY 2.0
By Tara Lohan
In 2017 the Thomas fire raged through 281,893 acres in Ventura and Santa Barbara counties, California, leaving in its wake a blackened expanse of land, burned vegetation, and more than 1,000 destroyed buildings.